Winter Sleep Guide:
Create a Cozy, Layered Bed for Winter Comfort
When the air gets cool, it's time to refresh the bed—swap out your lightweight summer layers for winter-ready bedding essentials that help you find the deep, relaxing slumber you crave. If you're looking to create a cozy haven that will keep you warm and comfortable on chilly days and nights, we have ideas for you. Here's our best advice for getting better sleep this winter, and some quick tips for creating warm, comfy spaces where you'll love to snuggle up.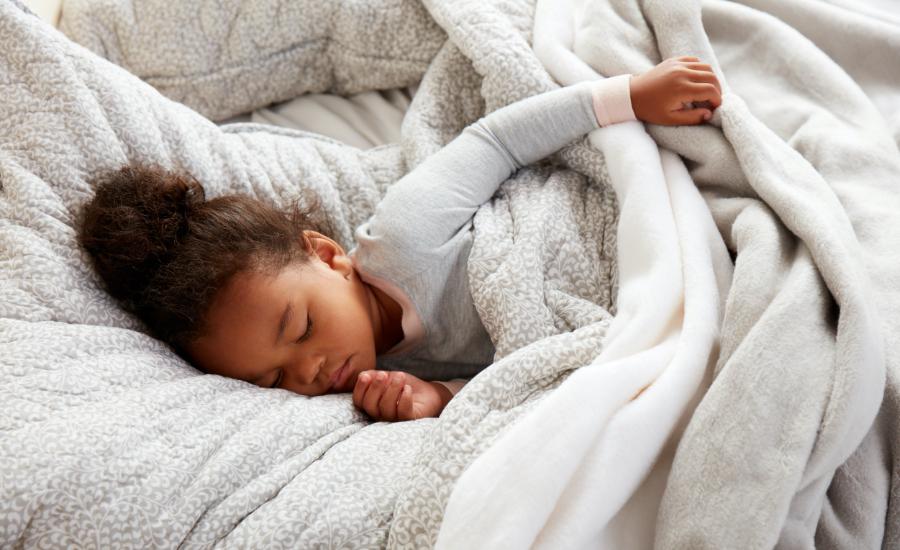 Top Bedding Tips for Warm Winter Sleep
When it comes to winter bedding, the best option is to layer multiple pieces rather than rely on a single, bulky blanket. Having layers of bedding lets you adjust your covers as necessary: Add an extra throw when you're super chilly or cut back on the layers on an unexpectedly warm night. That way, you're able to customize your comfort in a matter of moments so you get a restful sleep.
What Bedding is Best for Winter?
Whether you're a cold sleeper year-round or just want to add extra warmth during the chilly months, we can help you choose the best bedding for winter—no matter your sleep preferences. Of course, cozying up under the warmest bedding seems like the best option, but it's important to choose bedding that's lightweight and breathable, too.
To create the perfect winter bed, consider materials, fabric type, and fill:
How to Layer Your Bed for Winter Comfort
Summer or winter, you'll want to layer your bed for just-right comfort. When the mercury drops, piling on the warmest blankets seems tempting, but multiple, varied layers offer adjustable warmth and add gorgeous texture to the room. When layering winter bedding, follow these guidelines:
Start with what goes under the sheets: A featherbed or wool mattress pad is a comfy foundation for chilly nights and it keeps things cozy from the bottom up.
Add a flat sheet made for cool weather: Pack up the linen and TENCEL™—these lightweight materials are perfect for summer, but when winter rolls around you'll want a fitted and flat sheet with a tighter weave. A fitted sheet is necessary, a flat sheet is optional—but the extra layer keeps you warm and acts as a barrier to keep blankets and other bedding from getting dirty.
A blanket comes next. Top off the sheets with a lightweight blanket for another layer of warmth. Depending on your preferences, you may choose an extra-cozy blanket and skip the comforter, or you might sleep better pairing a blanket with a comforter.
The comforter is a favorite, lofty layer. You'll want to snuggle up all morning under a cozy comforter. Down or down alternative, printed or solid, paired with a duvet cover or on its own, this layer is the first one that comes to mind when we think 'winter slumber.'
Top it all off with a gorgeous quilt. This layer is optional, but it's an incredible way to put your favorite quilt on display. Embroidery, appliqué, whole cloth, patchwork—whatever your preference, dress up your bed with a stunning quilt or coverlet.
Include accessories for warmth. A throw blanket or folded blanket at the foot of the mattress keeps your toes toasty and provides the option of an extra layer for especially frigid nights.
Make up your layers, then add the finishing touch: Your favorite throw pillows are perfect accents for a magazine-worthy bed. They're pretty and plush, and they bring the whole bed together.
Tips for an Extra Inviting Bedroom
Warmth is about more than layering blankets and choosing your softest flannel pajamas. Creating a cozy atmosphere also boosts warmth and comfort. These are our top tips to make your bedroom a welcoming, relaxing space.
How to Get Better Sleep in Winter
Changing seasons may mean changes in sleep quality. While dipping temperatures may be partly to blame, there are other factors to consider as well. If your winter sleep seems to be suffering, make a few changes to your room, routines, and bedding for more restful nights.
Consider light and circadian rhythms. Shorter winter days and less time spent in the sun mean less exposure to natural light. This may make you feel tired earlier in the day, but don't change your sleep schedule. Instead, keep your curtains open during the day, count on indoor lighting after the sun goes down, and maintain a normal sleep schedule.
Don't fall out of regular exercise routines. Exercise through the winter, too—if you don't want to jog in slush and snow, look for alternative indoor workout options. Exercise can contribute to better sleep, so stopping won't do you any favors. Keep the momentum going for restful sleep year round.
Sleep comfortably cool. If you're too hot, you'll have difficulty sleeping, but you'll be uncomfortable if it's too cold, as well. Find a happy medium: According to sleep experts, the ideal sleep temperature is 65 degrees. Get that ideal temperature by keeping your thermostat low, choosing bedding layers to maintain a comfortable sleeping temperature, and wearing comfortable, breathable pajamas when it's time to tuck in.
Keep your toes warm, too. Should you wear socks to bed? Socks or no socks, that's all about personal preference. But if you choose to wear them, make sure they're comfy! Itchy, tight, baggy, or too-warm socks are going to keep you awake, so find sleeping socks that are soft, breathable, and fit well. Merino wool blends are a great choice.
Wind down with a relaxing routine. Try a long soak in the bath or a mug of chamomile tea before kicking back wearing flannel PJs and a plush terry bathrobe—create your perfect nighttime habits to prepare your body and mind for bed.
Winter nights may be chilly outside, but inside you'll be snugly bundled under cozy layers of blankets. Create the perfect space for restful slumber even on the snowiest of nights and you'll wake up refreshed and ready, morning after morning.