How to Choose the Perfect Comforter
From warmth level to fill type to bed size, a number of factors influence which comforter will help you achieve the best rest. Down or down alternative, patterned or solid, oversized or just right—explore our guide to find out about comforter construction, the difference between popular fill types, and how to care for your premium comforter.
What Is the Difference Between a Comforter and a Duvet Insert?
A comforter is essentially the same thing as a duvet insert: Both bedding pieces are typically filled with down, feathers, or synthetic fibers that will keep you warm. The primary difference between a duvet and a comforter is color. Duvet inserts are usually white, while comforters are available in solid colors and patterns—but either can be used with a duvet cover or on its own. All of our solid-color comforters have a handy loop sewn into each corner for attaching our duvet cover ties to easily secure the comforter in place.
Types of Comforters: Down vs. Down Alternative
Comforters can be filled with duck or goose down, or a hypoallergenic down-free alternative ideal for allergy sufferers; the down we use in our comforters is always responsibly sourced. Both types of comforters offer similar benefits and quality, but the best option is a matter of personal preference.
Warm and comfortable, lightweight and breathable, down is Mother Nature's most efficient insulator. One of the finest materials for bedding, down refers to the fluffy clusters pulled from under the belly feathers of duck or geese. With proper care, down comforters are long-lasting and resilient, which makes them a good investment for your bed.
Qualities of The Company Store Down Comforters:
Hypoallergenic
Lightweight and breathable
Most down comforters are machine washable for easy care, some are dry clean only
Responsible Down Standard (RDS) certified, ensuring down is ethically sourced
Made with premium down, European down, or Hungarian goose down
What Is Duck vs. Goose Down?
To the naked eye, regular duck down and goose down will appear almost identical. The biggest difference between duck down and the rarer goose down is fill power; goose down is typically available in higher fill powers than regular down. Geographic provenance also influences the qualities of down, so that down sourced from colder regions (including Europe) is larger and fluffier. Ultra-soft and superfine, Hungarian goose down is known as the best on the market because of its exceptional thermal abilities: It feels exceptionally light but still provides opulent comfort and amazing insulation.
Fun Fact: Hungarian geese have survived frigid weather conditions for centuries thanks to their superior insulating feathers.
What Is Down Alternative?
For those who prefer a down-free or more affordable option, down alternative is a synthetic fill used in pillows, comforters, and mattress pads that mimics the loftiness and insulating qualities of down. To achieve the same warmth level of down, down alternative comforters may be slightly heavier than their down counterparts.
Qualities of The Company Store Down Alternative Comforters:
Ideal for anyone with a down allergy
Down alternative fill mimics the insulating qualities of down
Machine washable for easy care, except for our Legends Luxury™ Geneva
Made with lofty PrimaLoft®, LoftAIRE™, or 100% polyester high-quality fill
What are PrimaLoft® and LoftAIRE™?
PrimaLoft® is an ultra-fine, polyester microfiber that traps heat, wicks away moisture, and insulates against the cold; it is the premier hypoallergenic down alternative fill used in luxury bedding. LoftAIRE™ is our exclusive, high-quality synthetic microfiber which mimics the loftiness and insulating properties of down—it's the closest thing to the real deal.
Choosing the Right Comforter Warmth Level
No one sleeps the same, so choosing the best comforter warmth level boils down to personal preference. We offer down and down alternative comforters in light, medium, and extra warmths, as well as our LaCrosse™ Dual Comforter for couples condemned to the battle of the covers—each side is crafted with different warmth levels so both partners can sleep in their preferred comfort zone.
An indicator of a down comforter's warmth and loft, fill power refers to the amount of air an ounce of down can hold. Bigger down clusters have a higher fill power, resulting in comforters with exceptional loft and insulating abilities. Higher fill powers offer more warmth with less added weight. Our premium comforters range from 500 to 750 fill power in light to ultra warmth levels, so there's an option to provide the perfect amount of insulation you need to get a great night's sleep.
GOOD
500-550
Our 500-550 fill power down provides premium warmth at an affordable price.
BETTER
600-650
A high-quality down with plump and resilient clusters. 600-650 fill power provides warmth and wonderful loft.
BEST
700-750
Our most luxurious down from select cold climate geese, 700-750 fill power Hungarian goose down provides the largest down clusters with exceptional loft.
How a comforter is constructed and the composition of its shell affect its quality and comfort as much as its fill does. Consider these elements of comforter construction to find the best bedding piece to suit your personal preferences.
Baffle Box vs. Sewn-Through Box…What's the Difference?
The best comforters are constructed to ensure even warmth distribution. There are two main types of construction in down comforters—baffle box and sewn-through box. The one you select is a matter of personal preference.
In a baffle box construction, the pockets for the fill are separated by fabric "walls" stitched inside the comforter, creating a smooth look from the top.
In sewn-through box construction, the shell's top and bottom fabric layers are stitched together, creating pockets of fill and a puffy, pillow-like look from the top.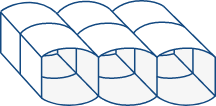 Baffle Box Construction

Sewn-Through Construction
Choosing Your Comforter Shell Fabric
Comforter shells crafted with premium fabrics offer superior comfort, style, and utility. Look for options made from natural materials, including cotton; Supima®, Egyptian, or organic cotton; TENCEL™ Lyocell; or rayon made from bamboo.
Comfort: Natural materials are breathable and soft against your skin. Hot sleepers can look for comforters made in fabrics with integrated cooling properties, such as TENCEL™ Lyocell or rayon made from bamboo.
Style: How a comforter looks can be as important as how it feels. Choose cotton sateen for its silky sheen, TENCEL™ Lyocell for its lustrous drape, or cotton percale for a crisp, classic look.
Utility: Any comforter or other bedding product filled with down must be made from a tightly woven fabric that will keep the fill inside of the shell.
For more information about the fabric in our comforters, read our sheet guide.
Understanding Down and Organic Certifications and Guarantees
For components including fabric, fill, and construction, these certifications and guarantees are indicators of the highest quality in comforters and other bedding:
The Responsible Down Standard (RDS): All our down products are filled with down that has been certified under the Responsible Down Standard (RDS), established by Textile Exchange to promote traceability within the down industry. With independent supply chain certification by third-party auditing company Control Union, each phase of down sourcing is monitored so you can be confident that the down inside is the most responsibly sourced down in the market. All our down products are filled with down that has been certified under the Responsible Down Standard (RDS).
STANDARD 100 by OEKO-TEX® : Some of our down alternative comforter shells meet the STANDARD 100 by OEKO-TEX®, a global standard, independent mark of quality for raw, semi-finished and finished textile products from all stages of production and materials used in the process. It assures manufacturers, retailers, and consumers that certified products meet the strict limit values for harmful substances.
Lifetime Guarantee: Most products assembled in the USA are covered by our Lifetime Guarantee. Look for this symbol . It indicates one of our exclusive items, which carries a Lifetime Guarantee. For additional information, please visit our FAQs.
Choose the Right Comforter Size
When determining what size comforter to purchase, consider not only the size of your bed, but also the look you're trying to achieve with the comforter. Do you want it to fall up high against the sides of the bed, or do you want it to hang closer to the floor like a bedspread? We offer comforters to match the four main mattress sizes—Twin, Full, Queen, and King/California King—as well as specialty Twin XL, Oversized Queen, and Oversized King comforters.
| Bed Size | Comforter Size |
| --- | --- |
| Twin | 70 in. W x 90 in. L |
| Twin XL | 70 in. W x 96 in. L |
| Full | 84 in. W x 90 in. L |
| Queen | 90 in. W x 96 in. L |
| King/Cal. King | 108 in. W x 96 in. L |
| Oversized Queen* | 98 in. W x 96 in. L |
| Oversized King* | 116 in. W x 96 in. L |
Once you've Identified your bed mattress size and its dimensions, follow these tips to help you select the best comforter size for your bed:
Measure the mattress thickness. Add the inches of thickness to each side of the width of the comforter. For example, for a Queen bed mattress that is 60 inches wide, 80 inches long, and 12 inches thick, you would add 24 inches (12 on each side). So, you will need a comforter that is at least 84 inches wide. In this instance, we would recommend the queen size for best coverage.
Measure the height of your bed. If you have a pillow top or box spring mattress, opt for an oversized comforter or go up one size.
Choose Comforters in Your Favorite Colors and Prints
In addition to white, premium comforters are available in a rainbow of solid colors, along with down alternative options in fashionable prints. Choose the comforter color or design that complements your decor: A neutral hue is versatile enough for all-year use, while vibrant colors or muted shades can put on-trend or personal style on display. Florals, geometric, seasonal, and other patterned comforters are ideal for kids' rooms, guest rooms, the primary suite, or anywhere you'd like to add a little extra personality.
Add a Duvet Cover for Seasonal Style
The beauty of a comforter is you can easily change up the look by using one of our high-quality duvet covers. Some of the most popular reasons to use a duvet cover with a comforter include seasonality, decor, and ease of washing.
How to Care for Your Down or Down Alternative Comforter
Premium bedding is an investment, so always follow the included instructions when washing and drying your comforter. Proper care will help maintain your comforter's insulating qualities and shell construction throughout the years.
Expert Tip: When you first receive your new comforter, it may appear wrinkled and flat. Restore its natural loft by vigorously shaking it out or fluffing it in your dryer on permanent press.
How to Wash and Dry a Comforter
Many comforters are machine washable, and are best cleaned in a front-loading commercial machine. While instructions for washing down alternative comforters may vary slightly from those for washing down comforters, you can follow these general tips to wash and dry your bedding in a machine:
Use cold water with mild detergent on the gentle cycle; never use bleach or fabric softener on your comforter
Tumble dry on low; do not overstuff the dryer
Use tennis balls, a clean pair of sneakers, or wool dryer balls to help distribute fill more evenly
Remove and reposition the comforter once or twice during the cycle to assist in the drying process
Remove promptly from dryer once the dry cycle is complete
Never iron your comforter
Dry-clean-only comforters should be professionally cleaned only by a reputable business; do not use do-it-yourself cleaners.
Before you store your comforter, make sure it's clean and completely dry. Storing a comforter that is damp can result in mold and mildew growth. Just like bed sheets and pillowcases, comforters can be neatly folded and stored in a closet with sufficient airflow; a breathable storage space will prevent musty smells. Avoid plastic storage bags, which will not allow your comforter to breathe. When you're ready to use your comforter again, you can air it out on a clothesline or fluff it in the dryer on the permanent press setting.
Whether you're looking for a lightweight comforter for summer or a warm comforter to stave off winter's chill, use our comforter guide to help narrow down your options and find the perfect layer to top off your bedding. Explore our other Guides for more bedding tips and ideas.