Best Seller
From $119.00
SALE: From $107.00
Best Seller
From $279.00
SALE: From $237.00
From $169.00
SALE: From $152.00
Best Seller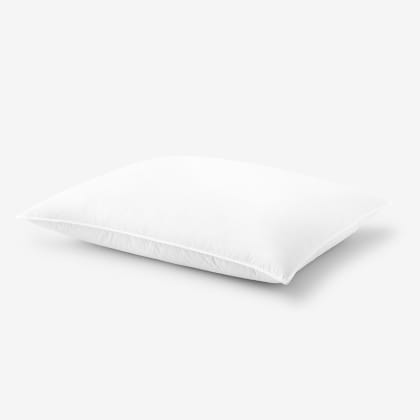 From $139.00
SALE: From $104.99
From $89.00
SALE: From $71.00
From $219.00
SALE: From $193.99
Best Seller
From $84.00
SALE: From $75.00
From $99.00
SALE: From $84.00
From $39.00
SALE: From $33.00
Personalization Available
Down Pillows for Luxurious Comfort
Our extraordinarily soft down pillows are assembled using the same high-quality clusters as our down comforters. Wake up feeling rested and refreshed—our plush cushions are crafted for incredible comfort. For the ultimate in opulence, a plump goose down pillow is a superb option. An eco-friendly choice, organic down pillows are filled with plump, premium down, tucked within a smooth shell.
Choose the density to suit your sleep style: find the perfect support for stomach, back, or side sleepers. Our ethically sourced down is certified under the Responsible Down Standard (RDS) and comes from humanely treated birds. It's also thoroughly cleaned to remove impurities to create a hypoallergenic fill. Explore our Pillow Guide for help choosing the perfect pillow for your sleeping preferences.
Down Pillows Q&A
What Is a Down Pillow?
Down pillows are filled with fluffy clusters pulled from the underbellies of geese and ducks for lofty, breathable comfort. We carry Standard-, Queen-, and King-sized down pillows in multiple densities.
What Is the Difference Between Down and Feather Pillows?
Lofty and lightweight down pillows are filled with down clusters found pulled on the bellies of geese and ducks, while firmer and more supportive feather pillows are filled with the feathers taken from other parts of the bird.
What Does Fill Power Mean in Down Pillows?
Fill power refers to the amount of space, in cubic inches, that an ounce of down will fill. The higher the fill power, the larger the down clusters—and the loftier, lighter, more insulating, and higher quality the down fill will be. Most down pillows have a fill power between 500 and 800.
Are Down Pillows Hypoallergenic?
Certified under RDS (Responsible Down Sourcing) standards, the down in our pillows goes through a rigorous cleaning process to ensure it is hypoallergenic.
Are Down Pillows Good for Side Sleepers?
In the right density, down pillows are a good choice for side sleepers: Opt for firm or extra-firm down pillows that support the head, neck, and shoulders for an even sleeping position that keeps the body in a horizontal line.
How Long Do Down Pillows Last?
With proper care, down pillows can last several years. The higher the fill power, the longer a down pillow will last. If you find that you have to constantly fluff your pillow for it to support your head, it may be time to replace it. Confirm by folding your pillow in half: if it stays that way, it's time for a new pillow.