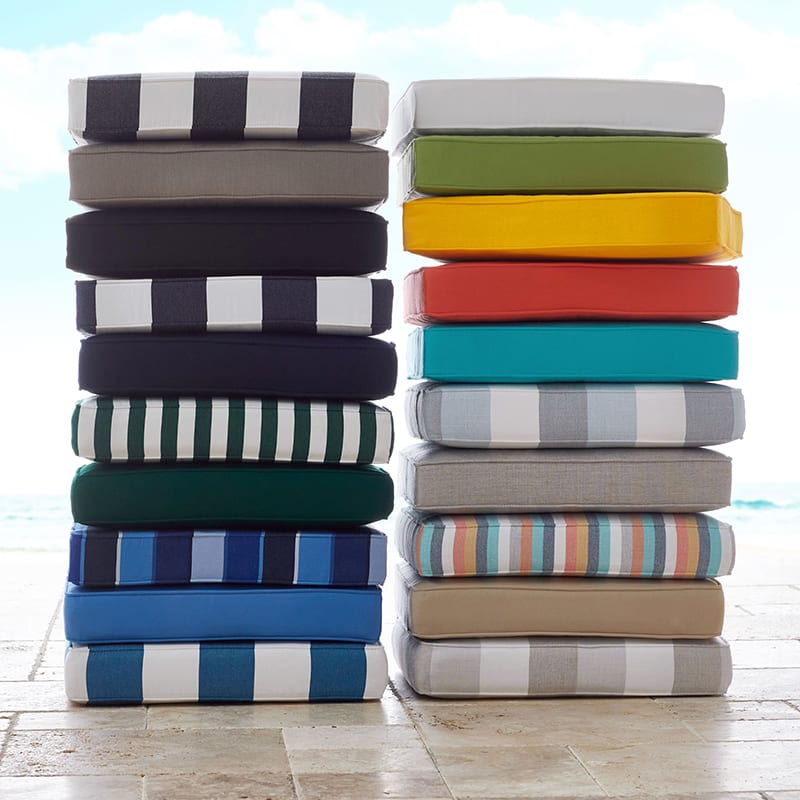 Sunbrella® Replacement Chair Cushion
Sunbrella® Replacement Chair Cushion
Product Overview
We believe that you should enjoy the same comfort and well-appointed style in your outdoor living spaces as you do in your home. One of the fastest ways to give your outdoor furnishings a fresh makeover is by changing up the cushions. Offered in a wide selection of solids and patterns, these cushions are upholstered in high-performance Sunbrella® fabric to resist stains, fading, water, mold, and mildew. Overstuffed with soft, fast-drying polyfill, they'll last summer after summer. Sized to fit most standard outdoor furniture, our chair cushions come in your choice of two constructions: Knife Edge or Boxed.
Product Details
Chair Cushions in Knife Edge and Boxed construction
All cushions secure to furniture with 11.5 in. ties
Overstuffed densified polyester fiber fill ensures your cushions will last several seasons
Our fiber fill also allows our cushions to dry quickly if left out, just by laying them on their side
Knife Edge cushions are sewn shut
Boxed cushions feature a zipper
Our durable all-weather replacement chair cushions are made in the U.S.A. with durable and beautiful Sunbrella® performance fabric
Made with Sunbrella® performance fabrics that are stain-, fade-, water-, mold-, and mildew-resistant
Cushions made with Sunbrella® performance fabrics carry a 5-year limited warranty against fading
Color goes to the core of Sunbrella® performance fabrics, which means the fibers are saturated with UV-stabilized pigments before they are woven into fabrics–rather than printed on after the fabric is made
Striped cushions are "flow matched" ensuring the stripes line up through the piping and the front of the cushion
Made in Mexico: Stripes and Solids in Capri, Forest Green, Ginkgo, Melon, Sunflower, and White
Made in China: Solids in Antique Beige, Aruba, Black, Charcoal, Jockey Red, Navy, Silver, and Taupe
Size Information
Knife Edge:
16 in. x 15 in. x 2.5 in.
18 in. x 18 in. x 2.5 in.
19.5 in. x 18 in. 2.5 in.
20 in. x 20 in. x 2.5 in.
Boxed:
16 in. x 15 in. x 3 in.
18 in. x 18 in. x 3 in.
19.5 in. x 18 in. 3 in.
20 in. x 20 in. x 3 in.
Care Instructions
Spot clean with mild natural soap
Air dry only
Though water resistant, for best results stow away Sunbrella® cushions when it rains
Product Glossary
Sunbrella® - Sunbrella fibers are saturated to the core with highly UV-stable pigments, making Sunbrella fabrics resistant to fading and the degrading effects of sunlight. Resists mold and mildew, and easily cleaned with bleach.