Sleep Tips & Bedding Essentials to Sleep Better
You've tried everything to get better sleep and you still toss and turn and wake up groggy. What gives?
Good sleep is a personal thing: Comfort means something different to everyone. Sure, having 'slept well' generally means feeling refreshed—not sore or groggy—in the morning. But, to find true comfort depends on your preferences alone. Whether you prefer a soft or firm mattress, enjoy sleeping cool or snuggled-up, or want extra support to really help you catch those Zs—we have bedding essentials to help you find your perfect idea of comfort.
To help you achieve your best rest, we've rounded up the top bed tips—and expert sleep health advice—so you will sleep soundly and wake refreshed. Ready?
1) Find the Ideal Sleep Temperature
Whether you're the one-foot-out or covers-to-the-nose type, we have what you need to layer your bedding for all-night comfort, no matter the season. Fall in love with these temperature-perfect solutions.
Expert Tip: The National Sleep Foundation (NSF) suggests that the ideal room temperature for restful sleep is in the neighborhood of 60 to 70 degrees.
Layer Your Bed for More Restful Sleep
What affects sleep quality—beyond the kids climbing in for 3 AM snuggles or the bed-hog dog, of course? Your bedding—sheets, comforter, blankets, and pillows—can offer soothing sleep or leave you tossing and turning throughout the night. Choose sheets in crisp percale or smooth sateen, textured linen or breathable TENCEL™ Lyocell or rayon made from bamboo blends—then layer additional bedding pieces so you can sleep as warm or cool as you wish.
When layering your bedding for a comfortable sleep temperature, pay attention to these essentials:
Flat and Fitted Sheets
Pillows and Pillowcases
Coverlet or Quilt for Warm Weather
Comforter for Cool Weather
Throw Blanket for Added Warmth
Choose the Best Sheet Fabric for Every Sleeper
Look to Supima® and Egyptian cotton sheets for versatile, year-round comfort or to please partners with differing sleep preferences.
There's a reason we love the cool side of the pillow: Heat leaves the body through the head, helping regulate body temps, which is one way to get a more restful sleep. But, you don't have to flip your pillow to get that cooling feeling. Explore pillows that are ventilated, breathable, and made with unique cooling fabrics that keeps you comfortable—no sweat.
Does your mattress make you hot throughout the night? Do you wake up sweaty and uncomfortable? We know how to keep things cool. Our gel-infused or CoolMAX® moisture-wicking mattress pads help regulate your temperature while you sleep. Top the mattress pad with sheets that breathe for all-night comfort.
Choose a Cool Sheet Fabric for Warm Sleepers
Breathable, moisture-wicking fabrics like lightweight cotton percale, breathable TENCEL™ Lyocell, cooling rayon made from bamboo blends, or airy linen keep you cool and comfy all night long. Warm sleepers often prefer a lower thread count since the looser weave makes them lighter.
If a super cozy bed is more your style, explore our mattress toppers designed to add extra warmth and a layer of comfort without overheating. A thick, plush wool mattress pad is a cozy base that keeps you snug while you drift to sleep. The fluffy, soft mattress pad is perfect for cool sleepers looking for a cozy sleep surface to complement their bedding layers. Or, go for plush with a featherbed or down alternative mattress topper made for cushy, all-night comfort.
Choose a Warm Sheet Fabric for Cool Sleepers
Sheets made from heavier cotton sateen, ultra-cozy flannel, or T-shirt soft jersey knit are perfect for helping cool sleepers stay super-snug. Cold sleepers often prefer a higher thread count because they're heavier. Want to learn more about how our fabrics feel? Visit our Sheet Guide.
Find a cozy comforter that's perfect for you, no matter if you prefer to sleep cool or buried beneath layers of warmth. Lightweight comforters are perfect for warm seasons and hot sleepers, while our warmest comforters keep you snug in the coldest months. Snuggle up in cold, snowy weather or add a lightweight layer on balmy nights with our range of comforter weights. Even couples with differing warmth preferences can wake up well-rested: Dual-weight comforters offer the perfect solution. Our Comforter Guide can help you choose the perfect bed-topper.
Light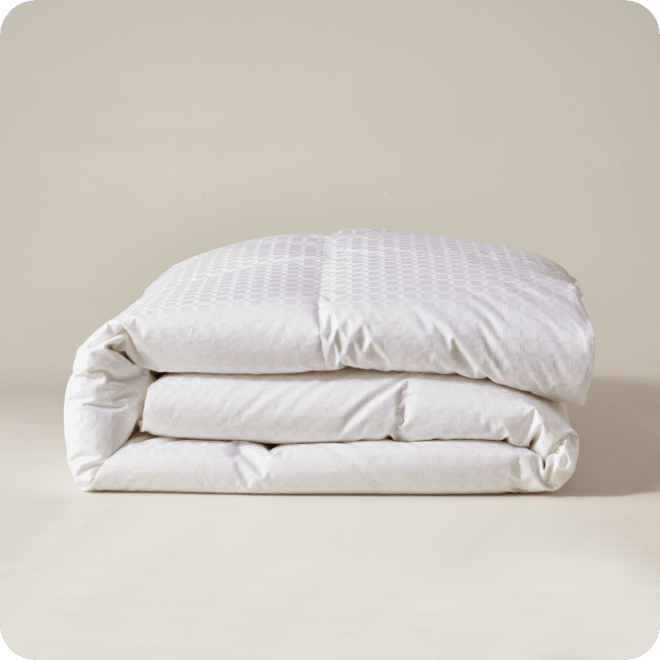 Warmth:
Rooms 69-74° F

Hot nights

Hot sleepers
Medium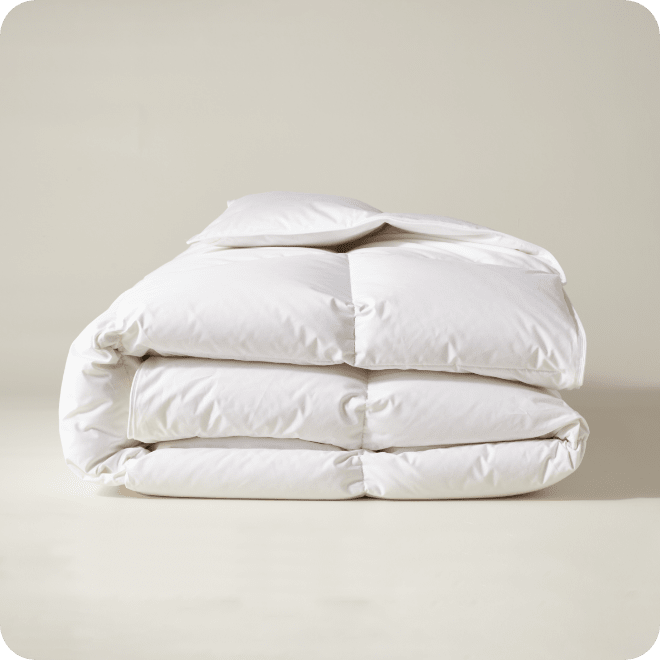 Warmth:
Rooms 65-69° F

Year round

All sleepers
Extra Warm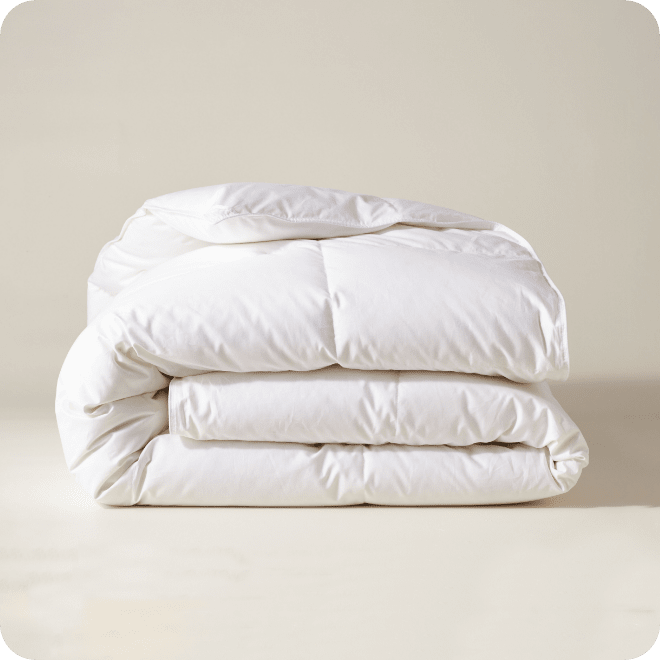 Warmth:
Rooms 62-65° F

Cold nights

Cold sleepers
Ultra Warm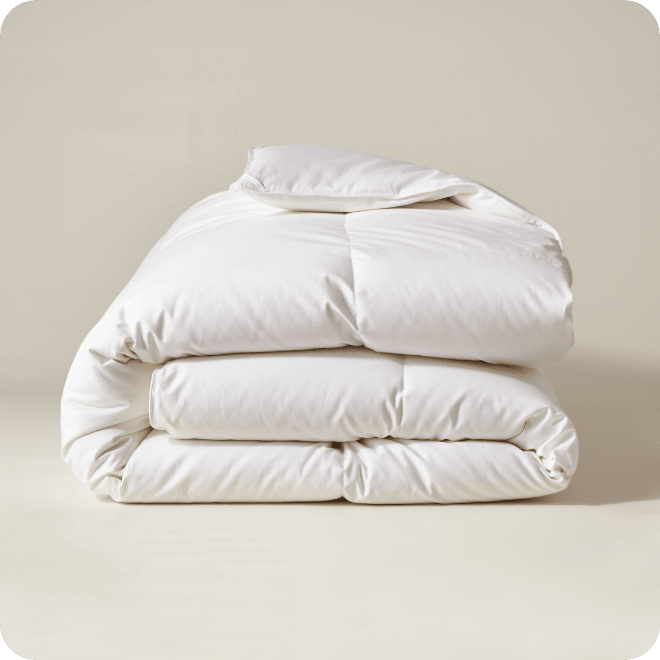 Warmth:
Rooms 62° F or below

Cold nights

Cold sleepers
Pillows and mattresses have come a long way, but sometimes you need a little extra support for the most restful sleep. Waking up with a stiff neck or sore back keeps you from the activities you love the most—but there are supportive options for a better rest. Explore our Pillow Guide for tips to choose the best pillow for restful nights.
Expert Tip: A survey conducted by the National Sleep Foundation (NSF) found that many Americans report moderate to severe pain that interferes with their sleep quality.
Pressure in your hips, back, shoulders, or neck can keep you from finding a comfortable position, preventing restorative sleep. A survey conducted by the National Sleep Foundation (NSF) found that many Americans report moderate to severe pain that interferes with their sleep quality. While no one solution fits every situation, and pain management is best handled by your medical professional, The Company Store® offers a variety of pillows and mattress pads that support your back, neck, and shoulders to help you alleviate nighttime discomfort, sleep peacefully, and wake up rested and restored.
The Perfect Place to Rest Your Head
Get support and cloud-like comfort in a pillow that suits your sleep style. Find pressure-relieving memory foam, go for the classics with down and down alternative, or get ergonomic support with gel and combination fill styles.
Posture Support for Every Body
Better sleep for better days: For a restful night's sleep, try our posture pillows designed for back, side, and stomach sleepers. Kick back with a good book before bed with a multi-position body pillow to support you—it adjusts for comfort while sitting or sleeping. And, finally solve the problem of what to do with your arm while you sleep on your side with positioning pillows that align your shoulder properly for comfort, no waking up with tingling hands or sore shoulders due to sleeping in an uncomfortable position.
Mattress Pads Create a Sumptuous Sleep Surface
Transform your bed into a comfy retreat: Mattress toppers and feather beds add a plush layer designed for incredible, plush comfort for restful nights—so cozy, you'll want to relax in bed all morning. Choose a quilted topper, opulent feather bed, or a memory foam mattress pad for pillow-top softness and lavish comfort.
Back and stomach sleepers often prefer a more supportive mattress pad, while side and combination sleepers may enjoy a softer surface. For added support, a memory foam mattress pad molds to the shape of your body to provide pressure point relief. Some of our foam mattress toppers even reduce motion transfer for uninterrupted sleep. For those craving a plush sleep surface, our featherbed toppers include layers of down and feathers for an incredibly soft sleep surface with springy support beneath.
3) Block Allergens for Sniffle-Free Sleep
The warm and humid bed environment creates a haven for allergy-irritating dust mites, one of the most common triggers for conditions ranging from hay fever and asthma to sensitive skin conditions like eczema, which often worsen at night. According to the American Academy of Asthma, Allergy, and Immunology (AAAAI), 55% of the US population tests positive for one or more allergens. Over 35% of allergy sufferers report disturbed sleep.
Expert Tip: 55% of the US population tests positive for one or more allergens. Over 35% of allergy sufferers report disturbed sleep.
Choose from down or down-free pillows and comforters, then reduce bedding-related allergy symptoms and experience better rest with protectors designed to block the allergens that cause sniffles, sneezes, red, watery eyes, or itchy mouth and throat. Want to know more? We've got you.
Snuggle Up: Hypoallergenic Pillows and Comforters
Our multi-step cleaning process ensures our down products are hypoallergenic, but if you prefer a down alternative option, our LoftAIRE, and PrimaLoft® pillows are just as plush, supportive, and comfortable. Choose a pillow or comforter with hypoallergenic down or down-free synthetic fiber fill for sniffle-free sleep.
Keep Allergens Out: Allergy Protectors
We know you're looking out for your family's health, that's why our protective allergy covers are made of cool, breathable cottons with no added chemicals. Add one to your pillow, comforter, or mattress to create a barrier against common allergens that trigger allergies—like mites, dander, and dust—so you can sleep peacefully, night after night. Need another reason to add a protective cover? They make clean-up easier, so your furry best friend can climb into bed with you for some extra snuggles—without worrying about dander and fur sticking around.
4) Better Sleep Habits, Better Sleep
Good sleep hygiene can improve sleep quality and help you feel better rested. Waking up groggy makes mornings—and days—difficult. We feel our best when we've had enough sleep. Waking up well-rested can mean improved focus, more attentiveness, better patience, and better ability to keep up whether it's at the gym, on the playground, or during that rough 2 PM stretch at the office. Feeling groggy, irritable, forgetful, or sluggish? It's time to take a look at your sleep habits.
If you take a long time to fall asleep or find that you're waking often through the night, adjustments to routines—daytime and nighttime—can help. For better sleep, update your habits and sleep environment: For kids and adults, these tips apply no matter your age.
Temperature: Adjust your bedroom temperature; test different temperatures to see what is most comfortable for you.
Lighting: Keep circadian rhythms in balance by limiting bright lights in the evening, boosting natural light throughout the day, and reducing exposure to blue light in the evenings.
Relaxing: If you can't doze off after more than 20 minutes of trying to fall asleep, get up and do something relaxing like taking a bath or reading—but skip scrolling on your phone (it'll just keep you up longer).
Sound: To mask sleep-disrupting noise, keep a fan or sound machine running or try earplugs.
Kid Routine: Kiddos can't catch those Zzzzs? Create soothing routines for kids with wind-down time, bath time, books, and snuggles—the extra cuddles and quiet time will relax you, too.
The best part? Improving sleep can improve your relationships, making interactions with strangers and co-workers more positive and boosting the quality time you spend with your partner, kids, and family members.
5) Okay, But What About My Mattress??
Uncomfortable at night? Are you tossing and turning straight through until morning and waking up with back, shoulder, or neck pain? We've been there. When it comes to solving the problem, ask yourself this: How old is your mattress?
Expert Tip: Manufacturers recommend that you replace your mattress every 5 to 8 years for the most comfortable sleep.
If it's time to buy a new mattress—but you aren't sure how to find the best one—rest easy. You don't have to resort to eeny, meeny, miny, moe: These bonus tips are for you.
The Right Mattress = More Comfort
A higher price tag doesn't mean a better mattress—comfort is all about preference: Explore your options, try out some mattresses, and choose the one that works best for your sleep style. While the ideal mattress material and firmness varies from person to person, generally, stomach and back sleepers tend to prefer a medium to firm mattress while side sleepers favor soft to medium firmness.
Know the Types of Mattresses:
Foam mattress, including memory and non-memory foam
Innerspring
Spring and foam hybrid
Latex
Pillowtop
Gel-infused
The foundation—what your mattress rests on—provides the appropriate support for your mattress. The right one can improve the firmness and stability of the mattress. The wrong foundation, or an old or broken one, can cause your mattress to sag and lead to decreased comfort. Not all mattresses or bed frames require a foundation: Mattress manufacturers can provide information about which foundation to choose based on your mattress type.
How Do I Make My Bed More Comfortable Without Buying a New Mattress?
If you're not ready to replace your mattress, make some minor changes instead:
Rotate your mattress according to the manufacturer's suggestions to prevent sagging and extend the life of your mattress. Innerspring mattresses may also be flipped in addition to rotating, but pillowtop and memory foam mattresses have one sleeping surface and are not flipped.
Add a mattress topper for a little extra cushion. A mattress pad, topper, or featherbed can boost softness and support for better sleep.
Turn down your thermostat may help firm up a too-soft mattress, while bumping up the heat can soften foam mattresses.
Swap your sheets out for a clean set weekly—a fresh set of sheets can create a cozy, ready-for-sleep environment and get rid of allergens that cause discomfort.
Find sheets with the right thread count. High thread counts, while luxurious, can be too warm for hot sleepers, while cold sleepers may prefer the added warmth.
Get the right pillow based on your preferred sleeping position.
We all want to wake up better rested and extra-refreshed. With the right combination of a comfy mattress, cozy bedding, and good sleep hygiene, you can improve your sleep quality. Explore more sleep essentials and learn how to create the perfect place to rest with our other Guides.
From cooling features and therapeutic pressure-relieving support, to posture-enhancing pillows and hypoallergenic comforters, there's something for everyone. Find products and tips for incredible, sleep-enhancing comfort at The Company Store®.