How to Choose
the Perfect Sheets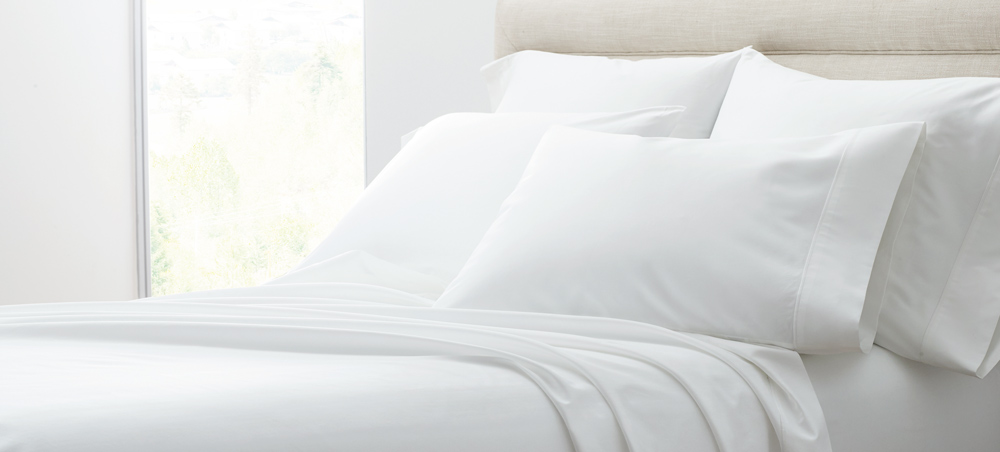 Think about the most comfortable bed you've ever slept in—what made it so amazing? Chances are the sheets were a big factor. Maybe they were buttery soft or perhaps they were crisp and cool. No matter which you prefer, finding the right bed sheets is just as important as a quality mattress, pillow, and comforter. However, we know the search for the perfect sheets can be daunting, so let the experts help.
Choose the Best Fabric
Our sheet guide will help you choose the perfect sheets so you can have the most comfortable bed ever…every night. With a variety of fabrics to choose from, learn about the most popular options, their qualities, and how to properly care for and increase the life span of your sheets.

Bed sheet fabrics differ in feel, warmth, and style so choosing the right fabric comes down to your individual preference. Do you kick off the sheets at night because you are always hot? Then our crisp and cool percale sheets may be best for you. Are you always cold, burrowing under blankets just to keep warm? Our ultra-soft flannel sheets will keep you cozy all night long. Like the idea of all-natural bedding to match your all-natural lifestyle? Try our 100% certified organic cotton bed sheets or TENCEL™ Lyocell bed sheets. Whatever your preference, there's a specific sheet fabric to help you get your best night's sleep.

Here is a summary of the most common sheet fabrics and their qualities to help you decide. Click on the boxes below to learn more about each fabric.
Choose the Right Size
Before buying a sheet or sheet set, measure your mattress to ensure a perfect fit. When measuring, keep in mind that sheet and mattress sizes vary by brand, so check the specific dimensions of both before making a purchase. View the size chart to find your correct bed sheet size.

Note:
All Company Store fitted sheets have a pocket depth of 14 in. and can fit mattresses up to 16 in. thick.

| | | |
| --- | --- | --- |
| | Flat | Fitted |
| Twin | 66 in. x 96 in. | 39 in. x 75 in. |
| Twin XL | N/A | 39 in. x 80 in. |
| Full | 81 in. x 96 in. | 54 in. x 75 in. |
| Queen | 90 in. x 102 in. | 60 in. x 80 in. |
| King | 108 in. x 102 in. | 78 in. x 80 in. |
| Cal. King | N/A | 72 in. x 84 in. |

Note:
All deep pocket sizes have an 18 in. pocket depth and can fit mattresses up to a thickness of 20 in.
Deep pocket fitted and flat sheets are not available for Twin, Twin XL, and Full-sized sheets.

| Deep Pocket | Flat | Fitted |
| --- | --- | --- |
| Queen | 90 in. x 108 in. | 60 in. x 80 in. |
| King | 114 in. x 108 in. | 78 in. x 80 in. |
| Cal. King | 108 in. x 112 in. | 72 in. x 84 in. |
Pillowcases and shams help complete the look of your bed, so choosing the right size is important.
| | Pillowcases | Shams |
| --- | --- | --- |
| Standard | 20 in. x 30 in. | 20 in. x 26 in. |
| King | 20 in. x 40 in. | 20 in. x 36 in. |
| Euro | N/A | 26 in. x 26 in. |
Frequently Asked Questions
What Our Customers
Are Saying
Great quality!

"Good quality flat sheet"
"I wanted a flat sheet that was 100% cotton and this sheet delivered. It's light and I don't get warm being under it. I love it and will buy it again along with the fitted sheet. It's worth it!!"
NWGirl Washington
Excellent Color Selection and Value!

"Consistent value"
"I have purchased these sheets multiple times and I am always pleased with the way they wash and wear over time. Color selection is great."
Nancy California
Superior Sheets!

"Like sleeping on satin"
"These sheets are the BEST!!! I have been purchasing lower thread count sheets from The Company Store for many years, but these are far superior, smooth, and soft feeling on the skin. They wash very well and come out of the dryer with virtually no wrinkles. Did I also say GREAT value for the price?"
Joyce of choice Michigan
The Perfect Gift!

"Recipients absolutely love these sheets"
"I had an opportunity to gift sheets to a lovely couple who purchased their first home. They love them! They are soft, wrinkle-free, and luxurious. The wisteria color was their favorite."
DM Connecticut
Lightweight yet warm, and very soft!

"Very happy with this purchase"
"Great sheets. This flannel is fairly lightweight, so it works almost all year as a comfortable option. I'm never chilly getting into bed with these sheets, but also not too warm during the warmer seasons. Plus, it's very soft. They're a little big In a California King, but after a couple of washings it fit just fine. This is the second set of these that we've purchased and we're very happy with both."
Antonia California
Sumptuous and elegant!

"Luxurious velvet flannel bedding"
"Again this winter season, I purchased additional velvet flannel sheets from The Company Store. The product is soft and luxurious with elegant monogramming! Likewise, the quality and durability are excellent; perfect for snuggling on a cold winter night!"
Puppette Atlanta
Vibrant colors and long lasting!

"My 4th set!"
"This is still the best knit bedding around and I just bought my 4th set. Love the vibrant colors, how comfortable they feel, and how well they last!"
Doc Nevada
Incredible quality and feel!

"These are amazing"
"Incredible quality and luxurious feel and drape. They wash like a dream."
Kate Westchester