One of the world's oldest textiles, elegant yet laid-back linen has experienced renewed popularity in recent years, cropping up everywhere from celebrities' and influencers' social media feeds to the pages of home decor magazines. But are linen sheets and bedding really worth it? We think so—our linen sheets, duvet covers, quilts, and blankets are soft, exceptionally durable, comfortable in any season, and better for the planet—and you.
What Is Linen?
Linen is a natural material derived from flax. Long, fine fibers are extracted from the plant, spun into yarn, and loosely woven to create lightweight linen fabric. The best linen sheets and bedding use high-quality fibers sourced from Europe, where a temperate climate and optimal soil conditions result in the world's finest flax. Durable and breathable, this natural textile has been used for bedding and clothing for centuries.
Why Linen?
There's a reason linen has been a favored fabric for thousands of years. From the way it looks and feels to how long it lasts, these are the qualities of linen we can't resist.
Linen Is Comfortable Year-Round
Known as one of the best bedding options for hot sleepers and warm weather, linen is suitable for more than just summer sheets. The material's intrinsic features make it ideal for comfort in any season.
Linen sheets and bedding boast temperature-regulating properties that keep you cool and comfortable in warm weather. And because the material is a natural insulator, it's a cozy option for cold nights, too.
Moisture-wicking linen draws sweat away from your skin, keeping you cool or warm, depending on the weather—and it's ultra-absorbent, so it can soak up as much as 20 percent of its weight in moisture.
Linen's fine, long fibers create a loose, lightweight weave, but they're also hollow, which allows air to circulate freely for exceptional breathability so you stay cool in the summer and warm—without overheating—in the winter.
Are Linen Sheets Soft?
The cellular makeup of flax fibers makes linen stiffer than cotton and other materials at first, but linen sheets and bedding get softer and more sumptuous each time they're washed, creating a lived-in feel.
Linen Bedding Looks Lovely
Linen bedding is at once relaxed and elegant, with a lustrous, lovely drape and a natural slub variation that adds texture to the bed. And, while linen may wrinkle more than other materials, those rumples only contribute to the laid-back charm we love. Our linen sheets, duvet covers, and other bedding are available in elegant solids and patterns so you can choose a style that suits you.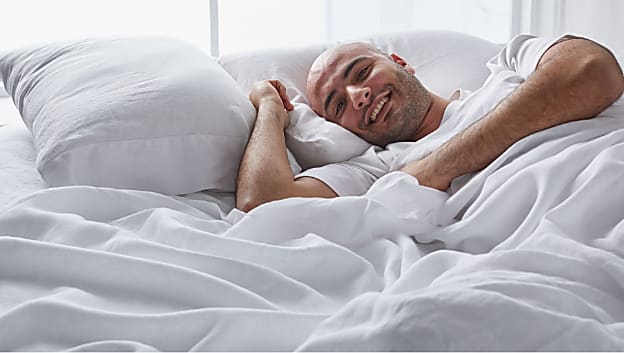 Linen Sheets and Bedding Last
Linen may look elegant and feel lightweight, but that doesn't mean it's fragile: when it comes to cotton versus linen fibers, linen is two to three times as strong. High-quality linen sheets and bedding can last for a decade—or more.
Linen Bedding Is Eco-Friendly
Every part of the flax plant is used to produce linen fabric, making the material exceedingly sustainable. And because durable linen bedding lasts longer than alternatives, you'll have to replace it less frequently, which is better for the environment, too.
Linen Is Good for Sensitive Skin
Linen bedding is an excellent option for sensitive skin by virtue of its breathability, but the material is also naturally antibacterial, antimicrobial, and antifungal, so it stays cleaner and fresher longer. Plus, linen is resistant to dust mites, making linen sheets an ideal option for allergy sufferers.
Opt for soft linen sheets for year-round comfort, and consider linen duvet covers, quilts, and blankets to bring that laid-back look to every layer of your bed. We even offer linen-blend bath towels that boast the same benefits as linen bedding. For more bedding ideas, explore our Inspiration Guide.