Expert and amateur decorators alike agree that a duvet cover and coordinating insert is an essential element of a perfectly styled bed. Don't let the popularity of this beloved bedding layer intimidate you. Whether your tastes tend toward the overwhelmingly cozy or the classically understated, explore our ideas for styling your bed with a duvet cover to find an approach that works for you.
1. Create an Ultra-lofty Duvet Look With the Right Inserts
Lofty layers elevate a bed from run-of-the-mill to magazine-ready—a look that starts with the perfect duvet cover and insert combination. Follow these expert styling tips for duvet covers and transform your bedding into a cloud-like cocoon you can't wait to sink into or curl up beneath.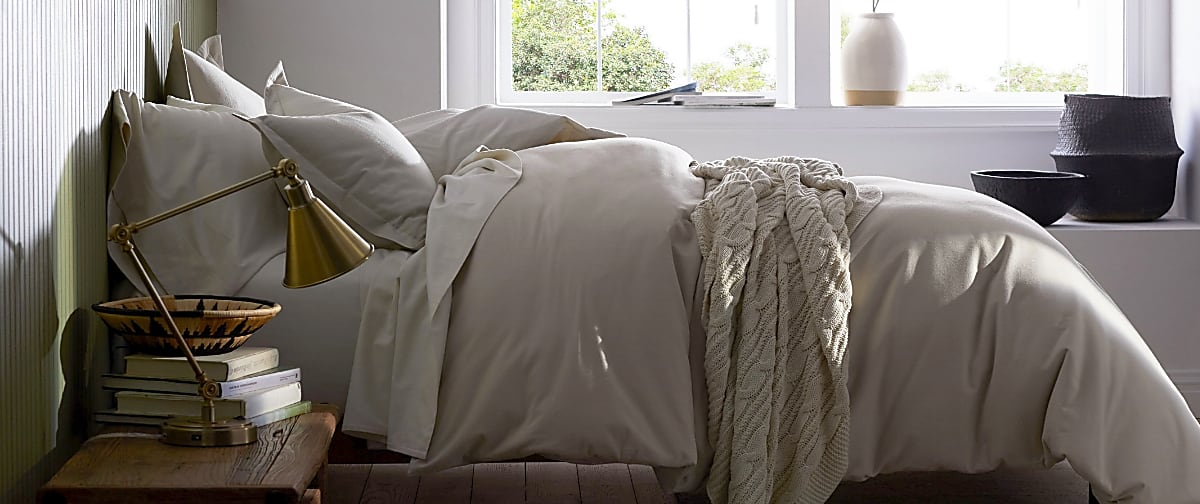 Double the Inserts: The beds you see in magazines or on display in stores all likely share one secret—those extra-fluffy duvets are filled with two inserts, not just one. If you're a cold sleeper or live in a climate marked by low temperatures, consider stuffing your duvet cover with two lightweight inserts to create that ultra-lofty look.
Opt for Oversized: An easier, all-weather approach to doubling up on comforters is to choose a duvet insert one size larger than your cover—a King insert inside a Queen duvet cover, for example—that offers the same sumptuous loft without the extra weight or warmth. Or, opt for an oversized down or down alternative duvet insert designed specifically for a tighter fit and fluffier feel.
2. Master the Art of the Fold
Finding a creative way to fold your duvet cover can create that same lofty look. Plus, the right duvet fold will show off your well-planned layers and fluffy pillows—don't let your hard work designing a hotel-quality bed go to waste. Follow these steps for our favorite way to fold a duvet cover:
Start by spreading your insert-filled duvet cover across the surface of your bed, so that one of the edges is aligned with your headboard and the remaining edges of the duvet drape evenly over the sides and foot of your bed.
Pull the top edge of the duvet cover back toward the foot of the bed, so that the piece is folded perfectly in half.
Starting at the foot of the bed, fold the top half of the duvet back over itself until the edge originally aligned with the headboard is aligned with the fold in the middle of the bed.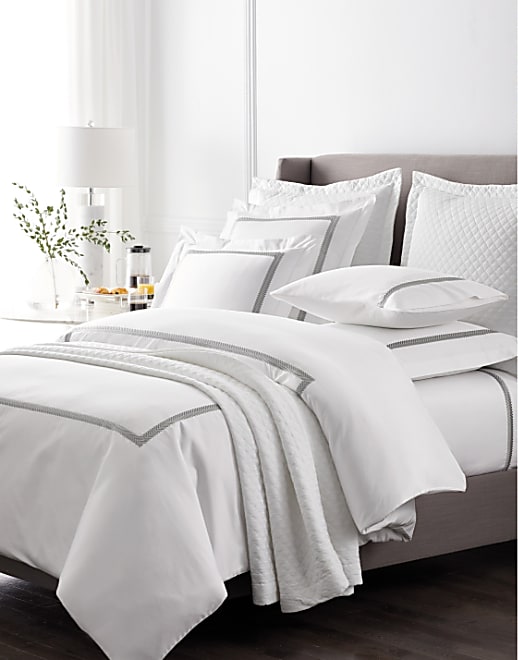 Smooth the duvet cover between each fold to keep it looking crisp and polished. For a finishing touch, toss a textured blanket across the foot of the bed, on top of the folded duvet, to add another dimensional element to your bedding design.
3. Define Your Bedding Aesthetic With a Dramatic Duvet
A duvet cover can be the centerpiece of a layered look, but it can also be the shining star of a simple bedding style. Ditch the extra layers and make a statement with a singular duvet cover that speaks for itself.
Switch it out for the seasons. A duvet cover falls on the low-maintenance end of the bedding care spectrum, takes up minimal space in storage, and is easy to change (with practice), making it an ideal option for seasonal bedding. Make your bed a festive focal point in an otherwise neutral room with a vibrant floral duvet cover in summer or a holiday-inspired design in the winter.
Add a pop of interest. A patterned duvet cover is the perfect foil to plain white sheets, with options spanning the spectrum from subtle stripes to bold designs.
Find inspiration in your favorite hotel. It doesn't get more classic than all-white bedding or a crisp white duvet cover with an elegant, embroidered border. Add pillows for sleeping and a pair of decorative shams to complete the look—no other layers needed.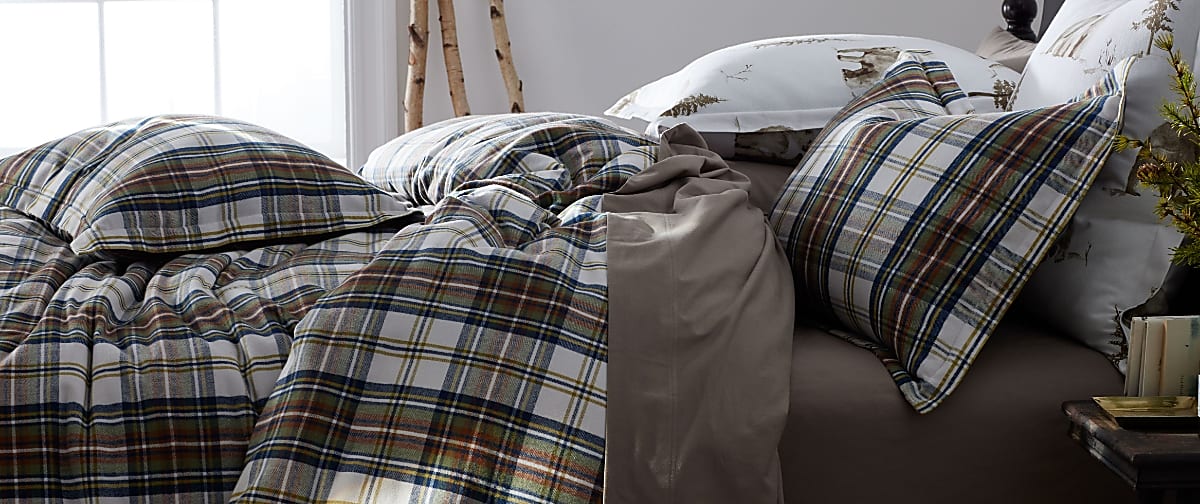 Styling a duvet cover is as simple as identifying your preferred approach and choosing the appropriate pieces to bring the look to life. Add blankets, pillows, and other bedding layers to create a comfortable space suitable for rest. For more bedding advice and ideas, explore our Product Guides.