The safest sleeping environment for baby is an empty crib, but you can still design a beautiful space to bring them home. Choose crib bedding boasting pattern, color, or texture to create a safe—yet fashionable—sleeping area, then add other nursery decor elements to complete the look. Explore our guide to choosing crib bedding to learn the essential elements to include, then find tips for coordinating baby bedding and other linens for your nursery.
How to Layer a Safe Crib for Baby
When choosing bedding for the crib, the American Academy of Pediatrics recommends omitting anything that doesn't fit tightly—this means you should skip any loose blankets, pillows, crib bumpers, or toys. Here's what you can include:
1) Start With an Optional Crib Skirt
A crib skirt passes the test for safe baby bedding because it goes underneath the crib mattress, not on top of it. This piece is both practical and decorative, draping down to hide under-crib storage and complementing the aesthetic of the space. Choose a crib skirt that coordinates with the rest of your nursery decor—pick a crib skirt in the same pattern as your window treatments, or carry a common color through the crib skirt, sheets, curtains, and other nursery linens.
2) Choose a Quality Crib Mattress
Your primary concern when choosing a crib mattress should be safety: look for a supportive mattress that is more firm than soft. Most crib mattresses measure between 51 ⅝ and 53 inches in length, 27 ¼ and 28 inches in width, and between 4 and 6 inches deep—the one you choose should fit tightly against the edges of your crib for the safest sleep space for baby.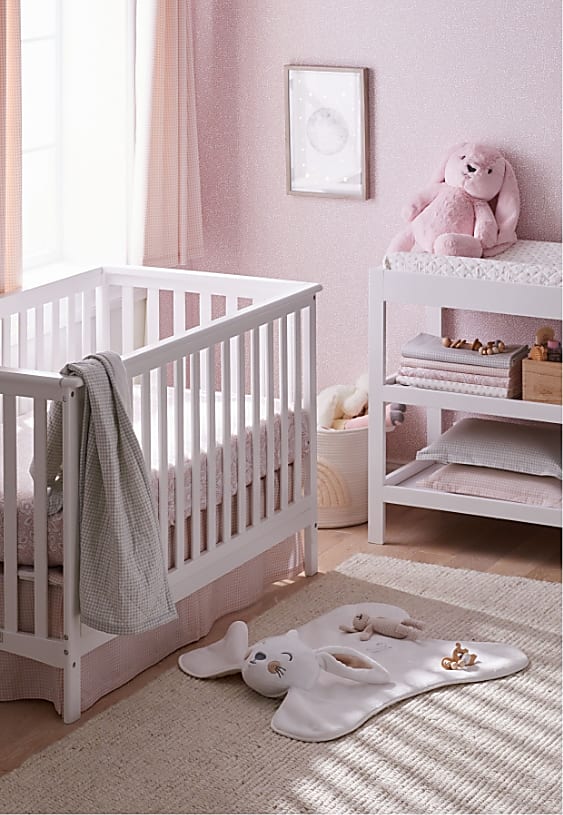 3) Protect the Mattress With a Waterproof Cover
A protective cover is technically an optional bedding layer for a crib, but we consider it an essential item: this practical piece prevents leaking diapers and other overnight accidents from seeping through the sheets and soiling the mattress. A safe crib mattress cover will fit tightly without adding extra cushioning that could pose a potential suffocation risk.
4) Add a Fitted Crib Sheet as the Final Layer
Put the finishing touch on the crib with a tightly fitted sheet. A crib sheet creates a comfortable barrier between baby and the mattress cover, and serves as the primary decorative layer on the bed. Choose crib sheets made from natural materials that are breathable and comfortable for your little one, and coordinate them with your crib skirt to create a cohesive look.
When Can You Add a Blanket to the Crib?
According to the American Academy of Pediatrics, you should wait until your child is at least 1 year old to add blankets, quilts, top sheets, stuffed animals, and other loose items to the crib. Before then, blankets and other nonessential bedding items should only be used for decorative purposes and removed for naps and bedtime. For pillows, the recommended age is 2.
How to Coordinate Crib Bedding and Nursery Decor
A nursery is the ideal place to play with pattern, whether in the form of printed crib sheets or a floral wallpaper accent. But consistency is still key when coordinating bedding and decor for baby's room. Choose one approach and stick to it to create a space that's sophisticated yet playful and perfect for your newest little one. Still not sure where to start? Here are our favorite ideas and nursery design tips: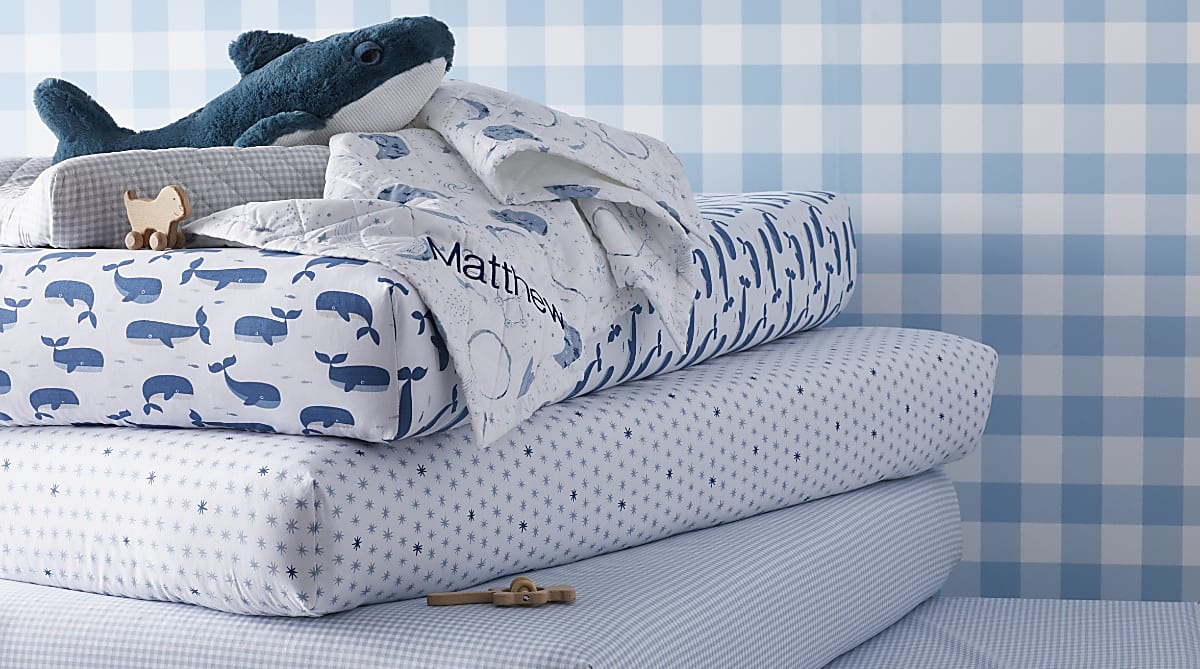 Let your nursery theme influence the patterns you choose. Crib sheets covered in planets or stars are perfectly suited for a space-themed nursery, while linens printed with giraffes and other wildlife make a charming centerpiece for a safari-themed room.
For a softer, baby-friendly approach to a barnyard-inspired nursery, pair bedding and other linens boasting classic gingham checks with accessories and wall decor in the shape of lambs, cows, chicks, or other charming farm animals.
To incorporate multiple patterns in a single space, pair dramatic designs with smaller, more delicate patterns to create a sense of balance—think an intricate floral crib skirt with bold striped sheets, or oversized buffalo check wallpaper with petite, playful prints on the linens.
Take a cue from tradition: historically, pale pink has been used for girls' nurseries and pale blue for boys, while green and yellow are considered gender neutral. Mix and match your main color choice with accents in complementary pastel hues to create a timeless, classic aesthetic.
Opt for bold colors that create contrast to stimulate baby's brain, especially in nurseries that will double as play spaces for little ones. Consider bold navy bedding for a nautical-inspired nursery, or pair bright yellows and pinks for a tropical take on baby room decor.
Layering a crib is more about safety than style. Focus on both and you can create a space you feel good about baby sleeping in. Then, add accessories, lighting, and wall decor or wallpaper to complete your dream nursery look. For more tips and ideas, explore our Product Guides.