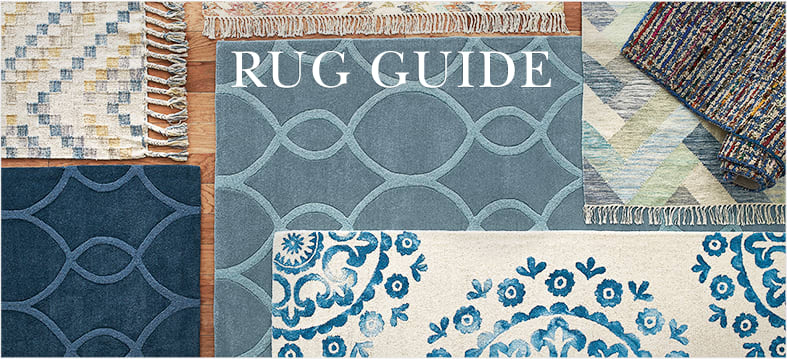 So many rugs, so many sizes, so many choices! Relax. We've created this guide to take the guesswork out of choosing and measuring rugs, so you can find the one that's just right for you and your room.
The most common mistake most people make when buying a rug is buying one that is too small. Planning a cohesive, beautiful space begins with good proportions, so if you choose a rug that is too small, it may make your space actually look smaller. Make sure to measure with a steel measuring tape, not with your eyes—a rug that looks like the right size in a picture may be too small for your needs.
Remember to double check all of your measurements and be sure to consider the location of vents or doors as they may affect where you place your rug.
Protect your investment by purchasing a rug pad to prevent slippage and maintain the durability of your rug.
Bedroom
Measure your bed with a steel measuring tape and add at least 24 in. to each side (left and right sides of your bed). This tells you how wide the rug should be. The most common size for under-bed rugs is 8 ft. x 10 ft. If you have a small room or your bed is against the wall, a smaller rug next to the bed is a great option.
*add at least 24 in. on each side of your bed to find out how wide your rug should be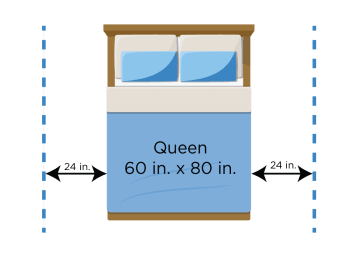 Bed Size
Rug Size
Twin (39 in. x 75 in. )
5 ft. x 8 ft.,
8 ft. x 10 ft.
2 Twins (39 in. x 75 in. )
5 ft. x 8 ft.,
8 ft. x 10 ft.
Queen (60 in. x 80 in. )
8 ft. x 10 ft.
King (76 in. x 80 in. )
8 ft. x 10 ft.
If you are still unsure if the size is right you can use painter's tape to outline the area you'd like to cover. Measure the tape and choose the nearest rug size.
Area rugs should be at least 4 in. away from walls and away from floor vents.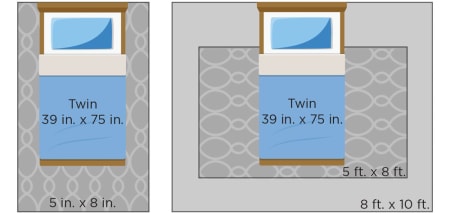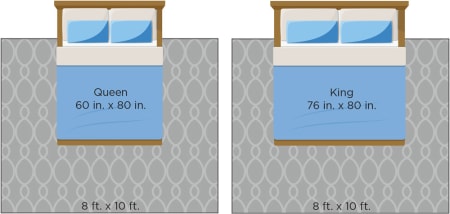 Living Rooms
Measure the entire perimeter of your furniture grouping area to find the closest rug size. You can choose to have all furniture legs on the rug, just the front legs or have all the furniture off the rug.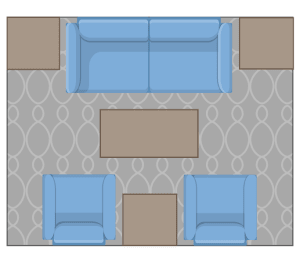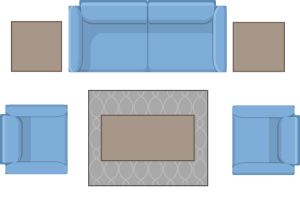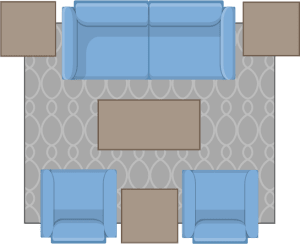 Dining Rooms
Choose a rug size that will enable your table and chairs to fit. Make sure to add 24 in - 30 in. to each side of the table to allow your chairs to easily slide in and out.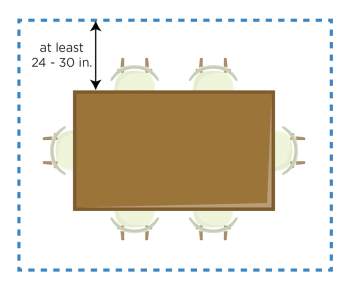 Hallways
Measure the size of your hallway and subtract 12 in. from the length and width. This will allow for a 6 in. border of flooring to show all around. Runners are best for hallways.
The Company Store® offers many styles and types of rugs. Each offers unique benefits and design options. From rich, plush hand-tufted wools, to natural hand woven fibers, the highest quality materials and construction methods are used throughout our rug collections.
Natural Fiber Rugs
Create a stylish combination of supreme durability and aesthetically pleasing design with our amazing 100% jute or jute combination rugs. Natural fiber rugs are strong and resilient while still being soft to the touch, which makes them a go-to favorite
Jute and jute combination rugs are intended for indoor use only and are not recommended for use in damp or humid areas. Coir mats are a favorite for the front door or mudroom.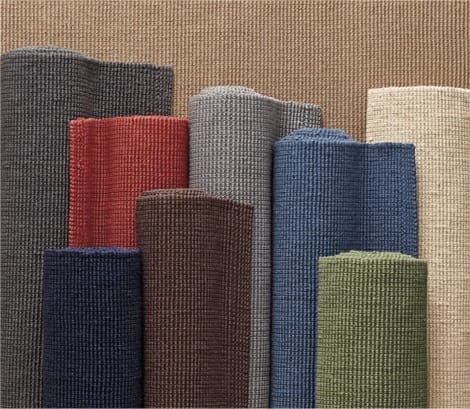 ---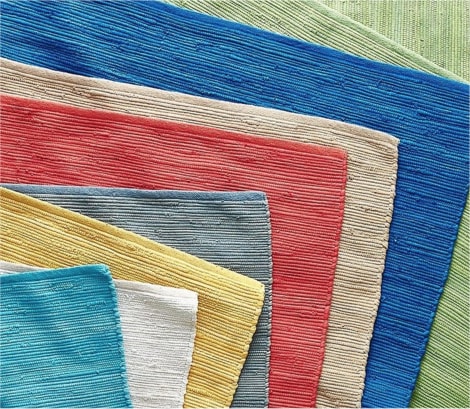 Cotton Rugs
Our hand-woven cotton rugs are a simple and effortless way to add colors to your floors. Cotton rugs are easy to care for, making them ideal for any room—bedrooms, living spaces, entryways, the kitchen. Our cotton rugs are hand-woven on traditional looms in solids or a variety of styles, patterns, and textures.
---
Wool Rugs
Wool rugs can be woven, tufted, or hand-hooked. Most of our wool rugs are hand-tufted or hand-loomed. Wool is soft and naturally stain-resistant.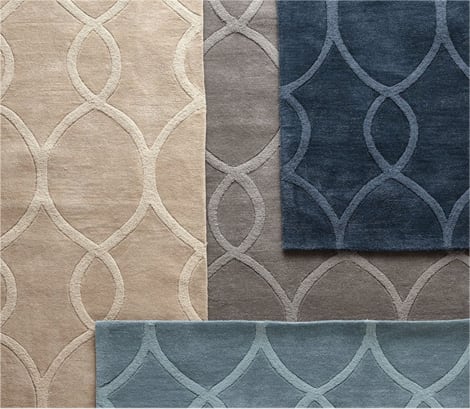 ---
Indoor/Outdoor Rugs
Easy-care could not get easier with our indoor/outdoor rugs. Durable enough for high-traffic areas and can add extra style and comfort to your porch, patio and sunroom. Our indoor/outdoor rugs are water, stain, and mildew resistant.
Care & Rug Pads
Extend the life of your rugs by following these simple cleaning guidelines. Don't forget to protect your rug investment by using a rug comfort grip. A rug comfort grip provides stability and extra cushioning to your rug.
Natural Fiber Rugs
Natural fiber rugs should be vacuumed regularly. Immediately remove spills from your rug using a clean, absorbent white cloth or paper towel. It is recommended to use a dry cleaning process to clean natural fiber rugs. Never use cleaning methods that involves water saturation such as steam cleaning or wet shampoo.
Cotton Rugs
In order to maintain the quality and life of your cotton rugs, professional cleaning is suggested.
Wool Rugs
Normal shedding can be expected with wool rugs. Vacuum regularly. For the first couple of months, it is recommended to set the vacuum at the highest pile setting in order to manage the shedding. Professionally clean.
Indoor/Outdoor Rugs
Easy-care, wash with mild soap and water or rinse with hose; layflat to dry.