From size and fabric to construction and style, many factors influence which duvet cover might be best for you. This popular bedding item slips over a comforter or insert like a pillowcase, adding a layer of style and comfort to the bed, and is available in a range of materials, designs, and sizes to fit your needs. With so many options to choose from, the trick to picking the perfect duvet cover is knowing which questions to ask. Explore our Duvet Cover Size and Buying Guide and find the crucial things to consider when choosing a duvet cover for your bed.
What Size Duvet Cover Do I Need?
Duvet covers come in standard bedding sizes that correlate with mattress sizes, and are designed to drape down over three sides of the bed. If your mattress is extra thick, an oversized duvet cover—which is slightly wider than its standard counterpart—may offer a better fit. When choosing the right duvet cover for your bed, consider our standard dimensions:
| Size | Measurements |
| --- | --- |
| Twin/Twin XL | 70 in. x 90 in. |
| Full | 84 in. x 90 in. |
| Queen | 90 in. x 96 in. |
| Oversized Queen | 98 in. x 96 in. |
| King/Cal. King | 108 in. x 96 in. |
| Oversized King | 116 in. x 96 in. |
Should Your Duvet Cover Be the Same Size as Your Duvet Insert?
In general, a duvet cover should be the same size as your duvet insert or comforter, and both of those bedding items should match your mattress size—a Twin XL duvet and insert for a dorm room bed, a King size duvet set for a King size mattress. If you love the extra-lofty look of a five-star hotel bed, consider pairing an oversized insert with a standard duvet cover, or add two inserts to a single cover.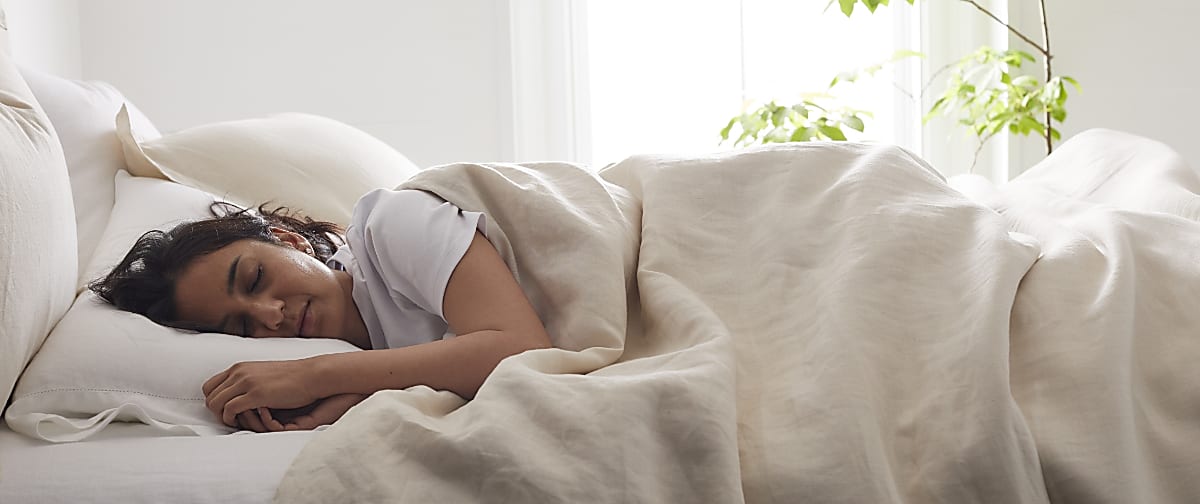 Choose Duvet Cover Material
The best material for a duvet cover depends on your ideal sleeping temperature and personal comfort preferences. We offer high-quality duvet covers in cotton, linen, TENCEL™ Lyocell, and rayon made from bamboo.
Cotton: Durable cotton duvet covers can be made from crisp and cool percale, silky smooth sateen, stretchy and soft jersey knit, or warm and cozy flannel, so there's an option for every type of sleeper and any time of year.
Linen: Choose a lightweight, breathable linen duvet cover if you tend to sleep hot or want to lend a laid-back-yet-elegant look to your bed. Don't worry: The material's natural insulating properties make it warm enough for winter, too.
TENCEL™ Lyocell: Sustainable TENCEL™ Lyocell is a practical choice for an eco-friendly duvet cover, and its buttery soft, moisture-wicking, and breathable qualities make it one of the most comfortable options available.
Rayon made from bamboo: Our bamboo-blend duvet covers keep you cool in summer and warm in winter—plus, they are hypoallergenic, moisture-wicking, and soft and smooth to the touch.
Consider Duvet Cover Construction Details
Well-made duvet covers are not only more comfortable, they're also more durable. Look for construction characteristics commonly associated with quality when narrowing down your duvet cover options: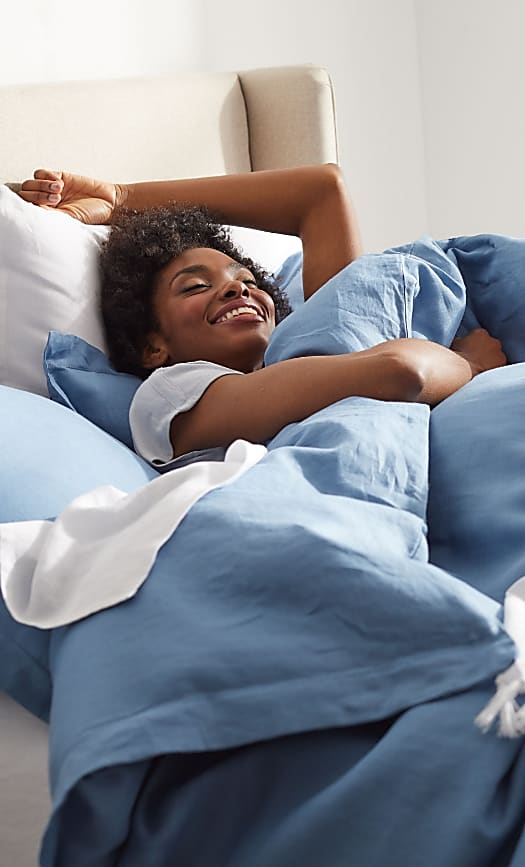 Closure: Most duvet covers feature either a zipper or button closure, but we prefer buttons—they may take a second or two longer to close, but are easier to replace if they fall off, are less likely to malfunction, and are more comfortable. Button closures may be hidden or visible depending on the design of your duvet cover.
Corner Ties: High-quality duvet covers like those from The Company Store include interior corner ties that attach to corner loops on inserts or comforters, holding them in place and preventing pesky bunching.
Finishing Details: Embroidery, pre-washing, and other elements showcase an exceptional attention to detail indicative of high-quality bedding, but some special features may make a duvet cover more delicate—an important factor to keep in mind when choosing duvet covers for kids or college dorms.
Add Style With Color or Pattern Duvet Covers
Among the many benefits of a duvet cover is its versatility: Because a duvet cover is easier and less expensive to replace if your tastes evolve, a color or pattern decision carries less weight. Opt for a white duvet cover to mimic the elegant aesthetic of a hotel room, add festive flair to a guest bed or kids' room with a seasonal printed duvet cover, or choose subtle stripes, an elegant paisley, or a chic solid for the main bed.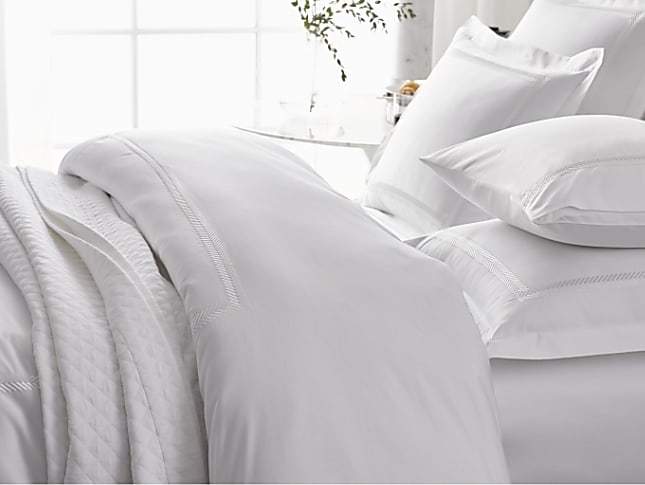 Choose a single duvet cover to make a statement in your bedroom, or fill your linen closet with festive options you can rotate throughout the year. For more bedding tips, advice, and ideas, explore our Product Guides.