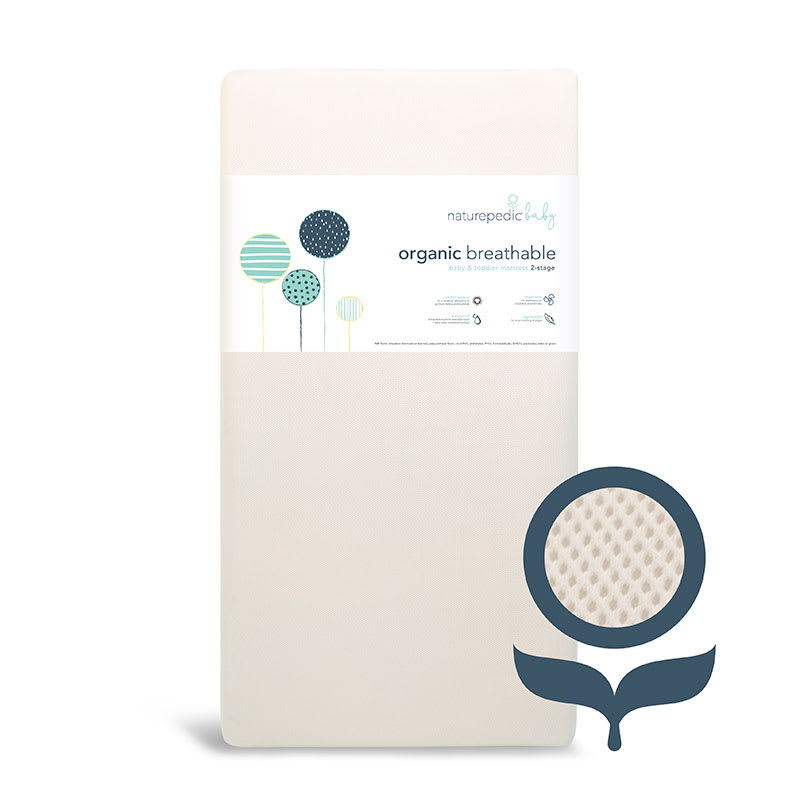 Naturepedic® Breathable Organic 2-Stage Crib Mattress
Organic
Assembled in The USA
Naturepedic® Breathable Organic 2-Stage Crib Mattress
Product Overview
The Naturepedic® Organic Breathable 2-Stage Lightweight Mattress combines every safety feature you could ever want in one crib mattress. An excellent choice for parents seeking to provide a more natural, healthier, and comfortable sleep environment. Features include a luxurious organic cotton cover and fill with a 2-stage dual firmness, a patented waterproof surface that blocks messes from seeping into the mattress, and a washable breathable cover. This mattress is lightweight for easy sheet changes and is easy-to-clean.
Items will ship in 5 - 7 business days, please allow 15 – 17 business days for delivery.
Product Details
Organic cotton fabric and fill
Breathable layer between the baby and the mattress
Breathable layer is waterproof and removable -wash and dry
Full breathability with full hygiene
No harmful chemicals and no flame retardants
No toxic chemical odors or smells
Easy to clean non-toxic food-grade waterproof surface (made from non-GMO sugarcane)
2-stage design—firm infant side / cushion firm toddler side
Seamless edges—easy to wipe clean
Lightweight for easy sheet changing
Proper support for infants
Extra firm edge support for jumping toddlers
Made in U.S.A. with domestic and imported fabric and components
Inside the Mattress
Removable washable breathable layer with organic cotton surface
Wipe-clean waterproof surface (organic cotton + waterproof coating)
Firmness support layer
Organic cotton batting
Wavesupport™ core (lightweight for easy lifting)
Certifications
GOTS Certified Organic
MADE SAFE® Certified
GREENGUARD® Gold Certified
UL Formaldehyde Free Verified
No vinyl, phthalates, polyurethane foam, flame retardant chemicals or barriers, formaldehyde, pesticides, GMOs, glues / adhesives, etc.
See www.Naturepedic.com/Certifications for more information and Naturepedic® safety awards
Size Information
27.25 in. x 51.625 x 6 in.
Weighs 14 lbs.
Care Instructions
Spot clean only with a damp cloth and mild cleanser
Can use hydrogen peroxide or alcohol to sanitize
Breathable cover: machine wash and dry