Taking care of a modern quilt is a surprisingly straightforward task. Explore our guide to quilt care to learn the best ways to wash, dry, and store your quilts.
Washing a Quilt in the Washing Machine
The best way to wash a quilt is to follow the care instructions. Most modern quilts are machine washable, but always check your product's label for any special instructions or restrictions, then consider these general guidelines when caring for a quilt from The Company Store.
Machine wash cold on a gentle cycle with a mild, low-sudsing detergent.
Wash quilts with like colors or alone to prevent inadvertent discoloration.
Avoid washing quilts in the same load as clothing with zippers or buttons that could snag the intricate stitching.
Take special care when washing quilts with appliqué, embroidery, or handcrafted details. Keep in mind that patchwork or pieced quilts are often more delicate than wholecloth quilts.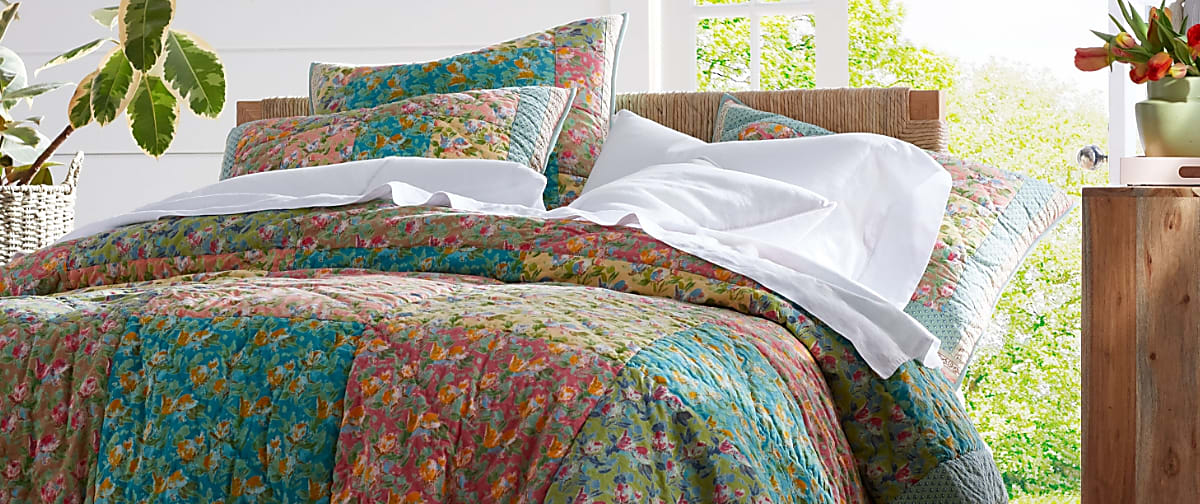 How Often Should You Wash a Quilt?
Our quilts, coverlets, and bedspreads are crafted for durability, but quilts in general are often more delicate than other bedding layers—a factor to consider when deciding how often to wash a quilt. We recommend washing quilts twice a year, as well as before you put them into storage.
Can You Bleach a Quilt?
Many cotton and linen quilts can be bleached, but some quilts made with specific fabrics—such as velvet—cannot. Always check a product's care instructions, and if you can bleach, use only color-safe, non-chlorine bleach: it's gentler on delicate fabrics.
Can I Put a Quilt in the Dryer?
Yes, you can put a quilt in the dryer. Tumble dry quilts on a low-temperature, gentle setting to protect them from snags, tears, or other damage. Wool dryer balls or clean tennis balls added to the load can help quilts dry more quickly. If you prefer air drying, quilts may be too heavy to be hung, and can instead be laid flat to dry on a large, clean surface.
How to Store a Quilt
The best way to store a quilt is to lay it on a spare bed in your home, however if that is not an option it should be folded on the shelf of a linen closet, where there is adequate airflow to prevent mold, mildew, and odors, and it is protected from dust, bugs, and moisture. If you don't have a linen closet, use other bedding storage solutions to keep your quilts free from dust, bugs, or moisture—think functional furniture, under-the-bed storage bags, or on the top shelf of your bedroom closet.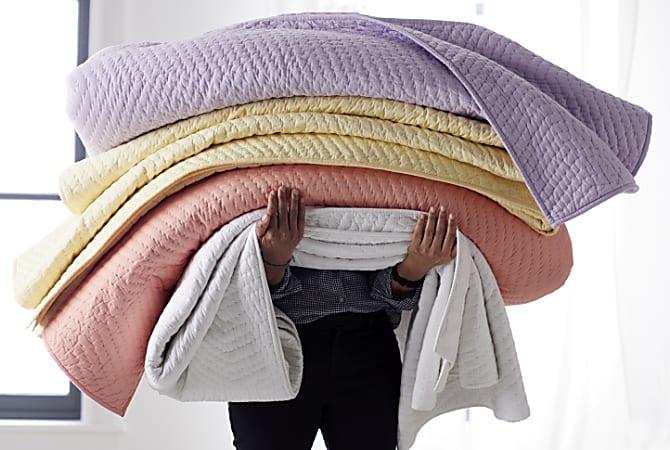 How to Fold a Quilt
Fold a quilt the same way you would fold a comforter: fold it in thirds from the long side, and then in half, and half again. Then, stack your folded quilt neatly on a shelf or in a drawer.
While it's not required, textiles experts offer this extra tip: if you're storing a quilt for long periods, it's often recommended that you re-fold it in a different configuration from time to time to avoid any stubborn creases from forming in the fabric.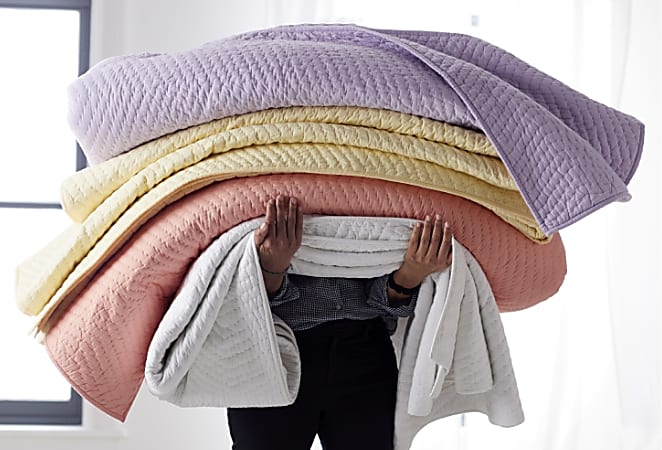 Our heirloom-quality quilts are designed and handcrafted by skilled artisans for impeccable quality, and can last for generations when cared for properly. Explore our guide to washing, drying, and storing quilts, then find more bedding care tips in our Inspiration Guide.