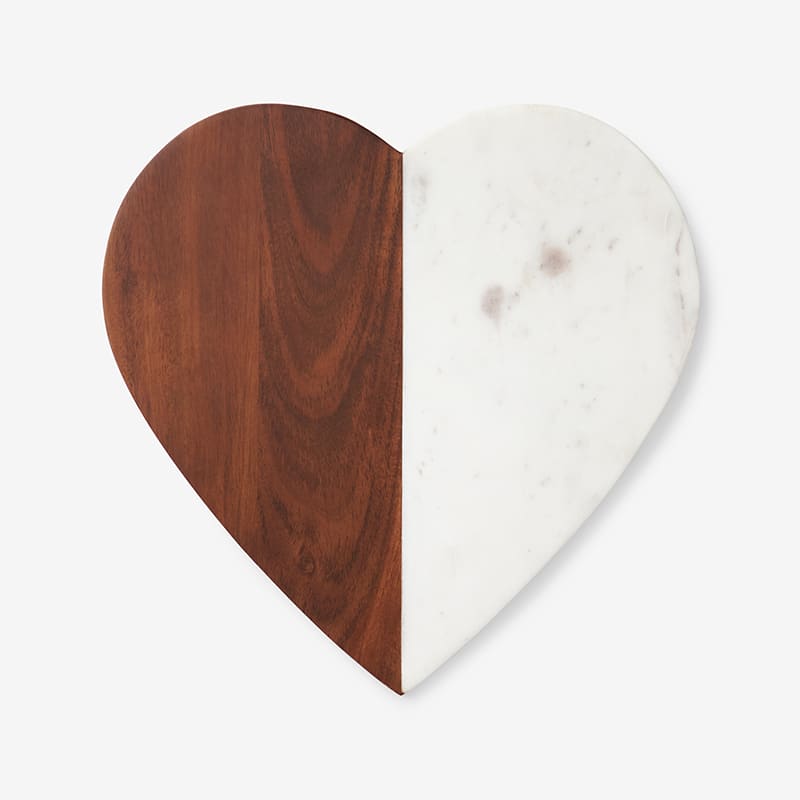 Marble & Wood Serving Board
Handcrafted
Marble & Wood Serving Board
Product Overview
Offered in three designs, our serving boards beautifully meld two natural materials—richly veined marble and solid acacia wood. Perfect for passing around everything from apps to cookies, each one is handcrafted by skilled artisans.
Product Details
Exclusive platters are a beautiful way to serve up apps, canapés, cheese and crackers, and more
Handcrafted from richly veined marble and beautifully grained acacia wood
Food safe
Due to the natural material and handcrafted nature, variations in the wood grain and marble veining will occur, making each piece one of a kind
Made in India
Size Information
House: 11.75 in. W x 15.5 in. H x .5 in. D
Tree: 9.5 in. W x 15.75 in. H x .5 in. D
Heart: 13 in. W x 13 in. H x .5 in. D
Care Instructions
Hand wash
Wipe with a warm and ammonia-free soapy cloth
Don't submerge in water or soak—not dishwasher safe
Avoid cleaning with any abrasive surface material
Dry with a clean towel; stand on end to air dry
Note: For best results, rub with a food-safe mineral oil on wood area, on occasion to keep wood from drying out
Not intended to be used as a cutting board. Avoid using sharp utensils on surface.