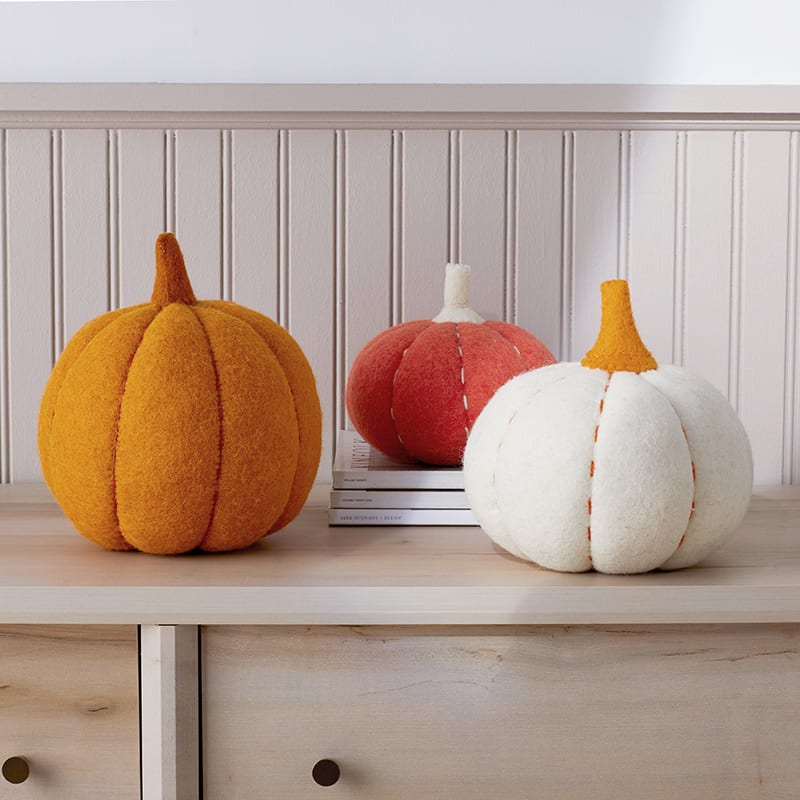 Felt Pumpkin Decor
Handcrafted
Felt Pumpkin Decor
Product Overview
Add some seasonal cheer to your fall tablescape, coffee table, or mantel with our decorative fuzzy felt pumpkins that are handmade and embellished with embroidery. Display them in groups for even more impact.
Product Details
100% wool
100% polyester fill
Accented with special embroidered details
Due to the handmade nature, each piece is unique and will have subtle variations
Indoor use only
Made in India
Size Information
Large Teal Pumpkin: 9 in. W x 13 in. H x 9 in. D
Medium Blue Pumpkin: 9 in. W x 12 in. H x 9 in. D
Small Taupe Pumpkin: 6 in. W x 7 in. H x 6 in. D
Large Orange Pumpkin: 9 in. W x 11 in. H x 9 in. D
Medium Ivory Pumpkin: 10 in. W x 9 in. H x 10 in. D
Small Coral Pumpkin: 7 in. W x 7.5 in. H x 7 in. D
Product Glossary
Polyester - Polyester is a synthetic fiber used in many different forms, including fabrics and fills. Polyester fill is an effective and hypoallergenic alternative to down fill used in pillows, comforters, quilts, and more.
Wool - Wool is a fiber or fabric made from the fleece of sheep and lambs, known for its luxurious softness, warmth, breathability, and durability. Wool's crimped fibers form millions of tiny pockets which trap air and wick away moisture, keeping you warm in winter and cool in summer.