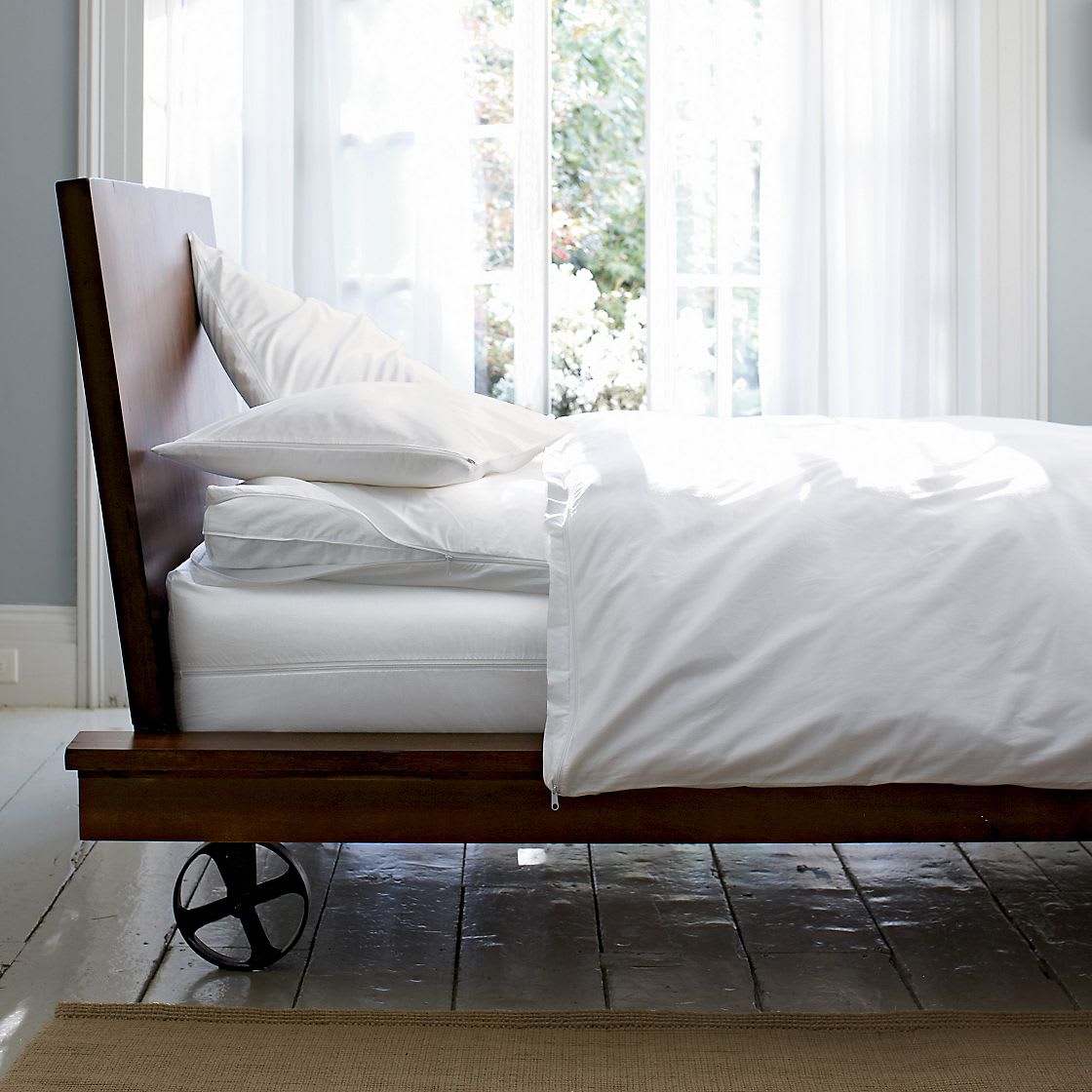 Dust Mite-Proof Cotton Comforter Protector
Assembled in The USA
Dust Mite-Proof Cotton Comforter Protector
Product Overview
Hypoallergenic duvet / comforter cover.
100% cotton allergen control.
Hidden corner ties hold comforter in place.
Patented membrane-free fabric provides the best in protection and in comfort, safeguarding against dust mites, while providing the cool, breathable feeling of your finest sheets.
Rust proof heavy gauge zipper.
Made in USA of imported materials.
Membrane-Free - No added chemicals.
No harsh treatments. No sticky coatings that won't breathe.
Specially woven 100% cotton - Preshrunk all natural cotton breathes unlike membrane and synthetic fabrics, and is woven in such a way to block out allergens.
Microscopic Pores - Tiny pores, averaging just 4.91 microns far exceed standards for dust mite protection, and also provide a barrier against pet dander, bed bugs and other allergens, while allowing air to circulate so you sleep cool and comfortably. Naturally repels common allergens due to the elimination of moisture build-up.
Fight Dust Mites: Your bed is a haven for microscopic dust mites, offering the warmth, moisture and food (human skin flakes) for them to thrive. While they don't bite, dust mites can trigger a host of allergic reactions including: Chronic sinusitis Asthma attacks Sinus congestion Allergic eczema Our covers protect against mites so you can breathe easier and sleep more sound.

Say goodbye to stuffy noses, itchy eyes, headaches or asthma attacks in the morning. Protect yourself and your bed from allergy infestation with this special hypoallergenic duvet cover, designed for ultimate protection against dust mites. Woven from 100% cotton, the comforter protector offers a soft, cool feel, resembling your finest sheets, but with the added protection of a patented membrane-free fabric that blocks out allergens.

*Duvet/Comforter sold separately.