Zebra Hooded Towel
Overview & Details
• Fun kids' hooded towel for the beach, bath or pool.
• Towel for kids features hooded top for extra coziness.
• 26"H x 46"W.
• Made from soft, thirsty 100% cotton.
• Also available as Ballerina, Owl, T-Rex, Super Hero and Sly Fox.
• Machine wash.
• Imported.
• Exclusively ours.

This soft and cozy hooded towel for kids is so popular, and we know why — kids just love the fun zebra stripes, whether at the bath, beach or pool! Made from soft and thirsty 100% cotton, the fun Zebra kids' hooded towel turns any water activity into an imagination-filled costume adventure. The towel is also available in several other great characters (sold separately): Ballerina, Owl, T-Rex, Super Hero, Sly Fox and more.
Reviews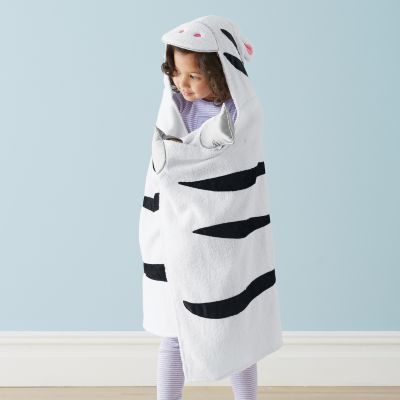 Monogram items are non-returnable due to their customization. Please allow an additional 5-7 business days for orders containing monogrammed items and an additional 7-12 business days during holiday & high volume times. Please check out our
Monogram Guide
for more info.
{"ID":"38168-ZEB","isMonogrammable":true,"isCustomizationRequired":false,"monoItemNo":"MG06","customizationCode":"!12","styleOptions":"_1 Initial_2 Initials_3 Initials_Name or Word|02 Block_03 Diamond_04 Classic_05 Signet_08 Sketch_13 Collegiate_14 Traditional_15 Kids_*02 Block_03 Diamond_04 Classic_05 Signet_08 Sketch_13 Collegiate_15 Kids_*02 Block_03 Diamond_04 Classic_05 Signet_06 Modern_08 Sketch_13 Collegiate_15 Kids_*02 Block_04 Classic_07 Juliet_08 Sketch_13 Collegiate_14 Traditional_15 Kids_*|_1_1_1_1_1_1_11_0_0|","monoPrice":6.0,"configuration":"null", "optionType":""}
{ "variations": { "variants": [ ] }}