Continue Shopping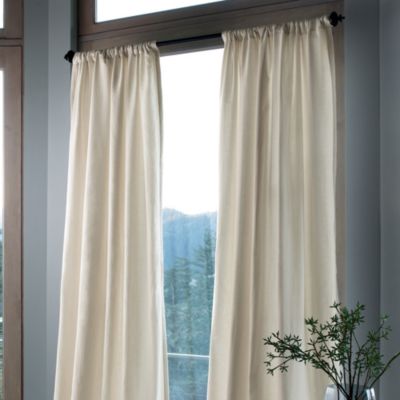 Weekender Window Panels
Print
Window curtain panels.
Twill window panels woven of yarn-dyed cotton.
Cotton is garment washed for a relaxed, easy look.
Window panels finished with a double-stitched hem.
Rod pocket construction.
Fully lined window panels.
Weekender 18-inch pillow cover available to complete the look.
Machine wash.
Imported.
Exclusively ours.

Update your views with no decorator required. Our beautiful Weekender twill window panels will enhance your home with effortlessly chic yet casual style. Woven of yarn-dyed cotton that's been garment washed for a soft hand and relaxed look, our versatile Weekender window panels are finished with a double-stitched hem for a polished look. An elegant home essential, our well-crafted twill window panels will complement any window in your room, from dining rooms to bedrooms and more. You're sure to love the graceful drape and timeless aesthetic of our yarn-dyed Weekender twill window panels. They work well in a variety of settings from contemporary to tradition.

Beautifully constructed, our Weekender curtain panels are offered in a vast array of colors from light to bright so you can find the right hue to best highlight the room's decor. The twill window panels feature rod pocket construction and full lining.

Our sophisticated Weekender window panels can be paired with various metal drapery hardware to complete the window treatment in ultimate style. The coordinated Weekender 18-inch pillow cover also adds a lovely finishing touch to the room. After all, sometimes details make all the difference. Available exclusively at The Company Store, you'll only find the yarn-dyed twill Weekender window panels here.
{ "variations": { "variants": [ {"id": "GP82_108_BHO", "attributes": { "size": "54x108''" , "color": "Blue Horizon" }, "avLevels": {"IN_STOCK": 0.0, "PREORDER": 0.0, "BACKORDER": 0.0, "NOT_AVAILABLE": 1.0}, "avStatus":"NOT_AVAILABLE", "inStock":false, "ATS": 0.0, "inStockDate": "Tue Dec 31 12:00:00 GMT 2030" , "pricing": {"standard": "99.0", "sale": "33.99", "isPromoPrice": false, "quantities": [ {"unit": "", "value": "1.0"} ]} }, {"id": "GP82_108_GST", "attributes": { "size": "54x108''" , "color": "Graystone" }, "avLevels": {"IN_STOCK": 0.0, "PREORDER": 0.0, "BACKORDER": 0.0, "NOT_AVAILABLE": 1.0}, "avStatus":"NOT_AVAILABLE", "inStock":false, "ATS": 0.0, "inStockDate": "Tue Dec 31 12:00:00 GMT 2030" , "pricing": {"standard": "99.0", "sale": "33.99", "isPromoPrice": false, "quantities": [ {"unit": "", "value": "1.0"} ]} }, {"id": "GP82_108_LIN", "attributes": { "size": "54x108''" , "color": "Linen" }, "avLevels": {"IN_STOCK": 0.0, "PREORDER": 0.0, "BACKORDER": 0.0, "NOT_AVAILABLE": 1.0}, "avStatus":"NOT_AVAILABLE", "inStock":false, "ATS": 0.0, "inStockDate": "Tue Dec 31 12:00:00 GMT 2030" , "pricing": {"standard": "99.0", "sale": "33.99", "isPromoPrice": false, "quantities": [ {"unit": "", "value": "1.0"} ]} }, {"id": "GP82_108_SAB", "attributes": { "size": "54x108''" , "color": "Sable" }, "avLevels": {"IN_STOCK": 0.0, "PREORDER": 0.0, "BACKORDER": 0.0, "NOT_AVAILABLE": 1.0}, "avStatus":"NOT_AVAILABLE", "inStock":false, "ATS": 0.0, "inStockDate": "Tue Dec 31 12:00:00 GMT 2030" , "pricing": {"standard": "99.0", "sale": "33.99", "isPromoPrice": false, "quantities": [ {"unit": "", "value": "1.0"} ]} }, {"id": "GP82_108_SPI", "attributes": { "size": "54x108''" , "color": "Spice" }, "avLevels": {"IN_STOCK": 0.0, "PREORDER": 0.0, "BACKORDER": 0.0, "NOT_AVAILABLE": 1.0}, "avStatus":"NOT_AVAILABLE", "inStock":false, "ATS": 0.0, "inStockDate": "Tue Dec 31 12:00:00 GMT 2030" , "pricing": {"standard": "99.0", "sale": "33.99", "isPromoPrice": false, "quantities": [ {"unit": "", "value": "1.0"} ]} }, {"id": "GP82_84_CAR", "attributes": { "size": "54x84''" , "color": "Caramel" }, "avLevels": {"IN_STOCK": 0.0, "PREORDER": 0.0, "BACKORDER": 0.0, "NOT_AVAILABLE": 1.0}, "avStatus":"NOT_AVAILABLE", "inStock":false, "ATS": 0.0, "inStockDate": "Thu Aug 02 12:00:00 GMT 2012" , "pricing": {"standard": "79.0", "sale": "26.99", "isPromoPrice": false, "quantities": [ {"unit": "", "value": "1.0"} ]} }, {"id": "GP82_84_GST", "attributes": { "size": "54x84''" , "color": "Graystone" }, "avLevels": {"IN_STOCK": 0.0, "PREORDER": 0.0, "BACKORDER": 0.0, "NOT_AVAILABLE": 1.0}, "avStatus":"NOT_AVAILABLE", "inStock":false, "ATS": 0.0, "inStockDate": "Tue Dec 31 12:00:00 GMT 2030" , "pricing": {"standard": "79.0", "sale": "26.99", "isPromoPrice": false, "quantities": [ {"unit": "", "value": "1.0"} ]} }, {"id": "GP82_84_LIN", "attributes": { "size": "54x84''" , "color": "Linen" }, "avLevels": {"IN_STOCK": 0.0, "PREORDER": 0.0, "BACKORDER": 0.0, "NOT_AVAILABLE": 1.0}, "avStatus":"NOT_AVAILABLE", "inStock":false, "ATS": 0.0, "inStockDate": "Tue Dec 31 12:00:00 GMT 2030" , "pricing": {"standard": "79.0", "sale": "26.99", "isPromoPrice": false, "quantities": [ {"unit": "", "value": "1.0"} ]} }, {"id": "GP82_84_SAB", "attributes": { "size": "54x84''" , "color": "Sable" }, "avLevels": {"IN_STOCK": 0.0, "PREORDER": 0.0, "BACKORDER": 0.0, "NOT_AVAILABLE": 1.0}, "avStatus":"NOT_AVAILABLE", "inStock":false, "ATS": 0.0, "inStockDate": "Tue Dec 31 12:00:00 GMT 2030" , "pricing": {"standard": "79.0", "sale": "26.99", "isPromoPrice": false, "quantities": [ {"unit": "", "value": "1.0"} ]} }, {"id": "GP82_84_SPI", "attributes": { "size": "54x84''" , "color": "Spice" }, "avLevels": {"IN_STOCK": 0.0, "PREORDER": 0.0, "BACKORDER": 0.0, "NOT_AVAILABLE": 1.0}, "avStatus":"NOT_AVAILABLE", "inStock":false, "ATS": 0.0, "inStockDate": "Tue Dec 31 12:00:00 GMT 2030" , "pricing": {"standard": "79.0", "sale": "26.99", "isPromoPrice": false, "quantities": [ {"unit": "", "value": "1.0"} ]} }, {"id": "GP82_96_BHO", "attributes": { "size": "54x96''" , "color": "Blue Horizon" }, "avLevels": {"IN_STOCK": 0.0, "PREORDER": 0.0, "BACKORDER": 0.0, "NOT_AVAILABLE": 1.0}, "avStatus":"NOT_AVAILABLE", "inStock":false, "ATS": 0.0, "inStockDate": "Fri Jun 29 12:00:00 GMT 2012" , "pricing": {"standard": "89.0", "sale": "30.99", "isPromoPrice": false, "quantities": [ {"unit": "", "value": "1.0"} ]} }, {"id": "GP82_96_CAR", "attributes": { "size": "54x96''" , "color": "Caramel" }, "avLevels": {"IN_STOCK": 0.0, "PREORDER": 0.0, "BACKORDER": 0.0, "NOT_AVAILABLE": 1.0}, "avStatus":"NOT_AVAILABLE", "inStock":false, "ATS": 0.0, "inStockDate": "Tue Dec 31 12:00:00 GMT 2030" , "pricing": {"standard": "89.0", "sale": "30.99", "isPromoPrice": false, "quantities": [ {"unit": "", "value": "1.0"} ]} }, {"id": "GP82_96_GST", "attributes": { "size": "54x96''" , "color": "Graystone" }, "avLevels": {"IN_STOCK": 0.0, "PREORDER": 0.0, "BACKORDER": 0.0, "NOT_AVAILABLE": 1.0}, "avStatus":"NOT_AVAILABLE", "inStock":false, "ATS": 0.0, "inStockDate": "Tue Dec 31 12:00:00 GMT 2030" , "pricing": {"standard": "89.0", "sale": "30.99", "isPromoPrice": false, "quantities": [ {"unit": "", "value": "1.0"} ]} }, {"id": "GP82_96_LIN", "attributes": { "size": "54x96''" , "color": "Linen" }, "avLevels": {"IN_STOCK": 0.0, "PREORDER": 0.0, "BACKORDER": 0.0, "NOT_AVAILABLE": 1.0}, "avStatus":"NOT_AVAILABLE", "inStock":false, "ATS": 0.0, "inStockDate": "Tue Dec 31 12:00:00 GMT 2030" , "pricing": {"standard": "89.0", "sale": "30.99", "isPromoPrice": false, "quantities": [ {"unit": "", "value": "1.0"} ]} }, {"id": "GP82_96_SAB", "attributes": { "size": "54x96''" , "color": "Sable" }, "avLevels": {"IN_STOCK": 0.0, "PREORDER": 0.0, "BACKORDER": 0.0, "NOT_AVAILABLE": 1.0}, "avStatus":"NOT_AVAILABLE", "inStock":false, "ATS": 0.0, "inStockDate": "Tue Dec 31 12:00:00 GMT 2030" , "pricing": {"standard": "89.0", "sale": "30.99", "isPromoPrice": false, "quantities": [ {"unit": "", "value": "1.0"} ]} }, {"id": "GP82_96_SPI", "attributes": { "size": "54x96''" , "color": "Spice" }, "avLevels": {"IN_STOCK": 0.0, "PREORDER": 0.0, "BACKORDER": 0.0, "NOT_AVAILABLE": 1.0}, "avStatus":"NOT_AVAILABLE", "inStock":false, "ATS": 0.0, "inStockDate": "Tue Dec 31 12:00:00 GMT 2030" , "pricing": {"standard": "89.0", "sale": "30.99", "isPromoPrice": false, "quantities": [ {"unit": "", "value": "1.0"} ]} } ] }}