Washable Wool Blanket & Throw
Overview & Details
80% lambswool/20% nylon.
Available in a blanket or throw.
Reverses to a complementary hue.
Self-hem edges.
Machine wash.
Hang dry.
Made in Portugal.
Available exclusively at The Company Store.
Offered in an array of eye-catching, heathered hues, our Washable Wool Blanket reverses to a complementary color for twice the layering options. Crafted in Portugal of soft 80% lambswool/ 20% nylon with self-hemmed edges, we also offer a throw size—perfect for cozying up on the couch or your favorite reading chair. Another selling point: It's machine washable. Available exclusively at The Company Store.
Reviews
Washable Wool Blanket & Throw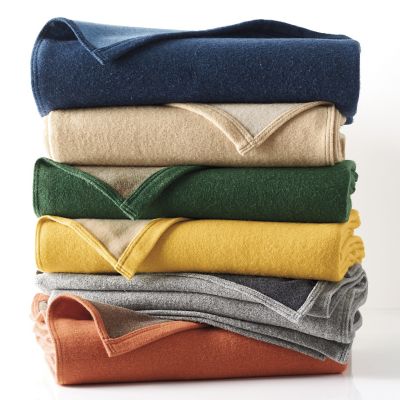 Monogram items are non-returnable due to their customization. Please allow an additional 5-7 business days for orders containing monogrammed items and an additional 7-12 business days during holiday & high volume times. Please check out our
Monogram Guide
for more info.
{"ID":"KO14","isMonogrammable":true,"isCustomizationRequired":false,"monoItemNo":"MG12","customizationCode":"!12","styleOptions":"_1 Initial_2 Initials_3 Initials_Name or Word|02 Block_03 Diamond_04 Classic_05 Signet_08 Sketch_13 Collegiate_14 Traditional_15 Kids_*02 Block_03 Diamond_04 Classic_05 Signet_08 Sketch_13 Collegiate_15 Kids_*02 Block_03 Diamond_04 Classic_05 Signet_06 Modern_08 Sketch_13 Collegiate_15 Kids_*02 Block_04 Classic_07 Juliet_08 Sketch_13 Collegiate_14 Traditional_15 Kids_*|_1_1_1_1_1_1_11_0_0|","monoPrice":12.0,"configuration":"null", "optionType":""}
{ "variations": { "variants": [ {"id": "KO14-F-CAMEL", "attributes": { "size": "Full, 80 x 94''" , "color": "Camel" }, "avLevels": {"IN_STOCK": 1.0, "PREORDER": 0.0, "BACKORDER": 0.0, "NOT_AVAILABLE": 0.0}, "avStatus":"IN_STOCK", "inStock":true, "ATS": 61.0, "inStockDate": "Fri Nov 06 12:00:00 GMT 2015" , "pricing": {"standard": "159.0", "sale": "159.0", "isPromoPrice": false, "quantities": [ {"unit": "", "value": "1.0"} ]} }, {"id": "KO14-F-FLDGRN", "attributes": { "size": "Full, 80 x 94''" , "color": "Field Green" }, "avLevels": {"IN_STOCK": 1.0, "PREORDER": 0.0, "BACKORDER": 0.0, "NOT_AVAILABLE": 0.0}, "avStatus":"IN_STOCK", "inStock":true, "ATS": 3.0, "inStockDate": "Fri Nov 06 12:00:00 GMT 2015" , "pricing": {"standard": "159.0", "sale": "159.0", "isPromoPrice": false, "quantities": [ {"unit": "", "value": "1.0"} ]} }, {"id": "KO14-F-GOLDENROD", "attributes": { "size": "Full, 80 x 94''" , "color": "Goldenrod" }, "avLevels": {"IN_STOCK": 1.0, "PREORDER": 0.0, "BACKORDER": 0.0, "NOT_AVAILABLE": 0.0}, "avStatus":"IN_STOCK", "inStock":true, "ATS": 17.0, "inStockDate": "Fri Nov 06 12:00:00 GMT 2015" , "pricing": {"standard": "159.0", "sale": "159.0", "isPromoPrice": false, "quantities": [ {"unit": "", "value": "1.0"} ]} }, {"id": "KO14-F-GRAPHITE", "attributes": { "size": "Full, 80 x 94''" , "color": "Graphite" }, "avLevels": {"IN_STOCK": 0.0, "PREORDER": 0.0, "BACKORDER": 0.0, "NOT_AVAILABLE": 1.0}, "avStatus":"NOT_AVAILABLE", "inStock":false, "ATS": 0.0, "inStockDate": "Fri Nov 06 12:00:00 GMT 2015" , "pricing": {"standard": "159.0", "sale": "159.0", "isPromoPrice": false, "quantities": [ {"unit": "", "value": "1.0"} ]} }, {"id": "KO14-F-LAPIS", "attributes": { "size": "Full, 80 x 94''" , "color": "Lapis" }, "avLevels": {"IN_STOCK": 1.0, "PREORDER": 0.0, "BACKORDER": 0.0, "NOT_AVAILABLE": 0.0}, "avStatus":"IN_STOCK", "inStock":true, "ATS": 37.0, "inStockDate": "Fri Nov 06 12:00:00 GMT 2015" , "pricing": {"standard": "159.0", "sale": "159.0", "isPromoPrice": false, "quantities": [ {"unit": "", "value": "1.0"} ]} }, {"id": "KO14-F-PUMPKIN", "attributes": { "size": "Full, 80 x 94''" , "color": "Pumpkin" }, "avLevels": {"IN_STOCK": 1.0, "PREORDER": 0.0, "BACKORDER": 0.0, "NOT_AVAILABLE": 0.0}, "avStatus":"IN_STOCK", "inStock":true, "ATS": 57.0, "inStockDate": "Fri Nov 06 12:00:00 GMT 2015" , "pricing": {"standard": "159.0", "sale": "159.0", "isPromoPrice": false, "quantities": [ {"unit": "", "value": "1.0"} ]} }, {"id": "KO14-K-CAMEL", "attributes": { "size": "King, 110 x 94''" , "color": "Camel" }, "avLevels": {"IN_STOCK": 1.0, "PREORDER": 0.0, "BACKORDER": 0.0, "NOT_AVAILABLE": 0.0}, "avStatus":"IN_STOCK", "inStock":true, "ATS": 67.0, "inStockDate": "Fri Nov 06 12:00:00 GMT 2015" , "pricing": {"standard": "209.0", "sale": "209.0", "isPromoPrice": false, "quantities": [ {"unit": "", "value": "1.0"} ]} }, {"id": "KO14-K-FLDGRN", "attributes": { "size": "King, 110 x 94''" , "color": "Field Green" }, "avLevels": {"IN_STOCK": 1.0, "PREORDER": 0.0, "BACKORDER": 0.0, "NOT_AVAILABLE": 0.0}, "avStatus":"IN_STOCK", "inStock":true, "ATS": 43.0, "inStockDate": "Fri Nov 06 12:00:00 GMT 2015" , "pricing": {"standard": "209.0", "sale": "209.0", "isPromoPrice": false, "quantities": [ {"unit": "", "value": "1.0"} ]} }, {"id": "KO14-K-GOLDENROD", "attributes": { "size": "King, 110 x 94''" , "color": "Goldenrod" }, "avLevels": {"IN_STOCK": 1.0, "PREORDER": 0.0, "BACKORDER": 0.0, "NOT_AVAILABLE": 0.0}, "avStatus":"IN_STOCK", "inStock":true, "ATS": 19.0, "inStockDate": "Fri Nov 06 12:00:00 GMT 2015" , "pricing": {"standard": "209.0", "sale": "209.0", "isPromoPrice": false, "quantities": [ {"unit": "", "value": "1.0"} ]} }, {"id": "KO14-K-GRAPHITE", "attributes": { "size": "King, 110 x 94''" , "color": "Graphite" }, "avLevels": {"IN_STOCK": 1.0, "PREORDER": 0.0, "BACKORDER": 0.0, "NOT_AVAILABLE": 0.0}, "avStatus":"IN_STOCK", "inStock":true, "ATS": 15.0, "inStockDate": "Fri Nov 06 12:00:00 GMT 2015" , "pricing": {"standard": "209.0", "sale": "209.0", "isPromoPrice": false, "quantities": [ {"unit": "", "value": "1.0"} ]} }, {"id": "KO14-K-LAPIS", "attributes": { "size": "King, 110 x 94''" , "color": "Lapis" }, "avLevels": {"IN_STOCK": 1.0, "PREORDER": 0.0, "BACKORDER": 0.0, "NOT_AVAILABLE": 0.0}, "avStatus":"IN_STOCK", "inStock":true, "ATS": 63.0, "inStockDate": "Fri Nov 06 12:00:00 GMT 2015" , "pricing": {"standard": "209.0", "sale": "209.0", "isPromoPrice": false, "quantities": [ {"unit": "", "value": "1.0"} ]} }, {"id": "KO14-K-PUMPKIN", "attributes": { "size": "King, 110 x 94''" , "color": "Pumpkin" }, "avLevels": {"IN_STOCK": 1.0, "PREORDER": 0.0, "BACKORDER": 0.0, "NOT_AVAILABLE": 0.0}, "avStatus":"IN_STOCK", "inStock":true, "ATS": 62.0, "inStockDate": "Fri Nov 06 12:00:00 GMT 2015" , "pricing": {"standard": "209.0", "sale": "209.0", "isPromoPrice": false, "quantities": [ {"unit": "", "value": "1.0"} ]} }, {"id": "KO14-Q-CAMEL", "attributes": { "size": "Queen, 90 x 94''" , "color": "Camel" }, "avLevels": {"IN_STOCK": 1.0, "PREORDER": 0.0, "BACKORDER": 0.0, "NOT_AVAILABLE": 0.0}, "avStatus":"IN_STOCK", "inStock":true, "ATS": 94.0, "inStockDate": "Fri Nov 06 12:00:00 GMT 2015" , "pricing": {"standard": "179.0", "sale": "179.0", "isPromoPrice": false, "quantities": [ {"unit": "", "value": "1.0"} ]} }, {"id": "KO14-Q-FLDGRN", "attributes": { "size": "Queen, 90 x 94''" , "color": "Field Green" }, "avLevels": {"IN_STOCK": 1.0, "PREORDER": 0.0, "BACKORDER": 0.0, "NOT_AVAILABLE": 0.0}, "avStatus":"IN_STOCK", "inStock":true, "ATS": 13.0, "inStockDate": "Fri Nov 06 12:00:00 GMT 2015" , "pricing": {"standard": "179.0", "sale": "179.0", "isPromoPrice": false, "quantities": [ {"unit": "", "value": "1.0"} ]} }, {"id": "KO14-Q-GOLDENROD", "attributes": { "size": "Queen, 90 x 94''" , "color": "Goldenrod" }, "avLevels": {"IN_STOCK": 1.0, "PREORDER": 0.0, "BACKORDER": 0.0, "NOT_AVAILABLE": 0.0}, "avStatus":"IN_STOCK", "inStock":true, "ATS": 39.0, "inStockDate": "Fri Nov 06 12:00:00 GMT 2015" , "pricing": {"standard": "179.0", "sale": "179.0", "isPromoPrice": false, "quantities": [ {"unit": "", "value": "1.0"} ]} }, {"id": "KO14-Q-GRAPHITE", "attributes": { "size": "Queen, 90 x 94''" , "color": "Graphite" }, "avLevels": {"IN_STOCK": 1.0, "PREORDER": 0.0, "BACKORDER": 0.0, "NOT_AVAILABLE": 0.0}, "avStatus":"IN_STOCK", "inStock":true, "ATS": 19.0, "inStockDate": "Fri Nov 06 12:00:00 GMT 2015" , "pricing": {"standard": "179.0", "sale": "179.0", "isPromoPrice": false, "quantities": [ {"unit": "", "value": "1.0"} ]} }, {"id": "KO14-Q-LAPIS", "attributes": { "size": "Queen, 90 x 94''" , "color": "Lapis" }, "avLevels": {"IN_STOCK": 1.0, "PREORDER": 0.0, "BACKORDER": 0.0, "NOT_AVAILABLE": 0.0}, "avStatus":"IN_STOCK", "inStock":true, "ATS": 72.0, "inStockDate": "Fri Nov 06 12:00:00 GMT 2015" , "pricing": {"standard": "179.0", "sale": "179.0", "isPromoPrice": false, "quantities": [ {"unit": "", "value": "1.0"} ]} }, {"id": "KO14-Q-PUMPKIN", "attributes": { "size": "Queen, 90 x 94''" , "color": "Pumpkin" }, "avLevels": {"IN_STOCK": 1.0, "PREORDER": 0.0, "BACKORDER": 0.0, "NOT_AVAILABLE": 0.0}, "avStatus":"IN_STOCK", "inStock":true, "ATS": 69.0, "inStockDate": "Fri Nov 06 12:00:00 GMT 2015" , "pricing": {"standard": "179.0", "sale": "179.0", "isPromoPrice": false, "quantities": [ {"unit": "", "value": "1.0"} ]} }, {"id": "KO14-THRW-CAMEL", "attributes": { "size": "Throw, 40 x 70''" , "color": "Camel" }, "avLevels": {"IN_STOCK": 1.0, "PREORDER": 0.0, "BACKORDER": 0.0, "NOT_AVAILABLE": 0.0}, "avStatus":"IN_STOCK", "inStock":true, "ATS": 217.0, "inStockDate": "Fri Nov 06 12:00:00 GMT 2015" , "pricing": {"standard": "89.0", "sale": "89.0", "isPromoPrice": false, "quantities": [ {"unit": "", "value": "1.0"} ]} }, {"id": "KO14-THRW-FLDGRN", "attributes": { "size": "Throw, 40 x 70''" , "color": "Field Green" }, "avLevels": {"IN_STOCK": 1.0, "PREORDER": 0.0, "BACKORDER": 0.0, "NOT_AVAILABLE": 0.0}, "avStatus":"IN_STOCK", "inStock":true, "ATS": 32.0, "inStockDate": "Fri Nov 06 12:00:00 GMT 2015" , "pricing": {"standard": "89.0", "sale": "89.0", "isPromoPrice": false, "quantities": [ {"unit": "", "value": "1.0"} ]} }, {"id": "KO14-THRW-GOLDENROD", "attributes": { "size": "Throw, 40 x 70''" , "color": "Goldenrod" }, "avLevels": {"IN_STOCK": 1.0, "PREORDER": 0.0, "BACKORDER": 0.0, "NOT_AVAILABLE": 0.0}, "avStatus":"IN_STOCK", "inStock":true, "ATS": 28.0, "inStockDate": "Fri Nov 06 12:00:00 GMT 2015" , "pricing": {"standard": "89.0", "sale": "89.0", "isPromoPrice": false, "quantities": [ {"unit": "", "value": "1.0"} ]} }, {"id": "KO14-THRW-GRAPHITE", "attributes": { "size": "Throw, 40 x 70''" , "color": "Graphite" }, "avLevels": {"IN_STOCK": 1.0, "PREORDER": 0.0, "BACKORDER": 0.0, "NOT_AVAILABLE": 0.0}, "avStatus":"IN_STOCK", "inStock":true, "ATS": 55.0, "inStockDate": "Fri Nov 06 12:00:00 GMT 2015" , "pricing": {"standard": "89.0", "sale": "89.0", "isPromoPrice": false, "quantities": [ {"unit": "", "value": "1.0"} ]} }, {"id": "KO14-THRW-LAPIS", "attributes": { "size": "Throw, 40 x 70''" , "color": "Lapis" }, "avLevels": {"IN_STOCK": 1.0, "PREORDER": 0.0, "BACKORDER": 0.0, "NOT_AVAILABLE": 0.0}, "avStatus":"IN_STOCK", "inStock":true, "ATS": 110.0, "inStockDate": "Fri Nov 06 12:00:00 GMT 2015" , "pricing": {"standard": "89.0", "sale": "89.0", "isPromoPrice": false, "quantities": [ {"unit": "", "value": "1.0"} ]} }, {"id": "KO14-THRW-PUMPKIN", "attributes": { "size": "Throw, 40 x 70''" , "color": "Pumpkin" }, "avLevels": {"IN_STOCK": 1.0, "PREORDER": 0.0, "BACKORDER": 0.0, "NOT_AVAILABLE": 0.0}, "avStatus":"IN_STOCK", "inStock":true, "ATS": 107.0, "inStockDate": "Fri Nov 06 12:00:00 GMT 2015" , "pricing": {"standard": "89.0", "sale": "89.0", "isPromoPrice": false, "quantities": [ {"unit": "", "value": "1.0"} ]} }, {"id": "KO14-T-CAMEL", "attributes": { "size": "Twin, 66 x 94''" , "color": "Camel" }, "avLevels": {"IN_STOCK": 1.0, "PREORDER": 0.0, "BACKORDER": 0.0, "NOT_AVAILABLE": 0.0}, "avStatus":"IN_STOCK", "inStock":true, "ATS": 93.0, "inStockDate": "Fri Nov 06 12:00:00 GMT 2015" , "pricing": {"standard": "129.0", "sale": "129.0", "isPromoPrice": false, "quantities": [ {"unit": "", "value": "1.0"} ]} }, {"id": "KO14-T-FLDGRN", "attributes": { "size": "Twin, 66 x 94''" , "color": "Field Green" }, "avLevels": {"IN_STOCK": 1.0, "PREORDER": 0.0, "BACKORDER": 0.0, "NOT_AVAILABLE": 0.0}, "avStatus":"IN_STOCK", "inStock":true, "ATS": 2.0, "inStockDate": "Fri Nov 06 12:00:00 GMT 2015" , "pricing": {"standard": "129.0", "sale": "129.0", "isPromoPrice": false, "quantities": [ {"unit": "", "value": "1.0"} ]} }, {"id": "KO14-T-GOLDENROD", "attributes": { "size": "Twin, 66 x 94''" , "color": "Goldenrod" }, "avLevels": {"IN_STOCK": 1.0, "PREORDER": 0.0, "BACKORDER": 0.0, "NOT_AVAILABLE": 0.0}, "avStatus":"IN_STOCK", "inStock":true, "ATS": 37.0, "inStockDate": "Fri Nov 06 12:00:00 GMT 2015" , "pricing": {"standard": "129.0", "sale": "129.0", "isPromoPrice": false, "quantities": [ {"unit": "", "value": "1.0"} ]} }, {"id": "KO14-T-GRAPHITE", "attributes": { "size": "Twin, 66 x 94''" , "color": "Graphite" }, "avLevels": {"IN_STOCK": 1.0, "PREORDER": 0.0, "BACKORDER": 0.0, "NOT_AVAILABLE": 0.0}, "avStatus":"IN_STOCK", "inStock":true, "ATS": 46.0, "inStockDate": "Fri Nov 06 12:00:00 GMT 2015" , "pricing": {"standard": "129.0", "sale": "129.0", "isPromoPrice": false, "quantities": [ {"unit": "", "value": "1.0"} ]} }, {"id": "KO14-T-LAPIS", "attributes": { "size": "Twin, 66 x 94''" , "color": "Lapis" }, "avLevels": {"IN_STOCK": 1.0, "PREORDER": 0.0, "BACKORDER": 0.0, "NOT_AVAILABLE": 0.0}, "avStatus":"IN_STOCK", "inStock":true, "ATS": 50.0, "inStockDate": "Fri Nov 06 12:00:00 GMT 2015" , "pricing": {"standard": "129.0", "sale": "129.0", "isPromoPrice": false, "quantities": [ {"unit": "", "value": "1.0"} ]} }, {"id": "KO14-T-PUMPKIN", "attributes": { "size": "Twin, 66 x 94''" , "color": "Pumpkin" }, "avLevels": {"IN_STOCK": 1.0, "PREORDER": 0.0, "BACKORDER": 0.0, "NOT_AVAILABLE": 0.0}, "avStatus":"IN_STOCK", "inStock":true, "ATS": 74.0, "inStockDate": "Fri Nov 06 12:00:00 GMT 2015" , "pricing": {"standard": "129.0", "sale": "129.0", "isPromoPrice": false, "quantities": [ {"unit": "", "value": "1.0"} ]} }, {"id": "KO14-THRW-MAIZE", "attributes": { "size": "Throw, 40 x 70''" , "color": "Maize" }, "avLevels": {"IN_STOCK": 1.0, "PREORDER": 0.0, "BACKORDER": 0.0, "NOT_AVAILABLE": 0.0}, "avStatus":"IN_STOCK", "inStock":true, "ATS": 62.0, "inStockDate": "Fri Nov 06 12:00:00 GMT 2015" , "pricing": {"standard": "89.0", "sale": "89.0", "isPromoPrice": false, "quantities": [ {"unit": "", "value": "1.0"} ]} }, {"id": "KO14-F-GREEN", "attributes": { "size": "Full, 80 x 94''" , "color": "Green" }, "avLevels": {"IN_STOCK": 1.0, "PREORDER": 0.0, "BACKORDER": 0.0, "NOT_AVAILABLE": 0.0}, "avStatus":"IN_STOCK", "inStock":true, "ATS": 40.0, "inStockDate": "Fri Nov 06 12:00:00 GMT 2015" , "pricing": {"standard": "159.0", "sale": "159.0", "isPromoPrice": false, "quantities": [ {"unit": "", "value": "1.0"} ]} }, {"id": "KO14-T-GREEN", "attributes": { "size": "Twin, 66 x 94''" , "color": "Green" }, "avLevels": {"IN_STOCK": 1.0, "PREORDER": 0.0, "BACKORDER": 0.0, "NOT_AVAILABLE": 0.0}, "avStatus":"IN_STOCK", "inStock":true, "ATS": 50.0, "inStockDate": "Fri Nov 06 12:00:00 GMT 2015" , "pricing": {"standard": "129.0", "sale": "129.0", "isPromoPrice": false, "quantities": [ {"unit": "", "value": "1.0"} ]} }, {"id": "KO14-T-HEATHER", "attributes": { "size": "Twin, 66 x 94''" , "color": "Heather" }, "avLevels": {"IN_STOCK": 1.0, "PREORDER": 0.0, "BACKORDER": 0.0, "NOT_AVAILABLE": 0.0}, "avStatus":"IN_STOCK", "inStock":true, "ATS": 48.0, "inStockDate": "Fri Nov 06 12:00:00 GMT 2015" , "pricing": {"standard": "129.0", "sale": "129.0", "isPromoPrice": false, "quantities": [ {"unit": "", "value": "1.0"} ]} }, {"id": "KO14-K-GREEN", "attributes": { "size": "King, 110 x 94''" , "color": "Green" }, "avLevels": {"IN_STOCK": 1.0, "PREORDER": 0.0, "BACKORDER": 0.0, "NOT_AVAILABLE": 0.0}, "avStatus":"IN_STOCK", "inStock":true, "ATS": 37.0, "inStockDate": "Fri Nov 06 12:00:00 GMT 2015" , "pricing": {"standard": "209.0", "sale": "209.0", "isPromoPrice": false, "quantities": [ {"unit": "", "value": "1.0"} ]} }, {"id": "KO14-F-MAIZE", "attributes": { "size": "Full, 80 x 94''" , "color": "Maize" }, "avLevels": {"IN_STOCK": 1.0, "PREORDER": 0.0, "BACKORDER": 0.0, "NOT_AVAILABLE": 0.0}, "avStatus":"IN_STOCK", "inStock":true, "ATS": 25.0, "inStockDate": "Fri Nov 06 12:00:00 GMT 2015" , "pricing": {"standard": "159.0", "sale": "159.0", "isPromoPrice": false, "quantities": [ {"unit": "", "value": "1.0"} ]} }, {"id": "KO14-THRW-GREEN", "attributes": { "size": "Throw, 40 x 70''" , "color": "Green" }, "avLevels": {"IN_STOCK": 1.0, "PREORDER": 0.0, "BACKORDER": 0.0, "NOT_AVAILABLE": 0.0}, "avStatus":"IN_STOCK", "inStock":true, "ATS": 79.0, "inStockDate": "Fri Nov 06 12:00:00 GMT 2015" , "pricing": {"standard": "89.0", "sale": "89.0", "isPromoPrice": false, "quantities": [ {"unit": "", "value": "1.0"} ]} }, {"id": "KO14-F-HEATHER", "attributes": { "size": "Full, 80 x 94''" , "color": "Heather" }, "avLevels": {"IN_STOCK": 1.0, "PREORDER": 0.0, "BACKORDER": 0.0, "NOT_AVAILABLE": 0.0}, "avStatus":"IN_STOCK", "inStock":true, "ATS": 31.0, "inStockDate": "Fri Nov 06 12:00:00 GMT 2015" , "pricing": {"standard": "159.0", "sale": "159.0", "isPromoPrice": false, "quantities": [ {"unit": "", "value": "1.0"} ]} }, {"id": "KO14-T-MAIZE", "attributes": { "size": "Twin, 66 x 94''" , "color": "Maize" }, "avLevels": {"IN_STOCK": 1.0, "PREORDER": 0.0, "BACKORDER": 0.0, "NOT_AVAILABLE": 0.0}, "avStatus":"IN_STOCK", "inStock":true, "ATS": 27.0, "inStockDate": "Fri Nov 06 12:00:00 GMT 2015" , "pricing": {"standard": "129.0", "sale": "129.0", "isPromoPrice": false, "quantities": [ {"unit": "", "value": "1.0"} ]} }, {"id": "KO14-THRW-HEATHER", "attributes": { "size": "Throw, 40 x 70''" , "color": "Heather" }, "avLevels": {"IN_STOCK": 1.0, "PREORDER": 0.0, "BACKORDER": 0.0, "NOT_AVAILABLE": 0.0}, "avStatus":"IN_STOCK", "inStock":true, "ATS": 72.0, "inStockDate": "Fri Nov 06 12:00:00 GMT 2015" , "pricing": {"standard": "89.0", "sale": "89.0", "isPromoPrice": false, "quantities": [ {"unit": "", "value": "1.0"} ]} }, {"id": "KO14-K-MAIZE", "attributes": { "size": "King, 110 x 94''" , "color": "Maize" }, "avLevels": {"IN_STOCK": 1.0, "PREORDER": 0.0, "BACKORDER": 0.0, "NOT_AVAILABLE": 0.0}, "avStatus":"IN_STOCK", "inStock":true, "ATS": 37.0, "inStockDate": "Fri Nov 06 12:00:00 GMT 2015" , "pricing": {"standard": "209.0", "sale": "209.0", "isPromoPrice": false, "quantities": [ {"unit": "", "value": "1.0"} ]} }, {"id": "KO14-Q-MAIZE", "attributes": { "size": "Queen, 90 x 94''" , "color": "Maize" }, "avLevels": {"IN_STOCK": 1.0, "PREORDER": 0.0, "BACKORDER": 0.0, "NOT_AVAILABLE": 0.0}, "avStatus":"IN_STOCK", "inStock":true, "ATS": 52.0, "inStockDate": "Fri Nov 06 12:00:00 GMT 2015" , "pricing": {"standard": "179.0", "sale": "179.0", "isPromoPrice": false, "quantities": [ {"unit": "", "value": "1.0"} ]} }, {"id": "KO14-Q-GREEN", "attributes": { "size": "Queen, 90 x 94''" , "color": "Green" }, "avLevels": {"IN_STOCK": 1.0, "PREORDER": 0.0, "BACKORDER": 0.0, "NOT_AVAILABLE": 0.0}, "avStatus":"IN_STOCK", "inStock":true, "ATS": 59.0, "inStockDate": "Fri Nov 06 12:00:00 GMT 2015" , "pricing": {"standard": "179.0", "sale": "179.0", "isPromoPrice": false, "quantities": [ {"unit": "", "value": "1.0"} ]} }, {"id": "KO14-Q-HEATHER", "attributes": { "size": "Queen, 90 x 94''" , "color": "Heather" }, "avLevels": {"IN_STOCK": 1.0, "PREORDER": 0.0, "BACKORDER": 0.0, "NOT_AVAILABLE": 0.0}, "avStatus":"IN_STOCK", "inStock":true, "ATS": 49.0, "inStockDate": "Fri Nov 06 12:00:00 GMT 2015" , "pricing": {"standard": "179.0", "sale": "179.0", "isPromoPrice": false, "quantities": [ {"unit": "", "value": "1.0"} ]} }, {"id": "KO14-K-HEATHER", "attributes": { "size": "King, 110 x 94''" , "color": "Heather" }, "avLevels": {"IN_STOCK": 1.0, "PREORDER": 0.0, "BACKORDER": 0.0, "NOT_AVAILABLE": 0.0}, "avStatus":"IN_STOCK", "inStock":true, "ATS": 29.0, "inStockDate": "Fri Nov 06 12:00:00 GMT 2015" , "pricing": {"standard": "209.0", "sale": "209.0", "isPromoPrice": false, "quantities": [ {"unit": "", "value": "1.0"} ]} } ] }}