Washable Wool Blanket & Throw
Overview & Details
80% lambswool/20% nylon.
Available in a blanket or throw.
Reverses to a complementary hue.
Self-hem edges.
Machine wash.
Hang dry.
Made in Portugal.
Available exclusively at The Company Store®.
Offered in an array of eye-catching, heathered hues, our Washable Wool Blanket reverses to a complementary color for twice the layering options. Crafted in Portugal of soft 80% lambswool/20% nylon with self-hemmed edges, we also offer a throw size—perfect for cozying up on the couch or your favorite reading chair. Lambswool is considered to be the highest quality of wool. Lambswool is incredibly soft and smooth and is the most hypoallergenic of all wools and is resistant to dust mites. Another selling point: It's machine washable. Do not use fabric softener , as it can increase pilling. The best way to refresh is the natural way. Simply shake and hang outdoors.
Available exclusively at The Company Store®.
Reviews
Washable Wool Blanket & Throw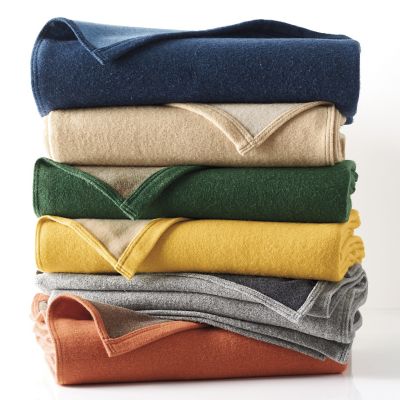 Monogram items are non-returnable due to their customization. Please allow an additional 5-7 business days for orders containing monogrammed items and an additional 7-12 business days during holiday & high volume times. Please check out our
Monogram Guide
for more info.
{"ID":"KO14","isMonogrammable":true,"isCustomizationRequired":false,"monoItemNo":"MG12","customizationCode":"!12","styleOptions":"_1 Initial_2 Initials_3 Initials_Name or Word|02 Block_03 Diamond_04 Classic_05 Signet_08 Sketch_13 Collegiate_14 Traditional_15 Kids_*02 Block_03 Diamond_04 Classic_05 Signet_08 Sketch_13 Collegiate_15 Kids_*02 Block_03 Diamond_04 Classic_05 Signet_06 Modern_08 Sketch_13 Collegiate_15 Kids_*02 Block_04 Classic_07 Juliet_08 Sketch_13 Collegiate_14 Traditional_15 Kids_*|_1_1_1_1_1_1_11_0_0|","monoPrice":12.0,"configuration":"null", "optionType":""}
{ "variations": { "variants": [ {"id": "KO14-F-CAMEL", "attributes": { "size": "Full, 80 x 94''" , "color": "Camel" }, "avLevels": {"IN_STOCK": 1.0, "PREORDER": 0.0, "BACKORDER": 0.0, "NOT_AVAILABLE": 0.0}, "avStatus":"IN_STOCK", "inStock":true, "ATS": 46.0, "inStockDate": "Fri Dec 04 12:00:00 GMT 2015" , "pricing": {"standard": "159.0", "sale": "159.0", "isPromoPrice": false, "quantities": [ {"unit": "", "value": "1.0"} ]} }, {"id": "KO14-F-FLDGRN", "attributes": { "size": "Full, 80 x 94''" , "color": "Field Green" }, "avLevels": {"IN_STOCK": 1.0, "PREORDER": 0.0, "BACKORDER": 0.0, "NOT_AVAILABLE": 0.0}, "avStatus":"IN_STOCK", "inStock":true, "ATS": 1.0, "inStockDate": "Fri Dec 04 12:00:00 GMT 2015" , "pricing": {"standard": "159.0", "sale": "159.0", "isPromoPrice": false, "quantities": [ {"unit": "", "value": "1.0"} ]} }, {"id": "KO14-F-GOLDENROD", "attributes": { "size": "Full, 80 x 94''" , "color": "Goldenrod" }, "avLevels": {"IN_STOCK": 1.0, "PREORDER": 0.0, "BACKORDER": 0.0, "NOT_AVAILABLE": 0.0}, "avStatus":"IN_STOCK", "inStock":true, "ATS": 17.0, "inStockDate": "Fri Dec 04 12:00:00 GMT 2015" , "pricing": {"standard": "159.0", "sale": "159.0", "isPromoPrice": false, "quantities": [ {"unit": "", "value": "1.0"} ]} }, {"id": "KO14-F-GRAPHITE", "attributes": { "size": "Full, 80 x 94''" , "color": "Graphite" }, "avLevels": {"IN_STOCK": 0.0, "PREORDER": 0.0, "BACKORDER": 0.0, "NOT_AVAILABLE": 1.0}, "avStatus":"NOT_AVAILABLE", "inStock":false, "ATS": 0.0, "inStockDate": "Fri Dec 04 12:00:00 GMT 2015" , "pricing": {"standard": "159.0", "sale": "159.0", "isPromoPrice": false, "quantities": [ {"unit": "", "value": "1.0"} ]} }, {"id": "KO14-F-LAPIS", "attributes": { "size": "Full, 80 x 94''" , "color": "Lapis" }, "avLevels": {"IN_STOCK": 1.0, "PREORDER": 0.0, "BACKORDER": 0.0, "NOT_AVAILABLE": 0.0}, "avStatus":"IN_STOCK", "inStock":true, "ATS": 23.0, "inStockDate": "Fri Dec 04 12:00:00 GMT 2015" , "pricing": {"standard": "159.0", "sale": "159.0", "isPromoPrice": false, "quantities": [ {"unit": "", "value": "1.0"} ]} }, {"id": "KO14-F-PUMPKIN", "attributes": { "size": "Full, 80 x 94''" , "color": "Pumpkin" }, "avLevels": {"IN_STOCK": 1.0, "PREORDER": 0.0, "BACKORDER": 0.0, "NOT_AVAILABLE": 0.0}, "avStatus":"IN_STOCK", "inStock":true, "ATS": 51.0, "inStockDate": "Fri Dec 04 12:00:00 GMT 2015" , "pricing": {"standard": "159.0", "sale": "159.0", "isPromoPrice": false, "quantities": [ {"unit": "", "value": "1.0"} ]} }, {"id": "KO14-K-CAMEL", "attributes": { "size": "King, 110 x 94''" , "color": "Camel" }, "avLevels": {"IN_STOCK": 1.0, "PREORDER": 0.0, "BACKORDER": 0.0, "NOT_AVAILABLE": 0.0}, "avStatus":"IN_STOCK", "inStock":true, "ATS": 52.0, "inStockDate": "Fri Dec 04 12:00:00 GMT 2015" , "pricing": {"standard": "209.0", "sale": "209.0", "isPromoPrice": false, "quantities": [ {"unit": "", "value": "1.0"} ]} }, {"id": "KO14-K-FLDGRN", "attributes": { "size": "King, 110 x 94''" , "color": "Field Green" }, "avLevels": {"IN_STOCK": 1.0, "PREORDER": 0.0, "BACKORDER": 0.0, "NOT_AVAILABLE": 0.0}, "avStatus":"IN_STOCK", "inStock":true, "ATS": 43.0, "inStockDate": "Fri Dec 04 12:00:00 GMT 2015" , "pricing": {"standard": "209.0", "sale": "209.0", "isPromoPrice": false, "quantities": [ {"unit": "", "value": "1.0"} ]} }, {"id": "KO14-K-GOLDENROD", "attributes": { "size": "King, 110 x 94''" , "color": "Goldenrod" }, "avLevels": {"IN_STOCK": 1.0, "PREORDER": 0.0, "BACKORDER": 0.0, "NOT_AVAILABLE": 0.0}, "avStatus":"IN_STOCK", "inStock":true, "ATS": 19.0, "inStockDate": "Fri Dec 04 12:00:00 GMT 2015" , "pricing": {"standard": "209.0", "sale": "209.0", "isPromoPrice": false, "quantities": [ {"unit": "", "value": "1.0"} ]} }, {"id": "KO14-K-GRAPHITE", "attributes": { "size": "King, 110 x 94''" , "color": "Graphite" }, "avLevels": {"IN_STOCK": 1.0, "PREORDER": 0.0, "BACKORDER": 0.0, "NOT_AVAILABLE": 0.0}, "avStatus":"IN_STOCK", "inStock":true, "ATS": 14.0, "inStockDate": "Fri Dec 04 12:00:00 GMT 2015" , "pricing": {"standard": "209.0", "sale": "209.0", "isPromoPrice": false, "quantities": [ {"unit": "", "value": "1.0"} ]} }, {"id": "KO14-K-LAPIS", "attributes": { "size": "King, 110 x 94''" , "color": "Lapis" }, "avLevels": {"IN_STOCK": 1.0, "PREORDER": 0.0, "BACKORDER": 0.0, "NOT_AVAILABLE": 0.0}, "avStatus":"IN_STOCK", "inStock":true, "ATS": 54.0, "inStockDate": "Fri Dec 04 12:00:00 GMT 2015" , "pricing": {"standard": "209.0", "sale": "209.0", "isPromoPrice": false, "quantities": [ {"unit": "", "value": "1.0"} ]} }, {"id": "KO14-K-PUMPKIN", "attributes": { "size": "King, 110 x 94''" , "color": "Pumpkin" }, "avLevels": {"IN_STOCK": 1.0, "PREORDER": 0.0, "BACKORDER": 0.0, "NOT_AVAILABLE": 0.0}, "avStatus":"IN_STOCK", "inStock":true, "ATS": 57.0, "inStockDate": "Fri Dec 04 12:00:00 GMT 2015" , "pricing": {"standard": "209.0", "sale": "209.0", "isPromoPrice": false, "quantities": [ {"unit": "", "value": "1.0"} ]} }, {"id": "KO14-Q-CAMEL", "attributes": { "size": "Queen, 90 x 94''" , "color": "Camel" }, "avLevels": {"IN_STOCK": 1.0, "PREORDER": 0.0, "BACKORDER": 0.0, "NOT_AVAILABLE": 0.0}, "avStatus":"IN_STOCK", "inStock":true, "ATS": 76.0, "inStockDate": "Fri Dec 04 12:00:00 GMT 2015" , "pricing": {"standard": "179.0", "sale": "179.0", "isPromoPrice": false, "quantities": [ {"unit": "", "value": "1.0"} ]} }, {"id": "KO14-Q-FLDGRN", "attributes": { "size": "Queen, 90 x 94''" , "color": "Field Green" }, "avLevels": {"IN_STOCK": 1.0, "PREORDER": 0.0, "BACKORDER": 0.0, "NOT_AVAILABLE": 0.0}, "avStatus":"IN_STOCK", "inStock":true, "ATS": 13.0, "inStockDate": "Fri Dec 04 12:00:00 GMT 2015" , "pricing": {"standard": "179.0", "sale": "179.0", "isPromoPrice": false, "quantities": [ {"unit": "", "value": "1.0"} ]} }, {"id": "KO14-Q-GOLDENROD", "attributes": { "size": "Queen, 90 x 94''" , "color": "Goldenrod" }, "avLevels": {"IN_STOCK": 1.0, "PREORDER": 0.0, "BACKORDER": 0.0, "NOT_AVAILABLE": 0.0}, "avStatus":"IN_STOCK", "inStock":true, "ATS": 30.0, "inStockDate": "Fri Dec 04 12:00:00 GMT 2015" , "pricing": {"standard": "179.0", "sale": "179.0", "isPromoPrice": false, "quantities": [ {"unit": "", "value": "1.0"} ]} }, {"id": "KO14-Q-GRAPHITE", "attributes": { "size": "Queen, 90 x 94''" , "color": "Graphite" }, "avLevels": {"IN_STOCK": 1.0, "PREORDER": 0.0, "BACKORDER": 0.0, "NOT_AVAILABLE": 0.0}, "avStatus":"IN_STOCK", "inStock":true, "ATS": 17.0, "inStockDate": "Fri Dec 04 12:00:00 GMT 2015" , "pricing": {"standard": "179.0", "sale": "179.0", "isPromoPrice": false, "quantities": [ {"unit": "", "value": "1.0"} ]} }, {"id": "KO14-Q-LAPIS", "attributes": { "size": "Queen, 90 x 94''" , "color": "Lapis" }, "avLevels": {"IN_STOCK": 1.0, "PREORDER": 0.0, "BACKORDER": 0.0, "NOT_AVAILABLE": 0.0}, "avStatus":"IN_STOCK", "inStock":true, "ATS": 49.0, "inStockDate": "Fri Dec 04 12:00:00 GMT 2015" , "pricing": {"standard": "179.0", "sale": "179.0", "isPromoPrice": false, "quantities": [ {"unit": "", "value": "1.0"} ]} }, {"id": "KO14-Q-PUMPKIN", "attributes": { "size": "Queen, 90 x 94''" , "color": "Pumpkin" }, "avLevels": {"IN_STOCK": 1.0, "PREORDER": 0.0, "BACKORDER": 0.0, "NOT_AVAILABLE": 0.0}, "avStatus":"IN_STOCK", "inStock":true, "ATS": 49.0, "inStockDate": "Fri Dec 04 12:00:00 GMT 2015" , "pricing": {"standard": "179.0", "sale": "179.0", "isPromoPrice": false, "quantities": [ {"unit": "", "value": "1.0"} ]} }, {"id": "KO14-THRW-CAMEL", "attributes": { "size": "Throw, 40 x 70''" , "color": "Camel" }, "avLevels": {"IN_STOCK": 1.0, "PREORDER": 0.0, "BACKORDER": 0.0, "NOT_AVAILABLE": 0.0}, "avStatus":"IN_STOCK", "inStock":true, "ATS": 194.0, "inStockDate": "Fri Dec 04 12:00:00 GMT 2015" , "pricing": {"standard": "89.0", "sale": "89.0", "isPromoPrice": false, "quantities": [ {"unit": "", "value": "1.0"} ]} }, {"id": "KO14-THRW-FLDGRN", "attributes": { "size": "Throw, 40 x 70''" , "color": "Field Green" }, "avLevels": {"IN_STOCK": 1.0, "PREORDER": 0.0, "BACKORDER": 0.0, "NOT_AVAILABLE": 0.0}, "avStatus":"IN_STOCK", "inStock":true, "ATS": 26.0, "inStockDate": "Fri Dec 04 12:00:00 GMT 2015" , "pricing": {"standard": "89.0", "sale": "89.0", "isPromoPrice": false, "quantities": [ {"unit": "", "value": "1.0"} ]} }, {"id": "KO14-THRW-GOLDENROD", "attributes": { "size": "Throw, 40 x 70''" , "color": "Goldenrod" }, "avLevels": {"IN_STOCK": 1.0, "PREORDER": 0.0, "BACKORDER": 0.0, "NOT_AVAILABLE": 0.0}, "avStatus":"IN_STOCK", "inStock":true, "ATS": 27.0, "inStockDate": "Fri Dec 04 12:00:00 GMT 2015" , "pricing": {"standard": "89.0", "sale": "89.0", "isPromoPrice": false, "quantities": [ {"unit": "", "value": "1.0"} ]} }, {"id": "KO14-THRW-GRAPHITE", "attributes": { "size": "Throw, 40 x 70''" , "color": "Graphite" }, "avLevels": {"IN_STOCK": 1.0, "PREORDER": 0.0, "BACKORDER": 0.0, "NOT_AVAILABLE": 0.0}, "avStatus":"IN_STOCK", "inStock":true, "ATS": 54.0, "inStockDate": "Fri Dec 04 12:00:00 GMT 2015" , "pricing": {"standard": "89.0", "sale": "89.0", "isPromoPrice": false, "quantities": [ {"unit": "", "value": "1.0"} ]} }, {"id": "KO14-THRW-LAPIS", "attributes": { "size": "Throw, 40 x 70''" , "color": "Lapis" }, "avLevels": {"IN_STOCK": 1.0, "PREORDER": 0.0, "BACKORDER": 0.0, "NOT_AVAILABLE": 0.0}, "avStatus":"IN_STOCK", "inStock":true, "ATS": 92.0, "inStockDate": "Fri Dec 04 12:00:00 GMT 2015" , "pricing": {"standard": "89.0", "sale": "89.0", "isPromoPrice": false, "quantities": [ {"unit": "", "value": "1.0"} ]} }, {"id": "KO14-THRW-PUMPKIN", "attributes": { "size": "Throw, 40 x 70''" , "color": "Pumpkin" }, "avLevels": {"IN_STOCK": 1.0, "PREORDER": 0.0, "BACKORDER": 0.0, "NOT_AVAILABLE": 0.0}, "avStatus":"IN_STOCK", "inStock":true, "ATS": 84.0, "inStockDate": "Fri Dec 04 12:00:00 GMT 2015" , "pricing": {"standard": "89.0", "sale": "89.0", "isPromoPrice": false, "quantities": [ {"unit": "", "value": "1.0"} ]} }, {"id": "KO14-T-CAMEL", "attributes": { "size": "Twin, 66 x 94''" , "color": "Camel" }, "avLevels": {"IN_STOCK": 1.0, "PREORDER": 0.0, "BACKORDER": 0.0, "NOT_AVAILABLE": 0.0}, "avStatus":"IN_STOCK", "inStock":true, "ATS": 75.0, "inStockDate": "Fri Dec 04 12:00:00 GMT 2015" , "pricing": {"standard": "129.0", "sale": "129.0", "isPromoPrice": false, "quantities": [ {"unit": "", "value": "1.0"} ]} }, {"id": "KO14-T-FLDGRN", "attributes": { "size": "Twin, 66 x 94''" , "color": "Field Green" }, "avLevels": {"IN_STOCK": 0.0, "PREORDER": 0.0, "BACKORDER": 0.0, "NOT_AVAILABLE": 1.0}, "avStatus":"NOT_AVAILABLE", "inStock":false, "ATS": 0.0, "inStockDate": "Fri Dec 04 12:00:00 GMT 2015" , "pricing": {"standard": "129.0", "sale": "129.0", "isPromoPrice": false, "quantities": [ {"unit": "", "value": "1.0"} ]} }, {"id": "KO14-T-GOLDENROD", "attributes": { "size": "Twin, 66 x 94''" , "color": "Goldenrod" }, "avLevels": {"IN_STOCK": 1.0, "PREORDER": 0.0, "BACKORDER": 0.0, "NOT_AVAILABLE": 0.0}, "avStatus":"IN_STOCK", "inStock":true, "ATS": 29.0, "inStockDate": "Fri Dec 04 12:00:00 GMT 2015" , "pricing": {"standard": "129.0", "sale": "129.0", "isPromoPrice": false, "quantities": [ {"unit": "", "value": "1.0"} ]} }, {"id": "KO14-T-GRAPHITE", "attributes": { "size": "Twin, 66 x 94''" , "color": "Graphite" }, "avLevels": {"IN_STOCK": 1.0, "PREORDER": 0.0, "BACKORDER": 0.0, "NOT_AVAILABLE": 0.0}, "avStatus":"IN_STOCK", "inStock":true, "ATS": 41.0, "inStockDate": "Fri Dec 04 12:00:00 GMT 2015" , "pricing": {"standard": "129.0", "sale": "129.0", "isPromoPrice": false, "quantities": [ {"unit": "", "value": "1.0"} ]} }, {"id": "KO14-T-LAPIS", "attributes": { "size": "Twin, 66 x 94''" , "color": "Lapis" }, "avLevels": {"IN_STOCK": 1.0, "PREORDER": 0.0, "BACKORDER": 0.0, "NOT_AVAILABLE": 0.0}, "avStatus":"IN_STOCK", "inStock":true, "ATS": 33.0, "inStockDate": "Fri Dec 04 12:00:00 GMT 2015" , "pricing": {"standard": "129.0", "sale": "129.0", "isPromoPrice": false, "quantities": [ {"unit": "", "value": "1.0"} ]} }, {"id": "KO14-T-PUMPKIN", "attributes": { "size": "Twin, 66 x 94''" , "color": "Pumpkin" }, "avLevels": {"IN_STOCK": 1.0, "PREORDER": 0.0, "BACKORDER": 0.0, "NOT_AVAILABLE": 0.0}, "avStatus":"IN_STOCK", "inStock":true, "ATS": 60.0, "inStockDate": "Fri Dec 04 12:00:00 GMT 2015" , "pricing": {"standard": "129.0", "sale": "129.0", "isPromoPrice": false, "quantities": [ {"unit": "", "value": "1.0"} ]} }, {"id": "KO14-THRW-MAIZE", "attributes": { "size": "Throw, 40 x 70''" , "color": "Maize" }, "avLevels": {"IN_STOCK": 1.0, "PREORDER": 0.0, "BACKORDER": 0.0, "NOT_AVAILABLE": 0.0}, "avStatus":"IN_STOCK", "inStock":true, "ATS": 42.0, "inStockDate": "Fri Dec 04 12:00:00 GMT 2015" , "pricing": {"standard": "89.0", "sale": "89.0", "isPromoPrice": false, "quantities": [ {"unit": "", "value": "1.0"} ]} }, {"id": "KO14-F-GREEN", "attributes": { "size": "Full, 80 x 94''" , "color": "Green" }, "avLevels": {"IN_STOCK": 1.0, "PREORDER": 0.0, "BACKORDER": 0.0, "NOT_AVAILABLE": 0.0}, "avStatus":"IN_STOCK", "inStock":true, "ATS": 31.0, "inStockDate": "Fri Dec 04 12:00:00 GMT 2015" , "pricing": {"standard": "159.0", "sale": "159.0", "isPromoPrice": false, "quantities": [ {"unit": "", "value": "1.0"} ]} }, {"id": "KO14-T-GREEN", "attributes": { "size": "Twin, 66 x 94''" , "color": "Green" }, "avLevels": {"IN_STOCK": 1.0, "PREORDER": 0.0, "BACKORDER": 0.0, "NOT_AVAILABLE": 0.0}, "avStatus":"IN_STOCK", "inStock":true, "ATS": 39.0, "inStockDate": "Fri Dec 04 12:00:00 GMT 2015" , "pricing": {"standard": "129.0", "sale": "129.0", "isPromoPrice": false, "quantities": [ {"unit": "", "value": "1.0"} ]} }, {"id": "KO14-T-HEATHER", "attributes": { "size": "Twin, 66 x 94''" , "color": "Heather" }, "avLevels": {"IN_STOCK": 1.0, "PREORDER": 0.0, "BACKORDER": 0.0, "NOT_AVAILABLE": 0.0}, "avStatus":"IN_STOCK", "inStock":true, "ATS": 33.0, "inStockDate": "Fri Dec 04 12:00:00 GMT 2015" , "pricing": {"standard": "129.0", "sale": "129.0", "isPromoPrice": false, "quantities": [ {"unit": "", "value": "1.0"} ]} }, {"id": "KO14-K-GREEN", "attributes": { "size": "King, 110 x 94''" , "color": "Green" }, "avLevels": {"IN_STOCK": 1.0, "PREORDER": 0.0, "BACKORDER": 0.0, "NOT_AVAILABLE": 0.0}, "avStatus":"IN_STOCK", "inStock":true, "ATS": 33.0, "inStockDate": "Fri Dec 04 12:00:00 GMT 2015" , "pricing": {"standard": "209.0", "sale": "209.0", "isPromoPrice": false, "quantities": [ {"unit": "", "value": "1.0"} ]} }, {"id": "KO14-F-MAIZE", "attributes": { "size": "Full, 80 x 94''" , "color": "Maize" }, "avLevels": {"IN_STOCK": 1.0, "PREORDER": 0.0, "BACKORDER": 0.0, "NOT_AVAILABLE": 0.0}, "avStatus":"IN_STOCK", "inStock":true, "ATS": 23.0, "inStockDate": "Fri Dec 04 12:00:00 GMT 2015" , "pricing": {"standard": "159.0", "sale": "159.0", "isPromoPrice": false, "quantities": [ {"unit": "", "value": "1.0"} ]} }, {"id": "KO14-THRW-GREEN", "attributes": { "size": "Throw, 40 x 70''" , "color": "Green" }, "avLevels": {"IN_STOCK": 1.0, "PREORDER": 0.0, "BACKORDER": 0.0, "NOT_AVAILABLE": 0.0}, "avStatus":"IN_STOCK", "inStock":true, "ATS": 69.0, "inStockDate": "Fri Dec 04 12:00:00 GMT 2015" , "pricing": {"standard": "89.0", "sale": "89.0", "isPromoPrice": false, "quantities": [ {"unit": "", "value": "1.0"} ]} }, {"id": "KO14-F-HEATHER", "attributes": { "size": "Full, 80 x 94''" , "color": "Heather" }, "avLevels": {"IN_STOCK": 1.0, "PREORDER": 0.0, "BACKORDER": 0.0, "NOT_AVAILABLE": 0.0}, "avStatus":"IN_STOCK", "inStock":true, "ATS": 25.0, "inStockDate": "Fri Dec 04 12:00:00 GMT 2015" , "pricing": {"standard": "159.0", "sale": "159.0", "isPromoPrice": false, "quantities": [ {"unit": "", "value": "1.0"} ]} }, {"id": "KO14-T-MAIZE", "attributes": { "size": "Twin, 66 x 94''" , "color": "Maize" }, "avLevels": {"IN_STOCK": 1.0, "PREORDER": 0.0, "BACKORDER": 0.0, "NOT_AVAILABLE": 0.0}, "avStatus":"IN_STOCK", "inStock":true, "ATS": 34.0, "inStockDate": "Fri Dec 04 12:00:00 GMT 2015" , "pricing": {"standard": "129.0", "sale": "129.0", "isPromoPrice": false, "quantities": [ {"unit": "", "value": "1.0"} ]} }, {"id": "KO14-THRW-HEATHER", "attributes": { "size": "Throw, 40 x 70''" , "color": "Heather" }, "avLevels": {"IN_STOCK": 1.0, "PREORDER": 0.0, "BACKORDER": 0.0, "NOT_AVAILABLE": 0.0}, "avStatus":"IN_STOCK", "inStock":true, "ATS": 54.0, "inStockDate": "Fri Dec 04 12:00:00 GMT 2015" , "pricing": {"standard": "89.0", "sale": "89.0", "isPromoPrice": false, "quantities": [ {"unit": "", "value": "1.0"} ]} }, {"id": "KO14-K-MAIZE", "attributes": { "size": "King, 110 x 94''" , "color": "Maize" }, "avLevels": {"IN_STOCK": 1.0, "PREORDER": 0.0, "BACKORDER": 0.0, "NOT_AVAILABLE": 0.0}, "avStatus":"IN_STOCK", "inStock":true, "ATS": 32.0, "inStockDate": "Fri Dec 04 12:00:00 GMT 2015" , "pricing": {"standard": "209.0", "sale": "209.0", "isPromoPrice": false, "quantities": [ {"unit": "", "value": "1.0"} ]} }, {"id": "KO14-Q-MAIZE", "attributes": { "size": "Queen, 90 x 94''" , "color": "Maize" }, "avLevels": {"IN_STOCK": 1.0, "PREORDER": 0.0, "BACKORDER": 0.0, "NOT_AVAILABLE": 0.0}, "avStatus":"IN_STOCK", "inStock":true, "ATS": 44.0, "inStockDate": "Fri Dec 04 12:00:00 GMT 2015" , "pricing": {"standard": "179.0", "sale": "179.0", "isPromoPrice": false, "quantities": [ {"unit": "", "value": "1.0"} ]} }, {"id": "KO14-Q-GREEN", "attributes": { "size": "Queen, 90 x 94''" , "color": "Green" }, "avLevels": {"IN_STOCK": 1.0, "PREORDER": 0.0, "BACKORDER": 0.0, "NOT_AVAILABLE": 0.0}, "avStatus":"IN_STOCK", "inStock":true, "ATS": 50.0, "inStockDate": "Fri Dec 04 12:00:00 GMT 2015" , "pricing": {"standard": "179.0", "sale": "179.0", "isPromoPrice": false, "quantities": [ {"unit": "", "value": "1.0"} ]} }, {"id": "KO14-Q-HEATHER", "attributes": { "size": "Queen, 90 x 94''" , "color": "Heather" }, "avLevels": {"IN_STOCK": 1.0, "PREORDER": 0.0, "BACKORDER": 0.0, "NOT_AVAILABLE": 0.0}, "avStatus":"IN_STOCK", "inStock":true, "ATS": 32.0, "inStockDate": "Fri Dec 04 12:00:00 GMT 2015" , "pricing": {"standard": "179.0", "sale": "179.0", "isPromoPrice": false, "quantities": [ {"unit": "", "value": "1.0"} ]} }, {"id": "KO14-K-HEATHER", "attributes": { "size": "King, 110 x 94''" , "color": "Heather" }, "avLevels": {"IN_STOCK": 1.0, "PREORDER": 0.0, "BACKORDER": 0.0, "NOT_AVAILABLE": 0.0}, "avStatus":"IN_STOCK", "inStock":true, "ATS": 20.0, "inStockDate": "Fri Dec 04 12:00:00 GMT 2015" , "pricing": {"standard": "209.0", "sale": "209.0", "isPromoPrice": false, "quantities": [ {"unit": "", "value": "1.0"} ]} } ] }}