Velour Pet Bed
Overview & Details
Plush velour pet bed.
May be monogrammed.
Available in 3 sizes of pet beds.
Pet bed has removable, machine-washable inserts.
USA.
A $25 heavyweight charge will be added to the M/L size.

Our plush pet beds were created in soft and cozy cotton/polyester velour for maximum comfort and major nuzzling power. Consider one for the family pooch, or surprise someone else's best friend. Available in three different sizes to fit a variety of breeds, each pet bed has removable insert that can be cleaned right in the washer. Plus, the pet beds are durable and designed to complement their surroundings.
Reviews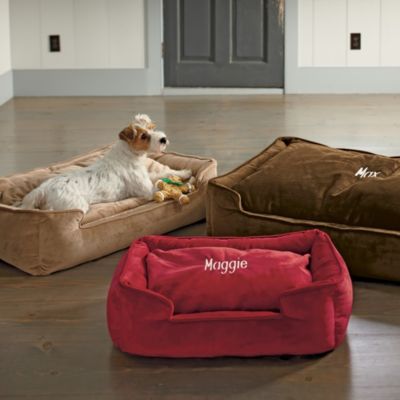 Monogram items are non-returnable due to their customization. Please allow an additional 5-7 business days for orders containing monogrammed items and an additional 7-12 business days during holiday & high volume times. Please check out our
Monogram Guide
for more info.
{"ID":"AP68","isMonogrammable":true,"isCustomizationRequired":false,"monoItemNo":"MG06","customizationCode":"!12","styleOptions":"_1 Initial_2 Initials_3 Initials_Name or Word|02 Block_03 Diamond_04 Classic_05 Signet_08 Sketch_13 Collegiate_14 Traditional_15 Kids_*02 Block_03 Diamond_04 Classic_05 Signet_08 Sketch_13 Collegiate_15 Kids_*02 Block_03 Diamond_04 Classic_05 Signet_06 Modern_08 Sketch_13 Collegiate_15 Kids_*02 Block_04 Classic_07 Juliet_08 Sketch_13 Collegiate_14 Traditional_15 Kids_*|_1_1_1_1_1_1_11_0_0|","monoPrice":6.0,"configuration":"null", "optionType":""}
{ "variations": { "variants": [ ] }}