Continue Shopping
Company Organic Textura Duvet Cover & Sham
Item# DX04
Company Organic Textura Duvet Cover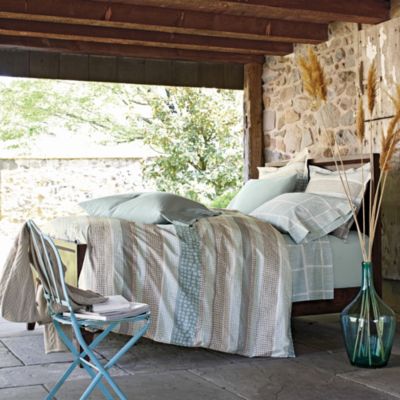 { "variations": { "variants": [ {"id": "DX04_F_STR", "attributes": { "size": "Full, 86x92''" , "color": "Stripe" }, "avLevels": {"IN_STOCK": 0.0, "PREORDER": 0.0, "BACKORDER": 0.0, "NOT_AVAILABLE": 1.0}, "avStatus":"NOT_AVAILABLE", "inStock":false, "ATS": 0.0, "inStockDate": "Thu Sep 19 12:00:00 GMT 2013" , "pricing": {"standard": "99.0", "sale": "99.0", "isPromoPrice": false, "quantities": [ {"unit": "", "value": "1.0"} ]} }, {"id": "DX04_K_STR", "attributes": { "size": "King, 110x98''" , "color": "Stripe" }, "avLevels": {"IN_STOCK": 1.0, "PREORDER": 0.0, "BACKORDER": 0.0, "NOT_AVAILABLE": 0.0}, "avStatus":"IN_STOCK", "inStock":true, "ATS": 1.0, "inStockDate": "Thu Sep 19 12:00:00 GMT 2013" , "pricing": {"standard": "139.0", "sale": "139.0", "isPromoPrice": false, "quantities": [ {"unit": "", "value": "1.0"} ]} }, {"id": "DX04_Q_STR", "attributes": { "size": "Queen, 92x98''" , "color": "Stripe" }, "avLevels": {"IN_STOCK": 0.0, "PREORDER": 0.0, "BACKORDER": 0.0, "NOT_AVAILABLE": 1.0}, "avStatus":"NOT_AVAILABLE", "inStock":false, "ATS": 0.0, "inStockDate": "Thu Sep 19 12:00:00 GMT 2013" , "pricing": {"standard": "119.0", "sale": "119.0", "isPromoPrice": false, "quantities": [ {"unit": "", "value": "1.0"} ]} }, {"id": "DX04_T_STR", "attributes": { "size": "Twin, 72x92''" , "color": "Stripe" }, "avLevels": {"IN_STOCK": 0.0, "PREORDER": 0.0, "BACKORDER": 0.0, "NOT_AVAILABLE": 1.0}, "avStatus":"NOT_AVAILABLE", "inStock":false, "ATS": 0.0, "inStockDate": "Thu Sep 19 12:00:00 GMT 2013" , "pricing": {"standard": "79.0", "sale": "79.0", "isPromoPrice": false, "quantities": [ {"unit": "", "value": "1.0"} ]} } ] }}
Item# N5M4
Company Organic Textura Sham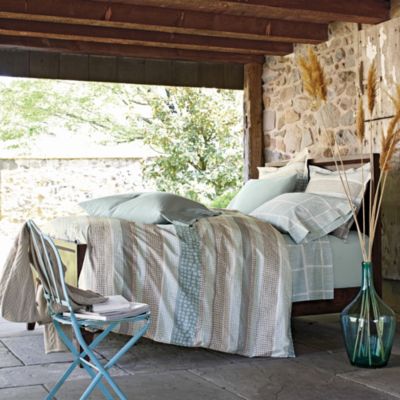 { "variations": { "variants": [ {"id": "N5M4_E_STR", "attributes": { "size": "Euro" , "color": "Stripe" }, "avLevels": {"IN_STOCK": 1.0, "PREORDER": 0.0, "BACKORDER": 0.0, "NOT_AVAILABLE": 0.0}, "avStatus":"IN_STOCK", "inStock":true, "ATS": 1.0, "inStockDate": "Thu Sep 19 12:00:00 GMT 2013" , "pricing": {"standard": "34.0", "sale": "34.0", "isPromoPrice": false, "quantities": [ {"unit": "", "value": "1.0"} ]} }, {"id": "N5M4_K_STR", "attributes": { "size": "King" , "color": "Stripe" }, "avLevels": {"IN_STOCK": 0.0, "PREORDER": 0.0, "BACKORDER": 0.0, "NOT_AVAILABLE": 1.0}, "avStatus":"NOT_AVAILABLE", "inStock":false, "ATS": 0.0, "inStockDate": "Thu Sep 19 12:00:00 GMT 2013" , "pricing": {"standard": "34.0", "sale": "34.0", "isPromoPrice": false, "quantities": [ {"unit": "", "value": "1.0"} ]} }, {"id": "N5M4_ST_STR", "attributes": { "size": "Standard" , "color": "Stripe" }, "avLevels": {"IN_STOCK": 0.0, "PREORDER": 0.0, "BACKORDER": 0.0, "NOT_AVAILABLE": 1.0}, "avStatus":"NOT_AVAILABLE", "inStock":false, "ATS": 0.0, "inStockDate": "Thu Sep 19 12:00:00 GMT 2013" , "pricing": {"standard": "29.0", "sale": "29.0", "isPromoPrice": false, "quantities": [ {"unit": "", "value": "1.0"} ]} } ] }}
Print
Certified organic cotton percale duvet cover.
180-thread-count.
Certified to meet Global Organic Textile Standards (GOTS).
Our duvet covers have corner ties that attach to comforter (sold separately), holding it firmly in place.
Also available in coordinating flat sheet, fitted sheet, pillowcases and sham, each sold separately.
Machine wash.
Imported.
Exclusively ours.

This eco-chic organic cotton duvet cover evokes the artisanal beauty of handcrafted mosaics, adding subtle texture to any spread. Featuring serene stripes in a soothing sand-and-sky palette, our Company Organic duvet cover is made from organic cotton percale that's been certified to meet Global Organic Textile Standards (GOTS). Soft, inviting and made with the environment in mind, this attractive duvet cover coordinates easily with the rest of our Company Organic Textura sheets and accessories, sold separately.

Our organic duvet cover is available exclusively at The Company Store – offering high-quality bedding you can feel good about, since 1911.