St. Tropez® Reversible Twin XL Down Comforter and Sham (sham only)
$19.00
CLEARANCE: $9.99-$13.99
Overview & Details
Twin XL down comforter – perfect for college dorm bedding!
232-thread count cotton shell.
500-550 fill power TCS® Down gives the twin XL comforter a plush, lofty feel.
Solid reversible down comforter available in seven color combinations and white and ivory.
Handcrafted in our La Crosse, Wisconsin factory.
Oeko-Tex certified to be free of all harmful substances and chemicals.
Also available: reversible St. Tropez hypoallergenic down-free comforter.
Coordinates with the matching St. Tropez reversible sham.
All duvet covers (sold separately) come with corner ties that attach to the loops on our comforters to hold both in place.
Machine wash.
USA/Imported.
Exclusively ours.

College bound? Make the transition easier and more comfortable with perfectly sized dorm bedding that combines quality, style, convenience and value. Lightweight and super comfy, our St. Tropez Twin XL Down Comforter is an essential for home-away-from-home comfort. Available in seven brightly-hued reversible solid colors or standard white and ivory, this Twin XL comforter is designed to fit most dorm beds perfectly. An essential year-round layer, stuffed with lofty 500-550 fill power TCS Down for an exceptionally plush feel. Exclusive to The Company Store and handcrafted in our La Crosse, Wisconsin factory, our St. Tropez Twin XL Down Comforter offers snuggly comfort that you or your college-bound scholar is sure to love. The down comforters are covered in a 232-thread count cotton shell with diamond stitching to prevent the fill from shifting. The result is a luxurious down comforter with a smooth look and feel.

With so many beautiful hues ranging from light to bright, you're sure to find the perfect shade of our reversible St. Tropez Twin XL down comforter to complement your bedroom's decor. Plus, with two coordinated colors in one, you can switch up the bedroom's aesthetic in an instant.

Prefer a pattern instead? The same comfortable down comforter is available in summery cabana stripes. Allergy sufferer? Be sure to look for our reversible St. Tropez Twin XL comforter in the hypoallergenic TCS Down Free™ polyester fill version.
Reviews
St. Tropez® Solid Reversible Sham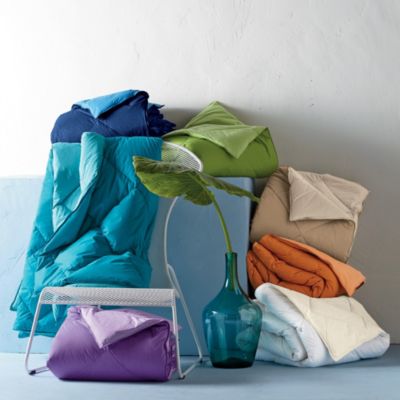 $19.00
CLEARANCE: $9.99-$13.99
{ "variations": { "variants": [ {"id": "N4Q6_ST_SLS", "attributes": { "size": "Standard" , "color": "Sesame/Light Sand" }, "avLevels": {"IN_STOCK": 1.0, "PREORDER": 0.0, "BACKORDER": 0.0, "NOT_AVAILABLE": 0.0}, "avStatus":"IN_STOCK", "inStock":true, "ATS": 108.0, "inStockDate": "Tue Dec 31 12:00:00 GMT 2030" , "pricing": {"standard": "19.0", "sale": "9.99", "isPromoPrice": false, "quantities": [ {"unit": "", "value": "1.0"} ]} }, {"id": "N4Q6_ST_GGL", "attributes": { "size": "Standard" , "color": "Grass Green/Limeade" }, "avLevels": {"IN_STOCK": 1.0, "PREORDER": 0.0, "BACKORDER": 0.0, "NOT_AVAILABLE": 0.0}, "avStatus":"IN_STOCK", "inStock":true, "ATS": 1.0, "inStockDate": "Thu Jul 03 12:00:00 GMT 2014" , "pricing": {"standard": "19.0", "sale": "9.99", "isPromoPrice": false, "quantities": [ {"unit": "", "value": "1.0"} ]} }, {"id": "N4Q6_ST_PBT", "attributes": { "size": "Standard" , "color": "Pool/Blue Tide" }, "avLevels": {"IN_STOCK": 0.0, "PREORDER": 0.0, "BACKORDER": 0.0, "NOT_AVAILABLE": 1.0}, "avStatus":"NOT_AVAILABLE", "inStock":false, "ATS": 0.0, "inStockDate": "Thu Jul 03 12:00:00 GMT 2014" , "pricing": {"standard": "19.0", "sale": "9.99", "isPromoPrice": false, "quantities": [ {"unit": "", "value": "1.0"} ]} }, {"id": "N4Q6_ST_WFP", "attributes": { "size": "Standard" , "color": "Wildflower/Pansy" }, "avLevels": {"IN_STOCK": 0.0, "PREORDER": 0.0, "BACKORDER": 0.0, "NOT_AVAILABLE": 1.0}, "avStatus":"NOT_AVAILABLE", "inStock":false, "ATS": 0.0, "inStockDate": "Thu Jul 03 12:00:00 GMT 2014" , "pricing": {"standard": "19.0", "sale": "19.0", "isPromoPrice": false, "quantities": [ {"unit": "", "value": "1.0"} ]} }, {"id": "N4Q6_ST_PAT", "attributes": { "size": "Standard" , "color": "Papaya/Apricot Tan" }, "avLevels": {"IN_STOCK": 1.0, "PREORDER": 0.0, "BACKORDER": 0.0, "NOT_AVAILABLE": 0.0}, "avStatus":"IN_STOCK", "inStock":true, "ATS": 60.0, "inStockDate": "Thu Jul 03 12:00:00 GMT 2014" , "pricing": {"standard": "19.0", "sale": "9.99", "isPromoPrice": false, "quantities": [ {"unit": "", "value": "1.0"} ]} }, {"id": "N4Q6_ST_WHI", "attributes": { "size": "Standard" , "color": "White" }, "avLevels": {"IN_STOCK": 0.0, "PREORDER": 0.0, "BACKORDER": 0.0, "NOT_AVAILABLE": 1.0}, "avStatus":"NOT_AVAILABLE", "inStock":false, "ATS": 0.0, "inStockDate": "Tue Dec 31 12:00:00 GMT 2030" , "pricing": {"standard": "19.0", "sale": "14.99", "isPromoPrice": false, "quantities": [ {"unit": "", "value": "1.0"} ]} }, {"id": "N4Q6_ST_TIV", "attributes": { "size": "Standard" , "color": "Turquoise Smoke/Ivory" }, "avLevels": {"IN_STOCK": 1.0, "PREORDER": 0.0, "BACKORDER": 0.0, "NOT_AVAILABLE": 0.0}, "avStatus":"IN_STOCK", "inStock":true, "ATS": 42.0, "inStockDate": "Tue Dec 31 12:00:00 GMT 2030" , "pricing": {"standard": "19.0", "sale": "9.99", "isPromoPrice": false, "quantities": [ {"unit": "", "value": "1.0"} ]} }, {"id": "N4Q6_ST_MOG", "attributes": { "size": "Standard" , "color": "Mushroom/Oxford Grey" }, "avLevels": {"IN_STOCK": 0.0, "PREORDER": 0.0, "BACKORDER": 0.0, "NOT_AVAILABLE": 1.0}, "avStatus":"NOT_AVAILABLE", "inStock":false, "ATS": 0.0, "inStockDate": "Sun May 04 12:00:00 GMT 2014" , "pricing": {"standard": "19.0", "sale": "14.0", "isPromoPrice": false, "quantities": [ {"unit": "", "value": "1.0"} ]} }, {"id": "N4Q6_ST_MRU", "attributes": { "size": "Standard" , "color": "Maroon/Ruby" }, "avLevels": {"IN_STOCK": 0.0, "PREORDER": 0.0, "BACKORDER": 0.0, "NOT_AVAILABLE": 1.0}, "avStatus":"NOT_AVAILABLE", "inStock":false, "ATS": 0.0, "inStockDate": "Sun May 04 12:00:00 GMT 2014" , "pricing": {"standard": "19.0", "sale": "14.0", "isPromoPrice": false, "quantities": [ {"unit": "", "value": "1.0"} ]} }, {"id": "N4Q6_ST_GSE", "attributes": { "size": "Standard" , "color": "Gray Flannel/Sesame" }, "avLevels": {"IN_STOCK": 1.0, "PREORDER": 0.0, "BACKORDER": 0.0, "NOT_AVAILABLE": 0.0}, "avStatus":"IN_STOCK", "inStock":true, "ATS": 15.0, "inStockDate": "Tue Dec 31 12:00:00 GMT 2030" , "pricing": {"standard": "19.0", "sale": "9.99", "isPromoPrice": false, "quantities": [ {"unit": "", "value": "1.0"} ]} }, {"id": "N4Q6_ST_PRU", "attributes": { "size": "Standard" , "color": "Plum/Russet" }, "avLevels": {"IN_STOCK": 1.0, "PREORDER": 0.0, "BACKORDER": 0.0, "NOT_AVAILABLE": 0.0}, "avStatus":"IN_STOCK", "inStock":true, "ATS": 67.0, "inStockDate": "Tue Dec 31 12:00:00 GMT 2030" , "pricing": {"standard": "19.0", "sale": "9.99", "isPromoPrice": false, "quantities": [ {"unit": "", "value": "1.0"} ]} }, {"id": "N4Q6_ST_LSH", "attributes": { "size": "Standard" , "color": "Lapis/Shadow" }, "avLevels": {"IN_STOCK": 1.0, "PREORDER": 0.0, "BACKORDER": 0.0, "NOT_AVAILABLE": 0.0}, "avStatus":"IN_STOCK", "inStock":true, "ATS": 37.0, "inStockDate": "Tue Dec 31 12:00:00 GMT 2030" , "pricing": {"standard": "19.0", "sale": "9.99", "isPromoPrice": false, "quantities": [ {"unit": "", "value": "1.0"} ]} }, {"id": "N4Q6_STD_BTIDE/MARINA", "attributes": { "size": "Standard" , "color": "Blue Tide- Marina" }, "avLevels": {"IN_STOCK": 1.0, "PREORDER": 0.0, "BACKORDER": 0.0, "NOT_AVAILABLE": 0.0}, "avStatus":"IN_STOCK", "inStock":true, "ATS": 329.0, "inStockDate": "Wed Aug 13 12:00:00 GMT 2014" , "pricing": {"standard": "19.0", "sale": "13.99", "isPromoPrice": false, "quantities": [ {"unit": "", "value": "1.0"} ]} }, {"id": "N4Q6_STD_ISBLU/SPRGRN", "attributes": { "size": "Standard" , "color": "Island Blue-Spring Green" }, "avLevels": {"IN_STOCK": 0.0, "PREORDER": 0.0, "BACKORDER": 0.0, "NOT_AVAILABLE": 1.0}, "avStatus":"NOT_AVAILABLE", "inStock":false, "ATS": 0.0, "inStockDate": "Wed Aug 13 12:00:00 GMT 2014" , "pricing": {"standard": "19.0", "sale": "13.99", "isPromoPrice": false, "quantities": [ {"unit": "", "value": "1.0"} ]} }, {"id": "N4Q6_STD_RSBRY/ORCRSH", "attributes": { "size": "Standard" , "color": "Raspberry-Orange Crush" }, "avLevels": {"IN_STOCK": 1.0, "PREORDER": 0.0, "BACKORDER": 0.0, "NOT_AVAILABLE": 0.0}, "avStatus":"IN_STOCK", "inStock":true, "ATS": 350.0, "inStockDate": "Wed Aug 13 12:00:00 GMT 2014" , "pricing": {"standard": "19.0", "sale": "13.99", "isPromoPrice": false, "quantities": [ {"unit": "", "value": "1.0"} ]} }, {"id": "N4Q6_STD_PLMOCA/CHINO", "attributes": { "size": "Standard" , "color": "Pale Mocha-Chino" }, "avLevels": {"IN_STOCK": 1.0, "PREORDER": 0.0, "BACKORDER": 0.0, "NOT_AVAILABLE": 0.0}, "avStatus":"IN_STOCK", "inStock":true, "ATS": 217.0, "inStockDate": "Wed Aug 13 12:00:00 GMT 2014" , "pricing": {"standard": "19.0", "sale": "13.99", "isPromoPrice": false, "quantities": [ {"unit": "", "value": "1.0"} ]} }, {"id": "N4Q6_STD_SAPR/CARBEAN", "attributes": { "size": "Standard" , "color": "Sapphire-Caribbean" }, "avLevels": {"IN_STOCK": 0.0, "PREORDER": 0.0, "BACKORDER": 0.0, "NOT_AVAILABLE": 1.0}, "avStatus":"NOT_AVAILABLE", "inStock":false, "ATS": 0.0, "inStockDate": "Thu Aug 28 12:00:00 GMT 2014" , "pricing": {"standard": "19.0", "sale": "13.99", "isPromoPrice": false, "quantities": [ {"unit": "", "value": "1.0"} ]} } ] }}