St. Tropez® Reversible Solid TCS® Down and TCS® Down-Free™ Comforter & Sham
Overview & Details
Our lightest down/down-alternative comforter.
232-thread-count cotton shell.
Comforter reverses to a complementary hue.
Cotton shell is Oeko-Tex certified to be free of all harmful substances and chemicals.
Sewn-through 12" diamond stitching keeps fill from shifting.
Our comforter features corner loops that attach to the corner ties in our duvet covers to hold it in place.
Made in LaCrosse, WI of fine imported materials.
Lifetime guarantee.
Machine wash.
Available exclusively at The Company Store.
St. Tropez is the lightest weight comforter we offer, making it a layer you can enjoy year-round. Offered in a spectrum of sophisticated colors, it reverses to a complementary hue for twice the decorating options. St. Tropez is available in both 500-550 fill power TCS® Down or TCS® Down-Free™ polyfill, a hypoallergenic alternative for those with sensitivities to down. Covered in a silky smooth 232-thread count cotton shell, sewn-through diamond stitching prevents the fill from shifting.
With down fill:
Our lightest weight down comforter.
Hypoallergenic 500-550 fill power TCS® down provides loft and warmth.
A rigorous 6-step quality process ensures our down is hypoallergenic.
With TCS® Down-Free™:
Lofty 500-550 fill power TCS® Down-Free™ poly fill.
Provides insulating warmth for those allergic to down.
Reviews
Lifetime Guarantee
Lifetime Guarantee

All products manufactured in our La Crosse, WI factory are covered by our Lifetime Guarantee. These products may be returned at any time (certain exclusions apply). We will gladly offer you an exchange, refund or merchandise credit (excluding delivery and service charges).
Look for this symbol
throughout the catalog and website which indicates the product carries a Lifetime Guarantee.
St. Tropez® Reversible Solid TCS® Down Comforter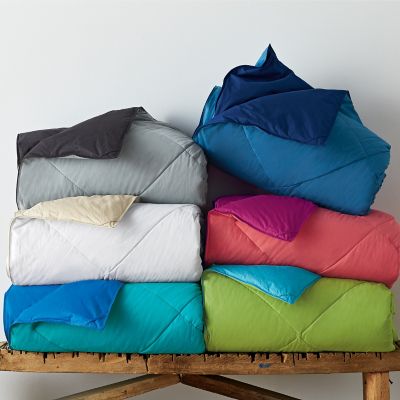 { "variations": { "variants": [ {"id": "CZ64_T_ASHGY/COAL", "attributes": { "size": "Twin, 60 x 86'', 17 oz." , "color": "Ash Gray/Coal" }, "avLevels": {"IN_STOCK": 0.0, "PREORDER": 0.0, "BACKORDER": 0.0, "NOT_AVAILABLE": 1.0}, "avStatus":"NOT_AVAILABLE", "inStock":false, "ATS": 0.0, "inStockDate": "Wed Jan 07 12:00:00 GMT 2015" , "pricing": {"standard": "129.0", "sale": "129.0", "isPromoPrice": false, "quantities": [ {"unit": "", "value": "1.0"} ]} }, {"id": "CZ64_FQ_ASHGY/COAL", "attributes": { "size": "Full/Queen, 86 x86'', 25 oz." , "color": "Ash Gray/Coal" }, "avLevels": {"IN_STOCK": 0.0, "PREORDER": 0.0, "BACKORDER": 0.0, "NOT_AVAILABLE": 1.0}, "avStatus":"NOT_AVAILABLE", "inStock":false, "ATS": 0.0, "inStockDate": "Wed Jan 07 12:00:00 GMT 2015" , "pricing": {"standard": "169.0", "sale": "149.0", "isPromoPrice": false, "quantities": [ {"unit": "", "value": "1.0"} ]} }, {"id": "CZ64_K_ASHGY/COAL", "attributes": { "size": "King, 102 x 86'', 29 oz." , "color": "Ash Gray/Coal" }, "avLevels": {"IN_STOCK": 0.0, "PREORDER": 0.0, "BACKORDER": 0.0, "NOT_AVAILABLE": 1.0}, "avStatus":"NOT_AVAILABLE", "inStock":false, "ATS": 0.0, "inStockDate": "Wed Jan 07 12:00:00 GMT 2015" , "pricing": {"standard": "199.0", "sale": "179.0", "isPromoPrice": false, "quantities": [ {"unit": "", "value": "1.0"} ]} }, {"id": "CZ64-K-SILCOAL", "attributes": { "size": "King, 102 x 86'', 29 oz." , "color": "Silver / Coal" }, "avLevels": {"IN_STOCK": 1.0, "PREORDER": 0.0, "BACKORDER": 0.0, "NOT_AVAILABLE": 0.0}, "avStatus":"IN_STOCK", "inStock":true, "ATS": 10023.0, "inStockDate": "Tue Mar 31 12:00:00 GMT 2015" , "pricing": {"standard": "199.0", "sale": "199.0", "isPromoPrice": false, "quantities": [ {"unit": "", "value": "1.0"} ]} }, {"id": "CZ64-FQ-WHICHINO", "attributes": { "size": "Full/Queen, 86 x86'', 25 oz." , "color": "White / Chino" }, "avLevels": {"IN_STOCK": 1.0, "PREORDER": 0.0, "BACKORDER": 0.0, "NOT_AVAILABLE": 0.0}, "avStatus":"IN_STOCK", "inStock":true, "ATS": 10030.0, "inStockDate": "Sat Apr 11 12:00:00 GMT 2015" , "pricing": {"standard": "169.0", "sale": "169.0", "isPromoPrice": false, "quantities": [ {"unit": "", "value": "1.0"} ]} }, {"id": "CZ64-FQ-BLUTIDDEN", "attributes": { "size": "Full/Queen, 86 x86'', 25 oz." , "color": "Blue Tide / Blue Denim" }, "avLevels": {"IN_STOCK": 1.0, "PREORDER": 0.0, "BACKORDER": 0.0, "NOT_AVAILABLE": 0.0}, "avStatus":"IN_STOCK", "inStock":true, "ATS": 10048.0, "inStockDate": "Sat Apr 11 12:00:00 GMT 2015" , "pricing": {"standard": "169.0", "sale": "169.0", "isPromoPrice": false, "quantities": [ {"unit": "", "value": "1.0"} ]} }, {"id": "CZ64-K-GUAFUCH", "attributes": { "size": "King, 102 x 86'', 29 oz." , "color": "Guava / Fuchsia" }, "avLevels": {"IN_STOCK": 1.0, "PREORDER": 0.0, "BACKORDER": 0.0, "NOT_AVAILABLE": 0.0}, "avStatus":"IN_STOCK", "inStock":true, "ATS": 4.0, "inStockDate": "Tue Mar 31 12:00:00 GMT 2015" , "pricing": {"standard": "199.0", "sale": "199.0", "isPromoPrice": false, "quantities": [ {"unit": "", "value": "1.0"} ]} }, {"id": "CZ64-T-GUAFUCH", "attributes": { "size": "Twin, 60 x 86'', 17 oz." , "color": "Guava / Fuchsia" }, "avLevels": {"IN_STOCK": 1.0, "PREORDER": 0.0, "BACKORDER": 0.0, "NOT_AVAILABLE": 0.0}, "avStatus":"IN_STOCK", "inStock":true, "ATS": 27.0, "inStockDate": "Tue Mar 31 12:00:00 GMT 2015" , "pricing": {"standard": "129.0", "sale": "129.0", "isPromoPrice": false, "quantities": [ {"unit": "", "value": "1.0"} ]} }, {"id": "CZ64-FQ-SILCOAL", "attributes": { "size": "Full/Queen, 86 x86'', 25 oz." , "color": "Silver / Coal" }, "avLevels": {"IN_STOCK": 1.0, "PREORDER": 0.0, "BACKORDER": 0.0, "NOT_AVAILABLE": 0.0}, "avStatus":"IN_STOCK", "inStock":true, "ATS": 10030.0, "inStockDate": "Tue Mar 31 12:00:00 GMT 2015" , "pricing": {"standard": "169.0", "sale": "169.0", "isPromoPrice": false, "quantities": [ {"unit": "", "value": "1.0"} ]} }, {"id": "CZ64-K-WHICHINO", "attributes": { "size": "King, 102 x 86'', 29 oz." , "color": "White / Chino" }, "avLevels": {"IN_STOCK": 1.0, "PREORDER": 0.0, "BACKORDER": 0.0, "NOT_AVAILABLE": 0.0}, "avStatus":"IN_STOCK", "inStock":true, "ATS": 10016.0, "inStockDate": "Tue Mar 31 12:00:00 GMT 2015" , "pricing": {"standard": "199.0", "sale": "199.0", "isPromoPrice": false, "quantities": [ {"unit": "", "value": "1.0"} ]} }, {"id": "CZ64-FQ-KIWIAZUR", "attributes": { "size": "Full/Queen, 86 x86'', 25 oz." , "color": "Kiwi / Azure" }, "avLevels": {"IN_STOCK": 1.0, "PREORDER": 0.0, "BACKORDER": 0.0, "NOT_AVAILABLE": 0.0}, "avStatus":"IN_STOCK", "inStock":true, "ATS": 37.0, "inStockDate": "Sat Apr 11 12:00:00 GMT 2015" , "pricing": {"standard": "169.0", "sale": "169.0", "isPromoPrice": false, "quantities": [ {"unit": "", "value": "1.0"} ]} }, {"id": "CZ64-T-BLUTIDDEN", "attributes": { "size": "Twin, 60 x 86'', 17 oz." , "color": "Blue Tide / Blue Denim" }, "avLevels": {"IN_STOCK": 1.0, "PREORDER": 0.0, "BACKORDER": 0.0, "NOT_AVAILABLE": 0.0}, "avStatus":"IN_STOCK", "inStock":true, "ATS": 10046.0, "inStockDate": "Sat Apr 11 12:00:00 GMT 2015" , "pricing": {"standard": "129.0", "sale": "129.0", "isPromoPrice": false, "quantities": [ {"unit": "", "value": "1.0"} ]} }, {"id": "CZ64-FQ-GUAFUCH", "attributes": { "size": "Full/Queen, 86 x86'', 25 oz." , "color": "Guava / Fuchsia" }, "avLevels": {"IN_STOCK": 1.0, "PREORDER": 0.0, "BACKORDER": 0.0, "NOT_AVAILABLE": 0.0}, "avStatus":"IN_STOCK", "inStock":true, "ATS": 10.0, "inStockDate": "Tue Mar 31 12:00:00 GMT 2015" , "pricing": {"standard": "169.0", "sale": "169.0", "isPromoPrice": false, "quantities": [ {"unit": "", "value": "1.0"} ]} }, {"id": "CZ64-T-WHICHINO", "attributes": { "size": "Twin, 60 x 86'', 17 oz." , "color": "White / Chino" }, "avLevels": {"IN_STOCK": 1.0, "PREORDER": 0.0, "BACKORDER": 0.0, "NOT_AVAILABLE": 0.0}, "avStatus":"IN_STOCK", "inStock":true, "ATS": 10027.0, "inStockDate": "Tue Mar 31 12:00:00 GMT 2015" , "pricing": {"standard": "129.0", "sale": "129.0", "isPromoPrice": false, "quantities": [ {"unit": "", "value": "1.0"} ]} }, {"id": "CZ64-K-BLUTIDDEN", "attributes": { "size": "King, 102 x 86'', 29 oz." , "color": "Blue Tide / Blue Denim" }, "avLevels": {"IN_STOCK": 1.0, "PREORDER": 0.0, "BACKORDER": 0.0, "NOT_AVAILABLE": 0.0}, "avStatus":"IN_STOCK", "inStock":true, "ATS": 10006.0, "inStockDate": "Tue Mar 31 12:00:00 GMT 2015" , "pricing": {"standard": "199.0", "sale": "199.0", "isPromoPrice": false, "quantities": [ {"unit": "", "value": "1.0"} ]} }, {"id": "CZ64-T-KIWIAZUR", "attributes": { "size": "Twin, 60 x 86'', 17 oz." , "color": "Kiwi / Azure" }, "avLevels": {"IN_STOCK": 1.0, "PREORDER": 0.0, "BACKORDER": 0.0, "NOT_AVAILABLE": 0.0}, "avStatus":"IN_STOCK", "inStock":true, "ATS": 32.0, "inStockDate": "Sat Apr 11 12:00:00 GMT 2015" , "pricing": {"standard": "129.0", "sale": "129.0", "isPromoPrice": false, "quantities": [ {"unit": "", "value": "1.0"} ]} }, {"id": "CZ64-T-SILCOAL", "attributes": { "size": "Twin, 60 x 86'', 17 oz." , "color": "Silver / Coal" }, "avLevels": {"IN_STOCK": 1.0, "PREORDER": 0.0, "BACKORDER": 0.0, "NOT_AVAILABLE": 0.0}, "avStatus":"IN_STOCK", "inStock":true, "ATS": 10017.0, "inStockDate": "Tue Mar 31 12:00:00 GMT 2015" , "pricing": {"standard": "129.0", "sale": "129.0", "isPromoPrice": false, "quantities": [ {"unit": "", "value": "1.0"} ]} }, {"id": "CZ64-FQ-SAPBER", "attributes": { "size": "Full/Queen, 86 x86'', 25 oz." , "color": "Bermuda / Sapphire" }, "avLevels": {"IN_STOCK": 1.0, "PREORDER": 0.0, "BACKORDER": 0.0, "NOT_AVAILABLE": 0.0}, "avStatus":"IN_STOCK", "inStock":true, "ATS": 71.0, "inStockDate": "Sat Apr 11 12:00:00 GMT 2015" , "pricing": {"standard": "169.0", "sale": "169.0", "isPromoPrice": false, "quantities": [ {"unit": "", "value": "1.0"} ]} }, {"id": "CZ64-T-SAPBER", "attributes": { "size": "Twin, 60 x 86'', 17 oz." , "color": "Bermuda / Sapphire" }, "avLevels": {"IN_STOCK": 1.0, "PREORDER": 0.0, "BACKORDER": 0.0, "NOT_AVAILABLE": 0.0}, "avStatus":"IN_STOCK", "inStock":true, "ATS": 51.0, "inStockDate": "Sat Apr 11 12:00:00 GMT 2015" , "pricing": {"standard": "129.0", "sale": "129.0", "isPromoPrice": false, "quantities": [ {"unit": "", "value": "1.0"} ]} }, {"id": "CZ64-K-KIWIAZUR", "attributes": { "size": "King, 102 x 86'', 29 oz." , "color": "Kiwi / Azure" }, "avLevels": {"IN_STOCK": 1.0, "PREORDER": 0.0, "BACKORDER": 0.0, "NOT_AVAILABLE": 0.0}, "avStatus":"IN_STOCK", "inStock":true, "ATS": 26.0, "inStockDate": "Tue Mar 31 12:00:00 GMT 2015" , "pricing": {"standard": "199.0", "sale": "199.0", "isPromoPrice": false, "quantities": [ {"unit": "", "value": "1.0"} ]} }, {"id": "CZ64-K-SAPBER", "attributes": { "size": "King, 102 x 86'', 29 oz." , "color": "Bermuda / Sapphire" }, "avLevels": {"IN_STOCK": 1.0, "PREORDER": 0.0, "BACKORDER": 0.0, "NOT_AVAILABLE": 0.0}, "avStatus":"IN_STOCK", "inStock":true, "ATS": 21.0, "inStockDate": "Tue Mar 31 12:00:00 GMT 2015" , "pricing": {"standard": "199.0", "sale": "199.0", "isPromoPrice": false, "quantities": [ {"unit": "", "value": "1.0"} ]} } ] }}
St. Tropez® Reversible Solid TCS® Down-Free™ Comforter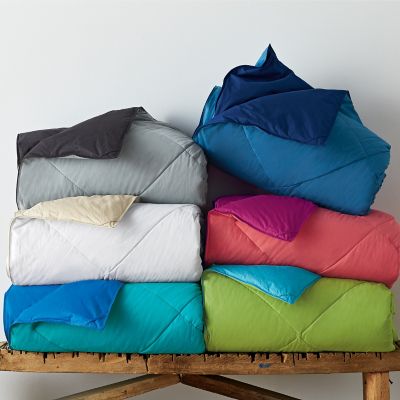 { "variations": { "variants": [ {"id": "CZ65_T_ASHGY/COAL", "attributes": { "size": "Twin, 60 x 86'', 20 oz." , "color": "Ash Gray/Coal" }, "avLevels": {"IN_STOCK": 0.0, "PREORDER": 0.0, "BACKORDER": 0.0, "NOT_AVAILABLE": 1.0}, "avStatus":"NOT_AVAILABLE", "inStock":false, "ATS": 0.0, "inStockDate": "Wed Jan 07 12:00:00 GMT 2015" , "pricing": {"standard": "109.0", "sale": "94.0", "isPromoPrice": false, "quantities": [ {"unit": "", "value": "1.0"} ]} }, {"id": "CZ65_K_ASHGY/COAL", "attributes": { "size": "King, 102 x 86'', 32 oz." , "color": "Ash Gray/Coal" }, "avLevels": {"IN_STOCK": 1.0, "PREORDER": 0.0, "BACKORDER": 0.0, "NOT_AVAILABLE": 0.0}, "avStatus":"IN_STOCK", "inStock":true, "ATS": 1.0, "inStockDate": "Sun Apr 26 12:00:00 GMT 2015" , "pricing": {"standard": "179.0", "sale": "159.0", "isPromoPrice": false, "quantities": [ {"unit": "", "value": "1.0"} ]} }, {"id": "CZ65_FQ_ASHGY/COAL", "attributes": { "size": "Full/Queen 86 x 86'', 27 oz." , "color": "Ash Gray/Coal" }, "avLevels": {"IN_STOCK": 0.0, "PREORDER": 0.0, "BACKORDER": 0.0, "NOT_AVAILABLE": 1.0}, "avStatus":"NOT_AVAILABLE", "inStock":false, "ATS": 0.0, "inStockDate": "Wed Jan 07 12:00:00 GMT 2015" , "pricing": {"standard": "149.0", "sale": "134.0", "isPromoPrice": false, "quantities": [ {"unit": "", "value": "1.0"} ]} }, {"id": "CZ65_K_GULL/SILVER", "attributes": { "size": "King, 102 x 86'', 32 oz." , "color": "Gull / Silver" }, "avLevels": {"IN_STOCK": 0.0, "PREORDER": 0.0, "BACKORDER": 0.0, "NOT_AVAILABLE": 1.0}, "avStatus":"NOT_AVAILABLE", "inStock":false, "ATS": 0.0, "inStockDate": "Thu Aug 28 12:00:00 GMT 2014" , "pricing": {"standard": "179.0", "sale": "159.0", "isPromoPrice": false, "quantities": [ {"unit": "", "value": "1.0"} ]} }, {"id": "CZ65_FQ_GULL/SILVER", "attributes": { "size": "Full/Queen 86 x 86'', 27 oz." , "color": "Gull / Silver" }, "avLevels": {"IN_STOCK": 0.0, "PREORDER": 0.0, "BACKORDER": 0.0, "NOT_AVAILABLE": 1.0}, "avStatus":"NOT_AVAILABLE", "inStock":false, "ATS": 0.0, "inStockDate": "Thu Aug 28 12:00:00 GMT 2014" , "pricing": {"standard": "149.0", "sale": "134.0", "isPromoPrice": false, "quantities": [ {"unit": "", "value": "1.0"} ]} }, {"id": "CZ65_T_GULL/SILVER", "attributes": { "size": "Twin, 60 x 86'', 20 oz." , "color": "Gull / Silver" }, "avLevels": {"IN_STOCK": 0.0, "PREORDER": 0.0, "BACKORDER": 0.0, "NOT_AVAILABLE": 1.0}, "avStatus":"NOT_AVAILABLE", "inStock":false, "ATS": 0.0, "inStockDate": "Thu Aug 28 12:00:00 GMT 2014" , "pricing": {"standard": "109.0", "sale": "94.0", "isPromoPrice": false, "quantities": [ {"unit": "", "value": "1.0"} ]} }, {"id": "CZ65-K-SAPBER", "attributes": { "size": "King, 102 x 86'', 32 oz." , "color": "Bermuda / Sapphire" }, "avLevels": {"IN_STOCK": 1.0, "PREORDER": 0.0, "BACKORDER": 0.0, "NOT_AVAILABLE": 0.0}, "avStatus":"IN_STOCK", "inStock":true, "ATS": 21.0, "inStockDate": "Tue Mar 31 12:00:00 GMT 2015" , "pricing": {"standard": "179.0", "sale": "179.0", "isPromoPrice": false, "quantities": [ {"unit": "", "value": "1.0"} ]} }, {"id": "CZ65-FQ-WHICHINO", "attributes": { "size": "Full/Queen 86 x 86'', 27 oz." , "color": "White / Chino" }, "avLevels": {"IN_STOCK": 1.0, "PREORDER": 0.0, "BACKORDER": 0.0, "NOT_AVAILABLE": 0.0}, "avStatus":"IN_STOCK", "inStock":true, "ATS": 10054.0, "inStockDate": "Tue Mar 31 12:00:00 GMT 2015" , "pricing": {"standard": "149.0", "sale": "149.0", "isPromoPrice": false, "quantities": [ {"unit": "", "value": "1.0"} ]} }, {"id": "CZ65-T-SILCOAL", "attributes": { "size": "Twin, 60 x 86'', 20 oz." , "color": "Silver / Coal" }, "avLevels": {"IN_STOCK": 1.0, "PREORDER": 0.0, "BACKORDER": 0.0, "NOT_AVAILABLE": 0.0}, "avStatus":"IN_STOCK", "inStock":true, "ATS": 10015.0, "inStockDate": "Tue Mar 31 12:00:00 GMT 2015" , "pricing": {"standard": "109.0", "sale": "109.0", "isPromoPrice": false, "quantities": [ {"unit": "", "value": "1.0"} ]} }, {"id": "CZ65-T-BLUTIDDEN", "attributes": { "size": "Twin, 60 x 86'', 20 oz." , "color": "Blue Tide / Blue Denim" }, "avLevels": {"IN_STOCK": 1.0, "PREORDER": 0.0, "BACKORDER": 0.0, "NOT_AVAILABLE": 0.0}, "avStatus":"IN_STOCK", "inStock":true, "ATS": 10082.0, "inStockDate": "Sat Apr 11 12:00:00 GMT 2015" , "pricing": {"standard": "109.0", "sale": "109.0", "isPromoPrice": false, "quantities": [ {"unit": "", "value": "1.0"} ]} }, {"id": "CZ65-FQ-BLUTIDDEN", "attributes": { "size": "Full/Queen 86 x 86'', 27 oz." , "color": "Blue Tide / Blue Denim" }, "avLevels": {"IN_STOCK": 1.0, "PREORDER": 0.0, "BACKORDER": 0.0, "NOT_AVAILABLE": 0.0}, "avStatus":"IN_STOCK", "inStock":true, "ATS": 10028.0, "inStockDate": "Sat Apr 11 12:00:00 GMT 2015" , "pricing": {"standard": "149.0", "sale": "149.0", "isPromoPrice": false, "quantities": [ {"unit": "", "value": "1.0"} ]} }, {"id": "CZ65-FQ-GUAFUCH", "attributes": { "size": "Full/Queen 86 x 86'', 27 oz." , "color": "Guava / Fuchsia" }, "avLevels": {"IN_STOCK": 1.0, "PREORDER": 0.0, "BACKORDER": 0.0, "NOT_AVAILABLE": 0.0}, "avStatus":"IN_STOCK", "inStock":true, "ATS": 15.0, "inStockDate": "Tue Mar 31 12:00:00 GMT 2015" , "pricing": {"standard": "149.0", "sale": "149.0", "isPromoPrice": false, "quantities": [ {"unit": "", "value": "1.0"} ]} }, {"id": "CZ65-K-KIWIAZUR", "attributes": { "size": "King, 102 x 86'', 32 oz." , "color": "Kiwi / Azure" }, "avLevels": {"IN_STOCK": 1.0, "PREORDER": 0.0, "BACKORDER": 0.0, "NOT_AVAILABLE": 0.0}, "avStatus":"IN_STOCK", "inStock":true, "ATS": 26.0, "inStockDate": "Tue Mar 31 12:00:00 GMT 2015" , "pricing": {"standard": "179.0", "sale": "179.0", "isPromoPrice": false, "quantities": [ {"unit": "", "value": "1.0"} ]} }, {"id": "CZ65-T-GUAFUCH", "attributes": { "size": "Twin, 60 x 86'', 20 oz." , "color": "Guava / Fuchsia" }, "avLevels": {"IN_STOCK": 1.0, "PREORDER": 0.0, "BACKORDER": 0.0, "NOT_AVAILABLE": 0.0}, "avStatus":"IN_STOCK", "inStock":true, "ATS": 18.0, "inStockDate": "Tue Mar 31 12:00:00 GMT 2015" , "pricing": {"standard": "109.0", "sale": "109.0", "isPromoPrice": false, "quantities": [ {"unit": "", "value": "1.0"} ]} }, {"id": "CZ65-T-KIWIAZUR", "attributes": { "size": "Twin, 60 x 86'', 20 oz." , "color": "Kiwi / Azure" }, "avLevels": {"IN_STOCK": 1.0, "PREORDER": 0.0, "BACKORDER": 0.0, "NOT_AVAILABLE": 0.0}, "avStatus":"IN_STOCK", "inStock":true, "ATS": 81.0, "inStockDate": "Sat Apr 11 12:00:00 GMT 2015" , "pricing": {"standard": "109.0", "sale": "109.0", "isPromoPrice": false, "quantities": [ {"unit": "", "value": "1.0"} ]} }, {"id": "CZ65-T-WHICHINO", "attributes": { "size": "Twin, 60 x 86'', 20 oz." , "color": "White / Chino" }, "avLevels": {"IN_STOCK": 1.0, "PREORDER": 0.0, "BACKORDER": 0.0, "NOT_AVAILABLE": 0.0}, "avStatus":"IN_STOCK", "inStock":true, "ATS": 10018.0, "inStockDate": "Tue Mar 31 12:00:00 GMT 2015" , "pricing": {"standard": "109.0", "sale": "109.0", "isPromoPrice": false, "quantities": [ {"unit": "", "value": "1.0"} ]} }, {"id": "CZ65-FQ-SILCOAL", "attributes": { "size": "Full/Queen 86 x 86'', 27 oz." , "color": "Silver / Coal" }, "avLevels": {"IN_STOCK": 1.0, "PREORDER": 0.0, "BACKORDER": 0.0, "NOT_AVAILABLE": 0.0}, "avStatus":"IN_STOCK", "inStock":true, "ATS": 10056.0, "inStockDate": "Sat Apr 11 12:00:00 GMT 2015" , "pricing": {"standard": "149.0", "sale": "149.0", "isPromoPrice": false, "quantities": [ {"unit": "", "value": "1.0"} ]} }, {"id": "CZ65-FQ-SAPBER", "attributes": { "size": "Full/Queen 86 x 86'', 27 oz." , "color": "Bermuda / Sapphire" }, "avLevels": {"IN_STOCK": 1.0, "PREORDER": 0.0, "BACKORDER": 0.0, "NOT_AVAILABLE": 0.0}, "avStatus":"IN_STOCK", "inStock":true, "ATS": 63.0, "inStockDate": "Sat Apr 11 12:00:00 GMT 2015" , "pricing": {"standard": "149.0", "sale": "149.0", "isPromoPrice": false, "quantities": [ {"unit": "", "value": "1.0"} ]} }, {"id": "CZ65-K-GUAFUCH", "attributes": { "size": "King, 102 x 86'', 32 oz." , "color": "Guava / Fuchsia" }, "avLevels": {"IN_STOCK": 1.0, "PREORDER": 0.0, "BACKORDER": 0.0, "NOT_AVAILABLE": 0.0}, "avStatus":"IN_STOCK", "inStock":true, "ATS": 17.0, "inStockDate": "Tue Mar 31 12:00:00 GMT 2015" , "pricing": {"standard": "179.0", "sale": "179.0", "isPromoPrice": false, "quantities": [ {"unit": "", "value": "1.0"} ]} }, {"id": "CZ65-FQ-KIWIAZUR", "attributes": { "size": "Full/Queen 86 x 86'', 27 oz." , "color": "Kiwi / Azure" }, "avLevels": {"IN_STOCK": 1.0, "PREORDER": 0.0, "BACKORDER": 0.0, "NOT_AVAILABLE": 0.0}, "avStatus":"IN_STOCK", "inStock":true, "ATS": 78.0, "inStockDate": "Sat Apr 11 12:00:00 GMT 2015" , "pricing": {"standard": "149.0", "sale": "149.0", "isPromoPrice": false, "quantities": [ {"unit": "", "value": "1.0"} ]} }, {"id": "CZ65-K-WHICHINO", "attributes": { "size": "King, 102 x 86'', 32 oz." , "color": "White / Chino" }, "avLevels": {"IN_STOCK": 1.0, "PREORDER": 0.0, "BACKORDER": 0.0, "NOT_AVAILABLE": 0.0}, "avStatus":"IN_STOCK", "inStock":true, "ATS": 10029.0, "inStockDate": "Tue Mar 31 12:00:00 GMT 2015" , "pricing": {"standard": "179.0", "sale": "179.0", "isPromoPrice": false, "quantities": [ {"unit": "", "value": "1.0"} ]} }, {"id": "CZ65-K-SILCOAL", "attributes": { "size": "King, 102 x 86'', 32 oz." , "color": "Silver / Coal" }, "avLevels": {"IN_STOCK": 1.0, "PREORDER": 0.0, "BACKORDER": 0.0, "NOT_AVAILABLE": 0.0}, "avStatus":"IN_STOCK", "inStock":true, "ATS": 10038.0, "inStockDate": "Tue Mar 31 12:00:00 GMT 2015" , "pricing": {"standard": "179.0", "sale": "179.0", "isPromoPrice": false, "quantities": [ {"unit": "", "value": "1.0"} ]} }, {"id": "CZ65-T-SAPBER", "attributes": { "size": "Twin, 60 x 86'', 20 oz." , "color": "Bermuda / Sapphire" }, "avLevels": {"IN_STOCK": 1.0, "PREORDER": 0.0, "BACKORDER": 0.0, "NOT_AVAILABLE": 0.0}, "avStatus":"IN_STOCK", "inStock":true, "ATS": 68.0, "inStockDate": "Sat Apr 11 12:00:00 GMT 2015" , "pricing": {"standard": "109.0", "sale": "109.0", "isPromoPrice": false, "quantities": [ {"unit": "", "value": "1.0"} ]} }, {"id": "CZ65-K-BLUTIDDEN", "attributes": { "size": "King, 102 x 86'', 32 oz." , "color": "Blue Tide / Blue Denim" }, "avLevels": {"IN_STOCK": 1.0, "PREORDER": 0.0, "BACKORDER": 0.0, "NOT_AVAILABLE": 0.0}, "avStatus":"IN_STOCK", "inStock":true, "ATS": 10009.0, "inStockDate": "Tue Mar 31 12:00:00 GMT 2015" , "pricing": {"standard": "179.0", "sale": "179.0", "isPromoPrice": false, "quantities": [ {"unit": "", "value": "1.0"} ]} } ] }}
St. Tropez® Reversible Solid Sham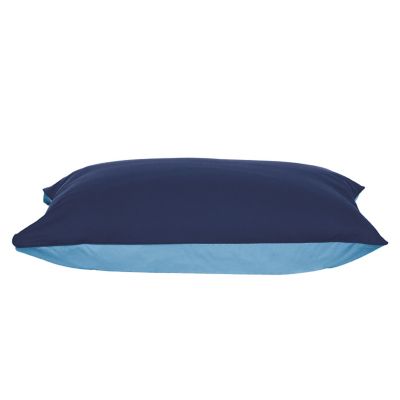 { "variations": { "variants": [ {"id": "N4Q6_STD_ASHGY/COAL", "attributes": { "size": "Standard" , "color": "Ash Gray/Coal" }, "avLevels": {"IN_STOCK": 1.0, "PREORDER": 0.0, "BACKORDER": 0.0, "NOT_AVAILABLE": 0.0}, "avStatus":"IN_STOCK", "inStock":true, "ATS": 1.0, "inStockDate": "Thu Jan 22 12:00:00 GMT 2015" , "pricing": {"standard": "19.0", "sale": "19.0", "isPromoPrice": false, "quantities": [ {"unit": "", "value": "1.0"} ]} }, {"id": "N4Q6-STD-GUAFUCH", "attributes": { "size": "Standard" , "color": "Guava / Fuchsia" }, "avLevels": {"IN_STOCK": 1.0, "PREORDER": 0.0, "BACKORDER": 0.0, "NOT_AVAILABLE": 0.0}, "avStatus":"IN_STOCK", "inStock":true, "ATS": 176.0, "inStockDate": "Sat Apr 11 12:00:00 GMT 2015" , "pricing": {"standard": "19.0", "sale": "19.0", "isPromoPrice": false, "quantities": [ {"unit": "", "value": "1.0"} ]} }, {"id": "N4Q6-STD-BLUTIDDEN", "attributes": { "size": "Standard" , "color": "Blue Tide / Blue Denim" }, "avLevels": {"IN_STOCK": 1.0, "PREORDER": 0.0, "BACKORDER": 0.0, "NOT_AVAILABLE": 0.0}, "avStatus":"IN_STOCK", "inStock":true, "ATS": 10205.0, "inStockDate": "Sat Apr 11 12:00:00 GMT 2015" , "pricing": {"standard": "19.0", "sale": "19.0", "isPromoPrice": false, "quantities": [ {"unit": "", "value": "1.0"} ]} }, {"id": "N4Q6-STD-SILCOAL", "attributes": { "size": "Standard" , "color": "Silver / Coal" }, "avLevels": {"IN_STOCK": 1.0, "PREORDER": 0.0, "BACKORDER": 0.0, "NOT_AVAILABLE": 0.0}, "avStatus":"IN_STOCK", "inStock":true, "ATS": 10181.0, "inStockDate": "Sat Apr 11 12:00:00 GMT 2015" , "pricing": {"standard": "19.0", "sale": "19.0", "isPromoPrice": false, "quantities": [ {"unit": "", "value": "1.0"} ]} }, {"id": "N4Q6-STD-SAPBER", "attributes": { "size": "Standard" , "color": "Bermuda / Sapphire" }, "avLevels": {"IN_STOCK": 1.0, "PREORDER": 0.0, "BACKORDER": 0.0, "NOT_AVAILABLE": 0.0}, "avStatus":"IN_STOCK", "inStock":true, "ATS": 362.0, "inStockDate": "Sat Apr 11 12:00:00 GMT 2015" , "pricing": {"standard": "19.0", "sale": "19.0", "isPromoPrice": false, "quantities": [ {"unit": "", "value": "1.0"} ]} }, {"id": "N4Q6-STD-KIWIAZUR", "attributes": { "size": "Standard" , "color": "Kiwi / Azure" }, "avLevels": {"IN_STOCK": 1.0, "PREORDER": 0.0, "BACKORDER": 0.0, "NOT_AVAILABLE": 0.0}, "avStatus":"IN_STOCK", "inStock":true, "ATS": 349.0, "inStockDate": "Sat Apr 11 12:00:00 GMT 2015" , "pricing": {"standard": "19.0", "sale": "19.0", "isPromoPrice": false, "quantities": [ {"unit": "", "value": "1.0"} ]} }, {"id": "N4Q6-STD-WHICHINO", "attributes": { "size": "Standard" , "color": "White / Chino" }, "avLevels": {"IN_STOCK": 1.0, "PREORDER": 0.0, "BACKORDER": 0.0, "NOT_AVAILABLE": 0.0}, "avStatus":"IN_STOCK", "inStock":true, "ATS": 10201.0, "inStockDate": "Sat Apr 11 12:00:00 GMT 2015" , "pricing": {"standard": "19.0", "sale": "19.0", "isPromoPrice": false, "quantities": [ {"unit": "", "value": "1.0"} ]} } ] }}