Classic Solid Sateen Tailored Bedskirt, 14'' drop
Overview & Details
350-thread count bedskirt.
100% cotton sateen bedskirt.
Tailored bedskirt, 14" drop.
Machine wash.
Imported.
Exclusively ours.
Complete your bedroom retreat with our Solid Sateen Tailored Bedskirt, perfect for any bed, year-round. Available in a variety of colors to match the rest of your bedding, this fashionable bedskirt is made with 100% combed cotton percale for crisp softness. Woven in 250-thread count cotton, this great-looking bedskirt makes your bed instantly more inviting while also hiding unsightly bed frames. Available exclusively at The Company Store.
Reviews
Classic Solid Sateen Tailored Bedskirt, 14" drop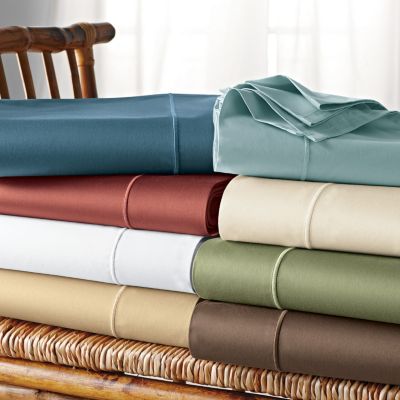 { "variations": { "variants": [ {"id": "GP80-T-IVORY", "attributes": { "size": "Twin" , "color": "Ivory" }, "avLevels": {"IN_STOCK": 1.0, "PREORDER": 0.0, "BACKORDER": 0.0, "NOT_AVAILABLE": 0.0}, "avStatus":"IN_STOCK", "inStock":true, "ATS": 10032.0, "inStockDate": "Mon Jan 11 12:00:00 GMT 2016" , "pricing": {"standard": "69.0", "sale": "69.0", "isPromoPrice": false, "quantities": [ {"unit": "", "value": "1.0"} ]} }, {"id": "GP80-T-CLOUD-BLUE", "attributes": { "size": "Twin" , "color": "Cloud Blue" }, "avLevels": {"IN_STOCK": 1.0, "PREORDER": 0.0, "BACKORDER": 0.0, "NOT_AVAILABLE": 0.0}, "avStatus":"IN_STOCK", "inStock":true, "ATS": 20.0, "inStockDate": "Thu Aug 13 12:00:00 GMT 2015" , "pricing": {"standard": "69.0", "sale": "69.0", "isPromoPrice": false, "quantities": [ {"unit": "", "value": "1.0"} ]} }, {"id": "GP80-F-CLOUD-BLUE", "attributes": { "size": "Full" , "color": "Cloud Blue" }, "avLevels": {"IN_STOCK": 1.0, "PREORDER": 0.0, "BACKORDER": 0.0, "NOT_AVAILABLE": 0.0}, "avStatus":"IN_STOCK", "inStock":true, "ATS": 14.0, "inStockDate": "Thu Aug 13 12:00:00 GMT 2015" , "pricing": {"standard": "79.0", "sale": "79.0", "isPromoPrice": false, "quantities": [ {"unit": "", "value": "1.0"} ]} }, {"id": "GP80-K-PAPRIKA", "attributes": { "size": "King" , "color": "Paprika" }, "avLevels": {"IN_STOCK": 1.0, "PREORDER": 0.0, "BACKORDER": 0.0, "NOT_AVAILABLE": 0.0}, "avStatus":"IN_STOCK", "inStock":true, "ATS": 15.0, "inStockDate": "Thu Aug 13 12:00:00 GMT 2015" , "pricing": {"standard": "99.0", "sale": "99.0", "isPromoPrice": false, "quantities": [ {"unit": "", "value": "1.0"} ]} }, {"id": "GP80-Q-BLUE-STONE", "attributes": { "size": "Queen" , "color": "Bluestone" }, "avLevels": {"IN_STOCK": 1.0, "PREORDER": 0.0, "BACKORDER": 0.0, "NOT_AVAILABLE": 0.0}, "avStatus":"IN_STOCK", "inStock":true, "ATS": 10021.0, "inStockDate": "Fri Dec 04 12:00:00 GMT 2015" , "pricing": {"standard": "89.0", "sale": "89.0", "isPromoPrice": false, "quantities": [ {"unit": "", "value": "1.0"} ]} }, {"id": "GP80-K-CLOUD-BLUE", "attributes": { "size": "King" , "color": "Cloud Blue" }, "avLevels": {"IN_STOCK": 1.0, "PREORDER": 0.0, "BACKORDER": 0.0, "NOT_AVAILABLE": 0.0}, "avStatus":"IN_STOCK", "inStock":true, "ATS": 46.0, "inStockDate": "Thu Aug 13 12:00:00 GMT 2015" , "pricing": {"standard": "99.0", "sale": "99.0", "isPromoPrice": false, "quantities": [ {"unit": "", "value": "1.0"} ]} }, {"id": "GP80-K-ANT-GOLD", "attributes": { "size": "King" , "color": "Antique Gold" }, "avLevels": {"IN_STOCK": 1.0, "PREORDER": 0.0, "BACKORDER": 0.0, "NOT_AVAILABLE": 0.0}, "avStatus":"IN_STOCK", "inStock":true, "ATS": 10040.0, "inStockDate": "Mon Jan 11 12:00:00 GMT 2016" , "pricing": {"standard": "99.0", "sale": "99.0", "isPromoPrice": false, "quantities": [ {"unit": "", "value": "1.0"} ]} }, {"id": "GP80-F-ANT-GOLD", "attributes": { "size": "Full" , "color": "Antique Gold" }, "avLevels": {"IN_STOCK": 1.0, "PREORDER": 0.0, "BACKORDER": 0.0, "NOT_AVAILABLE": 0.0}, "avStatus":"IN_STOCK", "inStock":true, "ATS": 10038.0, "inStockDate": "Mon Jan 11 12:00:00 GMT 2016" , "pricing": {"standard": "79.0", "sale": "79.0", "isPromoPrice": false, "quantities": [ {"unit": "", "value": "1.0"} ]} }, {"id": "GP80-Q-ANT-GOLD", "attributes": { "size": "Queen" , "color": "Antique Gold" }, "avLevels": {"IN_STOCK": 1.0, "PREORDER": 0.0, "BACKORDER": 0.0, "NOT_AVAILABLE": 0.0}, "avStatus":"IN_STOCK", "inStock":true, "ATS": 10026.0, "inStockDate": "Mon Jan 11 12:00:00 GMT 2016" , "pricing": {"standard": "89.0", "sale": "89.0", "isPromoPrice": false, "quantities": [ {"unit": "", "value": "1.0"} ]} }, {"id": "GP80-Q-IVORY", "attributes": { "size": "Queen" , "color": "Ivory" }, "avLevels": {"IN_STOCK": 1.0, "PREORDER": 0.0, "BACKORDER": 0.0, "NOT_AVAILABLE": 0.0}, "avStatus":"IN_STOCK", "inStock":true, "ATS": 10053.0, "inStockDate": "Mon Jan 11 12:00:00 GMT 2016" , "pricing": {"standard": "89.0", "sale": "89.0", "isPromoPrice": false, "quantities": [ {"unit": "", "value": "1.0"} ]} }, {"id": "GP80-F-IVORY", "attributes": { "size": "Full" , "color": "Ivory" }, "avLevels": {"IN_STOCK": 1.0, "PREORDER": 0.0, "BACKORDER": 0.0, "NOT_AVAILABLE": 0.0}, "avStatus":"IN_STOCK", "inStock":true, "ATS": 10021.0, "inStockDate": "Mon Jan 11 12:00:00 GMT 2016" , "pricing": {"standard": "79.0", "sale": "79.0", "isPromoPrice": false, "quantities": [ {"unit": "", "value": "1.0"} ]} }, {"id": "GP80-K-WHITE", "attributes": { "size": "King" , "color": "White" }, "avLevels": {"IN_STOCK": 1.0, "PREORDER": 0.0, "BACKORDER": 0.0, "NOT_AVAILABLE": 0.0}, "avStatus":"IN_STOCK", "inStock":true, "ATS": 10032.0, "inStockDate": "Mon Jan 11 12:00:00 GMT 2016" , "pricing": {"standard": "99.0", "sale": "99.0", "isPromoPrice": false, "quantities": [ {"unit": "", "value": "1.0"} ]} }, {"id": "GP80-F-WHITE", "attributes": { "size": "Full" , "color": "White" }, "avLevels": {"IN_STOCK": 1.0, "PREORDER": 0.0, "BACKORDER": 0.0, "NOT_AVAILABLE": 0.0}, "avStatus":"IN_STOCK", "inStock":true, "ATS": 10014.0, "inStockDate": "Fri Dec 04 12:00:00 GMT 2015" , "pricing": {"standard": "79.0", "sale": "79.0", "isPromoPrice": false, "quantities": [ {"unit": "", "value": "1.0"} ]} }, {"id": "GP80-Q-PAPRIKA", "attributes": { "size": "Queen" , "color": "Paprika" }, "avLevels": {"IN_STOCK": 1.0, "PREORDER": 0.0, "BACKORDER": 0.0, "NOT_AVAILABLE": 0.0}, "avStatus":"IN_STOCK", "inStock":true, "ATS": 12.0, "inStockDate": "Thu Aug 13 12:00:00 GMT 2015" , "pricing": {"standard": "89.0", "sale": "89.0", "isPromoPrice": false, "quantities": [ {"unit": "", "value": "1.0"} ]} }, {"id": "GP80-Q-THYME", "attributes": { "size": "Queen" , "color": "Thyme" }, "avLevels": {"IN_STOCK": 1.0, "PREORDER": 0.0, "BACKORDER": 0.0, "NOT_AVAILABLE": 0.0}, "avStatus":"IN_STOCK", "inStock":true, "ATS": 25.0, "inStockDate": "Thu Aug 13 12:00:00 GMT 2015" , "pricing": {"standard": "89.0", "sale": "89.0", "isPromoPrice": false, "quantities": [ {"unit": "", "value": "1.0"} ]} }, {"id": "GP80-T-PAPRIKA", "attributes": { "size": "Twin" , "color": "Paprika" }, "avLevels": {"IN_STOCK": 1.0, "PREORDER": 0.0, "BACKORDER": 0.0, "NOT_AVAILABLE": 0.0}, "avStatus":"IN_STOCK", "inStock":true, "ATS": 17.0, "inStockDate": "Thu Aug 13 12:00:00 GMT 2015" , "pricing": {"standard": "69.0", "sale": "69.0", "isPromoPrice": false, "quantities": [ {"unit": "", "value": "1.0"} ]} }, {"id": "GP80-F-PAPRIKA", "attributes": { "size": "Full" , "color": "Paprika" }, "avLevels": {"IN_STOCK": 1.0, "PREORDER": 0.0, "BACKORDER": 0.0, "NOT_AVAILABLE": 0.0}, "avStatus":"IN_STOCK", "inStock":true, "ATS": 15.0, "inStockDate": "Thu Aug 13 12:00:00 GMT 2015" , "pricing": {"standard": "79.0", "sale": "79.0", "isPromoPrice": false, "quantities": [ {"unit": "", "value": "1.0"} ]} }, {"id": "GP80-Q-WHITE", "attributes": { "size": "Queen" , "color": "White" }, "avLevels": {"IN_STOCK": 1.0, "PREORDER": 0.0, "BACKORDER": 0.0, "NOT_AVAILABLE": 0.0}, "avStatus":"IN_STOCK", "inStock":true, "ATS": 10045.0, "inStockDate": "Mon Jan 11 12:00:00 GMT 2016" , "pricing": {"standard": "89.0", "sale": "89.0", "isPromoPrice": false, "quantities": [ {"unit": "", "value": "1.0"} ]} }, {"id": "GP80-T-ANT-GOLD", "attributes": { "size": "Twin" , "color": "Antique Gold" }, "avLevels": {"IN_STOCK": 1.0, "PREORDER": 0.0, "BACKORDER": 0.0, "NOT_AVAILABLE": 0.0}, "avStatus":"IN_STOCK", "inStock":true, "ATS": 10034.0, "inStockDate": "Mon Jan 11 12:00:00 GMT 2016" , "pricing": {"standard": "69.0", "sale": "69.0", "isPromoPrice": false, "quantities": [ {"unit": "", "value": "1.0"} ]} }, {"id": "GP80-K-THYME", "attributes": { "size": "King" , "color": "Thyme" }, "avLevels": {"IN_STOCK": 1.0, "PREORDER": 0.0, "BACKORDER": 0.0, "NOT_AVAILABLE": 0.0}, "avStatus":"IN_STOCK", "inStock":true, "ATS": 11.0, "inStockDate": "Thu Aug 13 12:00:00 GMT 2015" , "pricing": {"standard": "99.0", "sale": "99.0", "isPromoPrice": false, "quantities": [ {"unit": "", "value": "1.0"} ]} }, {"id": "GP80-T-BLUE-STONE", "attributes": { "size": "Twin" , "color": "Bluestone" }, "avLevels": {"IN_STOCK": 1.0, "PREORDER": 0.0, "BACKORDER": 0.0, "NOT_AVAILABLE": 0.0}, "avStatus":"IN_STOCK", "inStock":true, "ATS": 10018.0, "inStockDate": "Fri Dec 04 12:00:00 GMT 2015" , "pricing": {"standard": "69.0", "sale": "69.0", "isPromoPrice": false, "quantities": [ {"unit": "", "value": "1.0"} ]} }, {"id": "GP80-K-DUNE", "attributes": { "size": "King" , "color": "Dune" }, "avLevels": {"IN_STOCK": 1.0, "PREORDER": 0.0, "BACKORDER": 0.0, "NOT_AVAILABLE": 0.0}, "avStatus":"IN_STOCK", "inStock":true, "ATS": 35.0, "inStockDate": "Thu Aug 13 12:00:00 GMT 2015" , "pricing": {"standard": "99.0", "sale": "99.0", "isPromoPrice": false, "quantities": [ {"unit": "", "value": "1.0"} ]} }, {"id": "GP80-T-WHITE", "attributes": { "size": "Twin" , "color": "White" }, "avLevels": {"IN_STOCK": 1.0, "PREORDER": 0.0, "BACKORDER": 0.0, "NOT_AVAILABLE": 0.0}, "avStatus":"IN_STOCK", "inStock":true, "ATS": 10026.0, "inStockDate": "Mon Jan 11 12:00:00 GMT 2016" , "pricing": {"standard": "69.0", "sale": "69.0", "isPromoPrice": false, "quantities": [ {"unit": "", "value": "1.0"} ]} }, {"id": "GP80-Q-DUNE", "attributes": { "size": "Queen" , "color": "Dune" }, "avLevels": {"IN_STOCK": 1.0, "PREORDER": 0.0, "BACKORDER": 0.0, "NOT_AVAILABLE": 0.0}, "avStatus":"IN_STOCK", "inStock":true, "ATS": 42.0, "inStockDate": "Thu Aug 13 12:00:00 GMT 2015" , "pricing": {"standard": "89.0", "sale": "89.0", "isPromoPrice": false, "quantities": [ {"unit": "", "value": "1.0"} ]} }, {"id": "GP80-Q-CLOUD-BLUE", "attributes": { "size": "Queen" , "color": "Cloud Blue" }, "avLevels": {"IN_STOCK": 1.0, "PREORDER": 0.0, "BACKORDER": 0.0, "NOT_AVAILABLE": 0.0}, "avStatus":"IN_STOCK", "inStock":true, "ATS": 29.0, "inStockDate": "Thu Aug 13 12:00:00 GMT 2015" , "pricing": {"standard": "89.0", "sale": "89.0", "isPromoPrice": false, "quantities": [ {"unit": "", "value": "1.0"} ]} }, {"id": "GP80-F-THYME", "attributes": { "size": "Full" , "color": "Thyme" }, "avLevels": {"IN_STOCK": 1.0, "PREORDER": 0.0, "BACKORDER": 0.0, "NOT_AVAILABLE": 0.0}, "avStatus":"IN_STOCK", "inStock":true, "ATS": 14.0, "inStockDate": "Thu Aug 13 12:00:00 GMT 2015" , "pricing": {"standard": "79.0", "sale": "79.0", "isPromoPrice": false, "quantities": [ {"unit": "", "value": "1.0"} ]} }, {"id": "GP80-F-DUNE", "attributes": { "size": "Full" , "color": "Dune" }, "avLevels": {"IN_STOCK": 1.0, "PREORDER": 0.0, "BACKORDER": 0.0, "NOT_AVAILABLE": 0.0}, "avStatus":"IN_STOCK", "inStock":true, "ATS": 24.0, "inStockDate": "Thu Aug 13 12:00:00 GMT 2015" , "pricing": {"standard": "79.0", "sale": "79.0", "isPromoPrice": false, "quantities": [ {"unit": "", "value": "1.0"} ]} }, {"id": "GP80-K-IVORY", "attributes": { "size": "King" , "color": "Ivory" }, "avLevels": {"IN_STOCK": 1.0, "PREORDER": 0.0, "BACKORDER": 0.0, "NOT_AVAILABLE": 0.0}, "avStatus":"IN_STOCK", "inStock":true, "ATS": 10031.0, "inStockDate": "Mon Jan 11 12:00:00 GMT 2016" , "pricing": {"standard": "99.0", "sale": "99.0", "isPromoPrice": false, "quantities": [ {"unit": "", "value": "1.0"} ]} }, {"id": "GP80-F-BLUE-STONE", "attributes": { "size": "Full" , "color": "Bluestone" }, "avLevels": {"IN_STOCK": 1.0, "PREORDER": 0.0, "BACKORDER": 0.0, "NOT_AVAILABLE": 0.0}, "avStatus":"IN_STOCK", "inStock":true, "ATS": 10011.0, "inStockDate": "Fri Dec 04 12:00:00 GMT 2015" , "pricing": {"standard": "79.0", "sale": "79.0", "isPromoPrice": false, "quantities": [ {"unit": "", "value": "1.0"} ]} }, {"id": "GP80-K-BLUE-STONE", "attributes": { "size": "King" , "color": "Bluestone" }, "avLevels": {"IN_STOCK": 1.0, "PREORDER": 0.0, "BACKORDER": 0.0, "NOT_AVAILABLE": 0.0}, "avStatus":"IN_STOCK", "inStock":true, "ATS": 10037.0, "inStockDate": "Mon Jan 11 12:00:00 GMT 2016" , "pricing": {"standard": "99.0", "sale": "99.0", "isPromoPrice": false, "quantities": [ {"unit": "", "value": "1.0"} ]} }, {"id": "GP80-T-THYME", "attributes": { "size": "Twin" , "color": "Thyme" }, "avLevels": {"IN_STOCK": 1.0, "PREORDER": 0.0, "BACKORDER": 0.0, "NOT_AVAILABLE": 0.0}, "avStatus":"IN_STOCK", "inStock":true, "ATS": 7.0, "inStockDate": "Thu Aug 13 12:00:00 GMT 2015" , "pricing": {"standard": "69.0", "sale": "69.0", "isPromoPrice": false, "quantities": [ {"unit": "", "value": "1.0"} ]} }, {"id": "GP80-T-DUNE", "attributes": { "size": "Twin" , "color": "Dune" }, "avLevels": {"IN_STOCK": 1.0, "PREORDER": 0.0, "BACKORDER": 0.0, "NOT_AVAILABLE": 0.0}, "avStatus":"IN_STOCK", "inStock":true, "ATS": 10.0, "inStockDate": "Thu Aug 13 12:00:00 GMT 2015" , "pricing": {"standard": "69.0", "sale": "69.0", "isPromoPrice": false, "quantities": [ {"unit": "", "value": "1.0"} ]} }, {"id": "GP80-F-CHAMBRAY", "attributes": { "size": "Full" , "color": "Chambray" }, "avLevels": {"IN_STOCK": 1.0, "PREORDER": 0.0, "BACKORDER": 0.0, "NOT_AVAILABLE": 0.0}, "avStatus":"IN_STOCK", "inStock":true, "ATS": 10012.0, "inStockDate": "Mon Jan 11 12:00:00 GMT 2016" , "pricing": {"standard": "79.0", "sale": "79.0", "isPromoPrice": false, "quantities": [ {"unit": "", "value": "1.0"} ]} }, {"id": "GP80-K-CHIANTI", "attributes": { "size": "King" , "color": "Chianti" }, "avLevels": {"IN_STOCK": 1.0, "PREORDER": 0.0, "BACKORDER": 0.0, "NOT_AVAILABLE": 0.0}, "avStatus":"IN_STOCK", "inStock":true, "ATS": 10035.0, "inStockDate": "Mon Jan 11 12:00:00 GMT 2016" , "pricing": {"standard": "99.0", "sale": "99.0", "isPromoPrice": false, "quantities": [ {"unit": "", "value": "1.0"} ]} }, {"id": "GP80-Q-CHIANTI", "attributes": { "size": "Queen" , "color": "Chianti" }, "avLevels": {"IN_STOCK": 1.0, "PREORDER": 0.0, "BACKORDER": 0.0, "NOT_AVAILABLE": 0.0}, "avStatus":"IN_STOCK", "inStock":true, "ATS": 10045.0, "inStockDate": "Mon Jan 11 12:00:00 GMT 2016" , "pricing": {"standard": "89.0", "sale": "89.0", "isPromoPrice": false, "quantities": [ {"unit": "", "value": "1.0"} ]} }, {"id": "GP80-T-CHIANTI", "attributes": { "size": "Twin" , "color": "Chianti" }, "avLevels": {"IN_STOCK": 1.0, "PREORDER": 0.0, "BACKORDER": 0.0, "NOT_AVAILABLE": 0.0}, "avStatus":"IN_STOCK", "inStock":true, "ATS": 10024.0, "inStockDate": "Mon Jan 11 12:00:00 GMT 2016" , "pricing": {"standard": "69.0", "sale": "69.0", "isPromoPrice": false, "quantities": [ {"unit": "", "value": "1.0"} ]} }, {"id": "GP80-Q-BLUE-VELVET", "attributes": { "size": "Queen" , "color": "Blue Velvet" }, "avLevels": {"IN_STOCK": 1.0, "PREORDER": 0.0, "BACKORDER": 0.0, "NOT_AVAILABLE": 0.0}, "avStatus":"IN_STOCK", "inStock":true, "ATS": 10052.0, "inStockDate": "Mon Jan 11 12:00:00 GMT 2016" , "pricing": {"standard": "89.0", "sale": "89.0", "isPromoPrice": false, "quantities": [ {"unit": "", "value": "1.0"} ]} }, {"id": "GP80-K-BLUE-VELVET", "attributes": { "size": "King" , "color": "Blue Velvet" }, "avLevels": {"IN_STOCK": 1.0, "PREORDER": 0.0, "BACKORDER": 0.0, "NOT_AVAILABLE": 0.0}, "avStatus":"IN_STOCK", "inStock":true, "ATS": 10034.0, "inStockDate": "Mon Jan 11 12:00:00 GMT 2016" , "pricing": {"standard": "99.0", "sale": "99.0", "isPromoPrice": false, "quantities": [ {"unit": "", "value": "1.0"} ]} }, {"id": "GP80-Q-CLOVER", "attributes": { "size": "Queen" , "color": "Clover" }, "avLevels": {"IN_STOCK": 1.0, "PREORDER": 0.0, "BACKORDER": 0.0, "NOT_AVAILABLE": 0.0}, "avStatus":"IN_STOCK", "inStock":true, "ATS": 10021.0, "inStockDate": "Mon Jan 11 12:00:00 GMT 2016" , "pricing": {"standard": "89.0", "sale": "89.0", "isPromoPrice": false, "quantities": [ {"unit": "", "value": "1.0"} ]} }, {"id": "GP80-F-BLUE-VELVET", "attributes": { "size": "Full" , "color": "Blue Velvet" }, "avLevels": {"IN_STOCK": 1.0, "PREORDER": 0.0, "BACKORDER": 0.0, "NOT_AVAILABLE": 0.0}, "avStatus":"IN_STOCK", "inStock":true, "ATS": 10020.0, "inStockDate": "Mon Jan 11 12:00:00 GMT 2016" , "pricing": {"standard": "79.0", "sale": "79.0", "isPromoPrice": false, "quantities": [ {"unit": "", "value": "1.0"} ]} }, {"id": "GP80-K-CHAMBRAY", "attributes": { "size": "King" , "color": "Chambray" }, "avLevels": {"IN_STOCK": 1.0, "PREORDER": 0.0, "BACKORDER": 0.0, "NOT_AVAILABLE": 0.0}, "avStatus":"IN_STOCK", "inStock":true, "ATS": 10012.0, "inStockDate": "Mon Jan 11 12:00:00 GMT 2016" , "pricing": {"standard": "99.0", "sale": "99.0", "isPromoPrice": false, "quantities": [ {"unit": "", "value": "1.0"} ]} }, {"id": "GP80-T-CLOVER", "attributes": { "size": "Twin" , "color": "Clover" }, "avLevels": {"IN_STOCK": 1.0, "PREORDER": 0.0, "BACKORDER": 0.0, "NOT_AVAILABLE": 0.0}, "avStatus":"IN_STOCK", "inStock":true, "ATS": 10013.0, "inStockDate": "Mon Jan 11 12:00:00 GMT 2016" , "pricing": {"standard": "69.0", "sale": "69.0", "isPromoPrice": false, "quantities": [ {"unit": "", "value": "1.0"} ]} }, {"id": "GP80-F-CLOVER", "attributes": { "size": "Full" , "color": "Clover" }, "avLevels": {"IN_STOCK": 1.0, "PREORDER": 0.0, "BACKORDER": 0.0, "NOT_AVAILABLE": 0.0}, "avStatus":"IN_STOCK", "inStock":true, "ATS": 10010.0, "inStockDate": "Mon Jan 11 12:00:00 GMT 2016" , "pricing": {"standard": "79.0", "sale": "79.0", "isPromoPrice": false, "quantities": [ {"unit": "", "value": "1.0"} ]} }, {"id": "GP80-Q-CHAMBRAY", "attributes": { "size": "Queen" , "color": "Chambray" }, "avLevels": {"IN_STOCK": 1.0, "PREORDER": 0.0, "BACKORDER": 0.0, "NOT_AVAILABLE": 0.0}, "avStatus":"IN_STOCK", "inStock":true, "ATS": 10023.0, "inStockDate": "Mon Jan 11 12:00:00 GMT 2016" , "pricing": {"standard": "89.0", "sale": "89.0", "isPromoPrice": false, "quantities": [ {"unit": "", "value": "1.0"} ]} }, {"id": "GP80-T-CHAMBRAY", "attributes": { "size": "Twin" , "color": "Chambray" }, "avLevels": {"IN_STOCK": 1.0, "PREORDER": 0.0, "BACKORDER": 0.0, "NOT_AVAILABLE": 0.0}, "avStatus":"IN_STOCK", "inStock":true, "ATS": 10011.0, "inStockDate": "Mon Jan 11 12:00:00 GMT 2016" , "pricing": {"standard": "69.0", "sale": "69.0", "isPromoPrice": false, "quantities": [ {"unit": "", "value": "1.0"} ]} }, {"id": "GP80-T-BLUE-VELVET", "attributes": { "size": "Twin" , "color": "Blue Velvet" }, "avLevels": {"IN_STOCK": 1.0, "PREORDER": 0.0, "BACKORDER": 0.0, "NOT_AVAILABLE": 0.0}, "avStatus":"IN_STOCK", "inStock":true, "ATS": 10024.0, "inStockDate": "Mon Jan 11 12:00:00 GMT 2016" , "pricing": {"standard": "69.0", "sale": "69.0", "isPromoPrice": false, "quantities": [ {"unit": "", "value": "1.0"} ]} }, {"id": "GP80-F-CHIANTI", "attributes": { "size": "Full" , "color": "Chianti" }, "avLevels": {"IN_STOCK": 1.0, "PREORDER": 0.0, "BACKORDER": 0.0, "NOT_AVAILABLE": 0.0}, "avStatus":"IN_STOCK", "inStock":true, "ATS": 10024.0, "inStockDate": "Mon Jan 11 12:00:00 GMT 2016" , "pricing": {"standard": "79.0", "sale": "79.0", "isPromoPrice": false, "quantities": [ {"unit": "", "value": "1.0"} ]} }, {"id": "GP80-K-CLOVER", "attributes": { "size": "King" , "color": "Clover" }, "avLevels": {"IN_STOCK": 1.0, "PREORDER": 0.0, "BACKORDER": 0.0, "NOT_AVAILABLE": 0.0}, "avStatus":"IN_STOCK", "inStock":true, "ATS": 10024.0, "inStockDate": "Mon Jan 11 12:00:00 GMT 2016" , "pricing": {"standard": "99.0", "sale": "99.0", "isPromoPrice": false, "quantities": [ {"unit": "", "value": "1.0"} ]} } ] }}