Soft, 50% Down/ 50% Feather Fill Bolster Pillow
Overview & Details
Soft down-blend bolster pillow.
Made from a luxuriously soft blend of 50% feather fill and 50% down.
Bolster pillows provide extra support for your back, head or neck, and also make your bedding arrangement more attractive.
Also available in hypoallergenic down free versions, perfect for allergy sufferers.
Made with care in our La Crosse, Wisconsin factory.
Exclusively ours.
Imported and domestic materials.

Turn your bedroom into a more blissful retreat simply by adding this super soft bolster pillow to your bedding arrangement. Designed to provide additional support for your back, neck or head, our bolster pillow makes your bed instantly more comfortable – whether you're using it as a head pillow, or sitting up to enjoy breakfast in bed.

A bolster pillow makes any bed appear more comfortable and luxurious. But more than just a decorative accent, this cozy pillow is a great solution for watching TV in bed or snuggling in with your favorite book. The specially designed cylindrical shape provides unique support for your back, so that you don't have to lie directly against a hard headboard or wall. When it's time for shuteye, you can also place the bolster pillow next to you, making it the perfect snuggling companion. Made from a blend of 50% feather fill and 50% down, this pillow is loaded with softness for all-night comfort, night after night.

Our bolster pillow is also available in firm and medium versions, including fills made from 95% down and 5% feather fill, as well as our hypoallergenic down-free version. For the ultimate in nightly comfort, be sure to shop for our wide variety of additional pillows, including boudoir pillows, gusseted pillows, neckrolls and more. Available exclusively at The Company Store.
Reviews
Lifetime Guarantee
Lifetime Guarantee
All products manufactured in our La Crosse, WI factory are covered by our Lifetime Guarantee, and may be returned at any time. We will gladly offer you an exchange, merchandise credit towards a new product, or gift card (excluding delivery fees).
Look for this symbol
throughout the catalog and website, which indicates the product carries a Lifetime Guarantee.
Soft, 50% Down/ 50% Feather Fill Bolster Pillow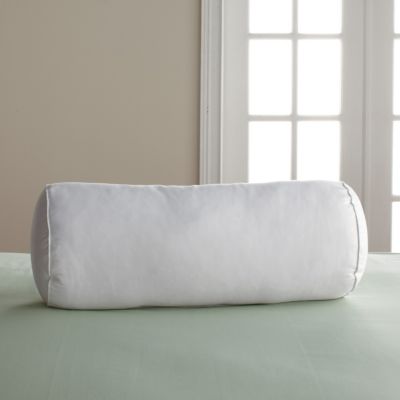 { "variations": { "variants": [ ] }}