Continue Shopping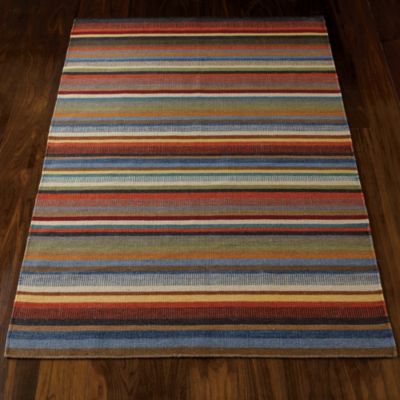 {"imageName":"http://s7d2.scene7.com/is/image/TheCompanyStore/rug_ul24_R12?$dw280$"}

{"imageName":"http://s7d2.scene7.com/is/image/TheCompanyStore/rugs_dhurrie_R12?$dw280$"}

{"imageName":"http://s7d2.scene7.com/is/image/TheCompanyStore/comforter_CZ64_R12?$dw280$"}

{"imageName":"http://s7d2.scene7.com/is/image/TheCompanyStore/sheets_e5p7_R12_web?$dw280$"}

{"imageName":"http://s7d2.scene7.com/is/image/TheCompanyStore/duvet_E4Y7_R12?$dw280$"}
Showcase Stripe Rug
CLEARANCE:
$18.99-$263.99
Item# UL24
CLEARANCE:
$18.99-$263.99
Print
Handwoven striped rug.
80% wool/20% cotton flat weave dhurrie features striped pattern in smoky blues, spicy reds and warm earth tones.
Flat weave rug handwoven by skilled artisans.
Striped rug fully reversible for twice the wear.
Showcase Stripe rug available in five different sizes so you can find the perfect one for your floor space.
Rug grip recommended (sold separately).
Spot clean.
Imported.

Art for the floor. Gorgeous stripes in smoky blues, spicy reds and warm earth tones distinguish our colorful Showcase Stripe flat weave dhurrie. Handwoven by skilled artisans for impeccable construction and beautiful attention to detail, our vibrant Showcase Stripe rug will enhance any room in your home from the bedroom to the den.

A vibrant way to create an elegant focal point, our Showcase Stripe flat weave brings a lively, artful look to the floor. Crafted from durable 80% wool and 20% cotton, the resilient Showcase Stripe area rug will hold up well over time, so you can place it in even the most highly trafficked areas. Choose the Showcase Stripe dhurrie in five different sizes to find the just-right one for the room's layout. The reversible pattern also has an appealing, casual aesthetic that works equally well in both contemporary and more traditional settings.

Pair the resilient wool/cotton blend Showcase Stripe area rug with a rug grip to protect both your rug investment and your floors. Rug grips prevent slippage, movement, color transfer and more. It's also a great way to extend the life of your rug.
{ "variations": { "variants": [ {"id": "UL24_2X3_MUL", "attributes": { "size": "2x3'" , "color": "Multi" }, "avLevels": {"IN_STOCK": 1.0, "PREORDER": 0.0, "BACKORDER": 0.0, "NOT_AVAILABLE": 0.0}, "avStatus":"IN_STOCK", "inStock":true, "ATS": 10155.0, "inStockDate": "Thu Mar 13 12:00:00 GMT 2014" , "pricing": {"standard": "39.0", "sale": "18.99", "isPromoPrice": false, "quantities": [ {"unit": "", "value": "1.0"} ]} }, {"id": "UL24_4X6_MUL", "attributes": { "size": "4x6'" , "color": "Multi" }, "avLevels": {"IN_STOCK": 1.0, "PREORDER": 0.0, "BACKORDER": 0.0, "NOT_AVAILABLE": 0.0}, "avStatus":"IN_STOCK", "inStock":true, "ATS": 10152.0, "inStockDate": "Thu Mar 13 12:00:00 GMT 2014" , "pricing": {"standard": "169.0", "sale": "83.99", "isPromoPrice": false, "quantities": [ {"unit": "", "value": "1.0"} ]} }, {"id": "UL24_5X8_MUL", "attributes": { "size": "5x8'" , "color": "Multi" }, "avLevels": {"IN_STOCK": 1.0, "PREORDER": 0.0, "BACKORDER": 0.0, "NOT_AVAILABLE": 0.0}, "avStatus":"IN_STOCK", "inStock":true, "ATS": 10079.0, "inStockDate": "Thu Mar 13 12:00:00 GMT 2014" , "pricing": {"standard": "269.0", "sale": "133.99", "isPromoPrice": false, "quantities": [ {"unit": "", "value": "1.0"} ]} }, {"id": "UL24_L_MUL", "attributes": { "size": "8x10'" , "color": "Multi" }, "avLevels": {"IN_STOCK": 1.0, "PREORDER": 0.0, "BACKORDER": 0.0, "NOT_AVAILABLE": 0.0}, "avStatus":"IN_STOCK", "inStock":true, "ATS": 10020.0, "inStockDate": "Thu Mar 13 12:00:00 GMT 2014" , "pricing": {"standard": "529.0", "sale": "263.99", "isPromoPrice": false, "quantities": [ {"unit": "", "value": "1.0"} ]} }, {"id": "UL24_RUN_MUL", "attributes": { "size": "Runner, 2½x9'" , "color": "Multi" }, "avLevels": {"IN_STOCK": 1.0, "PREORDER": 0.0, "BACKORDER": 0.0, "NOT_AVAILABLE": 0.0}, "avStatus":"IN_STOCK", "inStock":true, "ATS": 10130.0, "inStockDate": "Thu Mar 13 12:00:00 GMT 2014" , "pricing": {"standard": "149.0", "sale": "73.99", "isPromoPrice": false, "quantities": [ {"unit": "", "value": "1.0"} ]} } ] }}