Continue Shopping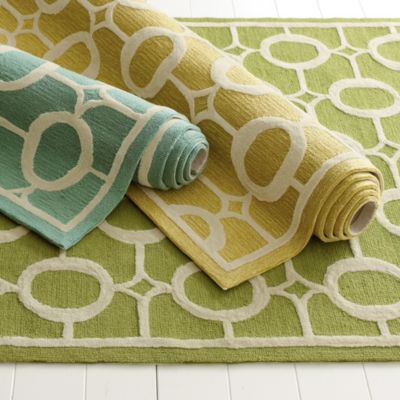 {"imageName":"http://s7d2.scene7.com/is/image/TheCompanyStore/rug_rivington_A12?$dw280$"}

{"imageName":"http://s7d2.scene7.com/is/image/TheCompanyStore/rugs_UK55_A11?$dw280$"}

{"imageName":"http://s7d2.scene7.com/is/image/TheCompanyStore/rugs_UK55_A11_aqua?$dw280$"}

{"imageName":"http://s7d2.scene7.com/is/image/TheCompanyStore/rugs_UK55_A11_yellow?$dw280$"}
Rivington Indoor / Outdoor Rug
Print
Hand-tufted indoor / outdoor rug that's soft under-foot.
70% polypropylene / 30% acrylic rug.
Naturally insect and mildew resistant.
UV stabilized yarns slow fading.
Available in four sizes and four colors.
Indoor / outdoor rug ideal for high traffic areas.
Spot clean: rinse with mild detergent, hose clean and air dry.
Rug pad recommended (sold separately).
Imported.
Allow 1 – 2 weeks for delivery.

The Rivington indoor/outdoor rug greets your guests in style. Designed with a bold chain motif, this versatile rug instantly perks up its surroundings. Perfect for both interior and exterior spaces, the dynamic Rivington rug looks great on your front stoop, in your entryway, hallways, living rooms, bedrooms, back decks, patios and more. This durable indoor/outdoor rug works well wherever it goes, especially in high-trafficked areas. Even better? The Rivington rug is naturally insect resistant, mildew resistant and features UV-stabilized yarn that resists fading from sunlight so it holds up very well over time. Exceptionally durable and kid-proof, this long-lasting Rivington hand-tufted rug is an attractive solution for highly utilized areas and outdoor use. All four shades of the Rivington rug are equally fabulous. Place it in any space, indoors and out, for an instant update to your décor.

A versatile home essential, our hand-tufted Rivington indoor/outdoor rug features the textural look of natural fibers but the resilience and easy-care of synthetics. What's not to love? Pair the Rivington area rug with a rug pad (sold separately) to prevent slippage and to help maintain the durability of the rug.
{ "variations": { "variants": [ {"id": "UK55_2X3_AQU", "attributes": { "size": "2x3''" , "color": "Aqua" }, "avLevels": {"IN_STOCK": 0.0, "PREORDER": 0.0, "BACKORDER": 1.0, "NOT_AVAILABLE": 0.0}, "avStatus":"BACKORDER", "inStock":false, "ATS": 10000.0, "inStockDate": "Mon Dec 30 12:00:00 GMT 2030" , "pricing": {"standard": "58.0", "sale": "58.0", "isPromoPrice": false, "quantities": [ {"unit": "", "value": "1.0"} ]} }, {"id": "UK55_2X3_BLA", "attributes": { "size": "2x3''" , "color": "Black" }, "avLevels": {"IN_STOCK": 0.0, "PREORDER": 0.0, "BACKORDER": 1.0, "NOT_AVAILABLE": 0.0}, "avStatus":"BACKORDER", "inStock":false, "ATS": 10000.0, "inStockDate": "Mon Dec 30 12:00:00 GMT 2030" , "pricing": {"standard": "55.0", "sale": "55.0", "isPromoPrice": false, "quantities": [ {"unit": "", "value": "1.0"} ]} }, {"id": "UK55_2X3_SAG", "attributes": { "size": "2x3''" , "color": "Sage" }, "avLevels": {"IN_STOCK": 0.0, "PREORDER": 0.0, "BACKORDER": 1.0, "NOT_AVAILABLE": 0.0}, "avStatus":"BACKORDER", "inStock":false, "ATS": 10000.0, "inStockDate": "Mon Dec 30 12:00:00 GMT 2030" , "pricing": {"standard": "58.0", "sale": "58.0", "isPromoPrice": false, "quantities": [ {"unit": "", "value": "1.0"} ]} }, {"id": "UK55_2X3_YEL", "attributes": { "size": "2x3''" , "color": "Yellow" }, "avLevels": {"IN_STOCK": 0.0, "PREORDER": 0.0, "BACKORDER": 1.0, "NOT_AVAILABLE": 0.0}, "avStatus":"BACKORDER", "inStock":false, "ATS": 10000.0, "inStockDate": "Mon Dec 30 12:00:00 GMT 2030" , "pricing": {"standard": "58.0", "sale": "58.0", "isPromoPrice": false, "quantities": [ {"unit": "", "value": "1.0"} ]} }, {"id": "UK55_3X5_AQU", "attributes": { "size": "3X5" , "color": "Aqua" }, "avLevels": {"IN_STOCK": 0.0, "PREORDER": 0.0, "BACKORDER": 1.0, "NOT_AVAILABLE": 0.0}, "avStatus":"BACKORDER", "inStock":false, "ATS": 10000.0, "inStockDate": "Mon Dec 30 12:00:00 GMT 2030" , "pricing": {"standard": "179.0", "sale": "179.0", "isPromoPrice": false, "quantities": [ {"unit": "", "value": "1.0"} ]} }, {"id": "UK55_3X5_BLA", "attributes": { "size": "3X5" , "color": "Black" }, "avLevels": {"IN_STOCK": 0.0, "PREORDER": 0.0, "BACKORDER": 1.0, "NOT_AVAILABLE": 0.0}, "avStatus":"BACKORDER", "inStock":false, "ATS": 10000.0, "inStockDate": "Mon Dec 30 12:00:00 GMT 2030" , "pricing": {"standard": "175.0", "sale": "175.0", "isPromoPrice": false, "quantities": [ {"unit": "", "value": "1.0"} ]} }, {"id": "UK55_3X5_SAG", "attributes": { "size": "3X5" , "color": "Sage" }, "avLevels": {"IN_STOCK": 0.0, "PREORDER": 0.0, "BACKORDER": 1.0, "NOT_AVAILABLE": 0.0}, "avStatus":"BACKORDER", "inStock":false, "ATS": 10000.0, "inStockDate": "Mon Dec 30 12:00:00 GMT 2030" , "pricing": {"standard": "179.0", "sale": "179.0", "isPromoPrice": false, "quantities": [ {"unit": "", "value": "1.0"} ]} }, {"id": "UK55_3X5_YEL", "attributes": { "size": "3X5" , "color": "Yellow" }, "avLevels": {"IN_STOCK": 0.0, "PREORDER": 0.0, "BACKORDER": 1.0, "NOT_AVAILABLE": 0.0}, "avStatus":"BACKORDER", "inStock":false, "ATS": 10000.0, "inStockDate": "Mon Dec 30 12:00:00 GMT 2030" , "pricing": {"standard": "179.0", "sale": "179.0", "isPromoPrice": false, "quantities": [ {"unit": "", "value": "1.0"} ]} }, {"id": "UK55_5X8_AQU", "attributes": { "size": "5X8" , "color": "Aqua" }, "avLevels": {"IN_STOCK": 0.0, "PREORDER": 0.0, "BACKORDER": 1.0, "NOT_AVAILABLE": 0.0}, "avStatus":"BACKORDER", "inStock":false, "ATS": 10000.0, "inStockDate": "Mon Dec 30 12:00:00 GMT 2030" , "pricing": {"standard": "359.0", "sale": "359.0", "isPromoPrice": false, "quantities": [ {"unit": "", "value": "1.0"} ]} }, {"id": "UK55_5X8_BLA", "attributes": { "size": "5X8" , "color": "Black" }, "avLevels": {"IN_STOCK": 0.0, "PREORDER": 0.0, "BACKORDER": 1.0, "NOT_AVAILABLE": 0.0}, "avStatus":"BACKORDER", "inStock":false, "ATS": 10000.0, "inStockDate": "Mon Dec 30 12:00:00 GMT 2030" , "pricing": {"standard": "350.0", "sale": "350.0", "isPromoPrice": false, "quantities": [ {"unit": "", "value": "1.0"} ]} }, {"id": "UK55_5X8_SAG", "attributes": { "size": "5X8" , "color": "Sage" }, "avLevels": {"IN_STOCK": 0.0, "PREORDER": 0.0, "BACKORDER": 1.0, "NOT_AVAILABLE": 0.0}, "avStatus":"BACKORDER", "inStock":false, "ATS": 10000.0, "inStockDate": "Mon Dec 30 12:00:00 GMT 2030" , "pricing": {"standard": "359.0", "sale": "359.0", "isPromoPrice": false, "quantities": [ {"unit": "", "value": "1.0"} ]} }, {"id": "UK55_5X8_YEL", "attributes": { "size": "5X8" , "color": "Yellow" }, "avLevels": {"IN_STOCK": 0.0, "PREORDER": 0.0, "BACKORDER": 1.0, "NOT_AVAILABLE": 0.0}, "avStatus":"BACKORDER", "inStock":false, "ATS": 10000.0, "inStockDate": "Mon Dec 30 12:00:00 GMT 2030" , "pricing": {"standard": "359.0", "sale": "359.0", "isPromoPrice": false, "quantities": [ {"unit": "", "value": "1.0"} ]} }, {"id": "UK55_L_AQU", "attributes": { "size": "7'6''x9'6''" , "color": "Aqua" }, "avLevels": {"IN_STOCK": 0.0, "PREORDER": 0.0, "BACKORDER": 1.0, "NOT_AVAILABLE": 0.0}, "avStatus":"BACKORDER", "inStock":false, "ATS": 10000.0, "inStockDate": "Mon Dec 30 12:00:00 GMT 2030" , "pricing": {"standard": "699.0", "sale": "699.0", "isPromoPrice": false, "quantities": [ {"unit": "", "value": "1.0"} ]} }, {"id": "UK55_L_BLA", "attributes": { "size": "7'6''x9'6''" , "color": "Black" }, "avLevels": {"IN_STOCK": 0.0, "PREORDER": 0.0, "BACKORDER": 1.0, "NOT_AVAILABLE": 0.0}, "avStatus":"BACKORDER", "inStock":false, "ATS": 10000.0, "inStockDate": "Mon Dec 30 12:00:00 GMT 2030" , "pricing": {"standard": "700.0", "sale": "700.0", "isPromoPrice": false, "quantities": [ {"unit": "", "value": "1.0"} ]} }, {"id": "UK55_L_SAG", "attributes": { "size": "7'6''x9'6''" , "color": "Sage" }, "avLevels": {"IN_STOCK": 0.0, "PREORDER": 0.0, "BACKORDER": 1.0, "NOT_AVAILABLE": 0.0}, "avStatus":"BACKORDER", "inStock":false, "ATS": 10000.0, "inStockDate": "Mon Dec 30 12:00:00 GMT 2030" , "pricing": {"standard": "699.0", "sale": "699.0", "isPromoPrice": false, "quantities": [ {"unit": "", "value": "1.0"} ]} }, {"id": "UK55_L_YEL", "attributes": { "size": "7'6''x9'6''" , "color": "Yellow" }, "avLevels": {"IN_STOCK": 0.0, "PREORDER": 0.0, "BACKORDER": 1.0, "NOT_AVAILABLE": 0.0}, "avStatus":"BACKORDER", "inStock":false, "ATS": 10000.0, "inStockDate": "Mon Dec 30 12:00:00 GMT 2030" , "pricing": {"standard": "699.0", "sale": "699.0", "isPromoPrice": false, "quantities": [ {"unit": "", "value": "1.0"} ]} }, {"id": "UK55_RUN_AQU", "attributes": { "size": "RUNNER" , "color": "Aqua" }, "avLevels": {"IN_STOCK": 0.0, "PREORDER": 0.0, "BACKORDER": 1.0, "NOT_AVAILABLE": 0.0}, "avStatus":"BACKORDER", "inStock":false, "ATS": 10000.0, "inStockDate": "Mon Dec 30 12:00:00 GMT 2030" , "pricing": {"standard": "179.0", "sale": "179.0", "isPromoPrice": false, "quantities": [ {"unit": "", "value": "1.0"} ]} }, {"id": "UK55_RUN_BLA", "attributes": { "size": "RUNNER" , "color": "Black" }, "avLevels": {"IN_STOCK": 0.0, "PREORDER": 0.0, "BACKORDER": 1.0, "NOT_AVAILABLE": 0.0}, "avStatus":"BACKORDER", "inStock":false, "ATS": 10000.0, "inStockDate": "Mon Dec 30 12:00:00 GMT 2030" , "pricing": {"standard": "175.0", "sale": "175.0", "isPromoPrice": false, "quantities": [ {"unit": "", "value": "1.0"} ]} }, {"id": "UK55_RUN_SAG", "attributes": { "size": "RUNNER" , "color": "Sage" }, "avLevels": {"IN_STOCK": 0.0, "PREORDER": 0.0, "BACKORDER": 1.0, "NOT_AVAILABLE": 0.0}, "avStatus":"BACKORDER", "inStock":false, "ATS": 10000.0, "inStockDate": "Mon Dec 30 12:00:00 GMT 2030" , "pricing": {"standard": "179.0", "sale": "179.0", "isPromoPrice": false, "quantities": [ {"unit": "", "value": "1.0"} ]} }, {"id": "UK55_RUN_YEL", "attributes": { "size": "RUNNER" , "color": "Yellow" }, "avLevels": {"IN_STOCK": 0.0, "PREORDER": 0.0, "BACKORDER": 1.0, "NOT_AVAILABLE": 0.0}, "avStatus":"BACKORDER", "inStock":false, "ATS": 10000.0, "inStockDate": "Mon Dec 30 12:00:00 GMT 2030" , "pricing": {"standard": "179.0", "sale": "179.0", "isPromoPrice": false, "quantities": [ {"unit": "", "value": "1.0"} ]} } ] }}