Continue Shopping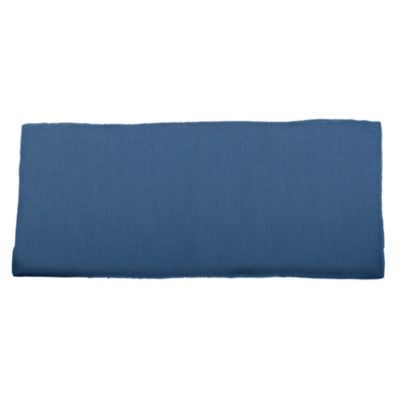 Replacement Cushions: Bench Cushion
Print
Outdoor bench cushion / pillow for chairs and other outdoor furniture.
Part of the replacement cushion collection featuring 11 popular styles in 15 patterns and colors.
Comfortable padded bench pillow / cushion measures 44-1/2"L x 18-1/8"W x 1-1/2"D.
Solid pillows are covered in soft, luxurious Outdura® acrylic; printed pillows are covered in durable polyester.
Solid and print pillows are padded with poly-wrapped foam fill.
Outdoor bench pillow / cushion is water, mildew and fade resistant.
Outdoor bench pillow fits most standard outdoor furniture.
Spot clean.
Imported.
Exclusively ours.

Give new life to your favorite bench with our outdoor bench cushions. This fashionable, weather-resistant outdoor cushion is perfect for nearly any style of bench– and it's specially designed to withstand the natural elements. Water, mildew and fade resistant, this resilient bench cushion instantly add a layer of comfort and fashionable flair. From cool blues to fiery reds, crisp stripes to bold prints, our expanded collection of outdoor cushions spans the spectrum with the very latest designs. Solid bench pillows are covered in a soft and luxurious Outdura acrylic while the printed bench pillows are covered in a durable polyester. Both padded options offer long-lasting style that adds a beautiful decorative accent to decks, patios, boats and more so you can enjoy the great outdoors in ultimate relaxation.

Provide a finishing touch to new benches, give old benches an instant makeover or replace worn and frayed outdoor cushions with our well-crafted outdoor bench pillows. Available exclusively at The Company Store, you'll only find this handy bench cushion here.
{ "variations": { "variants": [ {"id": "ZO22_OS_BFL", "attributes": { "size": "One Size" , "color": "Blue Floral" }, "avLevels": {"IN_STOCK": 0.0, "PREORDER": 0.0, "BACKORDER": 0.0, "NOT_AVAILABLE": 1.0}, "avStatus":"NOT_AVAILABLE", "inStock":false, "ATS": 0.0, "inStockDate": "Tue Dec 31 12:00:00 GMT 2030" , "pricing": {"standard": "79.0", "sale": "79.0", "isPromoPrice": false, "quantities": [ {"unit": "", "value": "1.0"} ]} }, {"id": "ZO22_OS_BST", "attributes": { "size": "One Size" , "color": "Blue Stripe" }, "avLevels": {"IN_STOCK": 0.0, "PREORDER": 0.0, "BACKORDER": 0.0, "NOT_AVAILABLE": 1.0}, "avStatus":"NOT_AVAILABLE", "inStock":false, "ATS": 0.0, "inStockDate": "Tue Dec 31 12:00:00 GMT 2030" , "pricing": {"standard": "79.0", "sale": "79.0", "isPromoPrice": false, "quantities": [ {"unit": "", "value": "1.0"} ]} }, {"id": "ZO22_OS_CIT", "attributes": { "size": "One Size" , "color": "Citrus" }, "avLevels": {"IN_STOCK": 0.0, "PREORDER": 0.0, "BACKORDER": 0.0, "NOT_AVAILABLE": 1.0}, "avStatus":"NOT_AVAILABLE", "inStock":false, "ATS": 0.0, "inStockDate": "Tue Dec 31 12:00:00 GMT 2030" , "pricing": {"standard": "79.0", "sale": "39.99", "isPromoPrice": false, "quantities": [ {"unit": "", "value": "1.0"} ]} }, {"id": "ZO22_OS_CME", "attributes": { "size": "One Size" , "color": "Coffee Medallion" }, "avLevels": {"IN_STOCK": 0.0, "PREORDER": 0.0, "BACKORDER": 0.0, "NOT_AVAILABLE": 1.0}, "avStatus":"NOT_AVAILABLE", "inStock":false, "ATS": 0.0, "inStockDate": "Tue Dec 31 12:00:00 GMT 2030" , "pricing": {"standard": "79.0", "sale": "79.0", "isPromoPrice": false, "quantities": [ {"unit": "", "value": "1.0"} ]} }, {"id": "ZO22_OS_COF", "attributes": { "size": "One Size" , "color": "Coffee" }, "avLevels": {"IN_STOCK": 0.0, "PREORDER": 0.0, "BACKORDER": 0.0, "NOT_AVAILABLE": 1.0}, "avStatus":"NOT_AVAILABLE", "inStock":false, "ATS": 0.0, "inStockDate": "Tue Dec 31 12:00:00 GMT 2030" , "pricing": {"standard": "79.0", "sale": "79.0", "isPromoPrice": false, "quantities": [ {"unit": "", "value": "1.0"} ]} }, {"id": "ZO22_OS_GER", "attributes": { "size": "One Size" , "color": "Geranium" }, "avLevels": {"IN_STOCK": 0.0, "PREORDER": 0.0, "BACKORDER": 0.0, "NOT_AVAILABLE": 1.0}, "avStatus":"NOT_AVAILABLE", "inStock":false, "ATS": 0.0, "inStockDate": "Tue Dec 31 12:00:00 GMT 2030" , "pricing": {"standard": "79.0", "sale": "79.0", "isPromoPrice": false, "quantities": [ {"unit": "", "value": "1.0"} ]} }, {"id": "ZO22_OS_GME", "attributes": { "size": "One Size" , "color": "Geranium Medallion" }, "avLevels": {"IN_STOCK": 0.0, "PREORDER": 0.0, "BACKORDER": 0.0, "NOT_AVAILABLE": 1.0}, "avStatus":"NOT_AVAILABLE", "inStock":false, "ATS": 0.0, "inStockDate": "Tue Dec 31 12:00:00 GMT 2030" , "pricing": {"standard": "79.0", "sale": "79.0", "isPromoPrice": false, "quantities": [ {"unit": "", "value": "1.0"} ]} }, {"id": "ZO22_OS_PEM", "attributes": { "size": "One Size" , "color": "Pesto Medallion" }, "avLevels": {"IN_STOCK": 0.0, "PREORDER": 0.0, "BACKORDER": 0.0, "NOT_AVAILABLE": 1.0}, "avStatus":"NOT_AVAILABLE", "inStock":false, "ATS": 0.0, "inStockDate": "Tue Dec 31 12:00:00 GMT 2030" , "pricing": {"standard": "79.0", "sale": "79.0", "isPromoPrice": false, "quantities": [ {"unit": "", "value": "1.0"} ]} }, {"id": "ZO22_OS_PES", "attributes": { "size": "One Size" , "color": "Pesto" }, "avLevels": {"IN_STOCK": 0.0, "PREORDER": 0.0, "BACKORDER": 0.0, "NOT_AVAILABLE": 1.0}, "avStatus":"NOT_AVAILABLE", "inStock":false, "ATS": 0.0, "inStockDate": "Tue Dec 31 12:00:00 GMT 2030" , "pricing": {"standard": "79.0", "sale": "79.0", "isPromoPrice": false, "quantities": [ {"unit": "", "value": "1.0"} ]} }, {"id": "ZO22_OS_PME", "attributes": { "size": "One Size" , "color": "Pool Medallion" }, "avLevels": {"IN_STOCK": 0.0, "PREORDER": 0.0, "BACKORDER": 0.0, "NOT_AVAILABLE": 1.0}, "avStatus":"NOT_AVAILABLE", "inStock":false, "ATS": 0.0, "inStockDate": "Tue Dec 31 12:00:00 GMT 2030" , "pricing": {"standard": "79.0", "sale": "79.0", "isPromoPrice": false, "quantities": [ {"unit": "", "value": "1.0"} ]} }, {"id": "ZO22_OS_POO", "attributes": { "size": "One Size" , "color": "Pool" }, "avLevels": {"IN_STOCK": 0.0, "PREORDER": 0.0, "BACKORDER": 0.0, "NOT_AVAILABLE": 1.0}, "avStatus":"NOT_AVAILABLE", "inStock":false, "ATS": 0.0, "inStockDate": "Tue Dec 31 12:00:00 GMT 2030" , "pricing": {"standard": "79.0", "sale": "79.0", "isPromoPrice": false, "quantities": [ {"unit": "", "value": "1.0"} ]} }, {"id": "ZO22_OS_RFL", "attributes": { "size": "One Size" , "color": "Red Floral" }, "avLevels": {"IN_STOCK": 0.0, "PREORDER": 0.0, "BACKORDER": 0.0, "NOT_AVAILABLE": 1.0}, "avStatus":"NOT_AVAILABLE", "inStock":false, "ATS": 0.0, "inStockDate": "Tue Dec 31 12:00:00 GMT 2030" , "pricing": {"standard": "79.0", "sale": "79.0", "isPromoPrice": false, "quantities": [ {"unit": "", "value": "1.0"} ]} }, {"id": "ZO22_OS_RST", "attributes": { "size": "One Size" , "color": "Red Stripe" }, "avLevels": {"IN_STOCK": 0.0, "PREORDER": 0.0, "BACKORDER": 0.0, "NOT_AVAILABLE": 1.0}, "avStatus":"NOT_AVAILABLE", "inStock":false, "ATS": 0.0, "inStockDate": "Tue Dec 31 12:00:00 GMT 2030" , "pricing": {"standard": "79.0", "sale": "79.0", "isPromoPrice": false, "quantities": [ {"unit": "", "value": "1.0"} ]} }, {"id": "ZO22_OS_SKI", "attributes": { "size": "One Size" , "color": "Skipper" }, "avLevels": {"IN_STOCK": 0.0, "PREORDER": 0.0, "BACKORDER": 0.0, "NOT_AVAILABLE": 1.0}, "avStatus":"NOT_AVAILABLE", "inStock":false, "ATS": 0.0, "inStockDate": "Fri Jan 17 12:00:00 GMT 2014" , "pricing": {"standard": "79.0", "sale": "79.0", "isPromoPrice": false, "quantities": [ {"unit": "", "value": "1.0"} ]} }, {"id": "ZO22_OS_SME", "attributes": { "size": "One Size" , "color": "Skipper Medallion" }, "avLevels": {"IN_STOCK": 0.0, "PREORDER": 0.0, "BACKORDER": 0.0, "NOT_AVAILABLE": 1.0}, "avStatus":"NOT_AVAILABLE", "inStock":false, "ATS": 0.0, "inStockDate": "Tue Dec 31 12:00:00 GMT 2030" , "pricing": {"standard": "79.0", "sale": "79.0", "isPromoPrice": false, "quantities": [ {"unit": "", "value": "1.0"} ]} } ] }}