Pony Appliquéd Towel Set
Overview & Details
Kids' towel set.
100% cotton terry towels for kids.
Each kids' towel set includes a 12x12" washcloth, 19x30" hand towel and 27x54" bath towel.
Kids' towel set features pretty Pony appliqués.
Monogramming available.
Additional styles also available, sold separately: Mermaid, Prep School and Lounge Lizard.
Machine wash.
Imported.

Make bath time instantly more fun with our cute Pony Appliquéd Towel Set for kids. So much more exciting than plain, boring bath towels, this horse-lover's towel set features pretty pony and horseshoe appliqués in soft pastel colors. Crafted from 100% cotton terry, our kids' towels are ultra-plush – your child will love being wrapped in one after every bath. The kids' towel set includes one washcloth, one hand towel and one bath towel. The bath towel can also be monogrammed with your child's name or initials, making it truly their own.
Reviews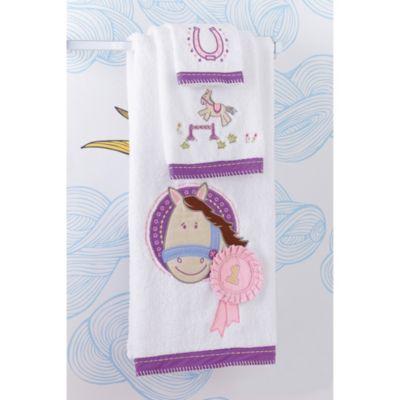 Monogram items are non-returnable due to their customization. Please allow an additional 5-7 business days for orders containing monogrammed items and an additional 7-12 business days during holiday & high volume times. Please check out our
Monogram Guide
for more info.
{"ID":"38139-PON","isMonogrammable":true,"isCustomizationRequired":false,"monoItemNo":"MG06","customizationCode":"!12","styleOptions":"_1 Initial_2 Initials_3 Initials_Name or Word|02 Block_03 Diamond_04 Classic_05 Signet_08 Sketch_13 Collegiate_14 Traditional_15 Kids_*02 Block_03 Diamond_04 Classic_05 Signet_08 Sketch_13 Collegiate_15 Kids_*02 Block_03 Diamond_04 Classic_05 Signet_06 Modern_08 Sketch_13 Collegiate_15 Kids_*02 Block_04 Classic_07 Juliet_08 Sketch_13 Collegiate_14 Traditional_15 Kids_*|_1_1_1_1_1_1_11_0_0|","monoPrice":6.0,"configuration":"null", "optionType":""}
{ "variations": { "variants": [ ] }}