Continue Shopping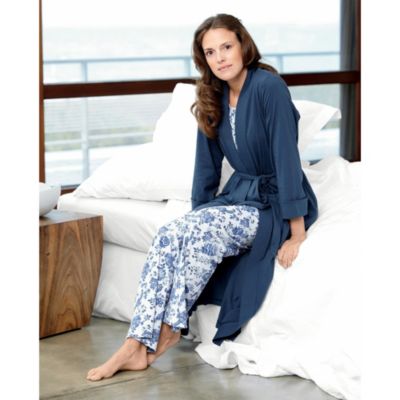 Pima Cotton Kimono Robe
Print
Cotton robe.
Robe made from finely knit Peruvian Pima cotton jersey.
Bracelet length sleeves, side seam pockets and removable tie belt.
Available in Pale Blue, Pale Yellow, Blue Floral and Yellow Floral.
Machine wash.
Imported.
Made exclusively for The Company Store® by Mara Intimates.

Misses Sizes: XS(2-4), S(6-8), M(10-12), L(14-16), XL(18)
Women's Sizes: 1X(20), 2X(22)

Wrap yourself in something silky, soft and comfortably chic. This classic cotton robe is lightweight and elegantly styled in finely knit Peruvian Pima cotton. Made of a slightly weightier material for the perfect cover up, this robe makes lounging around the house more luxurious than ever.


Print
Misses' Sizes: XS (2-4), S (6-8), M (10-12), L (14-16), XL (18)
Women's Sizes: 1X (20), 2X (22)

{ "variations": { "variants": [ {"id": "RJ16_XS_BLU", "attributes": { "size": "XS(2/4)" , "color": "Blush" }, "avLevels": {"IN_STOCK": 0.0, "PREORDER": 0.0, "BACKORDER": 0.0, "NOT_AVAILABLE": 1.0}, "avStatus":"NOT_AVAILABLE", "inStock":false, "ATS": 0.0, "inStockDate": "" , "pricing": {"standard": "78.0", "sale": "46.99", "isPromoPrice": false, "quantities": [ {"unit": "", "value": "1.0"} ]} }, {"id": "RJ16_2X_BIN", "attributes": { "size": "2X(22)" , "color": "Blue Indigo" }, "avLevels": {"IN_STOCK": 0.0, "PREORDER": 0.0, "BACKORDER": 0.0, "NOT_AVAILABLE": 1.0}, "avStatus":"NOT_AVAILABLE", "inStock":false, "ATS": 0.0, "inStockDate": "" , "pricing": {"standard": "88.0", "sale": "51.99", "isPromoPrice": false, "quantities": [ {"unit": "", "value": "1.0"} ]} }, {"id": "RJ16_L_BIN", "attributes": { "size": "L(14/16)" , "color": "Blue Indigo" }, "avLevels": {"IN_STOCK": 0.0, "PREORDER": 0.0, "BACKORDER": 0.0, "NOT_AVAILABLE": 1.0}, "avStatus":"NOT_AVAILABLE", "inStock":false, "ATS": 0.0, "inStockDate": "" , "pricing": {"standard": "78.0", "sale": "46.99", "isPromoPrice": false, "quantities": [ {"unit": "", "value": "1.0"} ]} }, {"id": "RJ16_M_BIN", "attributes": { "size": "M(10/12)" , "color": "Blue Indigo" }, "avLevels": {"IN_STOCK": 0.0, "PREORDER": 0.0, "BACKORDER": 0.0, "NOT_AVAILABLE": 1.0}, "avStatus":"NOT_AVAILABLE", "inStock":false, "ATS": 0.0, "inStockDate": "" , "pricing": {"standard": "78.0", "sale": "46.99", "isPromoPrice": false, "quantities": [ {"unit": "", "value": "1.0"} ]} }, {"id": "RJ16_XS_BIN", "attributes": { "size": "XS(2/4)" , "color": "Blue Indigo" }, "avLevels": {"IN_STOCK": 0.0, "PREORDER": 0.0, "BACKORDER": 0.0, "NOT_AVAILABLE": 1.0}, "avStatus":"NOT_AVAILABLE", "inStock":false, "ATS": 0.0, "inStockDate": "" , "pricing": {"standard": "78.0", "sale": "46.99", "isPromoPrice": false, "quantities": [ {"unit": "", "value": "1.0"} ]} }, {"id": "RJ16_S_BLU", "attributes": { "size": "S(6/8)" , "color": "Blush" }, "avLevels": {"IN_STOCK": 0.0, "PREORDER": 0.0, "BACKORDER": 0.0, "NOT_AVAILABLE": 1.0}, "avStatus":"NOT_AVAILABLE", "inStock":false, "ATS": 0.0, "inStockDate": "" , "pricing": {"standard": "78.0", "sale": "46.99", "isPromoPrice": false, "quantities": [ {"unit": "", "value": "1.0"} ]} }, {"id": "RJ16_XL_BIN", "attributes": { "size": "XL(18)" , "color": "Blue Indigo" }, "avLevels": {"IN_STOCK": 0.0, "PREORDER": 0.0, "BACKORDER": 0.0, "NOT_AVAILABLE": 1.0}, "avStatus":"NOT_AVAILABLE", "inStock":false, "ATS": 0.0, "inStockDate": "" , "pricing": {"standard": "78.0", "sale": "46.99", "isPromoPrice": false, "quantities": [ {"unit": "", "value": "1.0"} ]} }, {"id": "RJ16_S_BIN", "attributes": { "size": "S(6/8)" , "color": "Blue Indigo" }, "avLevels": {"IN_STOCK": 0.0, "PREORDER": 0.0, "BACKORDER": 0.0, "NOT_AVAILABLE": 1.0}, "avStatus":"NOT_AVAILABLE", "inStock":false, "ATS": 0.0, "inStockDate": "" , "pricing": {"standard": "78.0", "sale": "46.99", "isPromoPrice": false, "quantities": [ {"unit": "", "value": "1.0"} ]} } ] }}