Continue Shopping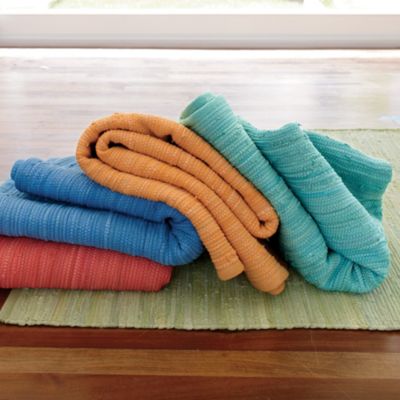 {"imageName":"http://s7d2.scene7.com/is/image/TheCompanyStore/rugs-uk92-b12?$dw280$"}

{"imageName":"http://s7d2.scene7.com/is/image/TheCompanyStore/rugs_ug64_c12?$dw280$"}

{"imageName":"http://s7d2.scene7.com/is/image/TheCompanyStore/rugs_ug64_c12_muted?$dw280$"}

{"imageName":"http://s7d2.scene7.com/is/image/TheCompanyStore/quilt-cz87-f12?$dw280$"}

{"imageName":"http://s7d2.scene7.com/is/image/TheCompanyStore/sheets-e5k5-f12?$dw280$"}
Mirage Rug
Print
Hand-woven cotton rugs.
Rugs reverse for double the wear.
Durable craftsmanship withstands high-trafficked areas in your home.
Area rugs available in a wide array of soft muted colors and sizes, including a runner,
Rug grip recommended for safety (sold separately).
Professionally clean rugs.
Imported.
Shown With:
Chambray Voile Panels in White (GP83)
Mirage Rug in Aqua Sea and Amber (UK92)
Linen Pillow Covers in White (PO16)

Pretty and practical. Offered in a palette of soft and muted tones, our lovely hand-woven Mirage cotton rugs are a versatile favorite. A stylish accent for any room in your home, these hand-woven cotton rugs merge stylish sophistication and long-lasting durability. The rugs can withstand the rigors of everyday life, making them the perfect addition to entryways, kitchens, hallways, family rooms and any other high-trafficked area of your home. You'll be amazed how well these cotton rugs hold up against the wear and tear of regular daily use. The rugs are also reversible so you can get double the wear out of each rug. Our hand-woven Mirage cotton rugs add the perfect finishing touch to any space. You'll love the way they look and feel.

Available in a wide array of versatile sizes, including runners for hallways, you can find the perfect hand-woven cotton rug to fit any floor space big or small. See what a difference our muted hand-woven cotton rugs make in your home. Pair the Mirage cotton rugs with a rug grip for optimal performance. As with any area rug, rug grips protect your rug investment and prevent slipping, puckering, color transfer and more. We sell rug grips to match every size of rug we carry.
{ "variations": { "variants": [ {"id": "UK92_2X3_AMB", "attributes": { "size": "2x3'" , "color": "Amber" }, "avLevels": {"IN_STOCK": 0.0, "PREORDER": 0.0, "BACKORDER": 0.0, "NOT_AVAILABLE": 1.0}, "avStatus":"NOT_AVAILABLE", "inStock":false, "ATS": 0.0, "inStockDate": "Tue Dec 31 12:00:00 GMT 2030" , "pricing": {"standard": "29.0", "sale": "29.0", "isPromoPrice": false, "quantities": [ {"unit": "", "value": "1.0"} ]} }, {"id": "UK92_2X3_ASE", "attributes": { "size": "2x3'" , "color": "Aqua Sea" }, "avLevels": {"IN_STOCK": 0.0, "PREORDER": 0.0, "BACKORDER": 0.0, "NOT_AVAILABLE": 1.0}, "avStatus":"NOT_AVAILABLE", "inStock":false, "ATS": 0.0, "inStockDate": "Tue Dec 31 12:00:00 GMT 2030" , "pricing": {"standard": "29.0", "sale": "29.0", "isPromoPrice": false, "quantities": [ {"unit": "", "value": "1.0"} ]} }, {"id": "UK92_2X3_BDE", "attributes": { "size": "2x3'" , "color": "Blue Denim" }, "avLevels": {"IN_STOCK": 0.0, "PREORDER": 0.0, "BACKORDER": 0.0, "NOT_AVAILABLE": 1.0}, "avStatus":"NOT_AVAILABLE", "inStock":false, "ATS": 0.0, "inStockDate": "Tue Dec 31 12:00:00 GMT 2030" , "pricing": {"standard": "29.0", "sale": "29.0", "isPromoPrice": false, "quantities": [ {"unit": "", "value": "1.0"} ]} }, {"id": "UK92_2X3_BSL", "attributes": { "size": "2x3'" , "color": "Blue Slate" }, "avLevels": {"IN_STOCK": 0.0, "PREORDER": 0.0, "BACKORDER": 0.0, "NOT_AVAILABLE": 1.0}, "avStatus":"NOT_AVAILABLE", "inStock":false, "ATS": 0.0, "inStockDate": "Tue Dec 31 12:00:00 GMT 2030" , "pricing": {"standard": "29.0", "sale": "29.0", "isPromoPrice": false, "quantities": [ {"unit": "", "value": "1.0"} ]} }, {"id": "UK92_2X3_LOL", "attributes": { "size": "2x3'" , "color": "Light Olive" }, "avLevels": {"IN_STOCK": 0.0, "PREORDER": 0.0, "BACKORDER": 0.0, "NOT_AVAILABLE": 1.0}, "avStatus":"NOT_AVAILABLE", "inStock":false, "ATS": 0.0, "inStockDate": "Tue Dec 31 12:00:00 GMT 2030" , "pricing": {"standard": "29.0", "sale": "29.0", "isPromoPrice": false, "quantities": [ {"unit": "", "value": "1.0"} ]} }, {"id": "UK92_2X3_SAF", "attributes": { "size": "2x3'" , "color": "Saffron" }, "avLevels": {"IN_STOCK": 0.0, "PREORDER": 0.0, "BACKORDER": 0.0, "NOT_AVAILABLE": 1.0}, "avStatus":"NOT_AVAILABLE", "inStock":false, "ATS": 0.0, "inStockDate": "Tue Dec 31 12:00:00 GMT 2030" , "pricing": {"standard": "29.0", "sale": "29.0", "isPromoPrice": false, "quantities": [ {"unit": "", "value": "1.0"} ]} }, {"id": "UK92_2X3_SCO", "attributes": { "size": "2x3'" , "color": "Spiced Coral" }, "avLevels": {"IN_STOCK": 0.0, "PREORDER": 0.0, "BACKORDER": 0.0, "NOT_AVAILABLE": 1.0}, "avStatus":"NOT_AVAILABLE", "inStock":false, "ATS": 0.0, "inStockDate": "Thu Aug 23 12:00:00 GMT 2012" , "pricing": {"standard": "29.0", "sale": "29.0", "isPromoPrice": false, "quantities": [ {"unit": "", "value": "1.0"} ]} }, {"id": "UK92_2X3_SGR", "attributes": { "size": "2x3'" , "color": "Spring Green" }, "avLevels": {"IN_STOCK": 0.0, "PREORDER": 0.0, "BACKORDER": 0.0, "NOT_AVAILABLE": 1.0}, "avStatus":"NOT_AVAILABLE", "inStock":false, "ATS": 0.0, "inStockDate": "Thu Aug 23 12:00:00 GMT 2012" , "pricing": {"standard": "29.0", "sale": "29.0", "isPromoPrice": false, "quantities": [ {"unit": "", "value": "1.0"} ]} }, {"id": "UK92_4X6_AMB", "attributes": { "size": "4x6'" , "color": "Amber" }, "avLevels": {"IN_STOCK": 0.0, "PREORDER": 0.0, "BACKORDER": 0.0, "NOT_AVAILABLE": 1.0}, "avStatus":"NOT_AVAILABLE", "inStock":false, "ATS": 0.0, "inStockDate": "Tue Dec 31 12:00:00 GMT 2030" , "pricing": {"standard": "69.0", "sale": "69.0", "isPromoPrice": false, "quantities": [ {"unit": "", "value": "1.0"} ]} }, {"id": "UK92_4X6_ASE", "attributes": { "size": "4x6'" , "color": "Aqua Sea" }, "avLevels": {"IN_STOCK": 0.0, "PREORDER": 0.0, "BACKORDER": 0.0, "NOT_AVAILABLE": 1.0}, "avStatus":"NOT_AVAILABLE", "inStock":false, "ATS": 0.0, "inStockDate": "Thu Aug 23 12:00:00 GMT 2012" , "pricing": {"standard": "69.0", "sale": "69.0", "isPromoPrice": false, "quantities": [ {"unit": "", "value": "1.0"} ]} }, {"id": "UK92_4X6_BSL", "attributes": { "size": "4x6'" , "color": "Blue Slate" }, "avLevels": {"IN_STOCK": 0.0, "PREORDER": 0.0, "BACKORDER": 0.0, "NOT_AVAILABLE": 1.0}, "avStatus":"NOT_AVAILABLE", "inStock":false, "ATS": 0.0, "inStockDate": "Tue Dec 31 12:00:00 GMT 2030" , "pricing": {"standard": "69.0", "sale": "69.0", "isPromoPrice": false, "quantities": [ {"unit": "", "value": "1.0"} ]} }, {"id": "UK92_4X6_LOL", "attributes": { "size": "4x6'" , "color": "Light Olive" }, "avLevels": {"IN_STOCK": 0.0, "PREORDER": 0.0, "BACKORDER": 0.0, "NOT_AVAILABLE": 1.0}, "avStatus":"NOT_AVAILABLE", "inStock":false, "ATS": 0.0, "inStockDate": "Tue Dec 31 12:00:00 GMT 2030" , "pricing": {"standard": "69.0", "sale": "69.0", "isPromoPrice": false, "quantities": [ {"unit": "", "value": "1.0"} ]} }, {"id": "UK92_4X6_NAT", "attributes": { "size": "4x6'" , "color": "Natural" }, "avLevels": {"IN_STOCK": 0.0, "PREORDER": 0.0, "BACKORDER": 0.0, "NOT_AVAILABLE": 1.0}, "avStatus":"NOT_AVAILABLE", "inStock":false, "ATS": 0.0, "inStockDate": "Tue Dec 31 12:00:00 GMT 2030" , "pricing": {"standard": "69.0", "sale": "69.0", "isPromoPrice": false, "quantities": [ {"unit": "", "value": "1.0"} ]} }, {"id": "UK92_4X6_SAF", "attributes": { "size": "4x6'" , "color": "Saffron" }, "avLevels": {"IN_STOCK": 0.0, "PREORDER": 0.0, "BACKORDER": 0.0, "NOT_AVAILABLE": 1.0}, "avStatus":"NOT_AVAILABLE", "inStock":false, "ATS": 0.0, "inStockDate": "Tue Dec 31 12:00:00 GMT 2030" , "pricing": {"standard": "69.0", "sale": "69.0", "isPromoPrice": false, "quantities": [ {"unit": "", "value": "1.0"} ]} }, {"id": "UK92_4X6_WHE", "attributes": { "size": "4x6'" , "color": "Wheat" }, "avLevels": {"IN_STOCK": 0.0, "PREORDER": 0.0, "BACKORDER": 0.0, "NOT_AVAILABLE": 1.0}, "avStatus":"NOT_AVAILABLE", "inStock":false, "ATS": 0.0, "inStockDate": "Tue Dec 31 12:00:00 GMT 2030" , "pricing": {"standard": "69.0", "sale": "69.0", "isPromoPrice": false, "quantities": [ {"unit": "", "value": "1.0"} ]} }, {"id": "UK92_5X8_AMB", "attributes": { "size": "5x8'" , "color": "Amber" }, "avLevels": {"IN_STOCK": 0.0, "PREORDER": 0.0, "BACKORDER": 0.0, "NOT_AVAILABLE": 1.0}, "avStatus":"NOT_AVAILABLE", "inStock":false, "ATS": 0.0, "inStockDate": "Tue Dec 31 12:00:00 GMT 2030" , "pricing": {"standard": "99.0", "sale": "99.0", "isPromoPrice": false, "quantities": [ {"unit": "", "value": "1.0"} ]} }, {"id": "UK92_5X8_ASE", "attributes": { "size": "5x8'" , "color": "Aqua Sea" }, "avLevels": {"IN_STOCK": 0.0, "PREORDER": 0.0, "BACKORDER": 0.0, "NOT_AVAILABLE": 1.0}, "avStatus":"NOT_AVAILABLE", "inStock":false, "ATS": 0.0, "inStockDate": "Thu Aug 23 12:00:00 GMT 2012" , "pricing": {"standard": "99.0", "sale": "99.0", "isPromoPrice": false, "quantities": [ {"unit": "", "value": "1.0"} ]} }, {"id": "UK92_5X8_BDE", "attributes": { "size": "5x8'" , "color": "Blue Denim" }, "avLevels": {"IN_STOCK": 0.0, "PREORDER": 0.0, "BACKORDER": 0.0, "NOT_AVAILABLE": 1.0}, "avStatus":"NOT_AVAILABLE", "inStock":false, "ATS": 0.0, "inStockDate": "Tue Dec 31 12:00:00 GMT 2030" , "pricing": {"standard": "99.0", "sale": "99.0", "isPromoPrice": false, "quantities": [ {"unit": "", "value": "1.0"} ]} }, {"id": "UK92_5X8_BSL", "attributes": { "size": "5x8'" , "color": "Blue Slate" }, "avLevels": {"IN_STOCK": 0.0, "PREORDER": 0.0, "BACKORDER": 0.0, "NOT_AVAILABLE": 1.0}, "avStatus":"NOT_AVAILABLE", "inStock":false, "ATS": 0.0, "inStockDate": "Tue Dec 31 12:00:00 GMT 2030" , "pricing": {"standard": "99.0", "sale": "99.0", "isPromoPrice": false, "quantities": [ {"unit": "", "value": "1.0"} ]} }, {"id": "UK92_5X8_LOL", "attributes": { "size": "5x8'" , "color": "Light Olive" }, "avLevels": {"IN_STOCK": 0.0, "PREORDER": 0.0, "BACKORDER": 0.0, "NOT_AVAILABLE": 1.0}, "avStatus":"NOT_AVAILABLE", "inStock":false, "ATS": 0.0, "inStockDate": "Tue Dec 31 12:00:00 GMT 2030" , "pricing": {"standard": "99.0", "sale": "99.0", "isPromoPrice": false, "quantities": [ {"unit": "", "value": "1.0"} ]} }, {"id": "UK92_5X8_NAT", "attributes": { "size": "5x8'" , "color": "Natural" }, "avLevels": {"IN_STOCK": 0.0, "PREORDER": 0.0, "BACKORDER": 0.0, "NOT_AVAILABLE": 1.0}, "avStatus":"NOT_AVAILABLE", "inStock":false, "ATS": 0.0, "inStockDate": "Tue Dec 31 12:00:00 GMT 2030" , "pricing": {"standard": "99.0", "sale": "99.0", "isPromoPrice": false, "quantities": [ {"unit": "", "value": "1.0"} ]} }, {"id": "UK92_5X8_SAF", "attributes": { "size": "5x8'" , "color": "Saffron" }, "avLevels": {"IN_STOCK": 0.0, "PREORDER": 0.0, "BACKORDER": 0.0, "NOT_AVAILABLE": 1.0}, "avStatus":"NOT_AVAILABLE", "inStock":false, "ATS": 0.0, "inStockDate": "Tue Dec 31 12:00:00 GMT 2030" , "pricing": {"standard": "99.0", "sale": "99.0", "isPromoPrice": false, "quantities": [ {"unit": "", "value": "1.0"} ]} }, {"id": "UK92_5X8_SCO", "attributes": { "size": "5x8'" , "color": "Spiced Coral" }, "avLevels": {"IN_STOCK": 0.0, "PREORDER": 0.0, "BACKORDER": 0.0, "NOT_AVAILABLE": 1.0}, "avStatus":"NOT_AVAILABLE", "inStock":false, "ATS": 0.0, "inStockDate": "Tue Dec 31 12:00:00 GMT 2030" , "pricing": {"standard": "99.0", "sale": "99.0", "isPromoPrice": false, "quantities": [ {"unit": "", "value": "1.0"} ]} }, {"id": "UK92_5X8_SGR", "attributes": { "size": "5x8'" , "color": "Spring Green" }, "avLevels": {"IN_STOCK": 0.0, "PREORDER": 0.0, "BACKORDER": 0.0, "NOT_AVAILABLE": 1.0}, "avStatus":"NOT_AVAILABLE", "inStock":false, "ATS": 0.0, "inStockDate": "Tue Dec 31 12:00:00 GMT 2030" , "pricing": {"standard": "99.0", "sale": "99.0", "isPromoPrice": false, "quantities": [ {"unit": "", "value": "1.0"} ]} }, {"id": "UK92_L_AMB", "attributes": { "size": "8x10'" , "color": "Amber" }, "avLevels": {"IN_STOCK": 0.0, "PREORDER": 0.0, "BACKORDER": 0.0, "NOT_AVAILABLE": 1.0}, "avStatus":"NOT_AVAILABLE", "inStock":false, "ATS": 0.0, "inStockDate": "Tue Dec 31 12:00:00 GMT 2030" , "pricing": {"standard": "179.0", "sale": "179.0", "isPromoPrice": false, "quantities": [ {"unit": "", "value": "1.0"} ]} }, {"id": "UK92_L_ASE", "attributes": { "size": "8x10'" , "color": "Aqua Sea" }, "avLevels": {"IN_STOCK": 0.0, "PREORDER": 0.0, "BACKORDER": 0.0, "NOT_AVAILABLE": 1.0}, "avStatus":"NOT_AVAILABLE", "inStock":false, "ATS": 0.0, "inStockDate": "Tue Dec 31 12:00:00 GMT 2030" , "pricing": {"standard": "179.0", "sale": "179.0", "isPromoPrice": false, "quantities": [ {"unit": "", "value": "1.0"} ]} }, {"id": "UK92_L_BDE", "attributes": { "size": "8x10'" , "color": "Blue Denim" }, "avLevels": {"IN_STOCK": 0.0, "PREORDER": 0.0, "BACKORDER": 0.0, "NOT_AVAILABLE": 1.0}, "avStatus":"NOT_AVAILABLE", "inStock":false, "ATS": 0.0, "inStockDate": "Tue Dec 31 12:00:00 GMT 2030" , "pricing": {"standard": "179.0", "sale": "179.0", "isPromoPrice": false, "quantities": [ {"unit": "", "value": "1.0"} ]} }, {"id": "UK92_L_BSL", "attributes": { "size": "8x10'" , "color": "Blue Slate" }, "avLevels": {"IN_STOCK": 0.0, "PREORDER": 0.0, "BACKORDER": 0.0, "NOT_AVAILABLE": 1.0}, "avStatus":"NOT_AVAILABLE", "inStock":false, "ATS": 0.0, "inStockDate": "Tue Dec 31 12:00:00 GMT 2030" , "pricing": {"standard": "179.0", "sale": "179.0", "isPromoPrice": false, "quantities": [ {"unit": "", "value": "1.0"} ]} }, {"id": "UK92_L_LOL", "attributes": { "size": "8x10'" , "color": "Light Olive" }, "avLevels": {"IN_STOCK": 0.0, "PREORDER": 0.0, "BACKORDER": 0.0, "NOT_AVAILABLE": 1.0}, "avStatus":"NOT_AVAILABLE", "inStock":false, "ATS": 0.0, "inStockDate": "Tue Dec 31 12:00:00 GMT 2030" , "pricing": {"standard": "179.0", "sale": "179.0", "isPromoPrice": false, "quantities": [ {"unit": "", "value": "1.0"} ]} }, {"id": "UK92_L_NAT", "attributes": { "size": "8x10'" , "color": "Natural" }, "avLevels": {"IN_STOCK": 0.0, "PREORDER": 0.0, "BACKORDER": 0.0, "NOT_AVAILABLE": 1.0}, "avStatus":"NOT_AVAILABLE", "inStock":false, "ATS": 0.0, "inStockDate": "Tue Dec 31 12:00:00 GMT 2030" , "pricing": {"standard": "179.0", "sale": "179.0", "isPromoPrice": false, "quantities": [ {"unit": "", "value": "1.0"} ]} }, {"id": "UK92_L_SAF", "attributes": { "size": "8x10'" , "color": "Saffron" }, "avLevels": {"IN_STOCK": 0.0, "PREORDER": 0.0, "BACKORDER": 0.0, "NOT_AVAILABLE": 1.0}, "avStatus":"NOT_AVAILABLE", "inStock":false, "ATS": 0.0, "inStockDate": "Sun Sep 02 12:00:00 GMT 2012" , "pricing": {"standard": "179.0", "sale": "179.0", "isPromoPrice": false, "quantities": [ {"unit": "", "value": "1.0"} ]} }, {"id": "UK92_L_SCO", "attributes": { "size": "8x10'" , "color": "Spiced Coral" }, "avLevels": {"IN_STOCK": 0.0, "PREORDER": 0.0, "BACKORDER": 0.0, "NOT_AVAILABLE": 1.0}, "avStatus":"NOT_AVAILABLE", "inStock":false, "ATS": 0.0, "inStockDate": "Tue Dec 31 12:00:00 GMT 2030" , "pricing": {"standard": "179.0", "sale": "179.0", "isPromoPrice": false, "quantities": [ {"unit": "", "value": "1.0"} ]} }, {"id": "UK92_L_WHE", "attributes": { "size": "8x10'" , "color": "Wheat" }, "avLevels": {"IN_STOCK": 0.0, "PREORDER": 0.0, "BACKORDER": 0.0, "NOT_AVAILABLE": 1.0}, "avStatus":"NOT_AVAILABLE", "inStock":false, "ATS": 0.0, "inStockDate": "Tue Dec 31 12:00:00 GMT 2030" , "pricing": {"standard": "179.0", "sale": "179.0", "isPromoPrice": false, "quantities": [ {"unit": "", "value": "1.0"} ]} }, {"id": "UK92_RUN_AMB", "attributes": { "size": "Runner, 2½x9'" , "color": "Amber" }, "avLevels": {"IN_STOCK": 0.0, "PREORDER": 0.0, "BACKORDER": 0.0, "NOT_AVAILABLE": 1.0}, "avStatus":"NOT_AVAILABLE", "inStock":false, "ATS": 0.0, "inStockDate": "Tue Dec 31 12:00:00 GMT 2030" , "pricing": {"standard": "69.0", "sale": "69.0", "isPromoPrice": false, "quantities": [ {"unit": "", "value": "1.0"} ]} }, {"id": "UK92_RUN_ASE", "attributes": { "size": "Runner, 2½x9'" , "color": "Aqua Sea" }, "avLevels": {"IN_STOCK": 0.0, "PREORDER": 0.0, "BACKORDER": 0.0, "NOT_AVAILABLE": 1.0}, "avStatus":"NOT_AVAILABLE", "inStock":false, "ATS": 0.0, "inStockDate": "Tue Dec 31 12:00:00 GMT 2030" , "pricing": {"standard": "69.0", "sale": "69.0", "isPromoPrice": false, "quantities": [ {"unit": "", "value": "1.0"} ]} }, {"id": "UK92_RUN_BSL", "attributes": { "size": "Runner, 2½x9'" , "color": "Blue Slate" }, "avLevels": {"IN_STOCK": 0.0, "PREORDER": 0.0, "BACKORDER": 0.0, "NOT_AVAILABLE": 1.0}, "avStatus":"NOT_AVAILABLE", "inStock":false, "ATS": 0.0, "inStockDate": "Tue Dec 31 12:00:00 GMT 2030" , "pricing": {"standard": "69.0", "sale": "69.0", "isPromoPrice": false, "quantities": [ {"unit": "", "value": "1.0"} ]} }, {"id": "UK92_RUN_LOL", "attributes": { "size": "Runner, 2½x9'" , "color": "Light Olive" }, "avLevels": {"IN_STOCK": 0.0, "PREORDER": 0.0, "BACKORDER": 0.0, "NOT_AVAILABLE": 1.0}, "avStatus":"NOT_AVAILABLE", "inStock":false, "ATS": 0.0, "inStockDate": "Tue Dec 31 12:00:00 GMT 2030" , "pricing": {"standard": "69.0", "sale": "69.0", "isPromoPrice": false, "quantities": [ {"unit": "", "value": "1.0"} ]} }, {"id": "UK92_RUN_NAT", "attributes": { "size": "Runner, 2½x9'" , "color": "Natural" }, "avLevels": {"IN_STOCK": 0.0, "PREORDER": 0.0, "BACKORDER": 0.0, "NOT_AVAILABLE": 1.0}, "avStatus":"NOT_AVAILABLE", "inStock":false, "ATS": 0.0, "inStockDate": "Tue Dec 31 12:00:00 GMT 2030" , "pricing": {"standard": "69.0", "sale": "69.0", "isPromoPrice": false, "quantities": [ {"unit": "", "value": "1.0"} ]} }, {"id": "UK92_RUN_SGR", "attributes": { "size": "Runner, 2½x9'" , "color": "Spring Green" }, "avLevels": {"IN_STOCK": 0.0, "PREORDER": 0.0, "BACKORDER": 0.0, "NOT_AVAILABLE": 1.0}, "avStatus":"NOT_AVAILABLE", "inStock":false, "ATS": 0.0, "inStockDate": "Tue Dec 31 12:00:00 GMT 2030" , "pricing": {"standard": "69.0", "sale": "69.0", "isPromoPrice": false, "quantities": [ {"unit": "", "value": "1.0"} ]} }, {"id": "UK92_RUN_WHE", "attributes": { "size": "Runner, 2½x9'" , "color": "Wheat" }, "avLevels": {"IN_STOCK": 0.0, "PREORDER": 0.0, "BACKORDER": 0.0, "NOT_AVAILABLE": 1.0}, "avStatus":"NOT_AVAILABLE", "inStock":false, "ATS": 0.0, "inStockDate": "Tue Dec 31 12:00:00 GMT 2030" , "pricing": {"standard": "69.0", "sale": "69.0", "isPromoPrice": false, "quantities": [ {"unit": "", "value": "1.0"} ]} } ] }}