Microfleece Throw
Overview & Details
Incredibly cozy microfleece throw.
Fleece throw is made of 100% microfiber polyester for weightless warmth.
Features a distinctive pique weave that reverses to the all-over plush fleece.
Coordinates with our Microfleece Sheet Set and Microfleece Blanket, sold separately.
Throw measures 50" X 70".
Machine wash.
Imported.
Exclusively ours.

Sleep in and snuggle up. Chilly days and cooler nights are no match for our snuggly microfleece throw. The decadently plush, dense pile on this bedding is super-soft and warm, yet feather-light to the touch—making it the layer you'll reach for when you're lounging in front of the TV, reading by the fire or curling up in bed.

Our fleece throw features a distinctive pique weave that reverses to the all-over plush fleece. No matter which side you slip under, you and your family will love the luxurious softness of this microfleece throw, night after night. Plus, they are available in several cool tones and refreshing colors that look great in any space while adding a soothing feel to their surroundings, including: shadow blue, mineral blue, silver gray, taffy, ivory and cabernet.

The fleece throw measures 50" x 70", and is perfect for cuddling up on the couch. Simply choose your favorite color, or stock up on several to give every bed in your home the unique, indulgent comfort of our microfleece throw. Available exclusively at The Company Store.
Reviews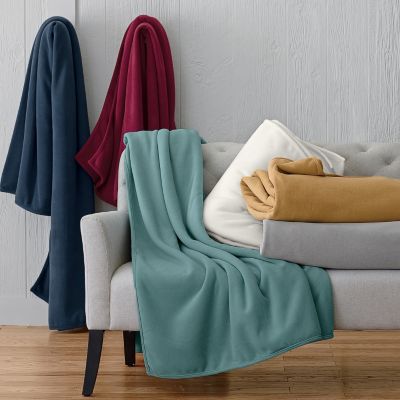 Monogram items are non-returnable due to their customization. Please allow an additional 5-7 business days for orders containing monogrammed items and an additional 7-12 business days during holiday & high volume times. Please check out our
Monogram Guide
for more info.
{"ID":"KN89-H13","isMonogrammable":true,"isCustomizationRequired":false,"monoItemNo":"MG06","customizationCode":"!12","styleOptions":"_1 Initial_2 Initials_3 Initials_Name or Word|02 Block_03 Diamond_04 Classic_05 Signet_08 Sketch_13 Collegiate_14 Traditional_15 Kids_*02 Block_03 Diamond_04 Classic_05 Signet_08 Sketch_13 Collegiate_15 Kids_*02 Block_03 Diamond_04 Classic_05 Signet_06 Modern_08 Sketch_13 Collegiate_15 Kids_*02 Block_04 Classic_07 Juliet_08 Sketch_13 Collegiate_14 Traditional_15 Kids_*|_1_1_1_1_1_1_11_0_0|","monoPrice":6.0,"configuration":"null", "optionType":""}
{ "variations": { "variants": [ {"id": "KN89-OS-MIN-BL", "attributes": { "size": "Throw, 50 x 70''" , "color": "Mineral Blue" }, "avLevels": {"IN_STOCK": 0.0, "PREORDER": 0.0, "BACKORDER": 0.0, "NOT_AVAILABLE": 1.0}, "avStatus":"NOT_AVAILABLE", "inStock":false, "ATS": 0.0, "inStockDate": "" , "pricing": {"standard": "49.0", "sale": "18.99", "isPromoPrice": false, "quantities": [ {"unit": "", "value": "1.0"} ]} }, {"id": "KN89-OS-SIL-GRAY", "attributes": { "size": "Throw, 50 x 70''" , "color": "Silver Gray" }, "avLevels": {"IN_STOCK": 0.0, "PREORDER": 0.0, "BACKORDER": 0.0, "NOT_AVAILABLE": 1.0}, "avStatus":"NOT_AVAILABLE", "inStock":false, "ATS": 0.0, "inStockDate": "" , "pricing": {"standard": "49.0", "sale": "18.99", "isPromoPrice": false, "quantities": [ {"unit": "", "value": "1.0"} ]} }, {"id": "KN89-OS-CABERNET", "attributes": { "size": "Throw, 50 x 70''" , "color": "Cabernet" }, "avLevels": {"IN_STOCK": 0.0, "PREORDER": 0.0, "BACKORDER": 0.0, "NOT_AVAILABLE": 1.0}, "avStatus":"NOT_AVAILABLE", "inStock":false, "ATS": 0.0, "inStockDate": "" , "pricing": {"standard": "49.0", "sale": "18.99", "isPromoPrice": false, "quantities": [ {"unit": "", "value": "1.0"} ]} }, {"id": "KN89-OS-IVORY", "attributes": { "size": "Throw, 50 x 70''" , "color": "Ivory" }, "avLevels": {"IN_STOCK": 0.0, "PREORDER": 0.0, "BACKORDER": 0.0, "NOT_AVAILABLE": 1.0}, "avStatus":"NOT_AVAILABLE", "inStock":false, "ATS": 0.0, "inStockDate": "" , "pricing": {"standard": "49.0", "sale": "49.0", "isPromoPrice": false, "quantities": [ {"unit": "", "value": "1.0"} ]} }, {"id": "KN89-OS-SHDWBLUE", "attributes": { "size": "Throw, 50 x 70''" , "color": "Shadow Blue" }, "avLevels": {"IN_STOCK": 0.0, "PREORDER": 0.0, "BACKORDER": 0.0, "NOT_AVAILABLE": 1.0}, "avStatus":"NOT_AVAILABLE", "inStock":false, "ATS": 0.0, "inStockDate": "" , "pricing": {"standard": "49.0", "sale": "18.99", "isPromoPrice": false, "quantities": [ {"unit": "", "value": "1.0"} ]} } ] }}