LoftHome by The Company Store® Upholstered Bed
Overview & Details
Please allow 3-4 weeks for delivery.
Upholstered bed.
Upholstered over generous polyurethane foam padding for comfort.
Side rails and footboard of bed are upholstered for a tailored finish.
Height-adjustable headboard accommodates thicker mattresses.
Solid pine frame.
Sturdy metal legs.
Headboard-only option attaches to most standard metal bedframes (metal bedframe not included).
Simple assembly for convenience.
Spot clean.
USA/Imported.
Designed to be used with a box spring.
13.5 inches from floor to top of side rail.
4 inches from floor to bottom of side rail.
6 inches from floor to bedframe.
Shown With:
LoftHome Upholstered Bed in Linen Sandstone and Twill White (XR65)
LoftHome Cable Rug in Iron (UK74)
LoftHome WIldwood Collection by The Company Store® in Floral Gray and Gray (E5J3, E5J4, QT63, CZ75, N4R6)
Linen Pillow Cover in White (PO16)
Casa Quilt and Sham in Lily Green (CY97, N4B6)

Rest easy in this warm and inviting upholstered bed from LoftHome. Boasting superior style and construction, this comfortable upholstered bed looks as great as it feels. Designed with a streamlined silhouette and chic headboard for the perfect amount of well-crafted detail, our elegant LoftHome upholstered bed transforms any bedroom in an instant. Offering a classic and versatile style that suits many bedroom decors, our sumptuously padded upholstered bed is sure to be a stylish focal point.

Wrapped with fabric over generous polyfoam padding, this plush LoftHome bed creates a soothing yet opulent look. Crafted with a solid pine frame, this welcoming LoftHome bed also features durable metal legs and upholstery-covered side rails and footboard for a tailored finish. The height-adjustable headboard accommodates thicker mattresses for a wide range of possibilities. You can also choose a headboard-only option that attaches to most standard metal bedframes (not included).

For convenience, our LoftHome upholstered bed requires simple assembly and the fabric can be spot cleaned. Complete this must-have LoftHome upholstered bed with a wide range of stylish sheets and bedding options, from prints to solids, also in the LoftHome collection. All the pieces come together to create the bedroom of your dreams.

Due to the size and weight of our larger items, special care and handling is required. Therefore, an additional shipping charge of $50.00 will be added to the King and Cal. King size beds.
Reviews
LoftHome by The Company Store® Upholstered Bed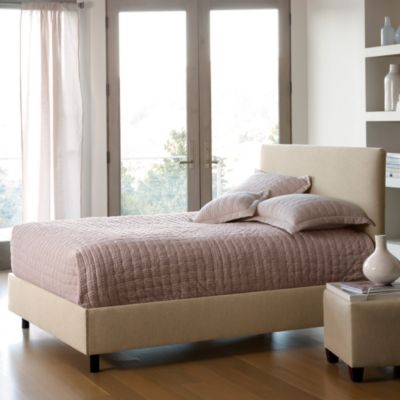 { "variations": { "variants": [ {"id": "XR65-CK-CH-CHK-BSKTW", "attributes": { "size": "Cal. King, 74 X 87 X 51-56''H" , "color": "Chambers Basketweave Chalk" }, "avLevels": {"IN_STOCK": 0.0, "PREORDER": 0.0, "BACKORDER": 1.0, "NOT_AVAILABLE": 0.0}, "avStatus":"BACKORDER", "inStock":false, "ATS": 10000.0, "inStockDate": "Mon Dec 30 12:00:00 GMT 2030" , "pricing": {"standard": "899.0", "sale": "899.0", "isPromoPrice": false, "quantities": [ {"unit": "", "value": "1.0"} ]} }, {"id": "XR65-CK-CH-NAVY-BSKTWV", "attributes": { "size": "Cal. King, 74 X 87 X 51-56''H" , "color": "Chambers Basketweave Navy" }, "avLevels": {"IN_STOCK": 0.0, "PREORDER": 0.0, "BACKORDER": 1.0, "NOT_AVAILABLE": 0.0}, "avStatus":"BACKORDER", "inStock":false, "ATS": 10000.0, "inStockDate": "Mon Dec 30 12:00:00 GMT 2030" , "pricing": {"standard": "899.0", "sale": "899.0", "isPromoPrice": false, "quantities": [ {"unit": "", "value": "1.0"} ]} }, {"id": "XR65-CK-CH-WLNT-BSKT", "attributes": { "size": "Cal. King, 74 X 87 X 51-56''H" , "color": "Chambers Basketweave Walnut" }, "avLevels": {"IN_STOCK": 0.0, "PREORDER": 0.0, "BACKORDER": 1.0, "NOT_AVAILABLE": 0.0}, "avStatus":"BACKORDER", "inStock":false, "ATS": 10000.0, "inStockDate": "Mon Dec 30 12:00:00 GMT 2030" , "pricing": {"standard": "899.0", "sale": "899.0", "isPromoPrice": false, "quantities": [ {"unit": "", "value": "1.0"} ]} }, {"id": "XR65-CK-GLITZ-FILBERT", "attributes": { "size": "Cal. King, 74 X 87 X 51-56''H" , "color": "Glitz Filbert" }, "avLevels": {"IN_STOCK": 0.0, "PREORDER": 0.0, "BACKORDER": 1.0, "NOT_AVAILABLE": 0.0}, "avStatus":"BACKORDER", "inStock":false, "ATS": 10000.0, "inStockDate": "Mon Dec 30 12:00:00 GMT 2030" , "pricing": {"standard": "899.0", "sale": "899.0", "isPromoPrice": false, "quantities": [ {"unit": "", "value": "1.0"} ]} }, {"id": "XR65-CK-GRO-PEW", "attributes": { "size": "Cal. King, 74 X 87 X 51-56''H" , "color": "Groupie Pewter" }, "avLevels": {"IN_STOCK": 0.0, "PREORDER": 0.0, "BACKORDER": 1.0, "NOT_AVAILABLE": 0.0}, "avStatus":"BACKORDER", "inStock":false, "ATS": 10000.0, "inStockDate": "Mon Dec 30 12:00:00 GMT 2030" , "pricing": {"standard": "899.0", "sale": "899.0", "isPromoPrice": false, "quantities": [ {"unit": "", "value": "1.0"} ]} }, {"id": "XR65-CK-LNN-CHAR", "attributes": { "size": "Cal. King, 74 X 87 X 51-56''H" , "color": "Linen Charcoal" }, "avLevels": {"IN_STOCK": 0.0, "PREORDER": 0.0, "BACKORDER": 1.0, "NOT_AVAILABLE": 0.0}, "avStatus":"BACKORDER", "inStock":false, "ATS": 10000.0, "inStockDate": "Mon Dec 30 12:00:00 GMT 2030" , "pricing": {"standard": "899.0", "sale": "899.0", "isPromoPrice": false, "quantities": [ {"unit": "", "value": "1.0"} ]} }, {"id": "XR65-CK-LINEN-GRAY", "attributes": { "size": "Cal. King, 74 X 87 X 51-56''H" , "color": "Linen Gray" }, "avLevels": {"IN_STOCK": 0.0, "PREORDER": 0.0, "BACKORDER": 1.0, "NOT_AVAILABLE": 0.0}, "avStatus":"BACKORDER", "inStock":false, "ATS": 10000.0, "inStockDate": "Mon Dec 30 12:00:00 GMT 2030" , "pricing": {"standard": "899.0", "sale": "899.0", "isPromoPrice": false, "quantities": [ {"unit": "", "value": "1.0"} ]} }, {"id": "XR65-CK-LINEN-LAGUNA", "attributes": { "size": "Cal. King, 74 X 87 X 51-56''H" , "color": "Linen Laguna" }, "avLevels": {"IN_STOCK": 0.0, "PREORDER": 0.0, "BACKORDER": 1.0, "NOT_AVAILABLE": 0.0}, "avStatus":"BACKORDER", "inStock":false, "ATS": 10000.0, "inStockDate": "Mon Dec 30 12:00:00 GMT 2030" , "pricing": {"standard": "899.0", "sale": "899.0", "isPromoPrice": false, "quantities": [ {"unit": "", "value": "1.0"} ]} }, {"id": "XR65-CK-LINEN-NAVY", "attributes": { "size": "Cal. King, 74 X 87 X 51-56''H" , "color": "Linen Navy" }, "avLevels": {"IN_STOCK": 0.0, "PREORDER": 0.0, "BACKORDER": 1.0, "NOT_AVAILABLE": 0.0}, "avStatus":"BACKORDER", "inStock":false, "ATS": 10000.0, "inStockDate": "Mon Dec 30 12:00:00 GMT 2030" , "pricing": {"standard": "899.0", "sale": "899.0", "isPromoPrice": false, "quantities": [ {"unit": "", "value": "1.0"} ]} }, {"id": "XR65-CK-LNN-SNDST", "attributes": { "size": "Cal. King, 74 X 87 X 51-56''H" , "color": "Linen Sandstone" }, "avLevels": {"IN_STOCK": 0.0, "PREORDER": 0.0, "BACKORDER": 1.0, "NOT_AVAILABLE": 0.0}, "avStatus":"BACKORDER", "inStock":false, "ATS": 10000.0, "inStockDate": "Mon Dec 30 12:00:00 GMT 2030" , "pricing": {"standard": "899.0", "sale": "899.0", "isPromoPrice": false, "quantities": [ {"unit": "", "value": "1.0"} ]} }, {"id": "XR65-CK-L-SMKY-QRTZ", "attributes": { "size": "Cal. King, 74 X 87 X 51-56''H" , "color": "Linen Smokey Quartz" }, "avLevels": {"IN_STOCK": 0.0, "PREORDER": 0.0, "BACKORDER": 1.0, "NOT_AVAILABLE": 0.0}, "avStatus":"BACKORDER", "inStock":false, "ATS": 10000.0, "inStockDate": "Mon Dec 30 12:00:00 GMT 2030" , "pricing": {"standard": "899.0", "sale": "899.0", "isPromoPrice": false, "quantities": [ {"unit": "", "value": "1.0"} ]} }, {"id": "XR65-CK-MA-COBB", "attributes": { "size": "Cal. King, 74 X 87 X 51-56''H" , "color": "Marakesh Cobblestone" }, "avLevels": {"IN_STOCK": 0.0, "PREORDER": 0.0, "BACKORDER": 1.0, "NOT_AVAILABLE": 0.0}, "avStatus":"BACKORDER", "inStock":false, "ATS": 10000.0, "inStockDate": "Mon Dec 30 12:00:00 GMT 2030" , "pricing": {"standard": "899.0", "sale": "899.0", "isPromoPrice": false, "quantities": [ {"unit": "", "value": "1.0"} ]} }, {"id": "XR65-CK-MA-GRAPH", "attributes": { "size": "Cal. King, 74 X 87 X 51-56''H" , "color": "Marakesh Graphite" }, "avLevels": {"IN_STOCK": 0.0, "PREORDER": 0.0, "BACKORDER": 1.0, "NOT_AVAILABLE": 0.0}, "avStatus":"BACKORDER", "inStock":false, "ATS": 10000.0, "inStockDate": "Mon Dec 30 12:00:00 GMT 2030" , "pricing": {"standard": "899.0", "sale": "899.0", "isPromoPrice": false, "quantities": [ {"unit": "", "value": "1.0"} ]} }, {"id": "XR65-CK-TL-GRAY", "attributes": { "size": "Cal. King, 74 X 87 X 51-56''H" , "color": "Twill Gray" }, "avLevels": {"IN_STOCK": 0.0, "PREORDER": 0.0, "BACKORDER": 1.0, "NOT_AVAILABLE": 0.0}, "avStatus":"BACKORDER", "inStock":false, "ATS": 10000.0, "inStockDate": "Mon Dec 30 12:00:00 GMT 2030" , "pricing": {"standard": "849.0", "sale": "849.0", "isPromoPrice": false, "quantities": [ {"unit": "", "value": "1.0"} ]} }, {"id": "XR65-CK-TL-NTRL", "attributes": { "size": "Cal. King, 74 X 87 X 51-56''H" , "color": "Twill Natural" }, "avLevels": {"IN_STOCK": 0.0, "PREORDER": 0.0, "BACKORDER": 1.0, "NOT_AVAILABLE": 0.0}, "avStatus":"BACKORDER", "inStock":false, "ATS": 10000.0, "inStockDate": "Mon Dec 30 12:00:00 GMT 2030" , "pricing": {"standard": "849.0", "sale": "849.0", "isPromoPrice": false, "quantities": [ {"unit": "", "value": "1.0"} ]} }, {"id": "XR65-CK-TL-WHITE", "attributes": { "size": "Cal. King, 74 X 87 X 51-56''H" , "color": "Twill White" }, "avLevels": {"IN_STOCK": 0.0, "PREORDER": 0.0, "BACKORDER": 1.0, "NOT_AVAILABLE": 0.0}, "avStatus":"BACKORDER", "inStock":false, "ATS": 10000.0, "inStockDate": "Mon Dec 30 12:00:00 GMT 2030" , "pricing": {"standard": "849.0", "sale": "849.0", "isPromoPrice": false, "quantities": [ {"unit": "", "value": "1.0"} ]} }, {"id": "XR65-CK-VLVT-BLACK", "attributes": { "size": "Cal. King, 74 X 87 X 51-56''H" , "color": "Velvet Black" }, "avLevels": {"IN_STOCK": 0.0, "PREORDER": 0.0, "BACKORDER": 1.0, "NOT_AVAILABLE": 0.0}, "avStatus":"BACKORDER", "inStock":false, "ATS": 10000.0, "inStockDate": "Mon Dec 30 12:00:00 GMT 2030" , "pricing": {"standard": "849.0", "sale": "849.0", "isPromoPrice": false, "quantities": [ {"unit": "", "value": "1.0"} ]} }, {"id": "XR65-CK-VLVT-BCKWHT", "attributes": { "size": "Cal. King, 74 X 87 X 51-56''H" , "color": "Velvet Buckwheat" }, "avLevels": {"IN_STOCK": 0.0, "PREORDER": 0.0, "BACKORDER": 1.0, "NOT_AVAILABLE": 0.0}, "avStatus":"BACKORDER", "inStock":false, "ATS": 10000.0, "inStockDate": "Mon Dec 30 12:00:00 GMT 2030" , "pricing": {"standard": "849.0", "sale": "849.0", "isPromoPrice": false, "quantities": [ {"unit": "", "value": "1.0"} ]} }, {"id": "XR65-CK-VLVT-CHOCO", "attributes": { "size": "Cal. King, 74 X 87 X 51-56''H" , "color": "Velvet Chocolate" }, "avLevels": {"IN_STOCK": 0.0, "PREORDER": 0.0, "BACKORDER": 1.0, "NOT_AVAILABLE": 0.0}, "avStatus":"BACKORDER", "inStock":false, "ATS": 10000.0, "inStockDate": "Mon Dec 30 12:00:00 GMT 2030" , "pricing": {"standard": "849.0", "sale": "849.0", "isPromoPrice": false, "quantities": [ {"unit": "", "value": "1.0"} ]} }, {"id": "XR65-CK-VLVT-COCOA", "attributes": { "size": "Cal. King, 74 X 87 X 51-56''H" , "color": "Velvet Cocoa" }, "avLevels": {"IN_STOCK": 0.0, "PREORDER": 0.0, "BACKORDER": 1.0, "NOT_AVAILABLE": 0.0}, "avStatus":"BACKORDER", "inStock":false, "ATS": 10000.0, "inStockDate": "Mon Dec 30 12:00:00 GMT 2030" , "pricing": {"standard": "849.0", "sale": "849.0", "isPromoPrice": false, "quantities": [ {"unit": "", "value": "1.0"} ]} }, {"id": "XR65-CK-VLVT-HONEY", "attributes": { "size": "Cal. King, 74 X 87 X 51-56''H" , "color": "Velvet Honey" }, "avLevels": {"IN_STOCK": 0.0, "PREORDER": 0.0, "BACKORDER": 1.0, "NOT_AVAILABLE": 0.0}, "avStatus":"BACKORDER", "inStock":false, "ATS": 10000.0, "inStockDate": "Mon Dec 30 12:00:00 GMT 2030" , "pricing": {"standard": "849.0", "sale": "849.0", "isPromoPrice": false, "quantities": [ {"unit": "", "value": "1.0"} ]} }, {"id": "XR65-CK-VLVT-LGRY", "attributes": { "size": "Cal. King, 74 X 87 X 51-56''H" , "color": "Velvet Light Gray" }, "avLevels": {"IN_STOCK": 0.0, "PREORDER": 0.0, "BACKORDER": 1.0, "NOT_AVAILABLE": 0.0}, "avStatus":"BACKORDER", "inStock":false, "ATS": 10000.0, "inStockDate": "Mon Dec 30 12:00:00 GMT 2030" , "pricing": {"standard": "849.0", "sale": "849.0", "isPromoPrice": false, "quantities": [ {"unit": "", "value": "1.0"} ]} }, {"id": "XR65-CK-VLVT-PWTR", "attributes": { "size": "Cal. King, 74 X 87 X 51-56''H" , "color": "Velvet Pewter" }, "avLevels": {"IN_STOCK": 0.0, "PREORDER": 0.0, "BACKORDER": 1.0, "NOT_AVAILABLE": 0.0}, "avStatus":"BACKORDER", "inStock":false, "ATS": 10000.0, "inStockDate": "Mon Dec 30 12:00:00 GMT 2030" , "pricing": {"standard": "849.0", "sale": "849.0", "isPromoPrice": false, "quantities": [ {"unit": "", "value": "1.0"} ]} }, {"id": "XR65-CK-VLVT-POOL", "attributes": { "size": "Cal. King, 74 X 87 X 51-56''H" , "color": "Velvet Pool" }, "avLevels": {"IN_STOCK": 0.0, "PREORDER": 0.0, "BACKORDER": 1.0, "NOT_AVAILABLE": 0.0}, "avStatus":"BACKORDER", "inStock":false, "ATS": 10000.0, "inStockDate": "Mon Dec 30 12:00:00 GMT 2030" , "pricing": {"standard": "849.0", "sale": "849.0", "isPromoPrice": false, "quantities": [ {"unit": "", "value": "1.0"} ]} }, {"id": "XR65-CK-VLVT-WHITE", "attributes": { "size": "Cal. King, 74 X 87 X 51-56''H" , "color": "Velvet White" }, "avLevels": {"IN_STOCK": 0.0, "PREORDER": 0.0, "BACKORDER": 1.0, "NOT_AVAILABLE": 0.0}, "avStatus":"BACKORDER", "inStock":false, "ATS": 10000.0, "inStockDate": "Mon Dec 30 12:00:00 GMT 2030" , "pricing": {"standard": "849.0", "sale": "849.0", "isPromoPrice": false, "quantities": [ {"unit": "", "value": "1.0"} ]} }, {"id": "XR65-F-CH-CHK-BSKTW", "attributes": { "size": "Full, 56 X 78 X 51-56''H" , "color": "Chambers Basketweave Chalk" }, "avLevels": {"IN_STOCK": 0.0, "PREORDER": 0.0, "BACKORDER": 1.0, "NOT_AVAILABLE": 0.0}, "avStatus":"BACKORDER", "inStock":false, "ATS": 10000.0, "inStockDate": "Mon Dec 30 12:00:00 GMT 2030" , "pricing": {"standard": "849.0", "sale": "849.0", "isPromoPrice": false, "quantities": [ {"unit": "", "value": "1.0"} ]} }, {"id": "XR65-F-CH-NAVY-BSKTWV", "attributes": { "size": "Full, 56 X 78 X 51-56''H" , "color": "Chambers Basketweave Navy" }, "avLevels": {"IN_STOCK": 0.0, "PREORDER": 0.0, "BACKORDER": 1.0, "NOT_AVAILABLE": 0.0}, "avStatus":"BACKORDER", "inStock":false, "ATS": 10000.0, "inStockDate": "Mon Dec 30 12:00:00 GMT 2030" , "pricing": {"standard": "849.0", "sale": "849.0", "isPromoPrice": false, "quantities": [ {"unit": "", "value": "1.0"} ]} }, {"id": "XR65-F-CH-WLNT-BSKT", "attributes": { "size": "Full, 56 X 78 X 51-56''H" , "color": "Chambers Basketweave Walnut" }, "avLevels": {"IN_STOCK": 0.0, "PREORDER": 0.0, "BACKORDER": 1.0, "NOT_AVAILABLE": 0.0}, "avStatus":"BACKORDER", "inStock":false, "ATS": 10000.0, "inStockDate": "Mon Dec 30 12:00:00 GMT 2030" , "pricing": {"standard": "849.0", "sale": "849.0", "isPromoPrice": false, "quantities": [ {"unit": "", "value": "1.0"} ]} }, {"id": "XR65-F-GLITZ-FILBERT", "attributes": { "size": "Full, 56 X 78 X 51-56''H" , "color": "Glitz Filbert" }, "avLevels": {"IN_STOCK": 0.0, "PREORDER": 0.0, "BACKORDER": 1.0, "NOT_AVAILABLE": 0.0}, "avStatus":"BACKORDER", "inStock":false, "ATS": 10000.0, "inStockDate": "Mon Dec 30 12:00:00 GMT 2030" , "pricing": {"standard": "849.0", "sale": "849.0", "isPromoPrice": false, "quantities": [ {"unit": "", "value": "1.0"} ]} }, {"id": "XR65-F-GRO-PEW", "attributes": { "size": "Full, 56 X 78 X 51-56''H" , "color": "Groupie Pewter" }, "avLevels": {"IN_STOCK": 0.0, "PREORDER": 0.0, "BACKORDER": 1.0, "NOT_AVAILABLE": 0.0}, "avStatus":"BACKORDER", "inStock":false, "ATS": 10000.0, "inStockDate": "Mon Dec 30 12:00:00 GMT 2030" , "pricing": {"standard": "849.0", "sale": "849.0", "isPromoPrice": false, "quantities": [ {"unit": "", "value": "1.0"} ]} }, {"id": "XR65-F-LNN-CHAR", "attributes": { "size": "Full, 56 X 78 X 51-56''H" , "color": "Linen Charcoal" }, "avLevels": {"IN_STOCK": 0.0, "PREORDER": 0.0, "BACKORDER": 1.0, "NOT_AVAILABLE": 0.0}, "avStatus":"BACKORDER", "inStock":false, "ATS": 10000.0, "inStockDate": "Mon Dec 30 12:00:00 GMT 2030" , "pricing": {"standard": "799.0", "sale": "799.0", "isPromoPrice": false, "quantities": [ {"unit": "", "value": "1.0"} ]} }, {"id": "XR65-F-LINEN-GRAY", "attributes": { "size": "Full, 56 X 78 X 51-56''H" , "color": "Linen Gray" }, "avLevels": {"IN_STOCK": 0.0, "PREORDER": 0.0, "BACKORDER": 1.0, "NOT_AVAILABLE": 0.0}, "avStatus":"BACKORDER", "inStock":false, "ATS": 10000.0, "inStockDate": "Mon Dec 30 12:00:00 GMT 2030" , "pricing": {"standard": "799.0", "sale": "799.0", "isPromoPrice": false, "quantities": [ {"unit": "", "value": "1.0"} ]} }, {"id": "XR65-F-LINEN-LAGUNA", "attributes": { "size": "Full, 56 X 78 X 51-56''H" , "color": "Linen Laguna" }, "avLevels": {"IN_STOCK": 0.0, "PREORDER": 0.0, "BACKORDER": 1.0, "NOT_AVAILABLE": 0.0}, "avStatus":"BACKORDER", "inStock":false, "ATS": 10000.0, "inStockDate": "Mon Dec 30 12:00:00 GMT 2030" , "pricing": {"standard": "799.0", "sale": "799.0", "isPromoPrice": false, "quantities": [ {"unit": "", "value": "1.0"} ]} }, {"id": "XR65-F-LINEN-NAVY", "attributes": { "size": "Full, 56 X 78 X 51-56''H" , "color": "Linen Navy" }, "avLevels": {"IN_STOCK": 0.0, "PREORDER": 0.0, "BACKORDER": 1.0, "NOT_AVAILABLE": 0.0}, "avStatus":"BACKORDER", "inStock":false, "ATS": 10000.0, "inStockDate": "Mon Dec 30 12:00:00 GMT 2030" , "pricing": {"standard": "799.0", "sale": "799.0", "isPromoPrice": false, "quantities": [ {"unit": "", "value": "1.0"} ]} }, {"id": "XR65-F-LNN-SNDST", "attributes": { "size": "Full, 56 X 78 X 51-56''H" , "color": "Linen Sandstone" }, "avLevels": {"IN_STOCK": 0.0, "PREORDER": 0.0, "BACKORDER": 1.0, "NOT_AVAILABLE": 0.0}, "avStatus":"BACKORDER", "inStock":false, "ATS": 10000.0, "inStockDate": "Mon Dec 30 12:00:00 GMT 2030" , "pricing": {"standard": "799.0", "sale": "799.0", "isPromoPrice": false, "quantities": [ {"unit": "", "value": "1.0"} ]} }, {"id": "XR65-F-L-SMKY-QRTZ", "attributes": { "size": "Full, 56 X 78 X 51-56''H" , "color": "Linen Smokey Quartz" }, "avLevels": {"IN_STOCK": 0.0, "PREORDER": 0.0, "BACKORDER": 1.0, "NOT_AVAILABLE": 0.0}, "avStatus":"BACKORDER", "inStock":false, "ATS": 10000.0, "inStockDate": "Mon Dec 30 12:00:00 GMT 2030" , "pricing": {"standard": "799.0", "sale": "799.0", "isPromoPrice": false, "quantities": [ {"unit": "", "value": "1.0"} ]} }, {"id": "XR65-F-MA-COBB", "attributes": { "size": "Full, 56 X 78 X 51-56''H" , "color": "Marakesh Cobblestone" }, "avLevels": {"IN_STOCK": 0.0, "PREORDER": 0.0, "BACKORDER": 1.0, "NOT_AVAILABLE": 0.0}, "avStatus":"BACKORDER", "inStock":false, "ATS": 10000.0, "inStockDate": "Mon Dec 30 12:00:00 GMT 2030" , "pricing": {"standard": "799.0", "sale": "799.0", "isPromoPrice": false, "quantities": [ {"unit": "", "value": "1.0"} ]} }, {"id": "XR65-F-MA-GRAPH", "attributes": { "size": "Full, 56 X 78 X 51-56''H" , "color": "Marakesh Graphite" }, "avLevels": {"IN_STOCK": 0.0, "PREORDER": 0.0, "BACKORDER": 1.0, "NOT_AVAILABLE": 0.0}, "avStatus":"BACKORDER", "inStock":false, "ATS": 10000.0, "inStockDate": "Mon Dec 30 12:00:00 GMT 2030" , "pricing": {"standard": "799.0", "sale": "799.0", "isPromoPrice": false, "quantities": [ {"unit": "", "value": "1.0"} ]} }, {"id": "XR65-F-TL-GRAY", "attributes": { "size": "Full, 56 X 78 X 51-56''H" , "color": "Twill Gray" }, "avLevels": {"IN_STOCK": 0.0, "PREORDER": 0.0, "BACKORDER": 1.0, "NOT_AVAILABLE": 0.0}, "avStatus":"BACKORDER", "inStock":false, "ATS": 10000.0, "inStockDate": "Mon Dec 30 12:00:00 GMT 2030" , "pricing": {"standard": "749.0", "sale": "749.0", "isPromoPrice": false, "quantities": [ {"unit": "", "value": "1.0"} ]} }, {"id": "XR65-F-TL-NTRL", "attributes": { "size": "Full, 56 X 78 X 51-56''H" , "color": "Twill Natural" }, "avLevels": {"IN_STOCK": 0.0, "PREORDER": 0.0, "BACKORDER": 1.0, "NOT_AVAILABLE": 0.0}, "avStatus":"BACKORDER", "inStock":false, "ATS": 10000.0, "inStockDate": "Mon Dec 30 12:00:00 GMT 2030" , "pricing": {"standard": "749.0", "sale": "749.0", "isPromoPrice": false, "quantities": [ {"unit": "", "value": "1.0"} ]} }, {"id": "XR65-F-TL-WHITE", "attributes": { "size": "Full, 56 X 78 X 51-56''H" , "color": "Twill White" }, "avLevels": {"IN_STOCK": 0.0, "PREORDER": 0.0, "BACKORDER": 1.0, "NOT_AVAILABLE": 0.0}, "avStatus":"BACKORDER", "inStock":false, "ATS": 10000.0, "inStockDate": "Mon Dec 30 12:00:00 GMT 2030" , "pricing": {"standard": "749.0", "sale": "749.0", "isPromoPrice": false, "quantities": [ {"unit": "", "value": "1.0"} ]} }, {"id": "XR65-F-VLVT-BLACK", "attributes": { "size": "Full, 56 X 78 X 51-56''H" , "color": "Velvet Black" }, "avLevels": {"IN_STOCK": 0.0, "PREORDER": 0.0, "BACKORDER": 1.0, "NOT_AVAILABLE": 0.0}, "avStatus":"BACKORDER", "inStock":false, "ATS": 10000.0, "inStockDate": "Mon Dec 30 12:00:00 GMT 2030" , "pricing": {"standard": "749.0", "sale": "749.0", "isPromoPrice": false, "quantities": [ {"unit": "", "value": "1.0"} ]} }, {"id": "XR65-F-VLVT-BCKWHT", "attributes": { "size": "Full, 56 X 78 X 51-56''H" , "color": "Velvet Buckwheat" }, "avLevels": {"IN_STOCK": 0.0, "PREORDER": 0.0, "BACKORDER": 1.0, "NOT_AVAILABLE": 0.0}, "avStatus":"BACKORDER", "inStock":false, "ATS": 10000.0, "inStockDate": "Mon Dec 30 12:00:00 GMT 2030" , "pricing": {"standard": "749.0", "sale": "749.0", "isPromoPrice": false, "quantities": [ {"unit": "", "value": "1.0"} ]} }, {"id": "XR65-F-VLVT-CHOCO", "attributes": { "size": "Full, 56 X 78 X 51-56''H" , "color": "Velvet Chocolate" }, "avLevels": {"IN_STOCK": 0.0, "PREORDER": 0.0, "BACKORDER": 1.0, "NOT_AVAILABLE": 0.0}, "avStatus":"BACKORDER", "inStock":false, "ATS": 10000.0, "inStockDate": "Mon Dec 30 12:00:00 GMT 2030" , "pricing": {"standard": "749.0", "sale": "749.0", "isPromoPrice": false, "quantities": [ {"unit": "", "value": "1.0"} ]} }, {"id": "XR65-F-VLVT-COCOA", "attributes": { "size": "Full, 56 X 78 X 51-56''H" , "color": "Velvet Cocoa" }, "avLevels": {"IN_STOCK": 0.0, "PREORDER": 0.0, "BACKORDER": 1.0, "NOT_AVAILABLE": 0.0}, "avStatus":"BACKORDER", "inStock":false, "ATS": 10000.0, "inStockDate": "Mon Dec 30 12:00:00 GMT 2030" , "pricing": {"standard": "749.0", "sale": "749.0", "isPromoPrice": false, "quantities": [ {"unit": "", "value": "1.0"} ]} }, {"id": "XR65-F-VLVT-HONEY", "attributes": { "size": "Full, 56 X 78 X 51-56''H" , "color": "Velvet Honey" }, "avLevels": {"IN_STOCK": 0.0, "PREORDER": 0.0, "BACKORDER": 1.0, "NOT_AVAILABLE": 0.0}, "avStatus":"BACKORDER", "inStock":false, "ATS": 10000.0, "inStockDate": "Mon Dec 30 12:00:00 GMT 2030" , "pricing": {"standard": "749.0", "sale": "749.0", "isPromoPrice": false, "quantities": [ {"unit": "", "value": "1.0"} ]} }, {"id": "XR65-F-VLVT-LGRY", "attributes": { "size": "Full, 56 X 78 X 51-56''H" , "color": "Velvet Light Gray" }, "avLevels": {"IN_STOCK": 0.0, "PREORDER": 0.0, "BACKORDER": 1.0, "NOT_AVAILABLE": 0.0}, "avStatus":"BACKORDER", "inStock":false, "ATS": 10000.0, "inStockDate": "Mon Dec 30 12:00:00 GMT 2030" , "pricing": {"standard": "749.0", "sale": "749.0", "isPromoPrice": false, "quantities": [ {"unit": "", "value": "1.0"} ]} }, {"id": "XR65-F-VLVT-PWTR", "attributes": { "size": "Full, 56 X 78 X 51-56''H" , "color": "Velvet Pewter" }, "avLevels": {"IN_STOCK": 0.0, "PREORDER": 0.0, "BACKORDER": 1.0, "NOT_AVAILABLE": 0.0}, "avStatus":"BACKORDER", "inStock":false, "ATS": 10000.0, "inStockDate": "Mon Dec 30 12:00:00 GMT 2030" , "pricing": {"standard": "749.0", "sale": "749.0", "isPromoPrice": false, "quantities": [ {"unit": "", "value": "1.0"} ]} }, {"id": "XR65-F-VLVT-POOL", "attributes": { "size": "Full, 56 X 78 X 51-56''H" , "color": "Velvet Pool" }, "avLevels": {"IN_STOCK": 0.0, "PREORDER": 0.0, "BACKORDER": 1.0, "NOT_AVAILABLE": 0.0}, "avStatus":"BACKORDER", "inStock":false, "ATS": 10000.0, "inStockDate": "Mon Dec 30 12:00:00 GMT 2030" , "pricing": {"standard": "749.0", "sale": "749.0", "isPromoPrice": false, "quantities": [ {"unit": "", "value": "1.0"} ]} }, {"id": "XR65-F-VLVT-WHITE", "attributes": { "size": "Full, 56 X 78 X 51-56''H" , "color": "Velvet White" }, "avLevels": {"IN_STOCK": 0.0, "PREORDER": 0.0, "BACKORDER": 1.0, "NOT_AVAILABLE": 0.0}, "avStatus":"BACKORDER", "inStock":false, "ATS": 10000.0, "inStockDate": "Mon Dec 30 12:00:00 GMT 2030" , "pricing": {"standard": "749.0", "sale": "749.0", "isPromoPrice": false, "quantities": [ {"unit": "", "value": "1.0"} ]} }, {"id": "XR65-K-CH-CHK-BSKTW", "attributes": { "size": "King, 78 X 83 X 51-56''H" , "color": "Chambers Basketweave Chalk" }, "avLevels": {"IN_STOCK": 0.0, "PREORDER": 0.0, "BACKORDER": 1.0, "NOT_AVAILABLE": 0.0}, "avStatus":"BACKORDER", "inStock":false, "ATS": 10000.0, "inStockDate": "Mon Dec 30 12:00:00 GMT 2030" , "pricing": {"standard": "899.0", "sale": "899.0", "isPromoPrice": false, "quantities": [ {"unit": "", "value": "1.0"} ]} }, {"id": "XR65-K-CH-NAVY-BSKTWV", "attributes": { "size": "King, 78 X 83 X 51-56''H" , "color": "Chambers Basketweave Navy" }, "avLevels": {"IN_STOCK": 0.0, "PREORDER": 0.0, "BACKORDER": 1.0, "NOT_AVAILABLE": 0.0}, "avStatus":"BACKORDER", "inStock":false, "ATS": 10000.0, "inStockDate": "Mon Dec 30 12:00:00 GMT 2030" , "pricing": {"standard": "899.0", "sale": "899.0", "isPromoPrice": false, "quantities": [ {"unit": "", "value": "1.0"} ]} }, {"id": "XR65-K-CH-WLNT-BSKT", "attributes": { "size": "King, 78 X 83 X 51-56''H" , "color": "Chambers Basketweave Walnut" }, "avLevels": {"IN_STOCK": 0.0, "PREORDER": 0.0, "BACKORDER": 1.0, "NOT_AVAILABLE": 0.0}, "avStatus":"BACKORDER", "inStock":false, "ATS": 10000.0, "inStockDate": "Mon Dec 30 12:00:00 GMT 2030" , "pricing": {"standard": "899.0", "sale": "899.0", "isPromoPrice": false, "quantities": [ {"unit": "", "value": "1.0"} ]} }, {"id": "XR65-K-GLITZ-FILBERT", "attributes": { "size": "King, 78 X 83 X 51-56''H" , "color": "Glitz Filbert" }, "avLevels": {"IN_STOCK": 0.0, "PREORDER": 0.0, "BACKORDER": 1.0, "NOT_AVAILABLE": 0.0}, "avStatus":"BACKORDER", "inStock":false, "ATS": 10000.0, "inStockDate": "Mon Dec 30 12:00:00 GMT 2030" , "pricing": {"standard": "899.0", "sale": "899.0", "isPromoPrice": false, "quantities": [ {"unit": "", "value": "1.0"} ]} }, {"id": "XR65-K-GRO-PEW", "attributes": { "size": "King, 78 X 83 X 51-56''H" , "color": "Groupie Pewter" }, "avLevels": {"IN_STOCK": 0.0, "PREORDER": 0.0, "BACKORDER": 1.0, "NOT_AVAILABLE": 0.0}, "avStatus":"BACKORDER", "inStock":false, "ATS": 10000.0, "inStockDate": "Mon Dec 30 12:00:00 GMT 2030" , "pricing": {"standard": "899.0", "sale": "899.0", "isPromoPrice": false, "quantities": [ {"unit": "", "value": "1.0"} ]} }, {"id": "XR65-K-LNN-CHAR", "attributes": { "size": "King, 78 X 83 X 51-56''H" , "color": "Linen Charcoal" }, "avLevels": {"IN_STOCK": 0.0, "PREORDER": 0.0, "BACKORDER": 1.0, "NOT_AVAILABLE": 0.0}, "avStatus":"BACKORDER", "inStock":false, "ATS": 10000.0, "inStockDate": "Mon Dec 30 12:00:00 GMT 2030" , "pricing": {"standard": "899.0", "sale": "899.0", "isPromoPrice": false, "quantities": [ {"unit": "", "value": "1.0"} ]} }, {"id": "XR65-K-LINEN-GRAY", "attributes": { "size": "King, 78 X 83 X 51-56''H" , "color": "Linen Gray" }, "avLevels": {"IN_STOCK": 0.0, "PREORDER": 0.0, "BACKORDER": 1.0, "NOT_AVAILABLE": 0.0}, "avStatus":"BACKORDER", "inStock":false, "ATS": 10000.0, "inStockDate": "Mon Dec 30 12:00:00 GMT 2030" , "pricing": {"standard": "899.0", "sale": "899.0", "isPromoPrice": false, "quantities": [ {"unit": "", "value": "1.0"} ]} }, {"id": "XR65-K-LINEN-LAGUNA", "attributes": { "size": "King, 78 X 83 X 51-56''H" , "color": "Linen Laguna" }, "avLevels": {"IN_STOCK": 0.0, "PREORDER": 0.0, "BACKORDER": 1.0, "NOT_AVAILABLE": 0.0}, "avStatus":"BACKORDER", "inStock":false, "ATS": 10000.0, "inStockDate": "Mon Dec 30 12:00:00 GMT 2030" , "pricing": {"standard": "899.0", "sale": "899.0", "isPromoPrice": false, "quantities": [ {"unit": "", "value": "1.0"} ]} }, {"id": "XR65-K-LINEN-NAVY", "attributes": { "size": "King, 78 X 83 X 51-56''H" , "color": "Linen Navy" }, "avLevels": {"IN_STOCK": 0.0, "PREORDER": 0.0, "BACKORDER": 1.0, "NOT_AVAILABLE": 0.0}, "avStatus":"BACKORDER", "inStock":false, "ATS": 10000.0, "inStockDate": "Mon Dec 30 12:00:00 GMT 2030" , "pricing": {"standard": "899.0", "sale": "899.0", "isPromoPrice": false, "quantities": [ {"unit": "", "value": "1.0"} ]} }, {"id": "XR65-K-LNN-SNDST", "attributes": { "size": "King, 78 X 83 X 51-56''H" , "color": "Linen Sandstone" }, "avLevels": {"IN_STOCK": 0.0, "PREORDER": 0.0, "BACKORDER": 1.0, "NOT_AVAILABLE": 0.0}, "avStatus":"BACKORDER", "inStock":false, "ATS": 10000.0, "inStockDate": "Mon Dec 30 12:00:00 GMT 2030" , "pricing": {"standard": "899.0", "sale": "899.0", "isPromoPrice": false, "quantities": [ {"unit": "", "value": "1.0"} ]} }, {"id": "XR65-K-L-SMKY-QRTZ", "attributes": { "size": "King, 78 X 83 X 51-56''H" , "color": "Linen Smokey Quartz" }, "avLevels": {"IN_STOCK": 0.0, "PREORDER": 0.0, "BACKORDER": 1.0, "NOT_AVAILABLE": 0.0}, "avStatus":"BACKORDER", "inStock":false, "ATS": 10000.0, "inStockDate": "Mon Dec 30 12:00:00 GMT 2030" , "pricing": {"standard": "899.0", "sale": "899.0", "isPromoPrice": false, "quantities": [ {"unit": "", "value": "1.0"} ]} }, {"id": "XR65-K-MA-COBB", "attributes": { "size": "King, 78 X 83 X 51-56''H" , "color": "Marakesh Cobblestone" }, "avLevels": {"IN_STOCK": 0.0, "PREORDER": 0.0, "BACKORDER": 1.0, "NOT_AVAILABLE": 0.0}, "avStatus":"BACKORDER", "inStock":false, "ATS": 10000.0, "inStockDate": "Mon Dec 30 12:00:00 GMT 2030" , "pricing": {"standard": "899.0", "sale": "899.0", "isPromoPrice": false, "quantities": [ {"unit": "", "value": "1.0"} ]} }, {"id": "XR65-K-MA-GRAPH", "attributes": { "size": "King, 78 X 83 X 51-56''H" , "color": "Marakesh Graphite" }, "avLevels": {"IN_STOCK": 0.0, "PREORDER": 0.0, "BACKORDER": 1.0, "NOT_AVAILABLE": 0.0}, "avStatus":"BACKORDER", "inStock":false, "ATS": 10000.0, "inStockDate": "Mon Dec 30 12:00:00 GMT 2030" , "pricing": {"standard": "899.0", "sale": "899.0", "isPromoPrice": false, "quantities": [ {"unit": "", "value": "1.0"} ]} }, {"id": "XR65-K-TL-GRAY", "attributes": { "size": "King, 78 X 83 X 51-56''H" , "color": "Twill Gray" }, "avLevels": {"IN_STOCK": 0.0, "PREORDER": 0.0, "BACKORDER": 1.0, "NOT_AVAILABLE": 0.0}, "avStatus":"BACKORDER", "inStock":false, "ATS": 10000.0, "inStockDate": "Mon Dec 30 12:00:00 GMT 2030" , "pricing": {"standard": "849.0", "sale": "849.0", "isPromoPrice": false, "quantities": [ {"unit": "", "value": "1.0"} ]} }, {"id": "XR65-K-TL-NTRL", "attributes": { "size": "King, 78 X 83 X 51-56''H" , "color": "Twill Natural" }, "avLevels": {"IN_STOCK": 0.0, "PREORDER": 0.0, "BACKORDER": 1.0, "NOT_AVAILABLE": 0.0}, "avStatus":"BACKORDER", "inStock":false, "ATS": 10000.0, "inStockDate": "Mon Dec 30 12:00:00 GMT 2030" , "pricing": {"standard": "849.0", "sale": "849.0", "isPromoPrice": false, "quantities": [ {"unit": "", "value": "1.0"} ]} }, {"id": "XR65-K-TL-WHITE", "attributes": { "size": "King, 78 X 83 X 51-56''H" , "color": "Twill White" }, "avLevels": {"IN_STOCK": 0.0, "PREORDER": 0.0, "BACKORDER": 1.0, "NOT_AVAILABLE": 0.0}, "avStatus":"BACKORDER", "inStock":false, "ATS": 10000.0, "inStockDate": "Mon Dec 30 12:00:00 GMT 2030" , "pricing": {"standard": "849.0", "sale": "849.0", "isPromoPrice": false, "quantities": [ {"unit": "", "value": "1.0"} ]} }, {"id": "XR65-K-VLVT-BLACK", "attributes": { "size": "King, 78 X 83 X 51-56''H" , "color": "Velvet Black" }, "avLevels": {"IN_STOCK": 0.0, "PREORDER": 0.0, "BACKORDER": 1.0, "NOT_AVAILABLE": 0.0}, "avStatus":"BACKORDER", "inStock":false, "ATS": 10000.0, "inStockDate": "Mon Dec 30 12:00:00 GMT 2030" , "pricing": {"standard": "849.0", "sale": "849.0", "isPromoPrice": false, "quantities": [ {"unit": "", "value": "1.0"} ]} }, {"id": "XR65-K-VLVT-BCKWHT", "attributes": { "size": "King, 78 X 83 X 51-56''H" , "color": "Velvet Buckwheat" }, "avLevels": {"IN_STOCK": 0.0, "PREORDER": 0.0, "BACKORDER": 1.0, "NOT_AVAILABLE": 0.0}, "avStatus":"BACKORDER", "inStock":false, "ATS": 10000.0, "inStockDate": "Mon Dec 30 12:00:00 GMT 2030" , "pricing": {"standard": "849.0", "sale": "849.0", "isPromoPrice": false, "quantities": [ {"unit": "", "value": "1.0"} ]} }, {"id": "XR65-K-VLVT-CHOCO", "attributes": { "size": "King, 78 X 83 X 51-56''H" , "color": "Velvet Chocolate" }, "avLevels": {"IN_STOCK": 0.0, "PREORDER": 0.0, "BACKORDER": 1.0, "NOT_AVAILABLE": 0.0}, "avStatus":"BACKORDER", "inStock":false, "ATS": 10000.0, "inStockDate": "Mon Dec 30 12:00:00 GMT 2030" , "pricing": {"standard": "849.0", "sale": "849.0", "isPromoPrice": false, "quantities": [ {"unit": "", "value": "1.0"} ]} }, {"id": "XR65-K-VLVT-COCOA", "attributes": { "size": "King, 78 X 83 X 51-56''H" , "color": "Velvet Cocoa" }, "avLevels": {"IN_STOCK": 0.0, "PREORDER": 0.0, "BACKORDER": 1.0, "NOT_AVAILABLE": 0.0}, "avStatus":"BACKORDER", "inStock":false, "ATS": 10000.0, "inStockDate": "Mon Dec 30 12:00:00 GMT 2030" , "pricing": {"standard": "849.0", "sale": "849.0", "isPromoPrice": false, "quantities": [ {"unit": "", "value": "1.0"} ]} }, {"id": "XR65-K-VLVT-HONEY", "attributes": { "size": "King, 78 X 83 X 51-56''H" , "color": "Velvet Honey" }, "avLevels": {"IN_STOCK": 0.0, "PREORDER": 0.0, "BACKORDER": 1.0, "NOT_AVAILABLE": 0.0}, "avStatus":"BACKORDER", "inStock":false, "ATS": 10000.0, "inStockDate": "Mon Dec 30 12:00:00 GMT 2030" , "pricing": {"standard": "849.0", "sale": "849.0", "isPromoPrice": false, "quantities": [ {"unit": "", "value": "1.0"} ]} }, {"id": "XR65-K-VLVT-LGRY", "attributes": { "size": "King, 78 X 83 X 51-56''H" , "color": "Velvet Light Gray" }, "avLevels": {"IN_STOCK": 0.0, "PREORDER": 0.0, "BACKORDER": 1.0, "NOT_AVAILABLE": 0.0}, "avStatus":"BACKORDER", "inStock":false, "ATS": 10000.0, "inStockDate": "Mon Dec 30 12:00:00 GMT 2030" , "pricing": {"standard": "849.0", "sale": "849.0", "isPromoPrice": false, "quantities": [ {"unit": "", "value": "1.0"} ]} }, {"id": "XR65-K-VLVT-PWTR", "attributes": { "size": "King, 78 X 83 X 51-56''H" , "color": "Velvet Pewter" }, "avLevels": {"IN_STOCK": 0.0, "PREORDER": 0.0, "BACKORDER": 1.0, "NOT_AVAILABLE": 0.0}, "avStatus":"BACKORDER", "inStock":false, "ATS": 10000.0, "inStockDate": "Mon Dec 30 12:00:00 GMT 2030" , "pricing": {"standard": "849.0", "sale": "849.0", "isPromoPrice": false, "quantities": [ {"unit": "", "value": "1.0"} ]} }, {"id": "XR65-K-VLVT-POOL", "attributes": { "size": "King, 78 X 83 X 51-56''H" , "color": "Velvet Pool" }, "avLevels": {"IN_STOCK": 0.0, "PREORDER": 0.0, "BACKORDER": 1.0, "NOT_AVAILABLE": 0.0}, "avStatus":"BACKORDER", "inStock":false, "ATS": 10000.0, "inStockDate": "Mon Dec 30 12:00:00 GMT 2030" , "pricing": {"standard": "849.0", "sale": "849.0", "isPromoPrice": false, "quantities": [ {"unit": "", "value": "1.0"} ]} }, {"id": "XR65-K-VLVT-WHITE", "attributes": { "size": "King, 78 X 83 X 51-56''H" , "color": "Velvet White" }, "avLevels": {"IN_STOCK": 0.0, "PREORDER": 0.0, "BACKORDER": 1.0, "NOT_AVAILABLE": 0.0}, "avStatus":"BACKORDER", "inStock":false, "ATS": 10000.0, "inStockDate": "Mon Dec 30 12:00:00 GMT 2030" , "pricing": {"standard": "849.0", "sale": "849.0", "isPromoPrice": false, "quantities": [ {"unit": "", "value": "1.0"} ]} }, {"id": "XR65-Q-CH-CHK-BSKTW", "attributes": { "size": "Queen, 62 X 83 X 51-56''H" , "color": "Chambers Basketweave Chalk" }, "avLevels": {"IN_STOCK": 0.0, "PREORDER": 0.0, "BACKORDER": 1.0, "NOT_AVAILABLE": 0.0}, "avStatus":"BACKORDER", "inStock":false, "ATS": 10000.0, "inStockDate": "Mon Dec 30 12:00:00 GMT 2030" , "pricing": {"standard": "849.0", "sale": "849.0", "isPromoPrice": false, "quantities": [ {"unit": "", "value": "1.0"} ]} }, {"id": "XR65-Q-CH-NAVY-BSKTWV", "attributes": { "size": "Queen, 62 X 83 X 51-56''H" , "color": "Chambers Basketweave Navy" }, "avLevels": {"IN_STOCK": 0.0, "PREORDER": 0.0, "BACKORDER": 1.0, "NOT_AVAILABLE": 0.0}, "avStatus":"BACKORDER", "inStock":false, "ATS": 10000.0, "inStockDate": "Mon Dec 30 12:00:00 GMT 2030" , "pricing": {"standard": "849.0", "sale": "849.0", "isPromoPrice": false, "quantities": [ {"unit": "", "value": "1.0"} ]} }, {"id": "XR65-Q-CH-WLNT-BSKT", "attributes": { "size": "Queen, 62 X 83 X 51-56''H" , "color": "Chambers Basketweave Walnut" }, "avLevels": {"IN_STOCK": 0.0, "PREORDER": 0.0, "BACKORDER": 1.0, "NOT_AVAILABLE": 0.0}, "avStatus":"BACKORDER", "inStock":false, "ATS": 10000.0, "inStockDate": "Mon Dec 30 12:00:00 GMT 2030" , "pricing": {"standard": "849.0", "sale": "849.0", "isPromoPrice": false, "quantities": [ {"unit": "", "value": "1.0"} ]} }, {"id": "XR65-Q-GLITZ-FILBERT", "attributes": { "size": "Queen, 62 X 83 X 51-56''H" , "color": "Glitz Filbert" }, "avLevels": {"IN_STOCK": 0.0, "PREORDER": 0.0, "BACKORDER": 1.0, "NOT_AVAILABLE": 0.0}, "avStatus":"BACKORDER", "inStock":false, "ATS": 10000.0, "inStockDate": "Mon Dec 30 12:00:00 GMT 2030" , "pricing": {"standard": "849.0", "sale": "849.0", "isPromoPrice": false, "quantities": [ {"unit": "", "value": "1.0"} ]} }, {"id": "XR65-Q-GRO-PEW", "attributes": { "size": "Queen, 62 X 83 X 51-56''H" , "color": "Groupie Pewter" }, "avLevels": {"IN_STOCK": 0.0, "PREORDER": 0.0, "BACKORDER": 1.0, "NOT_AVAILABLE": 0.0}, "avStatus":"BACKORDER", "inStock":false, "ATS": 10000.0, "inStockDate": "Mon Dec 30 12:00:00 GMT 2030" , "pricing": {"standard": "849.0", "sale": "849.0", "isPromoPrice": false, "quantities": [ {"unit": "", "value": "1.0"} ]} }, {"id": "XR65-Q-LNN-CHAR", "attributes": { "size": "Queen, 62 X 83 X 51-56''H" , "color": "Linen Charcoal" }, "avLevels": {"IN_STOCK": 0.0, "PREORDER": 0.0, "BACKORDER": 1.0, "NOT_AVAILABLE": 0.0}, "avStatus":"BACKORDER", "inStock":false, "ATS": 10000.0, "inStockDate": "Mon Dec 30 12:00:00 GMT 2030" , "pricing": {"standard": "799.0", "sale": "799.0", "isPromoPrice": false, "quantities": [ {"unit": "", "value": "1.0"} ]} }, {"id": "XR65-Q-LINEN-GRAY", "attributes": { "size": "Queen, 62 X 83 X 51-56''H" , "color": "Linen Gray" }, "avLevels": {"IN_STOCK": 0.0, "PREORDER": 0.0, "BACKORDER": 1.0, "NOT_AVAILABLE": 0.0}, "avStatus":"BACKORDER", "inStock":false, "ATS": 10000.0, "inStockDate": "Mon Dec 30 12:00:00 GMT 2030" , "pricing": {"standard": "799.0", "sale": "799.0", "isPromoPrice": false, "quantities": [ {"unit": "", "value": "1.0"} ]} }, {"id": "XR65-Q-LINEN-LAGUNA", "attributes": { "size": "Queen, 62 X 83 X 51-56''H" , "color": "Linen Laguna" }, "avLevels": {"IN_STOCK": 0.0, "PREORDER": 0.0, "BACKORDER": 1.0, "NOT_AVAILABLE": 0.0}, "avStatus":"BACKORDER", "inStock":false, "ATS": 10000.0, "inStockDate": "Mon Dec 30 12:00:00 GMT 2030" , "pricing": {"standard": "799.0", "sale": "799.0", "isPromoPrice": false, "quantities": [ {"unit": "", "value": "1.0"} ]} }, {"id": "XR65-Q-LINEN-NAVY", "attributes": { "size": "Queen, 62 X 83 X 51-56''H" , "color": "Linen Navy" }, "avLevels": {"IN_STOCK": 0.0, "PREORDER": 0.0, "BACKORDER": 1.0, "NOT_AVAILABLE": 0.0}, "avStatus":"BACKORDER", "inStock":false, "ATS": 10000.0, "inStockDate": "Mon Dec 30 12:00:00 GMT 2030" , "pricing": {"standard": "799.0", "sale": "799.0", "isPromoPrice": false, "quantities": [ {"unit": "", "value": "1.0"} ]} }, {"id": "XR65-Q-LNN-SNDST", "attributes": { "size": "Queen, 62 X 83 X 51-56''H" , "color": "Linen Sandstone" }, "avLevels": {"IN_STOCK": 0.0, "PREORDER": 0.0, "BACKORDER": 1.0, "NOT_AVAILABLE": 0.0}, "avStatus":"BACKORDER", "inStock":false, "ATS": 10000.0, "inStockDate": "Mon Dec 30 12:00:00 GMT 2030" , "pricing": {"standard": "799.0", "sale": "799.0", "isPromoPrice": false, "quantities": [ {"unit": "", "value": "1.0"} ]} }, {"id": "XR65-Q-L-SMKY-QRTZ", "attributes": { "size": "Queen, 62 X 83 X 51-56''H" , "color": "Linen Smokey Quartz" }, "avLevels": {"IN_STOCK": 0.0, "PREORDER": 0.0, "BACKORDER": 1.0, "NOT_AVAILABLE": 0.0}, "avStatus":"BACKORDER", "inStock":false, "ATS": 10000.0, "inStockDate": "Mon Dec 30 12:00:00 GMT 2030" , "pricing": {"standard": "799.0", "sale": "799.0", "isPromoPrice": false, "quantities": [ {"unit": "", "value": "1.0"} ]} }, {"id": "XR65-Q-MA-COBB", "attributes": { "size": "Queen, 62 X 83 X 51-56''H" , "color": "Marakesh Cobblestone" }, "avLevels": {"IN_STOCK": 0.0, "PREORDER": 0.0, "BACKORDER": 1.0, "NOT_AVAILABLE": 0.0}, "avStatus":"BACKORDER", "inStock":false, "ATS": 10000.0, "inStockDate": "Mon Dec 30 12:00:00 GMT 2030" , "pricing": {"standard": "799.0", "sale": "799.0", "isPromoPrice": false, "quantities": [ {"unit": "", "value": "1.0"} ]} }, {"id": "XR65-Q-MA-GRAPH", "attributes": { "size": "Queen, 62 X 83 X 51-56''H" , "color": "Marakesh Graphite" }, "avLevels": {"IN_STOCK": 0.0, "PREORDER": 0.0, "BACKORDER": 1.0, "NOT_AVAILABLE": 0.0}, "avStatus":"BACKORDER", "inStock":false, "ATS": 10000.0, "inStockDate": "Mon Dec 30 12:00:00 GMT 2030" , "pricing": {"standard": "799.0", "sale": "799.0", "isPromoPrice": false, "quantities": [ {"unit": "", "value": "1.0"} ]} }, {"id": "XR65-Q-TL-GRAY", "attributes": { "size": "Queen, 62 X 83 X 51-56''H" , "color": "Twill Gray" }, "avLevels": {"IN_STOCK": 0.0, "PREORDER": 0.0, "BACKORDER": 1.0, "NOT_AVAILABLE": 0.0}, "avStatus":"BACKORDER", "inStock":false, "ATS": 10000.0, "inStockDate": "Mon Dec 30 12:00:00 GMT 2030" , "pricing": {"standard": "749.0", "sale": "749.0", "isPromoPrice": false, "quantities": [ {"unit": "", "value": "1.0"} ]} }, {"id": "XR65-Q-TL-NTRL", "attributes": { "size": "Queen, 62 X 83 X 51-56''H" , "color": "Twill Natural" }, "avLevels": {"IN_STOCK": 0.0, "PREORDER": 0.0, "BACKORDER": 1.0, "NOT_AVAILABLE": 0.0}, "avStatus":"BACKORDER", "inStock":false, "ATS": 10000.0, "inStockDate": "Mon Dec 30 12:00:00 GMT 2030" , "pricing": {"standard": "749.0", "sale": "749.0", "isPromoPrice": false, "quantities": [ {"unit": "", "value": "1.0"} ]} }, {"id": "XR65-Q-TL-WHITE", "attributes": { "size": "Queen, 62 X 83 X 51-56''H" , "color": "Twill White" }, "avLevels": {"IN_STOCK": 0.0, "PREORDER": 0.0, "BACKORDER": 1.0, "NOT_AVAILABLE": 0.0}, "avStatus":"BACKORDER", "inStock":false, "ATS": 10000.0, "inStockDate": "Mon Dec 30 12:00:00 GMT 2030" , "pricing": {"standard": "749.0", "sale": "749.0", "isPromoPrice": false, "quantities": [ {"unit": "", "value": "1.0"} ]} }, {"id": "XR65-Q-VLVT-BLACK", "attributes": { "size": "Queen, 62 X 83 X 51-56''H" , "color": "Velvet Black" }, "avLevels": {"IN_STOCK": 0.0, "PREORDER": 0.0, "BACKORDER": 1.0, "NOT_AVAILABLE": 0.0}, "avStatus":"BACKORDER", "inStock":false, "ATS": 10000.0, "inStockDate": "Mon Dec 30 12:00:00 GMT 2030" , "pricing": {"standard": "749.0", "sale": "749.0", "isPromoPrice": false, "quantities": [ {"unit": "", "value": "1.0"} ]} }, {"id": "XR65-Q-VLVT-BCKWHT", "attributes": { "size": "Queen, 62 X 83 X 51-56''H" , "color": "Velvet Buckwheat" }, "avLevels": {"IN_STOCK": 0.0, "PREORDER": 0.0, "BACKORDER": 1.0, "NOT_AVAILABLE": 0.0}, "avStatus":"BACKORDER", "inStock":false, "ATS": 10000.0, "inStockDate": "Mon Dec 30 12:00:00 GMT 2030" , "pricing": {"standard": "749.0", "sale": "749.0", "isPromoPrice": false, "quantities": [ {"unit": "", "value": "1.0"} ]} }, {"id": "XR65-Q-VLVT-CHOCO", "attributes": { "size": "Queen, 62 X 83 X 51-56''H" , "color": "Velvet Chocolate" }, "avLevels": {"IN_STOCK": 0.0, "PREORDER": 0.0, "BACKORDER": 1.0, "NOT_AVAILABLE": 0.0}, "avStatus":"BACKORDER", "inStock":false, "ATS": 10000.0, "inStockDate": "Mon Dec 30 12:00:00 GMT 2030" , "pricing": {"standard": "749.0", "sale": "749.0", "isPromoPrice": false, "quantities": [ {"unit": "", "value": "1.0"} ]} }, {"id": "XR65-Q-VLVT-COCOA", "attributes": { "size": "Queen, 62 X 83 X 51-56''H" , "color": "Velvet Cocoa" }, "avLevels": {"IN_STOCK": 0.0, "PREORDER": 0.0, "BACKORDER": 1.0, "NOT_AVAILABLE": 0.0}, "avStatus":"BACKORDER", "inStock":false, "ATS": 10000.0, "inStockDate": "Mon Dec 30 12:00:00 GMT 2030" , "pricing": {"standard": "749.0", "sale": "749.0", "isPromoPrice": false, "quantities": [ {"unit": "", "value": "1.0"} ]} }, {"id": "XR65-Q-VLVT-HONEY", "attributes": { "size": "Queen, 62 X 83 X 51-56''H" , "color": "Velvet Honey" }, "avLevels": {"IN_STOCK": 0.0, "PREORDER": 0.0, "BACKORDER": 1.0, "NOT_AVAILABLE": 0.0}, "avStatus":"BACKORDER", "inStock":false, "ATS": 10000.0, "inStockDate": "Mon Dec 30 12:00:00 GMT 2030" , "pricing": {"standard": "749.0", "sale": "749.0", "isPromoPrice": false, "quantities": [ {"unit": "", "value": "1.0"} ]} }, {"id": "XR65-Q-VLVT-LGRY", "attributes": { "size": "Queen, 62 X 83 X 51-56''H" , "color": "Velvet Light Gray" }, "avLevels": {"IN_STOCK": 0.0, "PREORDER": 0.0, "BACKORDER": 1.0, "NOT_AVAILABLE": 0.0}, "avStatus":"BACKORDER", "inStock":false, "ATS": 10000.0, "inStockDate": "Mon Dec 30 12:00:00 GMT 2030" , "pricing": {"standard": "749.0", "sale": "749.0", "isPromoPrice": false, "quantities": [ {"unit": "", "value": "1.0"} ]} }, {"id": "XR65-Q-VLVT-PWTR", "attributes": { "size": "Queen, 62 X 83 X 51-56''H" , "color": "Velvet Pewter" }, "avLevels": {"IN_STOCK": 0.0, "PREORDER": 0.0, "BACKORDER": 1.0, "NOT_AVAILABLE": 0.0}, "avStatus":"BACKORDER", "inStock":false, "ATS": 10000.0, "inStockDate": "Mon Dec 30 12:00:00 GMT 2030" , "pricing": {"standard": "749.0", "sale": "749.0", "isPromoPrice": false, "quantities": [ {"unit": "", "value": "1.0"} ]} }, {"id": "XR65-Q-VLVT-POOL", "attributes": { "size": "Queen, 62 X 83 X 51-56''H" , "color": "Velvet Pool" }, "avLevels": {"IN_STOCK": 0.0, "PREORDER": 0.0, "BACKORDER": 1.0, "NOT_AVAILABLE": 0.0}, "avStatus":"BACKORDER", "inStock":false, "ATS": 10000.0, "inStockDate": "Mon Dec 30 12:00:00 GMT 2030" , "pricing": {"standard": "749.0", "sale": "749.0", "isPromoPrice": false, "quantities": [ {"unit": "", "value": "1.0"} ]} }, {"id": "XR65-Q-VLVT-WHITE", "attributes": { "size": "Queen, 62 X 83 X 51-56''H" , "color": "Velvet White" }, "avLevels": {"IN_STOCK": 0.0, "PREORDER": 0.0, "BACKORDER": 1.0, "NOT_AVAILABLE": 0.0}, "avStatus":"BACKORDER", "inStock":false, "ATS": 10000.0, "inStockDate": "Mon Dec 30 12:00:00 GMT 2030" , "pricing": {"standard": "749.0", "sale": "749.0", "isPromoPrice": false, "quantities": [ {"unit": "", "value": "1.0"} ]} }, {"id": "XR65-T-CH-CHK-BSKTW", "attributes": { "size": "Twin, 41 X 78 X 51-56''H" , "color": "Chambers Basketweave Chalk" }, "avLevels": {"IN_STOCK": 0.0, "PREORDER": 0.0, "BACKORDER": 1.0, "NOT_AVAILABLE": 0.0}, "avStatus":"BACKORDER", "inStock":false, "ATS": 10000.0, "inStockDate": "Mon Dec 30 12:00:00 GMT 2030" , "pricing": {"standard": "849.0", "sale": "849.0", "isPromoPrice": false, "quantities": [ {"unit": "", "value": "1.0"} ]} }, {"id": "XR65-T-CH-NAVY-BSKTWV", "attributes": { "size": "Twin, 41 X 78 X 51-56''H" , "color": "Chambers Basketweave Navy" }, "avLevels": {"IN_STOCK": 0.0, "PREORDER": 0.0, "BACKORDER": 1.0, "NOT_AVAILABLE": 0.0}, "avStatus":"BACKORDER", "inStock":false, "ATS": 10000.0, "inStockDate": "Mon Dec 30 12:00:00 GMT 2030" , "pricing": {"standard": "849.0", "sale": "849.0", "isPromoPrice": false, "quantities": [ {"unit": "", "value": "1.0"} ]} }, {"id": "XR65-T-CH-WLNT-BSKT", "attributes": { "size": "Twin, 41 X 78 X 51-56''H" , "color": "Chambers Basketweave Walnut" }, "avLevels": {"IN_STOCK": 0.0, "PREORDER": 0.0, "BACKORDER": 1.0, "NOT_AVAILABLE": 0.0}, "avStatus":"BACKORDER", "inStock":false, "ATS": 10000.0, "inStockDate": "Mon Dec 30 12:00:00 GMT 2030" , "pricing": {"standard": "849.0", "sale": "849.0", "isPromoPrice": false, "quantities": [ {"unit": "", "value": "1.0"} ]} }, {"id": "XR65-T-GLITZ-FILBERT", "attributes": { "size": "Twin, 41 X 78 X 51-56''H" , "color": "Glitz Filbert" }, "avLevels": {"IN_STOCK": 0.0, "PREORDER": 0.0, "BACKORDER": 1.0, "NOT_AVAILABLE": 0.0}, "avStatus":"BACKORDER", "inStock":false, "ATS": 10000.0, "inStockDate": "Mon Dec 30 12:00:00 GMT 2030" , "pricing": {"standard": "849.0", "sale": "849.0", "isPromoPrice": false, "quantities": [ {"unit": "", "value": "1.0"} ]} }, {"id": "XR65-T-GRO-PEW", "attributes": { "size": "Twin, 41 X 78 X 51-56''H" , "color": "Groupie Pewter" }, "avLevels": {"IN_STOCK": 0.0, "PREORDER": 0.0, "BACKORDER": 1.0, "NOT_AVAILABLE": 0.0}, "avStatus":"BACKORDER", "inStock":false, "ATS": 10000.0, "inStockDate": "Mon Dec 30 12:00:00 GMT 2030" , "pricing": {"standard": "849.0", "sale": "849.0", "isPromoPrice": false, "quantities": [ {"unit": "", "value": "1.0"} ]} }, {"id": "XR65-T-LNN-CHAR", "attributes": { "size": "Twin, 41 X 78 X 51-56''H" , "color": "Linen Charcoal" }, "avLevels": {"IN_STOCK": 0.0, "PREORDER": 0.0, "BACKORDER": 1.0, "NOT_AVAILABLE": 0.0}, "avStatus":"BACKORDER", "inStock":false, "ATS": 10000.0, "inStockDate": "Mon Dec 30 12:00:00 GMT 2030" , "pricing": {"standard": "799.0", "sale": "799.0", "isPromoPrice": false, "quantities": [ {"unit": "", "value": "1.0"} ]} }, {"id": "XR65-T-LINEN-GRAY", "attributes": { "size": "Twin, 41 X 78 X 51-56''H" , "color": "Linen Gray" }, "avLevels": {"IN_STOCK": 0.0, "PREORDER": 0.0, "BACKORDER": 1.0, "NOT_AVAILABLE": 0.0}, "avStatus":"BACKORDER", "inStock":false, "ATS": 10000.0, "inStockDate": "Mon Dec 30 12:00:00 GMT 2030" , "pricing": {"standard": "799.0", "sale": "799.0", "isPromoPrice": false, "quantities": [ {"unit": "", "value": "1.0"} ]} }, {"id": "XR65-T-LINEN-LAGUNA", "attributes": { "size": "Twin, 41 X 78 X 51-56''H" , "color": "Linen Laguna" }, "avLevels": {"IN_STOCK": 0.0, "PREORDER": 0.0, "BACKORDER": 1.0, "NOT_AVAILABLE": 0.0}, "avStatus":"BACKORDER", "inStock":false, "ATS": 10000.0, "inStockDate": "Mon Dec 30 12:00:00 GMT 2030" , "pricing": {"standard": "799.0", "sale": "799.0", "isPromoPrice": false, "quantities": [ {"unit": "", "value": "1.0"} ]} }, {"id": "XR65-T-LINEN-NAVY", "attributes": { "size": "Twin, 41 X 78 X 51-56''H" , "color": "Linen Navy" }, "avLevels": {"IN_STOCK": 0.0, "PREORDER": 0.0, "BACKORDER": 1.0, "NOT_AVAILABLE": 0.0}, "avStatus":"BACKORDER", "inStock":false, "ATS": 10000.0, "inStockDate": "Mon Dec 30 12:00:00 GMT 2030" , "pricing": {"standard": "799.0", "sale": "799.0", "isPromoPrice": false, "quantities": [ {"unit": "", "value": "1.0"} ]} }, {"id": "XR65-T-LNN-SNDST", "attributes": { "size": "Twin, 41 X 78 X 51-56''H" , "color": "Linen Sandstone" }, "avLevels": {"IN_STOCK": 0.0, "PREORDER": 0.0, "BACKORDER": 1.0, "NOT_AVAILABLE": 0.0}, "avStatus":"BACKORDER", "inStock":false, "ATS": 10000.0, "inStockDate": "Mon Dec 30 12:00:00 GMT 2030" , "pricing": {"standard": "799.0", "sale": "799.0", "isPromoPrice": false, "quantities": [ {"unit": "", "value": "1.0"} ]} }, {"id": "XR65-T-L-SMKY-QRTZ", "attributes": { "size": "Twin, 41 X 78 X 51-56''H" , "color": "Linen Smokey Quartz" }, "avLevels": {"IN_STOCK": 0.0, "PREORDER": 0.0, "BACKORDER": 1.0, "NOT_AVAILABLE": 0.0}, "avStatus":"BACKORDER", "inStock":false, "ATS": 10000.0, "inStockDate": "Mon Dec 30 12:00:00 GMT 2030" , "pricing": {"standard": "799.0", "sale": "799.0", "isPromoPrice": false, "quantities": [ {"unit": "", "value": "1.0"} ]} }, {"id": "XR65-T-MA-COBB", "attributes": { "size": "Twin, 41 X 78 X 51-56''H" , "color": "Marakesh Cobblestone" }, "avLevels": {"IN_STOCK": 0.0, "PREORDER": 0.0, "BACKORDER": 1.0, "NOT_AVAILABLE": 0.0}, "avStatus":"BACKORDER", "inStock":false, "ATS": 10000.0, "inStockDate": "Mon Dec 30 12:00:00 GMT 2030" , "pricing": {"standard": "799.0", "sale": "799.0", "isPromoPrice": false, "quantities": [ {"unit": "", "value": "1.0"} ]} }, {"id": "XR65-T-MA-GRAPH", "attributes": { "size": "Twin, 41 X 78 X 51-56''H" , "color": "Marakesh Graphite" }, "avLevels": {"IN_STOCK": 0.0, "PREORDER": 0.0, "BACKORDER": 1.0, "NOT_AVAILABLE": 0.0}, "avStatus":"BACKORDER", "inStock":false, "ATS": 10000.0, "inStockDate": "Mon Dec 30 12:00:00 GMT 2030" , "pricing": {"standard": "799.0", "sale": "799.0", "isPromoPrice": false, "quantities": [ {"unit": "", "value": "1.0"} ]} }, {"id": "XR65-T-TL-GRAY", "attributes": { "size": "Twin, 41 X 78 X 51-56''H" , "color": "Twill Gray" }, "avLevels": {"IN_STOCK": 0.0, "PREORDER": 0.0, "BACKORDER": 1.0, "NOT_AVAILABLE": 0.0}, "avStatus":"BACKORDER", "inStock":false, "ATS": 10000.0, "inStockDate": "Mon Dec 30 12:00:00 GMT 2030" , "pricing": {"standard": "749.0", "sale": "749.0", "isPromoPrice": false, "quantities": [ {"unit": "", "value": "1.0"} ]} }, {"id": "XR65-T-TL-NTRL", "attributes": { "size": "Twin, 41 X 78 X 51-56''H" , "color": "Twill Natural" }, "avLevels": {"IN_STOCK": 0.0, "PREORDER": 0.0, "BACKORDER": 1.0, "NOT_AVAILABLE": 0.0}, "avStatus":"BACKORDER", "inStock":false, "ATS": 10000.0, "inStockDate": "Mon Dec 30 12:00:00 GMT 2030" , "pricing": {"standard": "749.0", "sale": "749.0", "isPromoPrice": false, "quantities": [ {"unit": "", "value": "1.0"} ]} }, {"id": "XR65-T-TL-WHITE", "attributes": { "size": "Twin, 41 X 78 X 51-56''H" , "color": "Twill White" }, "avLevels": {"IN_STOCK": 0.0, "PREORDER": 0.0, "BACKORDER": 1.0, "NOT_AVAILABLE": 0.0}, "avStatus":"BACKORDER", "inStock":false, "ATS": 10000.0, "inStockDate": "Mon Dec 30 12:00:00 GMT 2030" , "pricing": {"standard": "749.0", "sale": "749.0", "isPromoPrice": false, "quantities": [ {"unit": "", "value": "1.0"} ]} }, {"id": "XR65-T-VLVT-BLACK", "attributes": { "size": "Twin, 41 X 78 X 51-56''H" , "color": "Velvet Black" }, "avLevels": {"IN_STOCK": 0.0, "PREORDER": 0.0, "BACKORDER": 1.0, "NOT_AVAILABLE": 0.0}, "avStatus":"BACKORDER", "inStock":false, "ATS": 10000.0, "inStockDate": "Mon Dec 30 12:00:00 GMT 2030" , "pricing": {"standard": "749.0", "sale": "749.0", "isPromoPrice": false, "quantities": [ {"unit": "", "value": "1.0"} ]} }, {"id": "XR65-T-VLVT-BCKWHT", "attributes": { "size": "Twin, 41 X 78 X 51-56''H" , "color": "Velvet Buckwheat" }, "avLevels": {"IN_STOCK": 0.0, "PREORDER": 0.0, "BACKORDER": 1.0, "NOT_AVAILABLE": 0.0}, "avStatus":"BACKORDER", "inStock":false, "ATS": 10000.0, "inStockDate": "Mon Dec 30 12:00:00 GMT 2030" , "pricing": {"standard": "749.0", "sale": "749.0", "isPromoPrice": false, "quantities": [ {"unit": "", "value": "1.0"} ]} }, {"id": "XR65-T-VLVT-CHOCO", "attributes": { "size": "Twin, 41 X 78 X 51-56''H" , "color": "Velvet Chocolate" }, "avLevels": {"IN_STOCK": 0.0, "PREORDER": 0.0, "BACKORDER": 1.0, "NOT_AVAILABLE": 0.0}, "avStatus":"BACKORDER", "inStock":false, "ATS": 10000.0, "inStockDate": "Mon Dec 30 12:00:00 GMT 2030" , "pricing": {"standard": "749.0", "sale": "749.0", "isPromoPrice": false, "quantities": [ {"unit": "", "value": "1.0"} ]} }, {"id": "XR65-T-VLVT-COCOA", "attributes": { "size": "Twin, 41 X 78 X 51-56''H" , "color": "Velvet Cocoa" }, "avLevels": {"IN_STOCK": 0.0, "PREORDER": 0.0, "BACKORDER": 1.0, "NOT_AVAILABLE": 0.0}, "avStatus":"BACKORDER", "inStock":false, "ATS": 10000.0, "inStockDate": "Mon Dec 30 12:00:00 GMT 2030" , "pricing": {"standard": "749.0", "sale": "749.0", "isPromoPrice": false, "quantities": [ {"unit": "", "value": "1.0"} ]} }, {"id": "XR65-T-VLVT-HONEY", "attributes": { "size": "Twin, 41 X 78 X 51-56''H" , "color": "Velvet Honey" }, "avLevels": {"IN_STOCK": 0.0, "PREORDER": 0.0, "BACKORDER": 1.0, "NOT_AVAILABLE": 0.0}, "avStatus":"BACKORDER", "inStock":false, "ATS": 10000.0, "inStockDate": "Mon Dec 30 12:00:00 GMT 2030" , "pricing": {"standard": "749.0", "sale": "749.0", "isPromoPrice": false, "quantities": [ {"unit": "", "value": "1.0"} ]} }, {"id": "XR65-T-VLVT-LGRY", "attributes": { "size": "Twin, 41 X 78 X 51-56''H" , "color": "Velvet Light Gray" }, "avLevels": {"IN_STOCK": 0.0, "PREORDER": 0.0, "BACKORDER": 1.0, "NOT_AVAILABLE": 0.0}, "avStatus":"BACKORDER", "inStock":false, "ATS": 10000.0, "inStockDate": "Mon Dec 30 12:00:00 GMT 2030" , "pricing": {"standard": "749.0", "sale": "749.0", "isPromoPrice": false, "quantities": [ {"unit": "", "value": "1.0"} ]} }, {"id": "XR65-T-VLVT-PWTR", "attributes": { "size": "Twin, 41 X 78 X 51-56''H" , "color": "Velvet Pewter" }, "avLevels": {"IN_STOCK": 0.0, "PREORDER": 0.0, "BACKORDER": 1.0, "NOT_AVAILABLE": 0.0}, "avStatus":"BACKORDER", "inStock":false, "ATS": 10000.0, "inStockDate": "Mon Dec 30 12:00:00 GMT 2030" , "pricing": {"standard": "749.0", "sale": "749.0", "isPromoPrice": false, "quantities": [ {"unit": "", "value": "1.0"} ]} }, {"id": "XR65-T-VLVT-POOL", "attributes": { "size": "Twin, 41 X 78 X 51-56''H" , "color": "Velvet Pool" }, "avLevels": {"IN_STOCK": 0.0, "PREORDER": 0.0, "BACKORDER": 1.0, "NOT_AVAILABLE": 0.0}, "avStatus":"BACKORDER", "inStock":false, "ATS": 10000.0, "inStockDate": "Mon Dec 30 12:00:00 GMT 2030" , "pricing": {"standard": "749.0", "sale": "749.0", "isPromoPrice": false, "quantities": [ {"unit": "", "value": "1.0"} ]} }, {"id": "XR65-T-VLVT-WHITE", "attributes": { "size": "Twin, 41 X 78 X 51-56''H" , "color": "Velvet White" }, "avLevels": {"IN_STOCK": 0.0, "PREORDER": 0.0, "BACKORDER": 1.0, "NOT_AVAILABLE": 0.0}, "avStatus":"BACKORDER", "inStock":false, "ATS": 10000.0, "inStockDate": "Mon Dec 30 12:00:00 GMT 2030" , "pricing": {"standard": "749.0", "sale": "749.0", "isPromoPrice": false, "quantities": [ {"unit": "", "value": "1.0"} ]} } ] }}