Continue Shopping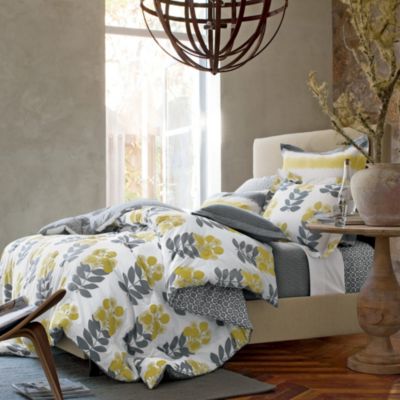 {"imageName":"http://s7d2.scene7.com/is/image/TheCompanyStore/comforter_wildwoodLanding_c12?$dw280$"}

{"imageName":"http://s7d2.scene7.com/is/image/TheCompanyStore/comforter_cz75_d12_v2_web?$dw280$"}

{"imageName":"http://s7d2.scene7.com/is/image/TheCompanyStore/comforter_cz75_d12_web?$dw280$"}

{"imageName":"http://s7d2.scene7.com/is/image/TheCompanyStore/duvet_du07_e12?$dw280$"}
LoftHome by The Company Store™ Wildwood Collection Comforter
Print
250-thread count reversible comforter / duvet.
100% cotton percale.
Comforter / duvet reverses to mini geometric print.
Duvet / comforter is filled with lofty, down-like poly fill.
The LoftHome Wildwood Collection is also available in a comforter cover, flat sheets, fitted sheets, pillowcases and shams.
All duvet covers come with corner ties that attach to the loops on our comforters to hold both in place.
Duvet cover/ comforter cover sold separately.
Coordinates with the LoftHome Matelasse bedding.
Machine wash.
Imported.
Exclusively ours.
Floral Gray Comforter Shown With:
LoftHome Upholstered Bed in Linen Sandstone (XR65)
LoftHome Cable Rug in Iron (UK74)
LoftHome Wildwood Bedding in Geo Gray and Stripe Gray (E5J3, E5J4, QT63)
LoftHome Matelassé in Gray (CZ76, N4R7)

The LoftHome Wildwood comforter by The Company Store offers dreamy cotton bedding options in mix and match designs. Made from soft and smooth 250-thread count cotton percale, this elegant duvet features soothing Asian florals on one side and a mini-geometric print on the other side for two modern looks in one. Both aesthetics create a tranquil bedroom ambiance brimming with sophisticated style. Filled with lofty, down-like polyester fill, this plush reversible duvet offers the perfect amount of comfort, warmth and soothing softness. You'll look forward to slipping under this reversible duvet from the LoftHome Wildwood Collection every night of the week. The comforter comes in twin, full, queen and king sizes.

Available exclusively at The Company Store, our inviting Wildwood comforter coordinates with the other sheets and bedding options in the LoftHome Wildwood Collection. Coordinate with the flat sheets, fitted sheets, pillowcases and sham and create a fantasy fusion in colorful ombre stripes, stylish mini geometrics and lovely Asian florals. The designer-inspired outcome will be uniquely suited to you and your home's tastes. You're sure to achieve the bedroom of your dreams with our LoftHome Wildwood comforter as the focal point.
{ "variations": { "variants": [ {"id": "CZ75_F_FGG", "attributes": { "size": "Full, 86x92''" , "color": "Floral Geo Gray" }, "avLevels": {"IN_STOCK": 0.0, "PREORDER": 0.0, "BACKORDER": 0.0, "NOT_AVAILABLE": 1.0}, "avStatus":"NOT_AVAILABLE", "inStock":false, "ATS": 0.0, "inStockDate": "Tue Dec 31 12:00:00 GMT 2030" , "pricing": {"standard": "129.0", "sale": "129.0", "isPromoPrice": false, "quantities": [ {"unit": "", "value": "1.0"} ]} }, {"id": "CZ75_F_SGG", "attributes": { "size": "Full, 86x92''" , "color": "Stripe Geo Gray" }, "avLevels": {"IN_STOCK": 0.0, "PREORDER": 0.0, "BACKORDER": 0.0, "NOT_AVAILABLE": 1.0}, "avStatus":"NOT_AVAILABLE", "inStock":false, "ATS": 0.0, "inStockDate": "Tue Dec 31 12:00:00 GMT 2030" , "pricing": {"standard": "129.0", "sale": "129.0", "isPromoPrice": false, "quantities": [ {"unit": "", "value": "1.0"} ]} }, {"id": "CZ75_K_FGC", "attributes": { "size": "King, 110x98''" , "color": "Floral Geo Chili" }, "avLevels": {"IN_STOCK": 0.0, "PREORDER": 0.0, "BACKORDER": 0.0, "NOT_AVAILABLE": 1.0}, "avStatus":"NOT_AVAILABLE", "inStock":false, "ATS": 0.0, "inStockDate": "Tue Dec 31 12:00:00 GMT 2030" , "pricing": {"standard": "169.0", "sale": "169.0", "isPromoPrice": false, "quantities": [ {"unit": "", "value": "1.0"} ]} }, {"id": "CZ75_K_FGG", "attributes": { "size": "King, 110x98''" , "color": "Floral Geo Gray" }, "avLevels": {"IN_STOCK": 0.0, "PREORDER": 0.0, "BACKORDER": 0.0, "NOT_AVAILABLE": 1.0}, "avStatus":"NOT_AVAILABLE", "inStock":false, "ATS": 0.0, "inStockDate": "Fri May 25 12:00:00 GMT 2012" , "pricing": {"standard": "169.0", "sale": "169.0", "isPromoPrice": false, "quantities": [ {"unit": "", "value": "1.0"} ]} }, {"id": "CZ75_K_SGG", "attributes": { "size": "King, 110x98''" , "color": "Stripe Geo Gray" }, "avLevels": {"IN_STOCK": 0.0, "PREORDER": 0.0, "BACKORDER": 0.0, "NOT_AVAILABLE": 1.0}, "avStatus":"NOT_AVAILABLE", "inStock":false, "ATS": 0.0, "inStockDate": "Tue Dec 31 12:00:00 GMT 2030" , "pricing": {"standard": "169.0", "sale": "169.0", "isPromoPrice": false, "quantities": [ {"unit": "", "value": "1.0"} ]} }, {"id": "CZ75_Q_FGC", "attributes": { "size": "Queen, 92x98''" , "color": "Floral Geo Chili" }, "avLevels": {"IN_STOCK": 0.0, "PREORDER": 0.0, "BACKORDER": 0.0, "NOT_AVAILABLE": 1.0}, "avStatus":"NOT_AVAILABLE", "inStock":false, "ATS": 0.0, "inStockDate": "Tue Dec 31 12:00:00 GMT 2030" , "pricing": {"standard": "149.0", "sale": "149.0", "isPromoPrice": false, "quantities": [ {"unit": "", "value": "1.0"} ]} }, {"id": "CZ75_Q_FGG", "attributes": { "size": "Queen, 92x98''" , "color": "Floral Geo Gray" }, "avLevels": {"IN_STOCK": 0.0, "PREORDER": 0.0, "BACKORDER": 0.0, "NOT_AVAILABLE": 1.0}, "avStatus":"NOT_AVAILABLE", "inStock":false, "ATS": 0.0, "inStockDate": "Tue May 08 12:00:00 GMT 2012" , "pricing": {"standard": "149.0", "sale": "149.0", "isPromoPrice": false, "quantities": [ {"unit": "", "value": "1.0"} ]} }, {"id": "CZ75_Q_SGG", "attributes": { "size": "Queen, 92x98''" , "color": "Stripe Geo Gray" }, "avLevels": {"IN_STOCK": 0.0, "PREORDER": 0.0, "BACKORDER": 0.0, "NOT_AVAILABLE": 1.0}, "avStatus":"NOT_AVAILABLE", "inStock":false, "ATS": 0.0, "inStockDate": "Tue Dec 31 12:00:00 GMT 2030" , "pricing": {"standard": "149.0", "sale": "149.0", "isPromoPrice": false, "quantities": [ {"unit": "", "value": "1.0"} ]} }, {"id": "CZ75_T_FGC", "attributes": { "size": "Twin, 72x92''" , "color": "Floral Geo Chili" }, "avLevels": {"IN_STOCK": 0.0, "PREORDER": 0.0, "BACKORDER": 0.0, "NOT_AVAILABLE": 1.0}, "avStatus":"NOT_AVAILABLE", "inStock":false, "ATS": 0.0, "inStockDate": "Tue Dec 31 12:00:00 GMT 2030" , "pricing": {"standard": "99.0", "sale": "49.5", "isPromoPrice": false, "quantities": [ {"unit": "", "value": "1.0"} ]} }, {"id": "CZ75_T_FGG", "attributes": { "size": "Twin, 72x92''" , "color": "Floral Geo Gray" }, "avLevels": {"IN_STOCK": 0.0, "PREORDER": 0.0, "BACKORDER": 0.0, "NOT_AVAILABLE": 1.0}, "avStatus":"NOT_AVAILABLE", "inStock":false, "ATS": 0.0, "inStockDate": "Tue Dec 31 12:00:00 GMT 2030" , "pricing": {"standard": "99.0", "sale": "99.0", "isPromoPrice": false, "quantities": [ {"unit": "", "value": "1.0"} ]} }, {"id": "CZ75_T_SGC", "attributes": { "size": "Twin, 72x92''" , "color": "Stripe Geo Chili" }, "avLevels": {"IN_STOCK": 0.0, "PREORDER": 0.0, "BACKORDER": 0.0, "NOT_AVAILABLE": 1.0}, "avStatus":"NOT_AVAILABLE", "inStock":false, "ATS": 0.0, "inStockDate": "Tue Dec 31 12:00:00 GMT 2030" , "pricing": {"standard": "99.0", "sale": "99.0", "isPromoPrice": false, "quantities": [ {"unit": "", "value": "1.0"} ]} }, {"id": "CZ75_T_SGG", "attributes": { "size": "Twin, 72x92''" , "color": "Stripe Geo Gray" }, "avLevels": {"IN_STOCK": 0.0, "PREORDER": 0.0, "BACKORDER": 0.0, "NOT_AVAILABLE": 1.0}, "avStatus":"NOT_AVAILABLE", "inStock":false, "ATS": 0.0, "inStockDate": "Tue Dec 31 12:00:00 GMT 2030" , "pricing": {"standard": "99.0", "sale": "99.0", "isPromoPrice": false, "quantities": [ {"unit": "", "value": "1.0"} ]} } ] }}