Continue Shopping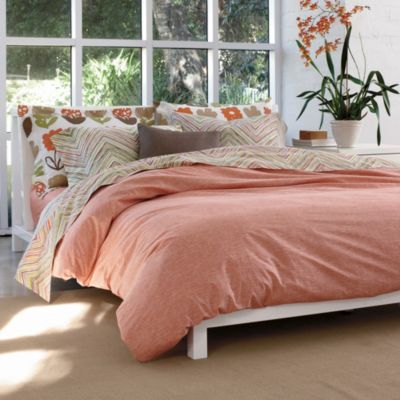 {"imageName":"http://s7d2.scene7.com/is/image/TheCompanyStore/duvetcover-ds36-c11?$dw280$"}

{"imageName":"http://s7d2.scene7.com/is/image/TheCompanyStore/sheets-e3w3-c11?$dw280$"}

{"imageName":"http://s7d2.scene7.com/is/image/TheCompanyStore/sheets-lofthome-c11?$dw280$"}

{"imageName":"http://s7d2.scene7.com/is/image/TheCompanyStore/duvetcover-ties-e11?$dw280$"}
LoftHome by The Company Store™ Texture Duvet Cover
Print
Duvet cover / comforter cover.
250-thread count 100% dream cotton.
Mix and match with our coordinating painterly florals and chevron LoftHome Bedding.
Button closure and hidden corner ties hold comforter in place.
Machine wash.
Imported.
Exclusively ours.
Blue Texture, Orange Texture, Tan Texture, Green Texture.
All duvet covers come with corner ties that attach to the loops on our comforters to hold both in place.
Shown With:
Linen Pillow Cover (PO16-ps)
LoftHome Chevron Bedding (E4Q5-ps)
LoftHome Modern Blossom Bedding (E4Q7-ps)

Discover what a little texture can do for your bedroom. This striking duvet cover / comforter cover brings an eclectic sensibility to your décor with a distinctive textured appearance. Designed to coordinate with our painterly floral and crayon-stripe chevron, our Texture duvet cover puts interior design at your fingertips. Mix, match and layer to create the look of your dreams – anything goes. Crisp and elegant, the duvet cover is woven in 250-thread count cotton percale. Convenient button closures and interior corner ties hold the comforter in place.
*Duvet/Comforter sold separately.
{ "variations": { "variants": [ {"id": "DS36_F_BLU", "attributes": { "size": "Full, 86x92''" , "color": "Blue" }, "avLevels": {"IN_STOCK": 0.0, "PREORDER": 0.0, "BACKORDER": 0.0, "NOT_AVAILABLE": 1.0}, "avStatus":"NOT_AVAILABLE", "inStock":false, "ATS": 0.0, "inStockDate": "Tue Dec 31 12:00:00 GMT 2030" , "pricing": {"standard": "109.0", "sale": "109.0", "isPromoPrice": false, "quantities": [ {"unit": "", "value": "1.0"} ]} }, {"id": "DS36_F_TAN", "attributes": { "size": "Full, 86x92''" , "color": "Tan" }, "avLevels": {"IN_STOCK": 0.0, "PREORDER": 0.0, "BACKORDER": 0.0, "NOT_AVAILABLE": 1.0}, "avStatus":"NOT_AVAILABLE", "inStock":false, "ATS": 0.0, "inStockDate": "Tue Dec 31 12:00:00 GMT 2030" , "pricing": {"standard": "109.0", "sale": "109.0", "isPromoPrice": false, "quantities": [ {"unit": "", "value": "1.0"} ]} }, {"id": "DS36_K_TAN", "attributes": { "size": "King, 110x98''" , "color": "Tan" }, "avLevels": {"IN_STOCK": 0.0, "PREORDER": 0.0, "BACKORDER": 0.0, "NOT_AVAILABLE": 1.0}, "avStatus":"NOT_AVAILABLE", "inStock":false, "ATS": 0.0, "inStockDate": "Tue Dec 31 12:00:00 GMT 2030" , "pricing": {"standard": "149.0", "sale": "149.0", "isPromoPrice": false, "quantities": [ {"unit": "", "value": "1.0"} ]} }, {"id": "DS36_Q_BLU", "attributes": { "size": "Queen, 92x98''" , "color": "Blue" }, "avLevels": {"IN_STOCK": 0.0, "PREORDER": 0.0, "BACKORDER": 0.0, "NOT_AVAILABLE": 1.0}, "avStatus":"NOT_AVAILABLE", "inStock":false, "ATS": 0.0, "inStockDate": "Tue Dec 31 12:00:00 GMT 2030" , "pricing": {"standard": "129.0", "sale": "129.0", "isPromoPrice": false, "quantities": [ {"unit": "", "value": "1.0"} ]} }, {"id": "DS36_Q_TAN", "attributes": { "size": "Queen, 92x98''" , "color": "Tan" }, "avLevels": {"IN_STOCK": 0.0, "PREORDER": 0.0, "BACKORDER": 0.0, "NOT_AVAILABLE": 1.0}, "avStatus":"NOT_AVAILABLE", "inStock":false, "ATS": 0.0, "inStockDate": "Tue Dec 31 12:00:00 GMT 2030" , "pricing": {"standard": "129.0", "sale": "129.0", "isPromoPrice": false, "quantities": [ {"unit": "", "value": "1.0"} ]} } ] }}