Linen Pillow Covers
Reg: $48.00
CLEARANCE: $6.99
Overview & Details
100% linen pillow covers.
Pillow covers zip off for easy washing.
Pillow insert sold separately.
Linen pillow covers coordinate with our linen window panels.
Linen pillow covers available in 12 different sizes and several different shapes so you can find the perfect one for your home.
Choose from five beautiful colors: Oxford, White, Parchment, Sand and Slate.
Imported.
Machine wash or dry clean.

Enjoy incomparable softness with our cozy linen pillow covers. Designed with a lightly textured finish that makes this fiber a perennial favorite, our lightweight and luxurious linen pillows covers fit a wide variety of pillows (all inserts sold separately). From small boudoir pillows to 16-inch square pillows, we've got you covered (in linen, that is)! Choose from twelve different sizes and several different shapes to find the perfect linen pillow cover for your needs.

A versatile home accent, our 100% linen pillow covers look great wherever they go—on a bed, sofa, chair, bench, rocking chair and more. These pillow cover favorites help create a laid-back yet sophisticated vibe that captures the carefree spirit of the season. The pillow covers also zip off for easy-care convenience.

Decorative details, like the right pillow covers, can make a big impact in the overall ambiance of the room. Try these essential pillow accents for yourself and see what we mean! They also coordinate with our linen window panels—combine both for a beautiful look. You can choose the linen pillow covers in a wide array of beautiful colors.
Reviews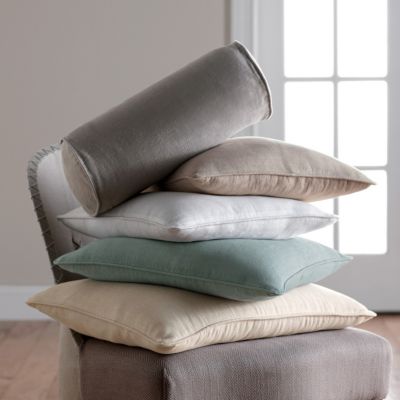 Monogram items are non-returnable due to their customization. Please allow an additional 5-7 business days for orders containing monogrammed items and an additional 7-12 business days during holiday & high volume times. Please check out our
Monogram Guide
for more info.
{"ID":"PO16-R12","isMonogrammable":true,"isCustomizationRequired":false,"monoItemNo":"MG06","customizationCode":"!12","styleOptions":"_1 Initial_2 Initials_3 Initials_Name or Word|02 Block_03 Diamond_04 Classic_05 Signet_08 Sketch_13 Collegiate_14 Traditional_15 Kids_*02 Block_03 Diamond_04 Classic_05 Signet_08 Sketch_13 Collegiate_15 Kids_*02 Block_03 Diamond_04 Classic_05 Signet_06 Modern_08 Sketch_13 Collegiate_15 Kids_*02 Block_04 Classic_07 Juliet_08 Sketch_13 Collegiate_14 Traditional_15 Kids_*|_1_1_1_1_1_1_11_0_0|","monoPrice":6.0,"configuration":"null", "optionType":""}
{ "variations": { "variants": [ {"id": "PO16-30-PARCHMENT", "attributes": { "size": "30'' Square" , "color": "Parchment" }, "avLevels": {"IN_STOCK": 1.0, "PREORDER": 0.0, "BACKORDER": 0.0, "NOT_AVAILABLE": 0.0}, "avStatus":"IN_STOCK", "inStock":true, "ATS": 21.0, "inStockDate": "" , "pricing": {"standard": "48.0", "sale": "6.99", "isPromoPrice": false, "quantities": [ {"unit": "", "value": "1.0"} ]} }, {"id": "PO16-30-SLATE", "attributes": { "size": "30'' Square" , "color": "Slate Gray" }, "avLevels": {"IN_STOCK": 0.0, "PREORDER": 0.0, "BACKORDER": 0.0, "NOT_AVAILABLE": 1.0}, "avStatus":"NOT_AVAILABLE", "inStock":false, "ATS": 0.0, "inStockDate": "" , "pricing": {"standard": "48.0", "sale": "6.99", "isPromoPrice": false, "quantities": [ {"unit": "", "value": "1.0"} ]} }, {"id": "PO16-30-OXFORD", "attributes": { "size": "30'' Square" , "color": "Oxford" }, "avLevels": {"IN_STOCK": 0.0, "PREORDER": 0.0, "BACKORDER": 0.0, "NOT_AVAILABLE": 1.0}, "avStatus":"NOT_AVAILABLE", "inStock":false, "ATS": 0.0, "inStockDate": "" , "pricing": {"standard": "48.0", "sale": "19.0", "isPromoPrice": false, "quantities": [ {"unit": "", "value": "1.0"} ]} }, {"id": "PO16-30-SAND", "attributes": { "size": "30'' Square" , "color": "Sand" }, "avLevels": {"IN_STOCK": 1.0, "PREORDER": 0.0, "BACKORDER": 0.0, "NOT_AVAILABLE": 0.0}, "avStatus":"IN_STOCK", "inStock":true, "ATS": 10.0, "inStockDate": "" , "pricing": {"standard": "48.0", "sale": "6.99", "isPromoPrice": false, "quantities": [ {"unit": "", "value": "1.0"} ]} }, {"id": "PO16-DEC-OXFORD", "attributes": { "size": "Medium Boudoir, 16x20''" , "color": "Oxford" }, "avLevels": {"IN_STOCK": 0.0, "PREORDER": 0.0, "BACKORDER": 0.0, "NOT_AVAILABLE": 1.0}, "avStatus":"NOT_AVAILABLE", "inStock":false, "ATS": 0.0, "inStockDate": "" , "pricing": {"standard": "28.0", "sale": "11.0", "isPromoPrice": false, "quantities": [ {"unit": "", "value": "1.0"} ]} }, {"id": "PO16-JUM-OXFORD", "attributes": { "size": "Large Boudoir, 16x24''" , "color": "Oxford" }, "avLevels": {"IN_STOCK": 1.0, "PREORDER": 0.0, "BACKORDER": 0.0, "NOT_AVAILABLE": 0.0}, "avStatus":"IN_STOCK", "inStock":true, "ATS": 1.0, "inStockDate": "" , "pricing": {"standard": "30.0", "sale": "6.99", "isPromoPrice": false, "quantities": [ {"unit": "", "value": "1.0"} ]} }, {"id": "PO16-JUM-PARCHMENT", "attributes": { "size": "Large Boudoir, 16x24''" , "color": "Parchment" }, "avLevels": {"IN_STOCK": 1.0, "PREORDER": 0.0, "BACKORDER": 0.0, "NOT_AVAILABLE": 0.0}, "avStatus":"IN_STOCK", "inStock":true, "ATS": 28.0, "inStockDate": "" , "pricing": {"standard": "30.0", "sale": "6.99", "isPromoPrice": false, "quantities": [ {"unit": "", "value": "1.0"} ]} }, {"id": "PO16-JUM-SAND", "attributes": { "size": "Large Boudoir, 16x24''" , "color": "Sand" }, "avLevels": {"IN_STOCK": 1.0, "PREORDER": 0.0, "BACKORDER": 0.0, "NOT_AVAILABLE": 0.0}, "avStatus":"IN_STOCK", "inStock":true, "ATS": 36.0, "inStockDate": "" , "pricing": {"standard": "30.0", "sale": "6.99", "isPromoPrice": false, "quantities": [ {"unit": "", "value": "1.0"} ]} }, {"id": "PO16-JUM-SLATE", "attributes": { "size": "Large Boudoir, 16x24''" , "color": "Slate Gray" }, "avLevels": {"IN_STOCK": 0.0, "PREORDER": 0.0, "BACKORDER": 0.0, "NOT_AVAILABLE": 1.0}, "avStatus":"NOT_AVAILABLE", "inStock":false, "ATS": 0.0, "inStockDate": "" , "pricing": {"standard": "30.0", "sale": "6.99", "isPromoPrice": false, "quantities": [ {"unit": "", "value": "1.0"} ]} }, {"id": "PO16-JUM-WHITE", "attributes": { "size": "Large Boudoir, 16x24''" , "color": "White" }, "avLevels": {"IN_STOCK": 1.0, "PREORDER": 0.0, "BACKORDER": 0.0, "NOT_AVAILABLE": 0.0}, "avStatus":"IN_STOCK", "inStock":true, "ATS": 31.0, "inStockDate": "" , "pricing": {"standard": "30.0", "sale": "6.99", "isPromoPrice": false, "quantities": [ {"unit": "", "value": "1.0"} ]} } ] }}