Legends® 600-Thread Count Egyptian Cotton Solid Sateen Duvet Cover - Oversized
Overview & Details
Oversized Egyptian cotton duvet cover / comforter cover.
Elegant hemstitched detail adds the finishing touch.
600-thread count Egyptian cotton solid sateen.
Cotton is combed for extra softness and enhanced with a lustrous sateen weave.
Button closure and hidden corner ties hold comforter in place.
All colors available in solid or our subtle woven stripe.
Machine wash.
Made in Portugal.
Personalize: Monogram is located 33" inches down from closed end of duvet (centered)

Enjoy the unparalleled luxury and legendary comfort of Egyptian cotton every night with our solid sateen duvet cover. Spun with single-ply yarns so fine they're woven 600 threads to every square inch, this duvet cover is pure opulence. The cotton is even combed for extra softness and enhanced with a lustrous sateen weave. Convenient button closures and interior corner ties hold the comforter in place. Duvet cover is oversized to fit larger duvets and comforters.
Reviews
Legends® 600-Thread Count Egyptian Cotton Solid Sateen Duvet Cover - Oversized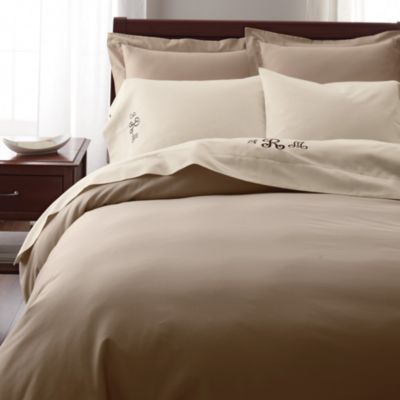 Monogram items are non-returnable due to their customization. Please allow an additional 5-7 business days for orders containing monogrammed items and an additional 7-12 business days during holiday & high volume times. Please check out our
Monogram Guide
for more info.
{"ID":"DP11-R10","isMonogrammable":true,"isCustomizationRequired":false,"monoItemNo":"MG12","customizationCode":"!12","styleOptions":"_1 Initial_2 Initials_3 Initials_Name or Word|02 Block_03 Diamond_04 Classic_05 Signet_08 Sketch_13 Collegiate_14 Traditional_15 Kids_*02 Block_03 Diamond_04 Classic_05 Signet_08 Sketch_13 Collegiate_15 Kids_*02 Block_03 Diamond_04 Classic_05 Signet_06 Modern_08 Sketch_13 Collegiate_15 Kids_*02 Block_04 Classic_07 Juliet_08 Sketch_13 Collegiate_14 Traditional_15 Kids_*|_1_1_1_1_1_1_11_0_0|","monoPrice":12.0,"configuration":"null", "optionType":""}
{ "variations": { "variants": [ ] }}