Large Hand-Blown Glass Votives
Overview & Details
• Hand-blown glass votives.
• Delicate round votives are mouth-blown with tiny filaments within the glass, adding dramatic texture and beauty to each piece.
• Available in two sizes.
• Large votives sold in a set of 2 (3.5" dia. x 4" h); small votives sold in a set of 4 (2.75" dia x 3" h).
• Wipe clean.
• Made in Germany.

Set the holidays aglow with these festive hand-blown glass votives. Hand-blown in Germany, these exquisite round votives feature tiny filaments within the clear glass to capture and reflect the light. Large votives are available in a set of 2; small votives come in a set of 4.
Reviews
Large Hand-Blown Glass Votives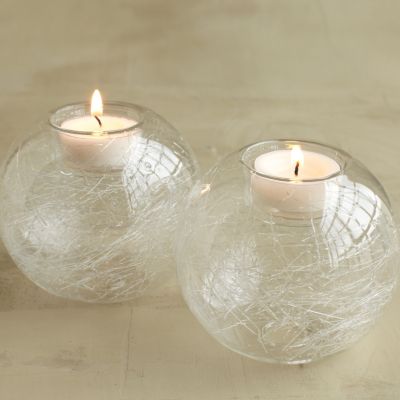 { "variations": { "variants": [ ] }}