LaCrosse® Jr. Medium Warmth TCS® Down Comforter
$149.00-$199.00
SALE: $134.00-$179.00
Overview & Details
Kids' down comforter.
Hypoallergenic down comforter for kids, made with lofty 500-550 fill power TCS Down.
232-thread-count cotton shell.
Handcrafted in our LaCrosse, WI factory.
Our kids' comforters are available in a variety of fun colors for any child's bedroom.
Also available as a down-alternative comforter with hypoallergenic Primaloft fill, sold separately.
Machine wash.
Made in USA.
Exclusively ours.

Our bestselling kids' comforters stack up to big savings! Perfect for children of any age, from tot to teen, our LaCrosse Jr. Medium Warmth TCS Down Comforter for kids is available in a new assortment of colors. Our lofty hypoallergenic 500-550 fill power TCS Down gives this kids' comforter a perfectly plush feel, with just the right amount of weight and warmth for year-round comfort. The down comforter is also covered in a 232-thread-count cotton shell with 12" sewn-through box construction, which prevents the fill from shifting. Handcrafted in our LaCrosse, WI factory. Available exclusively at Company Kids.
Size Information
Twin: 62x88"
Full/Queen: 88x88"
Reviews
Lifetime Guarantee
Lifetime Guarantee

All products manufactured in our La Crosse, WI factory are covered by our Lifetime Guarantee. These products may be returned at any time (certain exclusions apply). We will gladly offer you an exchange, refund or merchandise credit (excluding delivery and service charges).
Look for this symbol
throughout the catalog and website which indicates the product carries a Lifetime Guarantee.
LaCrosse® Jr. Medium Warmth TCS® Down Comforter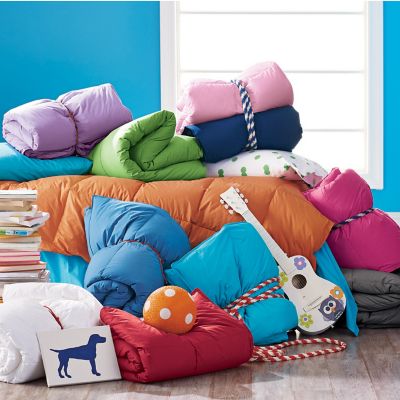 $149.00-$199.00
SALE: $134.00-$179.00
Monogram items are non-returnable due to their customization. Please allow an additional 5-7 business days for orders containing monogrammed items and an additional 7-12 business days during holiday & high volume times. Please check out our
Monogram Guide
for more info.
{"ID":"30120","isMonogrammable":true,"isCustomizationRequired":false,"monoItemNo":"MG12","customizationCode":"!12","styleOptions":"_1 Initial_2 Initials_3 Initials_Name or Word|02 Block_03 Diamond_04 Classic_05 Signet_08 Sketch_13 Collegiate_14 Traditional_15 Kids_*02 Block_03 Diamond_04 Classic_05 Signet_08 Sketch_13 Collegiate_15 Kids_*02 Block_03 Diamond_04 Classic_05 Signet_06 Modern_08 Sketch_13 Collegiate_15 Kids_*02 Block_04 Classic_07 Juliet_08 Sketch_13 Collegiate_14 Traditional_15 Kids_*|_1_1_1_1_1_1_11_0_0|","monoPrice":12.0,"configuration":"null", "optionType":""}
{ "variations": { "variants": [ {"id": "30120_FQ_BTI", "attributes": { "size": "Full/Queen 88 x 88''" , "color": "Blue Tide" }, "avLevels": {"IN_STOCK": 1.0, "PREORDER": 0.0, "BACKORDER": 0.0, "NOT_AVAILABLE": 0.0}, "avStatus":"IN_STOCK", "inStock":true, "ATS": 38.0, "inStockDate": "Fri Jan 16 12:00:00 GMT 2015" , "pricing": {"standard": "199.0", "sale": "179.0", "isPromoPrice": false, "quantities": [ {"unit": "", "value": "1.0"} ]} }, {"id": "30120_FQ_BGU", "attributes": { "size": "Full/Queen 88 x 88''" , "color": "Bubblegum" }, "avLevels": {"IN_STOCK": 1.0, "PREORDER": 0.0, "BACKORDER": 0.0, "NOT_AVAILABLE": 0.0}, "avStatus":"IN_STOCK", "inStock":true, "ATS": 13.0, "inStockDate": "Fri Jan 16 12:00:00 GMT 2015" , "pricing": {"standard": "199.0", "sale": "179.0", "isPromoPrice": false, "quantities": [ {"unit": "", "value": "1.0"} ]} }, {"id": "30120_FQ_CRE", "attributes": { "size": "Full/Queen 88 x 88''" , "color": "Classic Red" }, "avLevels": {"IN_STOCK": 0.0, "PREORDER": 0.0, "BACKORDER": 0.0, "NOT_AVAILABLE": 1.0}, "avStatus":"NOT_AVAILABLE", "inStock":false, "ATS": 0.0, "inStockDate": "Fri Jan 16 12:00:00 GMT 2015" , "pricing": {"standard": "199.0", "sale": "179.0", "isPromoPrice": false, "quantities": [ {"unit": "", "value": "1.0"} ]} }, {"id": "30120_FQ_HPI", "attributes": { "size": "Full/Queen 88 x 88''" , "color": "Hot Pink" }, "avLevels": {"IN_STOCK": 1.0, "PREORDER": 0.0, "BACKORDER": 0.0, "NOT_AVAILABLE": 0.0}, "avStatus":"IN_STOCK", "inStock":true, "ATS": 20.0, "inStockDate": "Fri Jan 16 12:00:00 GMT 2015" , "pricing": {"standard": "199.0", "sale": "179.0", "isPromoPrice": false, "quantities": [ {"unit": "", "value": "1.0"} ]} }, {"id": "30120_FQ_WHI", "attributes": { "size": "Full/Queen 88 x 88''" , "color": "White" }, "avLevels": {"IN_STOCK": 1.0, "PREORDER": 0.0, "BACKORDER": 0.0, "NOT_AVAILABLE": 0.0}, "avStatus":"IN_STOCK", "inStock":true, "ATS": 7.0, "inStockDate": "Fri Jan 16 12:00:00 GMT 2015" , "pricing": {"standard": "199.0", "sale": "179.0", "isPromoPrice": false, "quantities": [ {"unit": "", "value": "1.0"} ]} }, {"id": "30120_FQ_WFL", "attributes": { "size": "Full/Queen 88 x 88''" , "color": "Wild Flower" }, "avLevels": {"IN_STOCK": 1.0, "PREORDER": 0.0, "BACKORDER": 0.0, "NOT_AVAILABLE": 0.0}, "avStatus":"IN_STOCK", "inStock":true, "ATS": 17.0, "inStockDate": "Fri Jan 16 12:00:00 GMT 2015" , "pricing": {"standard": "199.0", "sale": "179.0", "isPromoPrice": false, "quantities": [ {"unit": "", "value": "1.0"} ]} }, {"id": "30120_T_BTI", "attributes": { "size": "Twin, 62 x 88''" , "color": "Blue Tide" }, "avLevels": {"IN_STOCK": 1.0, "PREORDER": 0.0, "BACKORDER": 0.0, "NOT_AVAILABLE": 0.0}, "avStatus":"IN_STOCK", "inStock":true, "ATS": 14.0, "inStockDate": "Fri Dec 19 12:00:00 GMT 2014" , "pricing": {"standard": "149.0", "sale": "134.0", "isPromoPrice": false, "quantities": [ {"unit": "", "value": "1.0"} ]} }, {"id": "30120_T_BGU", "attributes": { "size": "Twin, 62 x 88''" , "color": "Bubblegum" }, "avLevels": {"IN_STOCK": 0.0, "PREORDER": 0.0, "BACKORDER": 0.0, "NOT_AVAILABLE": 1.0}, "avStatus":"NOT_AVAILABLE", "inStock":false, "ATS": 0.0, "inStockDate": "Fri Jan 16 12:00:00 GMT 2015" , "pricing": {"standard": "149.0", "sale": "134.0", "isPromoPrice": false, "quantities": [ {"unit": "", "value": "1.0"} ]} }, {"id": "30120_T_CRE", "attributes": { "size": "Twin, 62 x 88''" , "color": "Classic Red" }, "avLevels": {"IN_STOCK": 1.0, "PREORDER": 0.0, "BACKORDER": 0.0, "NOT_AVAILABLE": 0.0}, "avStatus":"IN_STOCK", "inStock":true, "ATS": 15.0, "inStockDate": "Fri Jan 16 12:00:00 GMT 2015" , "pricing": {"standard": "149.0", "sale": "134.0", "isPromoPrice": false, "quantities": [ {"unit": "", "value": "1.0"} ]} }, {"id": "30120_T_HPI", "attributes": { "size": "Twin, 62 x 88''" , "color": "Hot Pink" }, "avLevels": {"IN_STOCK": 1.0, "PREORDER": 0.0, "BACKORDER": 0.0, "NOT_AVAILABLE": 0.0}, "avStatus":"IN_STOCK", "inStock":true, "ATS": 21.0, "inStockDate": "Fri Jan 16 12:00:00 GMT 2015" , "pricing": {"standard": "149.0", "sale": "134.0", "isPromoPrice": false, "quantities": [ {"unit": "", "value": "1.0"} ]} }, {"id": "30120_T_WHI", "attributes": { "size": "Twin, 62 x 88''" , "color": "White" }, "avLevels": {"IN_STOCK": 0.0, "PREORDER": 0.0, "BACKORDER": 0.0, "NOT_AVAILABLE": 1.0}, "avStatus":"NOT_AVAILABLE", "inStock":false, "ATS": 0.0, "inStockDate": "Fri Jan 16 12:00:00 GMT 2015" , "pricing": {"standard": "149.0", "sale": "134.0", "isPromoPrice": false, "quantities": [ {"unit": "", "value": "1.0"} ]} }, {"id": "30120_T_WFL", "attributes": { "size": "Twin, 62 x 88''" , "color": "Wild Flower" }, "avLevels": {"IN_STOCK": 0.0, "PREORDER": 0.0, "BACKORDER": 1.0, "NOT_AVAILABLE": 0.0}, "avStatus":"BACKORDER", "inStock":false, "ATS": 13.0, "inStockDate": "Fri Dec 19 12:00:00 GMT 2014" , "pricing": {"standard": "149.0", "sale": "134.0", "isPromoPrice": false, "quantities": [ {"unit": "", "value": "1.0"} ]} }, {"id": "30120_FQ_CARIBBEAN", "attributes": { "size": "Full/Queen 88 x 88''" , "color": "Caribbean" }, "avLevels": {"IN_STOCK": 1.0, "PREORDER": 0.0, "BACKORDER": 0.0, "NOT_AVAILABLE": 0.0}, "avStatus":"IN_STOCK", "inStock":true, "ATS": 39.0, "inStockDate": "Sat Jun 21 12:00:00 GMT 2014" , "pricing": {"standard": "199.0", "sale": "179.0", "isPromoPrice": false, "quantities": [ {"unit": "", "value": "1.0"} ]} }, {"id": "30120_FQ_OCN_BL", "attributes": { "size": "Full/Queen 88 x 88''" , "color": "Ocean Blue" }, "avLevels": {"IN_STOCK": 1.0, "PREORDER": 0.0, "BACKORDER": 0.0, "NOT_AVAILABLE": 0.0}, "avStatus":"IN_STOCK", "inStock":true, "ATS": 9.0, "inStockDate": "Fri Jan 16 12:00:00 GMT 2015" , "pricing": {"standard": "199.0", "sale": "179.0", "isPromoPrice": false, "quantities": [ {"unit": "", "value": "1.0"} ]} }, {"id": "30120_FQ_ORA_CRSH", "attributes": { "size": "Full/Queen 88 x 88''" , "color": "Orange Crush" }, "avLevels": {"IN_STOCK": 0.0, "PREORDER": 0.0, "BACKORDER": 0.0, "NOT_AVAILABLE": 1.0}, "avStatus":"NOT_AVAILABLE", "inStock":false, "ATS": 0.0, "inStockDate": "Thu Dec 18 12:00:00 GMT 2014" , "pricing": {"standard": "199.0", "sale": "179.0", "isPromoPrice": false, "quantities": [ {"unit": "", "value": "1.0"} ]} }, {"id": "30120_FQ_SPRNG_GRN", "attributes": { "size": "Full/Queen 88 x 88''" , "color": "Spring Green" }, "avLevels": {"IN_STOCK": 1.0, "PREORDER": 0.0, "BACKORDER": 0.0, "NOT_AVAILABLE": 0.0}, "avStatus":"IN_STOCK", "inStock":true, "ATS": 60.0, "inStockDate": "Sat Jun 21 12:00:00 GMT 2014" , "pricing": {"standard": "199.0", "sale": "179.0", "isPromoPrice": false, "quantities": [ {"unit": "", "value": "1.0"} ]} }, {"id": "30120_T_CARIBBEAN", "attributes": { "size": "Twin, 62 x 88''" , "color": "Caribbean" }, "avLevels": {"IN_STOCK": 1.0, "PREORDER": 0.0, "BACKORDER": 0.0, "NOT_AVAILABLE": 0.0}, "avStatus":"IN_STOCK", "inStock":true, "ATS": 41.0, "inStockDate": "Thu Sep 04 12:00:00 GMT 2014" , "pricing": {"standard": "149.0", "sale": "134.0", "isPromoPrice": false, "quantities": [ {"unit": "", "value": "1.0"} ]} }, {"id": "30120_T_OCN_BL", "attributes": { "size": "Twin, 62 x 88''" , "color": "Ocean Blue" }, "avLevels": {"IN_STOCK": 1.0, "PREORDER": 0.0, "BACKORDER": 0.0, "NOT_AVAILABLE": 0.0}, "avStatus":"IN_STOCK", "inStock":true, "ATS": 189.0, "inStockDate": "Sat Jun 21 12:00:00 GMT 2014" , "pricing": {"standard": "149.0", "sale": "134.0", "isPromoPrice": false, "quantities": [ {"unit": "", "value": "1.0"} ]} }, {"id": "30120_T_ORA_CRSH", "attributes": { "size": "Twin, 62 x 88''" , "color": "Orange Crush" }, "avLevels": {"IN_STOCK": 1.0, "PREORDER": 0.0, "BACKORDER": 0.0, "NOT_AVAILABLE": 0.0}, "avStatus":"IN_STOCK", "inStock":true, "ATS": 52.0, "inStockDate": "Sat Jun 21 12:00:00 GMT 2014" , "pricing": {"standard": "149.0", "sale": "134.0", "isPromoPrice": false, "quantities": [ {"unit": "", "value": "1.0"} ]} }, {"id": "30120_T_SPRNG_GRN", "attributes": { "size": "Twin, 62 x 88''" , "color": "Spring Green" }, "avLevels": {"IN_STOCK": 1.0, "PREORDER": 0.0, "BACKORDER": 0.0, "NOT_AVAILABLE": 0.0}, "avStatus":"IN_STOCK", "inStock":true, "ATS": 66.0, "inStockDate": "Fri Jan 16 12:00:00 GMT 2015" , "pricing": {"standard": "149.0", "sale": "134.0", "isPromoPrice": false, "quantities": [ {"unit": "", "value": "1.0"} ]} } ] }}