Continue Shopping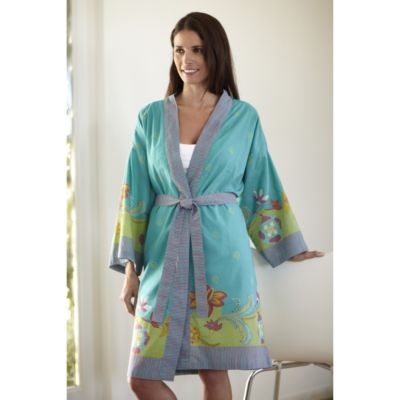 Kariali Kimono Robe
Print
100% cotton kimono robe.
Kariali Kimono robe available in three lovely color options, all featuring a brilliant floral motif and contrasting striped borders for
a fresh style statement.
Robe perfect for relaxing after a bath, lounging poolside and more.
Imported.
Machine wash.
Exclusively ours.

Get wrapped up in the irresistibly chic style of our Kariali Kimono robe. A lovely and lightweight layer, this comfy cotton kimono-style robe is a perfect pick for relaxing after a hot shower or bath, lounging poolside, reading the paper on the deck and more. The cozy kimono robe features a soft and soothing feel and elegant design, making it a favorite for enjoying your downtime in ultimate style. You'll find yourself slipping into this Kariali Kimono robe any chance you get! The wide sleeves and waist-nipping belt create a flattering silhouette you'll love. Sometimes the little things in life, like this chic Kariali Kimono robe, make a big impact.

A sophisticated take on the classic look, our colorful eastern-inspired kimono robe is available in three beautiful shades all edged with a brilliant floral motif and finished with contrasting striped borders for a bright and breezy statement. Offering elevated style for daily enjoyment, this artfully chic Kariali Kimono robe transforms an everyday essential into a very special thing. Experience the robe for yourself and see what we mean. Exclusively ours, you'll only find our easy-care Kariali Kimono robe at The Company Store. The cotton Kariali Kimono robe also makes a great gift—everyone is sure to love it!
{ "variations": { "variants": [ {"id": "RJ31_L_BLU", "attributes": { "size": "L" , "color": "Blue" }, "avLevels": {"IN_STOCK": 0.0, "PREORDER": 0.0, "BACKORDER": 0.0, "NOT_AVAILABLE": 1.0}, "avStatus":"NOT_AVAILABLE", "inStock":false, "ATS": 0.0, "inStockDate": "" , "pricing": {"standard": "39.0", "sale": "39.0", "isPromoPrice": false, "quantities": [ {"unit": "", "value": "1.0"} ]} }, {"id": "RJ31_M_BLU", "attributes": { "size": "M" , "color": "Blue" }, "avLevels": {"IN_STOCK": 0.0, "PREORDER": 0.0, "BACKORDER": 0.0, "NOT_AVAILABLE": 1.0}, "avStatus":"NOT_AVAILABLE", "inStock":false, "ATS": 0.0, "inStockDate": "" , "pricing": {"standard": "39.0", "sale": "39.0", "isPromoPrice": false, "quantities": [ {"unit": "", "value": "1.0"} ]} }, {"id": "RJ31_S_BLU", "attributes": { "size": "S" , "color": "Blue" }, "avLevels": {"IN_STOCK": 0.0, "PREORDER": 0.0, "BACKORDER": 0.0, "NOT_AVAILABLE": 1.0}, "avStatus":"NOT_AVAILABLE", "inStock":false, "ATS": 0.0, "inStockDate": "" , "pricing": {"standard": "39.0", "sale": "39.0", "isPromoPrice": false, "quantities": [ {"unit": "", "value": "1.0"} ]} }, {"id": "RJ31_L_PIN", "attributes": { "size": "L" , "color": "Pink" }, "avLevels": {"IN_STOCK": 0.0, "PREORDER": 0.0, "BACKORDER": 0.0, "NOT_AVAILABLE": 1.0}, "avStatus":"NOT_AVAILABLE", "inStock":false, "ATS": 0.0, "inStockDate": "" , "pricing": {"standard": "39.0", "sale": "39.0", "isPromoPrice": false, "quantities": [ {"unit": "", "value": "1.0"} ]} }, {"id": "RJ31_M_PIN", "attributes": { "size": "M" , "color": "Pink" }, "avLevels": {"IN_STOCK": 0.0, "PREORDER": 0.0, "BACKORDER": 0.0, "NOT_AVAILABLE": 1.0}, "avStatus":"NOT_AVAILABLE", "inStock":false, "ATS": 0.0, "inStockDate": "" , "pricing": {"standard": "39.0", "sale": "39.0", "isPromoPrice": false, "quantities": [ {"unit": "", "value": "1.0"} ]} }, {"id": "RJ31_S_PIN", "attributes": { "size": "S" , "color": "Pink" }, "avLevels": {"IN_STOCK": 0.0, "PREORDER": 0.0, "BACKORDER": 0.0, "NOT_AVAILABLE": 1.0}, "avStatus":"NOT_AVAILABLE", "inStock":false, "ATS": 0.0, "inStockDate": "" , "pricing": {"standard": "39.0", "sale": "39.0", "isPromoPrice": false, "quantities": [ {"unit": "", "value": "1.0"} ]} }, {"id": "RJ31_L_YEL", "attributes": { "size": "L" , "color": "Yellow" }, "avLevels": {"IN_STOCK": 0.0, "PREORDER": 0.0, "BACKORDER": 0.0, "NOT_AVAILABLE": 1.0}, "avStatus":"NOT_AVAILABLE", "inStock":false, "ATS": 0.0, "inStockDate": "" , "pricing": {"standard": "39.0", "sale": "39.0", "isPromoPrice": false, "quantities": [ {"unit": "", "value": "1.0"} ]} }, {"id": "RJ31_M_YEL", "attributes": { "size": "M" , "color": "Yellow" }, "avLevels": {"IN_STOCK": 0.0, "PREORDER": 0.0, "BACKORDER": 0.0, "NOT_AVAILABLE": 1.0}, "avStatus":"NOT_AVAILABLE", "inStock":false, "ATS": 0.0, "inStockDate": "" , "pricing": {"standard": "39.0", "sale": "39.0", "isPromoPrice": false, "quantities": [ {"unit": "", "value": "1.0"} ]} }, {"id": "RJ31_S_YEL", "attributes": { "size": "S" , "color": "Yellow" }, "avLevels": {"IN_STOCK": 0.0, "PREORDER": 0.0, "BACKORDER": 0.0, "NOT_AVAILABLE": 1.0}, "avStatus":"NOT_AVAILABLE", "inStock":false, "ATS": 0.0, "inStockDate": "" , "pricing": {"standard": "39.0", "sale": "39.0", "isPromoPrice": false, "quantities": [ {"unit": "", "value": "1.0"} ]} } ] }}