Kaleidoscope Candleholder Set
Overview & Details
Kaleidoscope candleholder has the appearance of glass, but is made from recycled magazines.
Crafted for a mosaic effect; glass liner.
Two sizes- tealight or votive.
Set of two tealight or set of two votive.
Candles not included.
Wipe clean.
Imported.
Eco-friendly, dramatic colors. Our one-of-a-kind kaleidoscope candleholders have the appearance of colored glass, but are actually crafted from recycled magazines. Each piece of paper is rolled, sliced and then glued together on a glass votive to form a beautiful mosaic effect, lit or unlit. Choose the size that fits your décor best: tealight or votive. No matter where you place these unique accents, they will bring a kaleidoscope of color to your space.
Reviews
Kaleidoscope Candleholder Set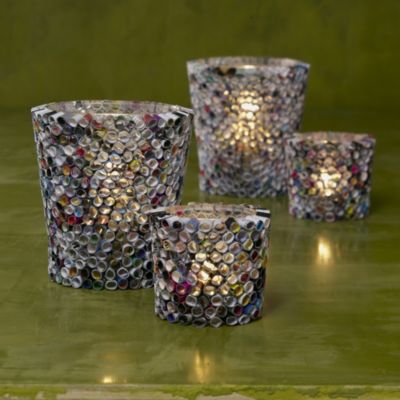 { "variations": { "variants": [ ] }}