Continue Shopping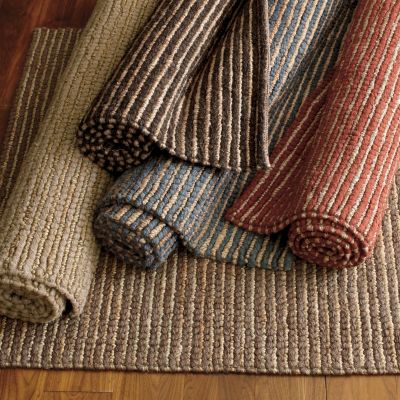 Jute/Wool Loop Rug
Print
Hand-woven rug.
50% jute / 50% wool.
Rug pad recommended (sold separately).
Spot clean or professionally clean.
Imported.
Exclusively ours.
Allow 2-4 weeks for rug delivery.
Available in 5 colors: natural, rust, taupe, blue and espresso.
Due to the size and weight of our larger items, special care and handling is required. Therefore, an additional shipping charge of $25 will be added to the 8 x 10' rug.

Versatile and durable, our hand-woven Jute/wool blend loop rug is part of The Company Store Jute rug collection. Loved for its natural look and highly durable nature, versatile jute can be used almost anywhere—including floors. Strong yet soft to the touch, natural jute fiber is one of the most desirable floor coverings around. We took a tried-and-true fiber and added sophistication and style to its long list of selling points. The result is a hand-woven chunky looped rug with a cool factor of its own—our jute/wool loop rug is the kind of destination piece you find in dwellings built with design in mind. Built to last, our heavy-duty rug will have the same striking effect and stylish appeal for years to come.

Exclusively ours, the exquisite Jute/wool loop rug is available in five beautiful colors: natural, rust, taupe, blue and espresso. Each color is neutral enough to blend in with your home's décor and colorful enough to add eye-catching flair. Truly the easiest way to enhance your home's décor and create a warm and inviting ambiance, our coveted Jute/wool loop rug is an essential statement piece.
{ "variations": { "variants": [ {"id": "UK85_2X3_BLU", "attributes": { "size": "2x3'" , "color": "Blue" }, "avLevels": {"IN_STOCK": 1.0, "PREORDER": 0.0, "BACKORDER": 0.0, "NOT_AVAILABLE": 0.0}, "avStatus":"IN_STOCK", "inStock":true, "ATS": 10060.0, "inStockDate": "Wed Dec 25 12:00:00 GMT 2013" , "pricing": {"standard": "79.0", "sale": "79.0", "isPromoPrice": false, "quantities": [ {"unit": "", "value": "1.0"} ]} }, {"id": "UK85_2X3_ESP", "attributes": { "size": "2x3'" , "color": "Espresso" }, "avLevels": {"IN_STOCK": 0.0, "PREORDER": 0.0, "BACKORDER": 0.0, "NOT_AVAILABLE": 1.0}, "avStatus":"NOT_AVAILABLE", "inStock":false, "ATS": 0.0, "inStockDate": "Sun Jul 14 12:00:00 GMT 2013" , "pricing": {"standard": "79.0", "sale": "79.0", "isPromoPrice": false, "quantities": [ {"unit": "", "value": "1.0"} ]} }, {"id": "UK85_2X3_NAT", "attributes": { "size": "2x3'" , "color": "Natural" }, "avLevels": {"IN_STOCK": 1.0, "PREORDER": 0.0, "BACKORDER": 0.0, "NOT_AVAILABLE": 0.0}, "avStatus":"IN_STOCK", "inStock":true, "ATS": 10030.0, "inStockDate": "Wed Dec 25 12:00:00 GMT 2013" , "pricing": {"standard": "79.0", "sale": "79.0", "isPromoPrice": false, "quantities": [ {"unit": "", "value": "1.0"} ]} }, {"id": "UK85_2X3_RUS", "attributes": { "size": "2x3'" , "color": "Rust" }, "avLevels": {"IN_STOCK": 1.0, "PREORDER": 0.0, "BACKORDER": 0.0, "NOT_AVAILABLE": 0.0}, "avStatus":"IN_STOCK", "inStock":true, "ATS": 10033.0, "inStockDate": "Wed Dec 25 12:00:00 GMT 2013" , "pricing": {"standard": "69.0", "sale": "69.0", "isPromoPrice": false, "quantities": [ {"unit": "", "value": "1.0"} ]} }, {"id": "UK85_2X3_TAU", "attributes": { "size": "2x3'" , "color": "Taupe" }, "avLevels": {"IN_STOCK": 1.0, "PREORDER": 0.0, "BACKORDER": 0.0, "NOT_AVAILABLE": 0.0}, "avStatus":"IN_STOCK", "inStock":true, "ATS": 53.0, "inStockDate": "Wed Dec 25 12:00:00 GMT 2013" , "pricing": {"standard": "69.0", "sale": "69.0", "isPromoPrice": false, "quantities": [ {"unit": "", "value": "1.0"} ]} }, {"id": "UK85_4X6_BLU", "attributes": { "size": "4x6'" , "color": "Blue" }, "avLevels": {"IN_STOCK": 1.0, "PREORDER": 0.0, "BACKORDER": 0.0, "NOT_AVAILABLE": 0.0}, "avStatus":"IN_STOCK", "inStock":true, "ATS": 10037.0, "inStockDate": "Wed Dec 25 12:00:00 GMT 2013" , "pricing": {"standard": "199.0", "sale": "199.0", "isPromoPrice": false, "quantities": [ {"unit": "", "value": "1.0"} ]} }, {"id": "UK85_4X6_ESP", "attributes": { "size": "4x6'" , "color": "Espresso" }, "avLevels": {"IN_STOCK": 0.0, "PREORDER": 0.0, "BACKORDER": 0.0, "NOT_AVAILABLE": 1.0}, "avStatus":"NOT_AVAILABLE", "inStock":false, "ATS": 0.0, "inStockDate": "Sun Jul 14 12:00:00 GMT 2013" , "pricing": {"standard": "199.0", "sale": "199.0", "isPromoPrice": false, "quantities": [ {"unit": "", "value": "1.0"} ]} }, {"id": "UK85_4X6_NAT", "attributes": { "size": "4x6'" , "color": "Natural" }, "avLevels": {"IN_STOCK": 1.0, "PREORDER": 0.0, "BACKORDER": 0.0, "NOT_AVAILABLE": 0.0}, "avStatus":"IN_STOCK", "inStock":true, "ATS": 10020.0, "inStockDate": "Wed Dec 25 12:00:00 GMT 2013" , "pricing": {"standard": "199.0", "sale": "199.0", "isPromoPrice": false, "quantities": [ {"unit": "", "value": "1.0"} ]} }, {"id": "UK85_4X6_RUS", "attributes": { "size": "4x6'" , "color": "Rust" }, "avLevels": {"IN_STOCK": 1.0, "PREORDER": 0.0, "BACKORDER": 0.0, "NOT_AVAILABLE": 0.0}, "avStatus":"IN_STOCK", "inStock":true, "ATS": 10021.0, "inStockDate": "Wed Dec 25 12:00:00 GMT 2013" , "pricing": {"standard": "169.0", "sale": "169.0", "isPromoPrice": false, "quantities": [ {"unit": "", "value": "1.0"} ]} }, {"id": "UK85_4X6_TAU", "attributes": { "size": "4x6'" , "color": "Taupe" }, "avLevels": {"IN_STOCK": 1.0, "PREORDER": 0.0, "BACKORDER": 0.0, "NOT_AVAILABLE": 0.0}, "avStatus":"IN_STOCK", "inStock":true, "ATS": 2.0, "inStockDate": "Wed Dec 25 12:00:00 GMT 2013" , "pricing": {"standard": "169.0", "sale": "169.0", "isPromoPrice": false, "quantities": [ {"unit": "", "value": "1.0"} ]} }, {"id": "UK85_5X8_BLU", "attributes": { "size": "5x8'" , "color": "Blue" }, "avLevels": {"IN_STOCK": 1.0, "PREORDER": 0.0, "BACKORDER": 0.0, "NOT_AVAILABLE": 0.0}, "avStatus":"IN_STOCK", "inStock":true, "ATS": 10029.0, "inStockDate": "Wed Dec 25 12:00:00 GMT 2013" , "pricing": {"standard": "299.0", "sale": "299.0", "isPromoPrice": false, "quantities": [ {"unit": "", "value": "1.0"} ]} }, {"id": "UK85_5X8_ESP", "attributes": { "size": "5x8'" , "color": "Espresso" }, "avLevels": {"IN_STOCK": 1.0, "PREORDER": 0.0, "BACKORDER": 0.0, "NOT_AVAILABLE": 0.0}, "avStatus":"IN_STOCK", "inStock":true, "ATS": 2.0, "inStockDate": "Fri Jul 26 12:00:00 GMT 2013" , "pricing": {"standard": "299.0", "sale": "299.0", "isPromoPrice": false, "quantities": [ {"unit": "", "value": "1.0"} ]} }, {"id": "UK85_5X8_NAT", "attributes": { "size": "5x8'" , "color": "Natural" }, "avLevels": {"IN_STOCK": 1.0, "PREORDER": 0.0, "BACKORDER": 0.0, "NOT_AVAILABLE": 0.0}, "avStatus":"IN_STOCK", "inStock":true, "ATS": 10024.0, "inStockDate": "Wed Dec 25 12:00:00 GMT 2013" , "pricing": {"standard": "299.0", "sale": "299.0", "isPromoPrice": false, "quantities": [ {"unit": "", "value": "1.0"} ]} }, {"id": "UK85_5X8_RUS", "attributes": { "size": "5x8'" , "color": "Rust" }, "avLevels": {"IN_STOCK": 1.0, "PREORDER": 0.0, "BACKORDER": 0.0, "NOT_AVAILABLE": 0.0}, "avStatus":"IN_STOCK", "inStock":true, "ATS": 10012.0, "inStockDate": "Wed Dec 25 12:00:00 GMT 2013" , "pricing": {"standard": "269.0", "sale": "269.0", "isPromoPrice": false, "quantities": [ {"unit": "", "value": "1.0"} ]} }, {"id": "UK85_5X8_TAU", "attributes": { "size": "5x8'" , "color": "Taupe" }, "avLevels": {"IN_STOCK": 0.0, "PREORDER": 0.0, "BACKORDER": 1.0, "NOT_AVAILABLE": 0.0}, "avStatus":"BACKORDER", "inStock":false, "ATS": 35.0, "inStockDate": "Wed Dec 25 12:00:00 GMT 2013" , "pricing": {"standard": "269.0", "sale": "269.0", "isPromoPrice": false, "quantities": [ {"unit": "", "value": "1.0"} ]} }, {"id": "UK85_L_BLU", "attributes": { "size": "8x10'" , "color": "Blue" }, "avLevels": {"IN_STOCK": 1.0, "PREORDER": 0.0, "BACKORDER": 0.0, "NOT_AVAILABLE": 0.0}, "avStatus":"IN_STOCK", "inStock":true, "ATS": 10014.0, "inStockDate": "Wed Dec 25 12:00:00 GMT 2013" , "pricing": {"standard": "499.0", "sale": "499.0", "isPromoPrice": false, "quantities": [ {"unit": "", "value": "1.0"} ]} }, {"id": "UK85_L_ESP", "attributes": { "size": "8x10'" , "color": "Espresso" }, "avLevels": {"IN_STOCK": 1.0, "PREORDER": 0.0, "BACKORDER": 0.0, "NOT_AVAILABLE": 0.0}, "avStatus":"IN_STOCK", "inStock":true, "ATS": 4.0, "inStockDate": "Fri Jul 26 12:00:00 GMT 2013" , "pricing": {"standard": "499.0", "sale": "499.0", "isPromoPrice": false, "quantities": [ {"unit": "", "value": "1.0"} ]} }, {"id": "UK85_L_NAT", "attributes": { "size": "8x10'" , "color": "Natural" }, "avLevels": {"IN_STOCK": 1.0, "PREORDER": 0.0, "BACKORDER": 0.0, "NOT_AVAILABLE": 0.0}, "avStatus":"IN_STOCK", "inStock":true, "ATS": 10007.0, "inStockDate": "Wed Dec 25 12:00:00 GMT 2013" , "pricing": {"standard": "499.0", "sale": "499.0", "isPromoPrice": false, "quantities": [ {"unit": "", "value": "1.0"} ]} }, {"id": "UK85_L_RUS", "attributes": { "size": "8x10'" , "color": "Rust" }, "avLevels": {"IN_STOCK": 1.0, "PREORDER": 0.0, "BACKORDER": 0.0, "NOT_AVAILABLE": 0.0}, "avStatus":"IN_STOCK", "inStock":true, "ATS": 10021.0, "inStockDate": "Wed Dec 25 12:00:00 GMT 2013" , "pricing": {"standard": "399.0", "sale": "399.0", "isPromoPrice": false, "quantities": [ {"unit": "", "value": "1.0"} ]} }, {"id": "UK85_L_TAU", "attributes": { "size": "8x10'" , "color": "Taupe" }, "avLevels": {"IN_STOCK": 1.0, "PREORDER": 0.0, "BACKORDER": 0.0, "NOT_AVAILABLE": 0.0}, "avStatus":"IN_STOCK", "inStock":true, "ATS": 2.0, "inStockDate": "Wed Dec 25 12:00:00 GMT 2013" , "pricing": {"standard": "399.0", "sale": "399.0", "isPromoPrice": false, "quantities": [ {"unit": "", "value": "1.0"} ]} }, {"id": "UK85_RUN_BLU", "attributes": { "size": "Runner, 2½x9'" , "color": "Blue" }, "avLevels": {"IN_STOCK": 1.0, "PREORDER": 0.0, "BACKORDER": 0.0, "NOT_AVAILABLE": 0.0}, "avStatus":"IN_STOCK", "inStock":true, "ATS": 10010.0, "inStockDate": "Wed Dec 25 12:00:00 GMT 2013" , "pricing": {"standard": "189.0", "sale": "189.0", "isPromoPrice": false, "quantities": [ {"unit": "", "value": "1.0"} ]} }, {"id": "UK85_RUN_ESP", "attributes": { "size": "Runner, 2½x9'" , "color": "Espresso" }, "avLevels": {"IN_STOCK": 0.0, "PREORDER": 0.0, "BACKORDER": 0.0, "NOT_AVAILABLE": 1.0}, "avStatus":"NOT_AVAILABLE", "inStock":false, "ATS": 0.0, "inStockDate": "Fri Jul 26 12:00:00 GMT 2013" , "pricing": {"standard": "189.0", "sale": "189.0", "isPromoPrice": false, "quantities": [ {"unit": "", "value": "1.0"} ]} }, {"id": "UK85_RUN_NAT", "attributes": { "size": "Runner, 2½x9'" , "color": "Natural" }, "avLevels": {"IN_STOCK": 1.0, "PREORDER": 0.0, "BACKORDER": 0.0, "NOT_AVAILABLE": 0.0}, "avStatus":"IN_STOCK", "inStock":true, "ATS": 10011.0, "inStockDate": "Wed Dec 25 12:00:00 GMT 2013" , "pricing": {"standard": "189.0", "sale": "189.0", "isPromoPrice": false, "quantities": [ {"unit": "", "value": "1.0"} ]} }, {"id": "UK85_RUN_RUS", "attributes": { "size": "Runner, 2½x9'" , "color": "Rust" }, "avLevels": {"IN_STOCK": 1.0, "PREORDER": 0.0, "BACKORDER": 0.0, "NOT_AVAILABLE": 0.0}, "avStatus":"IN_STOCK", "inStock":true, "ATS": 10014.0, "inStockDate": "Wed Dec 25 12:00:00 GMT 2013" , "pricing": {"standard": "159.0", "sale": "159.0", "isPromoPrice": false, "quantities": [ {"unit": "", "value": "1.0"} ]} }, {"id": "UK85_RUN_TAU", "attributes": { "size": "Runner, 2½x9'" , "color": "Taupe" }, "avLevels": {"IN_STOCK": 0.0, "PREORDER": 0.0, "BACKORDER": 1.0, "NOT_AVAILABLE": 0.0}, "avStatus":"BACKORDER", "inStock":false, "ATS": 68.0, "inStockDate": "Wed Dec 25 12:00:00 GMT 2013" , "pricing": {"standard": "159.0", "sale": "159.0", "isPromoPrice": false, "quantities": [ {"unit": "", "value": "1.0"} ]} } ] }}