Girls Soccer Hooded Towel
Overview & Details
• Fun and colorful kids' towels for the beach, bath or pool.
• Towels for kids feature hooded top for extra coziness.
• 30"H x 50"W.
• Made from soft, thirsty 100% cotton.
• Available in a variety of themes that kids love!
• Choose from Love, Soccer, Dinosaur and more.
• Machine wash.
• Imported.
• Exclusively ours.

Treat your little soccer star to ultimate softness – and pretty style – with this cozy hooded towel for kids. Designed in purple with a giant soccer ball on back, the Big Kids' Hooded Towel adds fun and comfy softness to any water activity, from the bath to the beach, pool and beyond.
Reviews
Girls Soccer Hooded Towel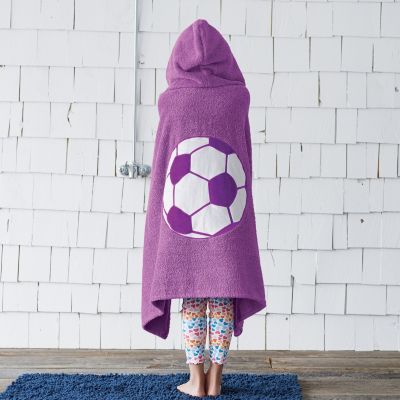 Monogram items are non-returnable due to their customization. Please allow an additional 5-7 business days for orders containing monogrammed items and an additional 7-12 business days during holiday & high volume times. Please check out our
Monogram Guide
for more info.
{"ID":"38167-GSO","isMonogrammable":true,"isCustomizationRequired":false,"monoItemNo":"MG06","customizationCode":"!12","styleOptions":"_1 Initial_2 Initials_3 Initials_Name or Word|02 Block_03 Diamond_04 Classic_05 Signet_08 Sketch_13 Collegiate_14 Traditional_15 Kids_*02 Block_03 Diamond_04 Classic_05 Signet_08 Sketch_13 Collegiate_15 Kids_*02 Block_03 Diamond_04 Classic_05 Signet_06 Modern_08 Sketch_13 Collegiate_15 Kids_*02 Block_04 Classic_07 Juliet_08 Sketch_13 Collegiate_14 Traditional_15 Kids_*|_1_1_1_1_1_1_11_0_0|","monoPrice":6.0,"configuration":"null", "optionType":""}
{ "variations": { "variants": [ ] }}