Mermaid Appliquéd Terry Robe
Overview & Details
Girls' bath robe.
Bathrobe for girls features cute appliqués and embroidery and fun ruffled trim.
Kids' bath robe made from soft cotton terry.
Choose from Mermaid or Pony theme.
Machine wash.
Imported
Sizes XS, S, M, L XL.

This girls' bath robe is so cute and pretty, she may want to wear it all day long! Your little girl will love the soft and cuddly texture of this super thirsty cotton terry bath robe for kids. Designed for after-bath fun and warm coziness, our Appliqued Terry Girls' Bath Robe features cute appliqués and embroidery in her choice of theme: whimsical Mermaid or pretty Pony. The bath robe also features long sleeves, a generous hood, tie belt and pretty ruffled trim.
Reviews
Mermaid Appliquéd Terry Robe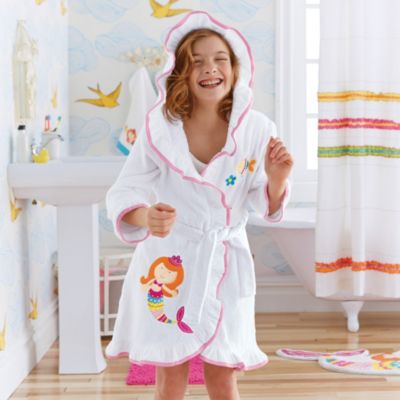 Monogram items are non-returnable due to their customization. Please allow an additional 5-7 business days for orders containing monogrammed items and an additional 7-12 business days during holiday & high volume times. Please check out our
Monogram Guide
for more info.
{"ID":"10550-MER","isMonogrammable":true,"isCustomizationRequired":false,"monoItemNo":"MG06","customizationCode":"!12","styleOptions":"_1 Initial_2 Initials_3 Initials_Name or Word|02 Block_03 Diamond_04 Classic_05 Signet_08 Sketch_13 Collegiate_14 Traditional_15 Kids_*02 Block_03 Diamond_04 Classic_05 Signet_08 Sketch_13 Collegiate_15 Kids_*02 Block_03 Diamond_04 Classic_05 Signet_06 Modern_08 Sketch_13 Collegiate_15 Kids_*02 Block_04 Classic_07 Juliet_08 Sketch_13 Collegiate_14 Traditional_15 Kids_*|_1_1_1_1_1_1_11_0_0|","monoPrice":6.0,"configuration":"null", "optionType":""}
{ "variations": { "variants": [ ] }}