Continue Shopping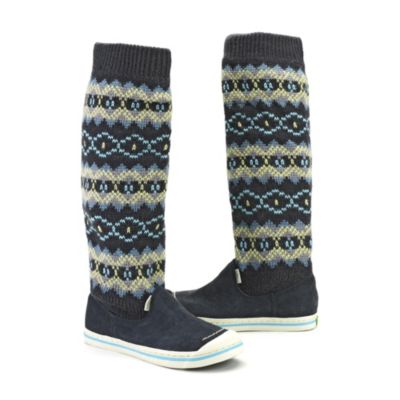 Print
Girls' boots.
Eco-friendly sneaker boots have certified organic suede uppers and 50% wool/50% acrylic knit shaft.
Certified organic cotton linings.
The "pedbed" (the cushiony and supportive stuff at the bottom of the boot) is made of EVA with BIO-D to make it biodegradable.
Bottoms made from 40% recycled car tire and 60% natural rubber with vulcanized rubber sidewalls.
Foot form inserts made from post-consumer recycled paper.
Eco-friendly comfort with style to boot! These uniquely chic girls' knit sneaker boots have a cool, eco-conscious sense of style, made with eco-certified suede uppers and a 50% wool/50% acrylic knit shaft. With partially recycled bottoms made from a blend of recycled car tire and natural rubber, these boots keep her comfortable and looking great, all while reducing her carbon footprint—they're the best boots for your little girl's world!
{ "variations": { "variants": [ ] }}