Continue Shopping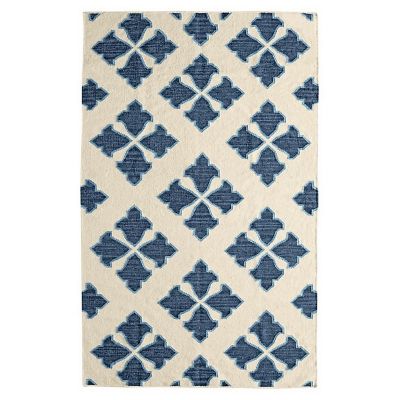 Foulard Rug
Print
Area rug handwoven of 80% wool/20% cotton.
Patterned with in a graphic foulard motif using space-dyed yarns for a weathered patina.
Clean, self-bound edges.
Rug grip recommended.
Professional clean.
Flatweave rug.
Imported.
Exclusively ours.

With the Foulard Area rug, we've translated a classic print into a graphic element for the floor. Handwoven on a traditional kilim loom, our soft wool rich flatweave rug is rendered in space-dyed hues for rich depth of color and a wonderful weathered look. Available exclusively at The Company Store.
{ "variations": { "variants": [ {"id": "UM56__2X3_MULTI", "attributes": { "size": "2 x 3" , "color": "Multi" }, "avLevels": {"IN_STOCK": 1.0, "PREORDER": 0.0, "BACKORDER": 0.0, "NOT_AVAILABLE": 0.0}, "avStatus":"IN_STOCK", "inStock":true, "ATS": 10079.0, "inStockDate": "Sun Dec 14 12:00:00 GMT 2014" , "pricing": {"standard": "79.0", "sale": "79.0", "isPromoPrice": false, "quantities": [ {"unit": "", "value": "1.0"} ]} }, {"id": "UM56__4X6_MULTI", "attributes": { "size": "4x6" , "color": "Multi" }, "avLevels": {"IN_STOCK": 1.0, "PREORDER": 0.0, "BACKORDER": 0.0, "NOT_AVAILABLE": 0.0}, "avStatus":"IN_STOCK", "inStock":true, "ATS": 10042.0, "inStockDate": "Sun Dec 14 12:00:00 GMT 2014" , "pricing": {"standard": "289.0", "sale": "289.0", "isPromoPrice": false, "quantities": [ {"unit": "", "value": "1.0"} ]} }, {"id": "UM56__5X8_MULTI", "attributes": { "size": "5x8" , "color": "Multi" }, "avLevels": {"IN_STOCK": 1.0, "PREORDER": 0.0, "BACKORDER": 0.0, "NOT_AVAILABLE": 0.0}, "avStatus":"IN_STOCK", "inStock":true, "ATS": 10032.0, "inStockDate": "Sun Dec 14 12:00:00 GMT 2014" , "pricing": {"standard": "479.0", "sale": "479.0", "isPromoPrice": false, "quantities": [ {"unit": "", "value": "1.0"} ]} }, {"id": "UM56__8X10_MULTI", "attributes": { "size": "8X10" , "color": "Multi" }, "avLevels": {"IN_STOCK": 1.0, "PREORDER": 0.0, "BACKORDER": 0.0, "NOT_AVAILABLE": 0.0}, "avStatus":"IN_STOCK", "inStock":true, "ATS": 10015.0, "inStockDate": "Sun Dec 14 12:00:00 GMT 2014" , "pricing": {"standard": "899.0", "sale": "899.0", "isPromoPrice": false, "quantities": [ {"unit": "", "value": "1.0"} ]} }, {"id": "UM56__RUN_MULTI", "attributes": { "size": "Runner, 2.5 x 9" , "color": "Multi" }, "avLevels": {"IN_STOCK": 1.0, "PREORDER": 0.0, "BACKORDER": 0.0, "NOT_AVAILABLE": 0.0}, "avStatus":"IN_STOCK", "inStock":true, "ATS": 10040.0, "inStockDate": "Sun Dec 14 12:00:00 GMT 2014" , "pricing": {"standard": "269.0", "sale": "269.0", "isPromoPrice": false, "quantities": [ {"unit": "", "value": "1.0"} ]} } ] }}