Festive Dog Collars - Xmas House
Overview & Details
Holiday-themed dog collar.
Festive dog collar made of nylon/polyester with silvertone brass hardware.
Printed ribbon is sewn onto soft, durable nylon webbing.
Adjustable, quick-release dog collar for easy convenience.
Festive ribbon dog collar coordinates with matching holiday dog leash.
Choose from fun and festive holiday prints like Let it snow, Holiday bone, Xmas house and Bow wow.
Collar size small (9" – 15") is sized for small-breed dogs including Beagles, Cocker Spaniels, Dachshunds, Lhasa Apsos, Poodles, Schnauzers and Westies.
Collar size medium (12" – 18") is sized for medium-breed dogs including Airedales, Cocker Spaniels, Corgis, Dalmatians, Pugs and Springer Spaniels.
Collar size large (15" – 21") is sized for large-breed dogs including Airedales, Bassets, Boxers, Bulldogs, Chesapeakes, Collies, Dobermans, German Shepherds and Labradors.
Machine wash/air dry.
Made in the USA.

What's the well accessorized canine wearing this season? Our festive ribbon dog collars, of course! Decorated with cheery seasonal themes in captivating colors, our fun and fashionable dog collars come in several holiday patterns like Let it snow, Holiday bone, Xmas house and Bow wow. Backed with high tensile-strength nylon webbing, these adorable dog collars also feature a printed ribbon design, silvertone brass hardware for a polished look and an easy quick-release buckle.

Available in three different sizes for a wide range of dog breeds, our festive dog collars are also adjustable so you can find the perfect fit for your pooch. Pair the colorful collar with our coordinated dog leash for a complete holiday look everyone will love... especially your dog!
Reviews
Festive Dog Collars - Xmas House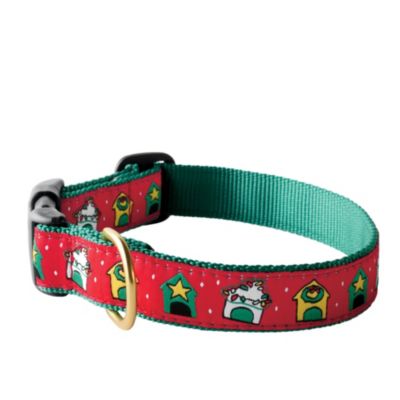 { "variations": { "variants": [ ] }}