null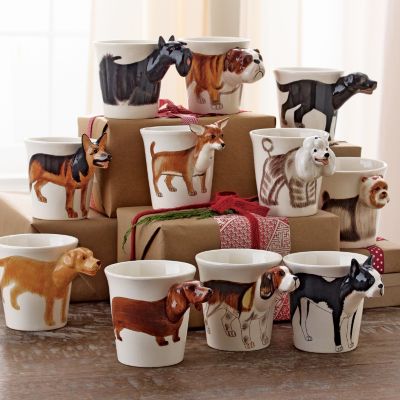 {"imageName":"http://s7d2.scene7.com/is/image/TheCompanyStore/dogmugs-ar02-1-j13?$dw280$"}

{"imageName":"http://s7d2.scene7.com/is/image/TheCompanyStore/dogmugs-ar02-3-j13?$dw280$"}

{"imageName":"http://s7d2.scene7.com/is/image/TheCompanyStore/dogmugs-ar02-j13?$dw280$"}

{"imageName":"http://s7d2.scene7.com/is/image/TheCompanyStore/dogmugs-ar02-2-j13?$dw280$"}

{"imageName":"http://s7d2.scene7.com/is/image/TheCompanyStore/dogmugs-ar02-4-j13?$dw280$"}
Dog Mugs
Print
• Ceramic dog mugs.
• Breeds available include English bull dog, Yorkshire terrier, Chihuahua, Scottish terrier, poodle, beagle, German shepherd, golden retriever, dachshund and Boston terrier.
• Breed name is listed on each dog mug.
• Microwave and dishwasher safe.
• Imported.

Enjoy your morning coffee in the company of your favorite furry friend with these adorable dog mugs. From golden retriever to dachshund, English bull dog to German shepherd, these whimsical ceramic coffee and tea mugs showcase artistic renderings of many popular dog breeds in all their three-dimensional glory.
{ "variations": { "variants": [ ] }}