Dog Door Stop - Rocky the Bulldog
Overview & Details
Weighted dog doorstops.
Fun, inviting doorstops designed as dogs with a soft cotton shell.
Doorstops made from heavy ground marble with generous cotton padded exterior to protect your floors.
Available in four great designs – choose Angus the Terrier, Rocky the Bulldog,
Woody the Beagle, or Max the Dachshund.
Won't scratch floors.
Spot clean.
Imported.
Exclusively ours.

What better way to keep your doors propped open for your pups or guests than with these inviting weighted doorstops, designed as friendly dogs! Decked out in polka dots or plaid, our irresistible Dog Doorstops wait patiently by the door, welcoming all who come and go. They're the perfect solution for keeping doors from slamming shut because of wind, and for ensuring that your own pups (or kitties) can roam freely from room to room. Each dog doorstop obediently stands guard, keeping your door just where you want it.

Our dog doorstops are well-weighted for the task at hand. Each one is filled with heavy ground marble for sturdiness. But they're also super soft on the outside: the doorstops are covered with a cotton shell and generous padding to protect your floors.

With four different styles to choose from, selecting your new pup is the hardest part! Choose from plaid or polka dots with Angus the Terrier, Rocky the Bulldog, Woody the Beagle or Max the Dachshund – or stock up on all four to place them throughout your home. No matter which you choose, you'll love having this new companion to help keep your doors secure. Available exclusively at The Company Store.
Reviews
Dog Door Stop - Rocky the Bulldog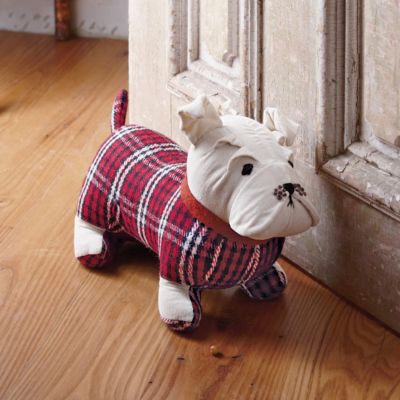 { "variations": { "variants": [ ] }}